"Film is a collaborative medium, or so people say, unless by "people" we mean Josef von Sternberg. To become a director is, more often than not, to reveal yourself as a control freak, but von Sternberg was the original micromanager, and his arrogance was legendary. Even long after his career was over, he was reluctant to discuss colleagues. Screenwriter Jules Furthman was responsible for much of the script of Shanghai Express, but von Sternberg always maintained that the entire treatment was one page written by story creator Harry Hervey. Von Sternberg biographer John Baxter cites the gifted Paramount art director Hans Dreier as a major stylistic influence, taking the director from a realistic approach to the "veiled sensuality" he would develop over the course of his career—and adds drily, "It goes without saying that [Dreier] receives no mention in Fun in a Chinese Laundry," von Sternberg's notoriously cranky memoir." Farran Smith Nehme rectifies some of the oversights that von Sternberg's own ego helped fuel, citing crucial contributions to the director's Paramount masterpieces by studio mainstays, reminding you that for a director with such a monstrously exacting and domineering vision, von Sternberg could sometimes glance over found objects and imperiously claim them as his own.
"In La première nuit, shadows, rather than obscuring or blocking our vision, often allow us to see further. The metro becomes a site of enhanced visibility, prone to projections, hallucinations, lyrical associations. In a remarkable series of shots, the hero's highly contrasted shadow is casted over a map of the Parisian metro; the black shape raises its head, following the blinking lights that signal the different stations, as if trying to decipher a treasure map. Under the boy's enchanted gaze, the successively flashing paths traced by the various metro lines remind us of wondrous constellations of stars flickering in the firmament." Cristina Álvarez López explores Franju's short film La première nuit, finding a marvelous confection of documentary and oneiric fantasy, and one of the cinema's finest portraits of first love.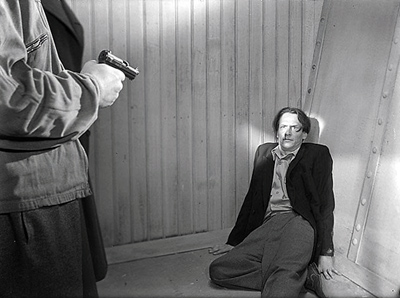 "The film functions largely like a silent movie. Since there is no common language and since so much of the silent communication is illusory anyway, a tormented, uncanny and alienated Bergmanian community appears once again, merging with a synthetic geography, its non-citizens doomed to an incurable loneliness as they do in Thirst, Silence (1962) and Shame (1968). Life is absurd, a quest for something better is meaningless, and although the 'main couple' get one another, the severe mood never eases up." Ingmar Bergman himself forbade showings of his 1950 Cold War thriller This Can't Happen Here, so commentary on it is rare; for their catalogue entry on the film, Il Cinema Ritrovato dug up an exceptional 1996 appreciation by Peter von Bagh that makes its absence all the more frustrating. Via David Bordwell.
"Gentlemen may prefer blondes, but the film seems far more interested in what this blonde and brunette prefer. Onboard a ship en route to Cherbourg, France, where Lorelei plans to wed geeky but loaded American guy Gus (Tommy Noonan), the two women flirt, toy with, and evade a succession of men, who vary from a buzzed-about "eligible" bachelor who turns out to be a 7-year-old to a 75-year-old diamond-mine owner nicknamed Piggy (Charles Coburn). Also sharing space on the boat is the entire men's Olympics team; they're nonchalantly pursued by Dorothy, although she doesn't get much flirtation in return from the athletically committed men—and more on that in a moment." Michael Koresky considers one of the most ebullient of Queer cinema's coded classics, Hawks's Gentlemen Prefer Blondes—and yes, he definitely has more to say on the Olympians' big dance number.
"Sent to see them by the Ministry of Culture, the filmmaker arrived in a light beige suit and a violet tie—"definitely not your standard color for a tie," Chelkowski notes—and an equally strange idea: The film would be told, literally, from a bird's-eye view. But Chelkowski, who was at the time researching Persian literature and theater, pointed out that Iran had few birds, particularly in the arid desert regions where Lamorisse planned to film. So birds were out. But Lamorisse, as ever, wanted to fly." Liam Callanan recounts last film of Albert Lamorisse's career, a poetic aerial survey of Iran made at the Shah's request—and, acquiescing to his client's demands, ultimately fatal to the director.
"Recently, journalists asked me, 'You know, you had a big criminal career, and you did it yourself, you're self-taught.' I told them, 'No, I had a technical adviser, a college teacher, a kind of mentor, and his name is Michael Mann.'" Real life criminals have been admiring and emulating their screen counterparts probably since the first slick heavy showed up on screen brandishing a rod; Julie Miller offers the latest notorious example, France's most-wanted prison escapee Rédoine Faïd, who once staged a bank robbery in Point Break-style Presidential masks (honoring his own nation, of course), and even got to introduce himself to one of his heroes during a Michael Mann Q & A. Via Mubi.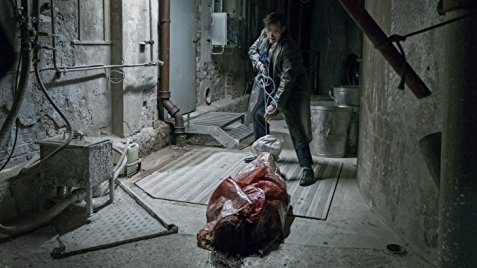 "I thought [Subterranean Homesick Blues] was a genius video, then somehow because it's something that doesn't happen in the story, [reenacting it is] a way of making some signs…Yeah, actually, these last films I made are like eating at a restaurant that you really enjoy, that has different dishes, all things that you know and that you like, I put them in… I've been guided by my lust, so to say, to do it." Interviewer Mark Peranson, clearly a fan, keeps trying to nudge Lars von Trier to intellectually justify some of his choices, but the director adamantly sticks to his Seemed-a-Good-Idea-at-the-Time script. Spoilers for The House that Jack Built, should anyone care.
"[Asking if my work is fueled by ideas I'd otherwise repress is] like saying, "Would you be in prison if you didn't do your work?" I fall in love with certain ideas, and what you're asking is if bringing those ideas to fruition is about purging them. Not really. I love an idea for itself, and I love what cinema can do with some ideas. I'm sure there's something inside me that makes me fall in love with particular ideas, and the ideas pass through the machine of me and get realized in a certain way, but it's not about any sort of purging." Of course, a more profitable and entertaining excursion in avoiding explanations—depending on your tolerance for Transcendental Meditation plugs—can be had in David Lynch's conversation with David Marchese, which ranges from nonsmoking laws, electronic toilets, and the ingredients in Bob's Big Burger milkshakes to how to square fine art from a morally repellant artist, while shutting down completely every time Marchese fishes for an exegesis on Lynch's films.
An exhibit of the images of New Wave set photographers Raymond Cauchetier and Georges Pierre—a small but iconic sampling of which is provided—is introduced by Philippe Garner, who situates the pair within the same artistic currents and crises that inspired the films they document. Via David Hudson.
Obituary
Cinematographer Robby Müller made his name with his collaborations with Wim Wenders, which began with his 1969 short Alabama (2000 Light Years) and includes Alice in the Cities (1974), Kings of the Road (1976), The American Friend (1977), Paris Texas (1984), and Until the End of the World (1991). He shot his first American production, Saint Jack (1979), for Peter Bogdanovich and photographed Repo Man (1984) for Alex Cox and To Live and Die in L.A. (1985) for William Friedkin before establishing his other great collaborative partnership with Down By Law (1986) for director Jim Jarmusch, for whom he also shot Mystery Train (1989), Dead Man (1995), and Ghost Dog: The Way of the Samurai (1999). Other films include Barfly (1987), Andrzej Wajda's Korczac (1990), Lars von Trier's Breaking the Waves (1996), and 24 Hour Party People (2002) for Michael Winterbottom, his final feature film credit. He regularly worked in black and white but was equally gifted with color and he shot some of the most memorable visions of the American landscape, rural and suburban, in the movies as well as some of the most distinctive European movies of his generation. He passed away at the age of 78. More from Ryan Gilbey for The Guardian.
Filmmaker and historian Claude Lanzman challenged the way we present the Holocaust cinematically with his landmark documentary Shoah (1985), an over nine-hour production made of up contemporary interviews with survivors, collaborators, and witnesses, without a frame of archival footage. Many of his subsequent films also took on the Holocaust, including Sobibór, October 14, 1943, 4 p.m. (2001) and The Last of the Unjust (2013). He died this week at the age of 92. Daniel Lewis for The New York Times.
Comic book artist and writer Steve Ditko co-created Spider-Man and Doctor Strange with Stan Lee and was influential not just in the distinctive look and visual design but in the development of the two great Marvel Comics characters before leaving the company after a dispute with Lee. He remained active as a writer and artist for decades, but was also famously reclusive and refused interviews. He was 90 years old when he passed away this week. Andy Lewis at The Hollywood Reporter.
The weekly links page is compiled and curated by Bruce Reid, with obituaries curated by Sean Axmaker.