"How far can a filmmaker push an awkward premise? What situations and complications can be extracted from it? What surprises and transformations can divert the seemingly stable course of the plot? Despite its humble appearance as a minor work made for television, The Man with the Suitcase is not short on answers to these questions. The film (which Akerman also wrote) turns its premise into a goldmine, cruising the full range of possibilities: from verbal implosion to gestural explosion; from ignoring the man when he's present, to fixating on him when he's absent; from controlled order to engulfing chaos." Though its hour-long length and origin as a TV movie have tended to rank The Man with the Suitcase as one of Chantal Akerman's minor works, Cristina Álvarez López finds it a thorough exploration of one of the director's key themes, the value and hazard of routine.
"As the title implies, in its aggressive-casual way, A Very Natural Thing wants its viewers to share in the easygoing mundanity of gay male love. And though that title may make it seem like the film has been geared toward liberal hetero audiences as a kind of teaching moment (see this year's "I'm just like you" normie-bullying in the narration and trailers for the otherwise sweet Love, Simon), A Very Natural Thing was primarily intended as a sight for sore eyes, a source of identification for gay viewers." Christopher Larkin's A Very Natural Thing has stayed off straight movie audience's radar for the same reason it's fairly central to gay ones, Michael Koresky argues: a casual, nonjudgmental insistence that all aspects of gay life are matter of factly, marvelously normal.
"As a New York movie, as a barrier breaker in terms of adult content, as a representation of a new, more daring Hollywood, as a buddy film, and most complexly as, if not a gay movie, a movie that at least helped to make the notion of a gay movie possible, the film represents a true dividing line, albeit not one that everybody immediately recognized. "Having seen it," wrote New York Times critic Vincent Canby when it opened, "you won't ever again feel detached as you walk down West Forty-Second Street, avoiding the eyes of the drifters, stepping around the little islands of hustlers." But, he concluded, "it's not a movie for the ages." Ironically, it's the Forty-Second Street about which Canby wrote that is long gone, its porn palaces, pawnshops, and fleabag hotels driven out by a massive urban/corporate rebranding. But people still come to New York with unfulfillable hopes and end up living on or over the edge of desperation, and Midnight Cowboy, one of the first movies to find them, has endured." Mark Harris praises Schlesinger's Midnight Cowboy as an empathic study of outsiders—not coincidentally helmed by a gay, Jewish Brit working in America.
"Buñuel once said that "I've always found insects exciting" and this interest has been the subject of a number of academic papers with far more detail than required here. The strangeness of insects and animals generally in The Diary of a Chambermaid creates the potential symbolism – especially of a butterfly literally obliterated by the shot of rifle – but I return again and again to the snails making their way over the dead girls [sic] legs." Adam Scovell found himself haunted by one image during a recent rewatch of Buñuel.
"Jean posed, not always willingly, for about 60 of Pierre-Auguste's paintings, many on view at the exhibition, and a few more in the Barnes's permanent collection. So not only did the father inspire the son but vice-versa. With his round, rosy face and girlish strawberry-blond locks (that his father would not let him cut), young Jean glows like a ripe peach. He appears so blissful that it is disconcerting to read Merigeau's account that as a boy Jean rarely encountered his father except while posing for paintings. Given that an artist's model should neither move nor speak, Papa Renoir enjoyed that rare children-should-be-seen-but-not-heard experience." Writing of the exhibit Renoir: Father and Son/Painting and Cinema, Carrie Rickey finds the familial bonds between the artists, but also the vast differences that made each so unique. Via David Hudson.
"You bet your sweets, Mr. Commie! Look at this Mr. President, this lousy commie rat was taking pictures with this thing. Of the big board!" An excerpt from Christopher Bonanos's biography of Weegee describes the photographer's experience as a set photographer on Kubrick's Dr. Strangelove—and how Peter Sellers adapted Weegee's iconic New York accent into the title character's crazed Teutonic inflections. Via Movie City News.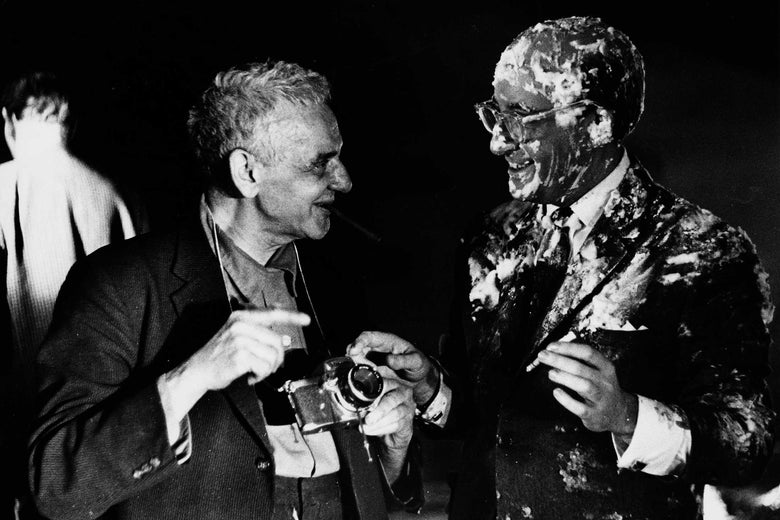 "The cultural output of any given country in any given decade has a nasty habit of failing to obediently correspond across the board to the collective wisdom of what that decade was all about. […] The slow-moving process by which movies are greenlit and made means that there is a long delay before work responsive to perceived sea changes in the wider culture can even appear on cinema screens, and as such it is not as though a distinctly 80s style appeared overnight on either New Year's Day or the morning of 5 November 1980." Nick Pinkerton (with an assist from video essayist Sierra Pettingill) offers a tour of the highlights from '80s movies that reject the standard line that the decade's cinematic output was irredeemably Reaganesque, and reminds us that no less than the '60s, a key question of vital filmmaking for the era was Which Side Are You On?
""Production designer" was a term I hadn't heard before, so I asked Paul Schrader what that position entailed." As Criterion's brief but explosively colorful gallery reminds us, when it came to Mishima: A Life in Four Chapters it meant that Eiko Ishioka was designing unique works of art within the film itself; sets, as Ishioka puts it, that "were actors, and they would challenge the real actors."
Obituary
Jerry Maren was usually uncredited in his screen appearances through the 1930s and 1940 but he danced and sang his way into popular culture as the leader of the Lollipop Guild in The Wizard of Oz (1939). Until his death this week at the age of 98, he was the last surviving cast member among the little people who appeared in the film. He continued performing in movies and on TV (including numerous commercials) as a stunt performer and an actor for over 60 years and, with Billy Barty, founded the nonprofit advocacy organization Little People of America. More from Brooks Barnes for The New York Times.
The weekly links page is compiled and curated by Bruce Reid, with obituaries curated by Sean Axmaker.