"At the end of each day, the cast and crew convened at the hotel bar. 'Everyone would sort of be sitting at different parts of the bar, and she'd walk in and it was, like, Shit! Claire's here!' [producer Andrew] Lauren recalled. 'I saw a lot of people wanting to leave many, many times, but they stayed. They stay because they love her—even though they can't stand her.' Denis does not deny such behavior. 'I can be the worst person, the meanest person on a set,' she said. 'Shouting, screaming, complaining. I don't have a lot of respect for myself as a director. People accept me the way I am, because they know I'm not faking. Probably.'" Though it can be a little disorienting to read one of the world's greatest directors constantly referred to as virtually unknown, Alice Gregory's profile of Claire Denis captures the director's mix of intellectual severity and overwhelming sensuousness that makes her telling any story from her life—of caring for her younger brother, self-indulgent frolicking on a South African beach, a terrifying sexual assault—as heady and unforgettable as her films. Vague spoilers for Denis's upcoming sci-fi film High Life.
"By 1982, historically, transgender people were classified as mentally ill, if acknowledged at all; the term "gender identity disorder" first appeared in the DSM-III (Diagnostic and Statistical Manual of Mental Disorders) in 1980—incidentally the same year that Dressed to Kill, Brian De Palma's more clinically curious Psycho riff about a "transsexual" murderer, was released. That satirical thriller's villainous Bobbi functioned as a figure of shock, but Come Back to the Five and Dime's Joanne, also disruptive, is perhaps even more cinematically unusual. Her presence is indeed as a catalyst, inciting soul-searching among the women, but, as embodied by a never sturdier Black, Joanne also registers boldly as her own person; she radiates a strength that feels especially earned considering that her younger self, played by Mark Patton, was the image of insecure, fey fragility." Michael Koresky argues that Altman's innate compassion for and curiosity about all walks of humanity and his just burgeoning engagement with theatrical formalism makes 1982's Come Back to the Five and Dime, Jimmy Dean, Jimmy Dean, and its unapologetic admiration of a trans character's self-worth, a key innovator in queer cinema.
"In Chicago in August, as antiwar demonstrators battled police outside the Democratic National Convention, they chanted, 'The whole world is watching.' A young filmmaker named Haskell Wexler, making a fictional feature called Medium Cool, captured some of the violence as it happened. If you watch the movie now, you can still hear the warning of an unseen crew member: 'Watch out Haskell, it's real.'" Manohla Dargis and A. O. Scott look back 50 years to 1968, a tumultuous year for films that encompassed the shutdown of Cannes, the birth of homegrown auteurism, the ratings system, Varda in Hollywood, Planet of the Apes, and Funny Girl.
At Criterion, a pair of wildly divergent environmental fables, as Brock DeShane runs through a brief history of the first Godzilla series, tinged with autobiography ("The catch-22? If released from its bottle, Serizawa's genie might one day wipe out humanity. In light of this soul-splitting dilemma, the screenwriters' choice of giving Serizawa a patch over one eye—a war wound mentioned in the script but never remarked upon in the movie—seems hardly superfluous. Shot like a black-and-white docu-noir in hell, by artists who saw and survived the destruction of their nation, Gojira reworks the monster-on-the-loose tropes of its Hollywood progenitors into an urgent pacifist plea for a world on the brink."); while Ben Ratliff celebrates the natural inspirations and rhythms—uniquely conducive to "soft fascination," a term Ratliff borrows from environmental psychology—of Neil Young's score for Jarmusch's Dead Man ("Young likes to record during full moons, and that is the extent of what I know about how much he has thought about music as an outgrowth of nature. That's all right—I don't have to know. When I listen to him playing Old Black, unaccompanied or in an extended solo, I find that I listen deeply. While listening, I tend to think not so much about the song's musical structure (there is seldom very much of it) or Young's musical genealogy but instead about how much his guitar sounds suggest weather events or organic processes: storms, the changing of the sky, the thickening of the air, combustion, rot, mud. And because there is a fair amount of space to drift within that music, I think about myself, too.")
"Mann's masculinity is unusual in a number of ways, but they all come back to interiority. Most stories about men are about being assailed from the outside, struggling against exterior foes. We are rarely allowed emotional access to these characters, because these works associate having interior lives with femininity. Men act, women react. To react is to feel, and to feel is to be feminine. Mann's films have no such fear of emotion." Surveying some potent examples of Michael Mann's surprisingly vulnerable, empathic male heroes, J. Rosenfield argues the director delineates a portrait of masculinity miles removed from Hollywood's typical taciturn, get-it-done macho men they superficially resemble. Via Mubi.
"It is undeniably true that this fluent, uninterrupted shot, that so closely resembles the movement of a human being through (cinematic) space, creates a unique form of suspense, that the SC enhances due to its special characteristics. Larry McConkey (who did not supervise this specific shot) talks about this kind of use of the SC in an interview with Ferrara. In constructing a POV shot that closely resembles the natural movement of a person, McConkey tries to simulate the 'gathering of visual information' a person goes through when moving through a space like the SC does…." David Vanden Bossche takes an academic tour through theories of genre and visual perception before analyzing some of De Palma's Steadicam showpieces to explore whether the familiarly fluid shots made with the camera rig are uniquely suited to the thriller genre; he votes no. Also spotted by Mubi.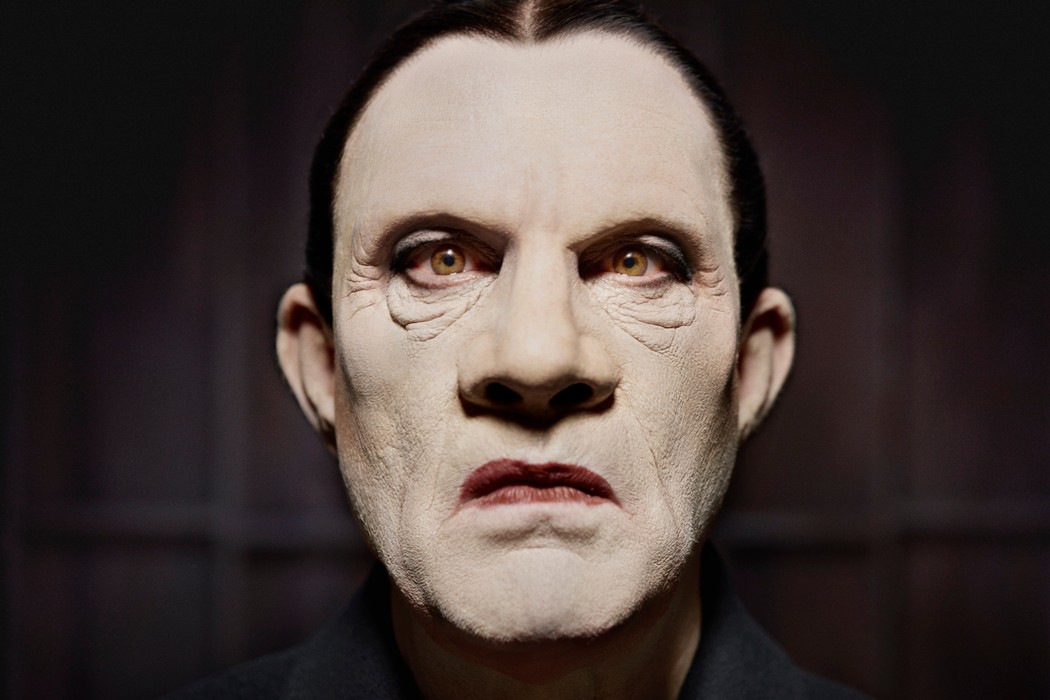 Back in 2016, having already collaborated on a series of portraits based on iconic photographs, photographer Sandro Miller and John Malkovich were at it again, this time dressing up Malkovich as a series of characters from David Lynch's films. Now that the series is publicly debuting at a New York Gallery, Hanna Ongley offers a selection and a brief interview with Miller.
From Body Snatchers to The Sting's con men to Dirty Harry, some of the finest posters by the late Bill Gold are presented by The Guardian.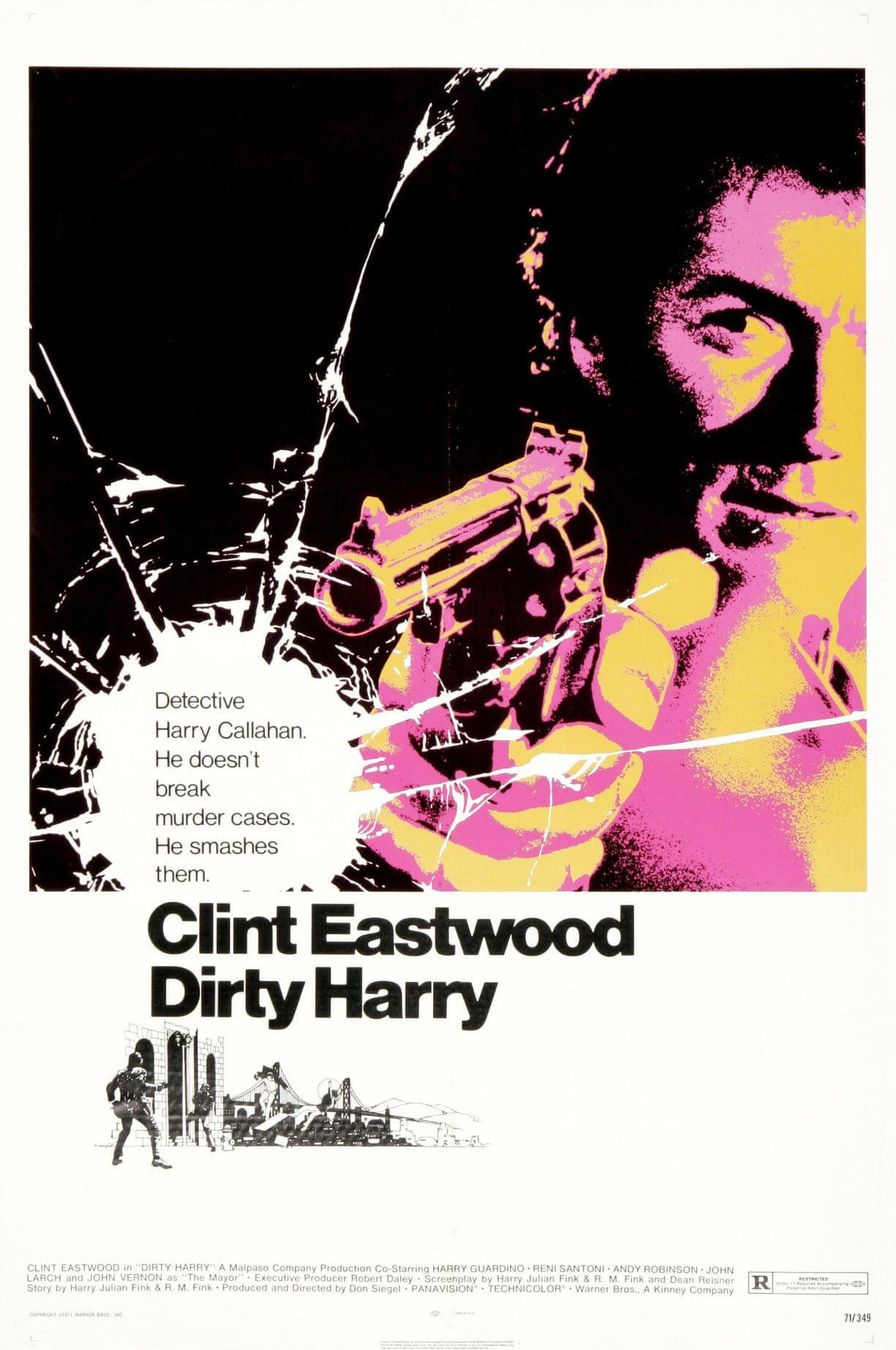 Obituary
Clint Walker was one of the least pretentious of American movie actors both on and off screen. Standing 6-foot-6 with a brawny physique, he was an unknown when Warner Bros. made him the star of the hour-long TV western Cheyenne (1955-1962) and made the most of their investment by casting him in the big screen westerns Fort Dobbs (1957), Yellowstone Kelly (1959), and Gold of the Seven Saints (1961). He co-starred in Send Me No Flowers (1964), starred in The Night of the Grizzly (1966), and proved to be a solid team player in None But the Brave (1965), The Dirty Dozen (1967) and Sam Whisky (1969). He continued working through the 1970s and 1980s and his final screen credit was along with some of his Dirty Dozen costars as a voice in Small Soldiers (1998). He passed away at the age of 90. More from John Schwartz for The New York Times.
Bill Gold designed some of the most iconic movie posters to settle in out collective cinematic memory, from Casablanca (1942), which was only his second assignment, to Mystic River (2003). His greatest hits list include Dial M For Murder (1954), Cool Hand Luke (1967), The Wild Bunch (1969), Dirty Harry (1971), The Exorcist (1973), The Sting (1973), Dog Day Afternoon (1975), and Unforgiven (1992), and he nurtured another of the all-time great poster artists, Bob Peak, at his firm Bill Gold Advertising. He died at the age of 97. Mike Barnes for The Hollywood Reporter.
The weekly links page is compiled and curated by Bruce Reid, with obituaries curated by Sean Axmaker.