The latest issue of cléo is dedicated entirely to the maker of its namesake, Agnès Varda. In addition to Kiva Reardon's interview with the director ("Looking at others is the first step of feminism—not being selfish, not being mirror-oriented. Looking at other people. Discovering what they do to make a living. Or how they behave."), Sarah-Tai Black rehabilitates Salut les Cubains ("… her distinct ability to explore the curiosities and intimacies of the film image is no less apparent in Salut les Cubains than in her later, more critically attended work."); Nouran Heshem explores the gendered take on cancer in Cléo from 5 to 7 ("Varda tackles the cancer taboo by illustrating the fraught connection between illness and gender"); So Mayer places Documenteur in a career-long trope of Varda's reflections and teasing self-portraits ("Perhaps one of Varda's answers, then, is that she is not alone: there are other women inventing and introducing themselves as well, observing and refracting each other."); Joseph Pomp explores Varda's experimental series of television shorts Une minute pour une image ("Surrealist wit consorts with a spirit of wanderlust and creativity in much of Varda's filmography."); and Eloise Ross finds Varda reclaiming the practice of flaneur from men in her short Les dites cariatides ("At a distance and in close-up, she films "women" who hold up balconies or the façades of buildings – all who do so without visibly bearing strain in their bodies or expressions").
"In a tradition ranging from the kitchen-sink realist films of the late '50s and early '60s to the contemporary works of Mike Leigh and Andrea Arnold, English movies set among the working classes have tended to have fatalistic trajectories and miserabilist aesthetics, underlining their drabness to reflect their characters' sense of hopelessness and to visually convey a lack of upward mobility. But there's that rainbow in Beautiful Thing, and it's unmistakable. Years before the "It Gets Better" movement, Macdonald's film hinted at a bright future in the most cinematically improbable of places." Michael Koresky's survey of Queer cinema gets to 1996, Hettie Macdonald's Beautiful Thing, and the underappreciated subversive power of joy.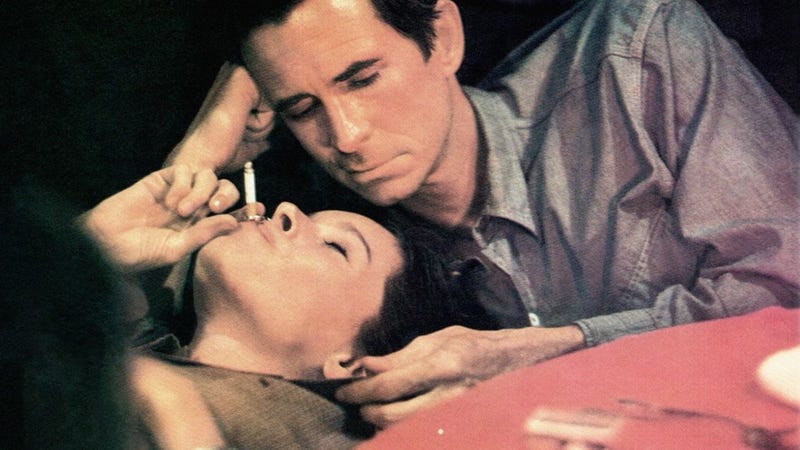 "[A]t its best—as in Remember My Name (1978), Choose Me (1984), Trouble In Mind (1985), or The Moderns (1988)—an Alan Rudolph movie is like nothing else: equally plastic and sincere, operating at a level of stylization and pastiche that singles Rudolph out as the only homegrown Hollywood post-modernist of the 1970s generation. His art is liminal: settings that are somewhere between past and present, fantasy and reality; characters who are recently paroled, recently single, ex-something, or just passing through." On the eve of Alan Rudolph's first movie in 15 years, Ignatiy Vishnavetsky reminds us of the director's unique stance as the most oddball and sincere of the Romantic end of the movie brat spectrum.
"By the 1930s, Eisenstein may have sensed that sound cinema would make films more theatrical in a traditional sense. Sequences would be more concentrated in one locale and focused on a few characters. Crosscutting, a mainstay of silent film, would become rarer. He accordingly began to ponder creative ways of filming two-handers. In his courses at the Soviet film school VGIK he explored ways to intensify dramatic face-offs without interruptive cutting. […] The results of this line of thinking show up in his films. Alas, we have only glimpses in what remains of Bezhin Meadow (finished 1937; banned, now lost). And Alexander Nevsky (1938), still conceived on a broad canvas, doesn't really face up to the demands of intimate scenes. It's only in both parts of Ivan the Terrible (1944, 1946) that we can see how Eisenstein plunged into doing what most directors do: filming uninterrupted scenes of people talking to one another. Needless to say, he doesn't do it the way they do." David Bordwell looks at Eisenstein's use of axial cutting and intense closeups and finds the director as brilliantly unorthodox filming conversations in a room as he was his larger-scale subjects.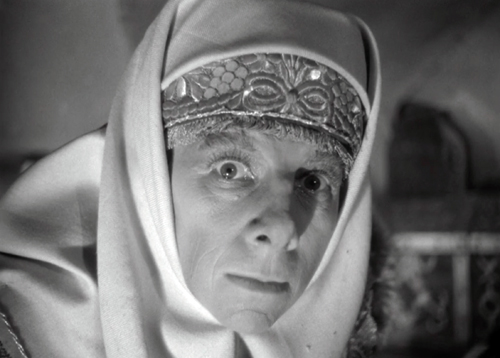 "Ball was 40 years old when [I Love Lucy] started, and she had taken lots of hard knocks on the way up in show business. In her early 20s, when she was down to her last quarter in New York during the Depression, Ball defiantly bought a gardenia with it. She was both a romantic and a realist, a calculating and determined woman with large dreams for her career." Dan Callahan praises the pleasures of Lucille Ball's television career, both surface (her facility with physical comedy that drew praise from Buster Keaton) and subversive (in the way the star's boundless talent and screwball anarchism thrust against the ostensible keep-the-little-lady-in-her-place moral of the series. Via Movie City News.
"I come from a very nonhierarchal filmmaking culture in Australia. So when I initially started working in America, it was a big shock to me how frequently hierarchical the structures were, and it was just anathema to me. I don't respond well when crew members—male or female—are disrespected or their input is not valued. I'm used to working in teams. And I want the environment to be creative, not cautious, because I think you all have to be fearless as a bunch of people. But in order to be fearless, there needs to be trust." Cate Blanchett, interviewed by Claudia Eller, foresees the current outrage about sexual harassment in Hollywood as a messy but necessary and very welcome first step to snapping the privilege and power imbalance that strangles the entire film industry.
"The paradox of the project was that it was a commissioned work—and it was the first time I'd done anything that remotely resembled commissioned work—but someone was commissioning me to be very personal. It had a more lasting influence on my work than I could have imagined. It was the start of a new chapter in both my life and my career. The lightness and pleasure of the filmmaking tools, and the lack of pressure because it was so cheap, gave me a sense that I could continue on that path and make movies that were not too dependent on French financing." Criterion's launch of their redesigned website comes complete with full-screen photos, the most disarmingly large search bar I've ever encountered, and Hillary Weston's interview with Olivier Assayas on the making of his "second first film" Cold Water.
"If I wasn't getting paid… I will do shit for money. But I'm not gonna do shit for no money. I'll do quality for no money. So if it had been any good, maybe. But it was no good from the get-go." Sitting down with Will Harris, Clancy Brown looks back over a long career and offers charming, jocular insight into the directing styles of Steven Soderbergh, Kathryn Bigelow, and the Coen brothers, who finally cast the stalwart actor after he did his Charles McGraw impression for them.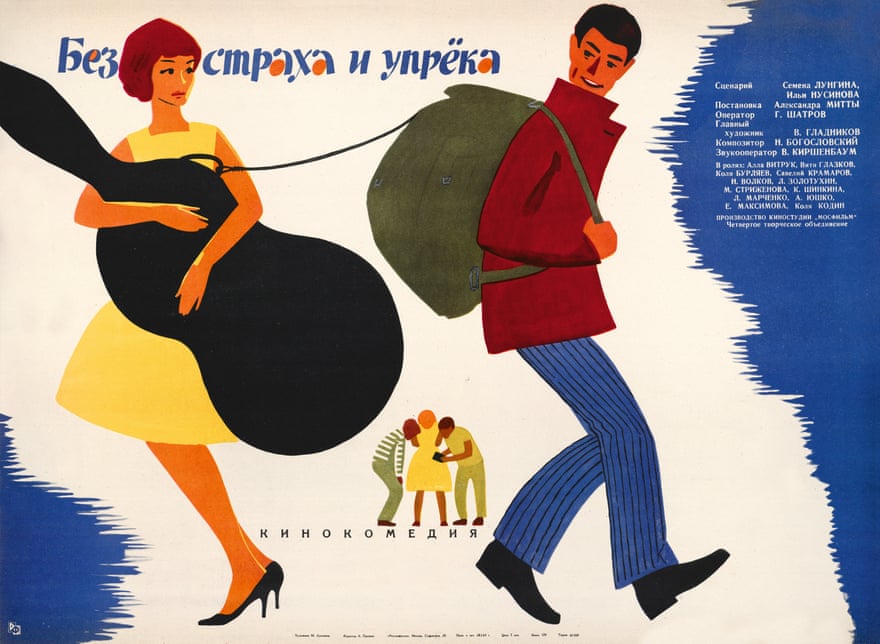 Kathryn Bromwich offers a gallery of unexpectedly colorful, even dancing, movie posters from the late-fifties-sixties "Khrushchev thaw."
Obituary
Nelson Pereira dos Santos, a journalist and film critic turned filmmaker, was one of the founders of the Cinema Novo movement, Brazil's answer to France's nouvelle vague with a pointedly socio-political dimension. His debut feature Rio, 40 graus (1955) was influenced by Italian Neorealism but his storytelling evolved to embrace more daring narrative and visual approaches while he delved into stories about Brazil's poor and dispossessed, class, and the legacy of colonialism. Vidas Secas (1963), based on a classic of Brazilian literature, won an award at Cannes and How Tasty Was My Little Frenchman (1972), a dark satire of Brazil's colonial history set in the 16th century, was seen all over the world. Azyllo Muito Louco (aka O Alienista) (1970) and The Amulet of Ogum (1974) were Palme d'Or contenders and and Memórias do Cárcere (1984) won the Fipresci prize at Cannes. His final features are the music documentaries The Music According to Antonio Carlos Jobim (2012) and A Luz do Tom (2013). He passed away at the age of 89. More from Ronald Bergan for Guardian.
British director Michael Anderson had a successful run of big-budget adventures and thrillers from the 1950s through the 1980s thanks to the British war thriller The Dam Busters (1955), a hit with audiences and critics and the film for which the director remained most proud (the climactic air attack was an inspiration for the finale of the original Star Wars). After a decade in the industry (with a break for the war, where he was assigned to the Signal Corps), he made his directing debut with the 1949 comedy Private Angelo, which he wrote and produced in collaboration with Peter Ustinov, but after The Dam Busters he was elevated into the A-list. He directed a 1956 adaptation of 1984 with Edmond O'Brien and then helmed the elephantine all-star spectacle Around the World in 80 Days (1956), which won five Academy Awards and earned him his sole Oscar nomination for directing. He went on to make Shake Hands with the Devil (1959) with James Cagney, The Wreck of the Mary Deare (1959) with Gary Cooper and Charlton Heston (taking over the project after Hitchcock bowed out), World War II thriller Operation Crossbow (1965), spy thriller The Quiller Memorandum (1966), Shoes of the Fisherman (1968) with Anthony Quinn, George Pal's campy big screen pulp adventure Doc Savage: Man of Bronze (1975), cult science fiction film Logan's Run (1976) with Michael York (with a supporting role for his old buddy Peter Ustinov), Jaws knock-off Orca (1977), and the 1980 TV miniseries The Martian Chronicles. He continued directing smaller films and TV movies (among them a 1993 version of The Sea Wolf with Charles Bronson and Christopher Reeve) through the 1990s before retiring in his adopted home of Canada. He was 98 when passed away in late April. Ronald Bergan for The Guardian.
Korean-born actor Soon Tek-oh appeared in scores of TV shows, including a recurring role on Charlie's Angels and multiple roles on M*A*S*H and Hawaii Five-0, and co-starred in The Man with the Golden Gun with Roger Moore as James Bond, but his most enduring legacy was his battle against the stereotyped parts that Asian and Asian-American actors were relegated to in movies and TV shows when he began appearing on screens in the 1960s. He founded the East West Players in 1965 and the Korean American Theater Ensemble in 1978, both created to present works featuring a diversity of Asian characters on the stage. He continued to work steadily in movies and on TV for four decades, appearing on I Spy, The Invaders, The Wild Wild West, Ironside, Kung Fu, the 1981 miniseries East of Eden, Hill Street Blues, T.J. Hooker, Dynasty, Magnum P.I., Murder She Wrote, and Babylon 5, among many others, and was the voice of Mulan's father in the animated Mulan (1998). He passed away at the age of 82. Neil Genzlinger for the New York Times.
Actor and stuntman Verne Troyer rose from unknown to celebrity playing Mini-Me to Mike Meyers' Dr. Evil in the Austin Powers movies, showing a flair for comedy he had not previously had an opportunity to display. At a height of 2 feet 8 inches, he started out as a stunt double in Baby's Day Out (1994) and was in heavy make-up in films like Men in Black (1997) but after Austin Powers: The Spy Who Shagged Me (199) he had more opportunities, including playing Griphook in Harry Potter and the Sorcerer's Stone (2001), guest roles on the TV shows Jack of All Trades (he played Napoleon Bonaparte) and Boston Legal, and supporting roles in The Love Guru (2008) and Terry Gilliam's The Imaginarium of Doctor Parnassus (2009). He died at the age of 49. Luis Ferré-Sadurní for the New York Times.
The weekly links page is compiled and curated by Bruce Reid, with obituaries curated by Sean Axmaker.