The new issue of La Furia Umana contains an extensive dossier on Godard. There's always the hazard of writing on Godard aping the form-breaking style of its subject without his poetry, and this collection is no exception. But there are highlights, including Rick Warner's analysis of the director's love of tennis and his rejection of standard narrative editing ("Tennis, as with its use in Pierrot, is a figure that evokes the apprehension of life, but life now is understood within the parameters of a full-on dialectical world outlook. Abstract and bordering on slapstick humor, these tennis scenes [in Vladimir and Rosa] mark a dialogical gap in the middle of an ongoing inquiry, a chaotic space within which new and more just thinking has a chance to arise, thinking inclined toward political action.") and Michael Witt's history of Godard and Miéville's company Sonimage ("It revolved around an attempt to live out a working practice in which the divisions of labour and of the sexes were dissolved in a reflection on the implications of finding pleasure in one's work whilst collaborating with a partner one loves (to love work, and work at love)."). There's even visual tributes, two lovely watercolors by Stephanie Wuertz and Sasha Janerus (the second here) inspired by Godard's films and excerpts from a witty "collage novel" treatment by Lewis Klahr (himself the subject of articles elsewhere in the issue) that recasts Contempt with Clark Kent and Metamorpho.
Another multi-lingual film magazine, The World of Apu, has released its second issue, offering an eclectic collection of works including Irish immigrant Maeve Rafferty's identification with the movie and novel Brooklyn ("Perhaps all these things for which the film was criticized were what made it so easy for me to enter into on first viewing. I filled all the gaps with my re-lived emotions, memories, and the tucked-away knowledge from the novel that I'd already molded for my own purposes."), poems inspired by Farewell My Concubine and Vive L'Amour ("Now there's a close-up of her face. The girl is still in tears. A couple passes by in front of the bench/She is still in tears"), and even Maanasa Visweswaran's interpretive dance homage to Mehta's Earth. Via David Hudson.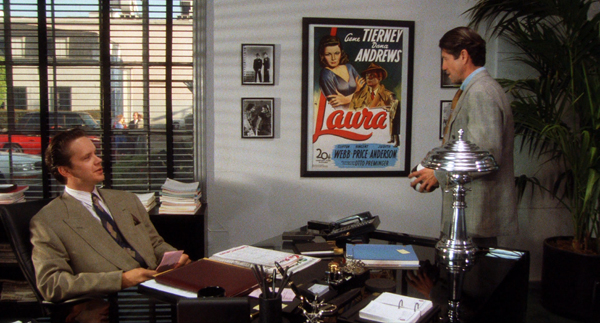 "It lacked certain elements that we need to market a film successfully." "What elements?" "Suspense, laughter, violence. Hope, heart. Nudity, sex. Happy endings. Mainly happy endings." Jeff Smith looks at the many different thriller genres The Player bounces off of and subverts on its way to its own happy ending.
"Thus at the heart of composing a 'still image' and a 'moving image,' lies a fundamental difference. Motion. Alterations in motion. Firstly, the pace in the movement of visible object or body. Secondly, the motion of the camera. Thirdly, Still motion. Fourthly, Pace of the mind. One by one let us scratch the surface." Mubi offers the first English translation of a 1969 article by Ritwik Ghatak on the uses of motion and focus to draw the viewer's eye; intriguingly, Ghatak is almost phlegmatically matter of fact discussing the effects different choices have on a scene, but inevitably chalks up the inspiration of the filmmaker to dreams.
"I needed to make Mute for myself, just as kind of therapy after the three and a half years of Warcraft and after the crappy couple of years I've had with my dad dying and the woman who raised me dying, I just kind of needed to do something that felt right for me. And at this point, it's not that I'm lost. I have a couple ideas of what I'd like to do, but I'm just trying to work out what's the right move now. I've done the one for me, do I go and do one for them? Do I do one for the studio? Or do I try and find something that still feels personal, but maybe make it fit in a more studio mold, or at least a more accessible mold? I really don't know. I'm working it out." Duncan Jones discusses with Mike Ryan the pros and cons of the Netflix business model—and the realities of Hollywood financing—that led to his latest movie debuting on the platform. Via Movie City News.
"We had been out of Chile for 10 years and we started going from time to time since 1984 to see the family, hiding out. And let me tell you, they rang our doorbell in the middle of the night to tell us, "We know you're here." So we came to see the family, and we had observed how Chile had turned into a country with a savage capitalism—terrible. Everyone was talking about hidden tombs that had been found. And all of those elements appeared in Ruiz's fictions. He had a good nose—that was important." Ruiz's widow  and collaborator Valeria Sarmiento tells Jaime Grijalba about the making of The Wandering Soap Opera, which she completed after her death.
Peter Goldberg's review of Naum Kleiman's book Eisenstein on Paper offers some interesting thoughts on the director's sketches and drawings, but the real pull here is the generous slide show of Eisenstein's output, from clean-lined caricaturist stuff in the 1910s to blocky, thick-shaded studies for Ivan the Terrible.
Obituary
John Mahoney became known to the world for playing Martin Crane for eleven seasons on the hit sitcom Frasier (1993-2004), for which he won a Screen Actor's Guild award and two Emmy nominations, but he had an impressive career on stage and screen, even more impressive considering he came late to acting. Born in Britain but raised in the U.S. from an early age, he started taking acting classes at the age of 37, was invited to join the Steppenwolf Theater Company at the age of 39 in 1979, and won a Tony Award for his Broadway debut in The House of Blue Leaves (1986). After a series of bit parts on TV shows and movies, he landed a supporting role in Tin Men (1987) and turned a one-scene appearance in Moonstruck (1987) into a scene-stealing performance. He was in Roman Polanski's Frantic (1988), Costa-Gavras' Betrayed (1988), and John Sayles' Eight Men Out (1988), was the loving single father of Ione Skye in Cameron Crowe's Say Anything… (1989), a Faulkner-like novelist in the Coen Bros.' Barton Fink (1989), and a gruff newspaper editor in The Hudsucker Proxy (1994). He also appeared in In the Line of Fire (1993), Reality Bites (1994), The American President (1995), Primal Fear (1996), and voiced characters in the animated features Antz (1998) and The Iron Giant (1999). On TV he starred in the second season of In Treatment and had a recurring role in Hot in Cleveland, and he made his final screen appearance in the final season of the British crime drama Foyle's War (2015). He passed away at the age of 77. More from Duane Byrge at The Hollywood Reporter, and Emily Brennan spotlights five essential performance by the actor on stage and screen for The New York Times.
Character actor Mickey Jones isn't a name that most people know but you'd recognize the stocky actor with the wispy red-going-to-white beard almost immediately from his numerous appearances on TV shows and movies, often as a biker, trucker, cowboy, or working class guy. Originally a drummer (he played with Bob Dylan, Trini Lopez, and Kenny Rogers and the First Edition), he transitioned into acting after appearing on TV in a variety show hosted by The First Edition. He had recurring roles on the TV shows Flo, Home Improvement, and Justified, among the scores of TV appearances he made, and appeared in the films Tom Horn (1980), The Best Little Whorehouse in Texas (1982), National Lampoon's Vacation (1983), Starman (1984), Total Recall (1990), Drop Zone (1994), Tin Cup (1996), and Sling Blade (1996). He died at the age of 76. Ryan Parker for The Hollywood Reporter.
The weekly links page is compiled and curated by Bruce Reid, with obituaries curated by Sean Axmaker.