"My appreciation for his inspiring and innovative cinema grows deeper as the years go by. He had a unique vision in his films and in his artwork, that was deceptively simple yet hard to copy, like that of Parajanov. He always stayed true to himself, to his creative impulses, striving to fulfill his own artistic urges and curiosity rather than following certain modernist fashions in filmmaking. In this way, he challenged many stereotypes and clichés of conventional representations of people and their stories on screen." Mehrnaz Saeed-Vafa—who once (with Jonathan Rosenbaum, whose site hosts this essay) wrote the book on Kiarostami—considers some of the tropes of the director's cinema, and the philosophy (and genuine humility) behind them.
"An unfortunate side effect of these [political] aspirations is that the aesthetics of Loach's cinema have sometimes been undervalued by critics. "It has been said of Loach," wrote Peter Bradshaw in his review of I, Daniel Blake, "that he would do without the camera if he could, and that doing-without aesthetic is absolutely right for the unfashionable, uncompromising seriousness of what he has to say." While meant as a compliment, this sentiment nevertheless sells the director's cinema short: it obscures the rigorous preparation and carefully worked-out production methods that Loach has gradually refined over decades. The feeling of authenticity that I, Daniel Blake exudes, seemingly without effort, is the result of a myriad of thoughtful decisions made about setting, casting, shooting, and (especially) dialect." Girish Shambu finds the artistic merit of Loach's I, Daniel Blake as valuable as the already measurable impact it's had on the debate over Britain's benefits system.
"Director Phil Solomon describes his [remake of Warhol's Empire made in a Grand Theft Auto mod] as a study on "the material fragility of film," and his digital facsimile of Warhol's project… speaks directly to the socio-economic and technological shifts that are being exploited by a new generation of artists. While Warhol and co. had to acquire legal permits to the Time & Life Building, Solomon recalls his Empire shoot in terms that might arouse suspicion in reality: 'I hijacked a 'copter, leaped onto the rooftop of an adjacent building, spawned a scooter out of thin air and then gingerly drove it down to the very edge of the precipice in order to approximate the view from July 25-26, 1964.'" Michael Ewins offers a brief history and some sterling examples of machinima, films "shot" in a digital environment, mostly video game sandboxes.
"He was born in 1958, during a golden age of British social mobility, when at least some working-class children were ushered towards the newly open doors of universities and the professions. The class system was in flux, and the proof was on our movie screens. British film suddenly brimmed with new faces from northern backstreets and iffy bits of London: Albert Finney and Michael Caine, Shirley Anne Field and Tom Courtenay. As a boy, Oldman was too skittish for academic success – it didn't matter. As he took his first steps as an actor years later, that original class shakeup was still felt throughout British culture; it was in David Bowie and 2 Tone, and the double dose of Bob Hoskins in Pennies from Heaven and The Long Good Friday." As English class mobility shrinks and roads to breaking through as an actor narrow to only those able to afford the toll, Danny Leigh fears unrepentant working class boy Gary Oldman may become the last of a breed.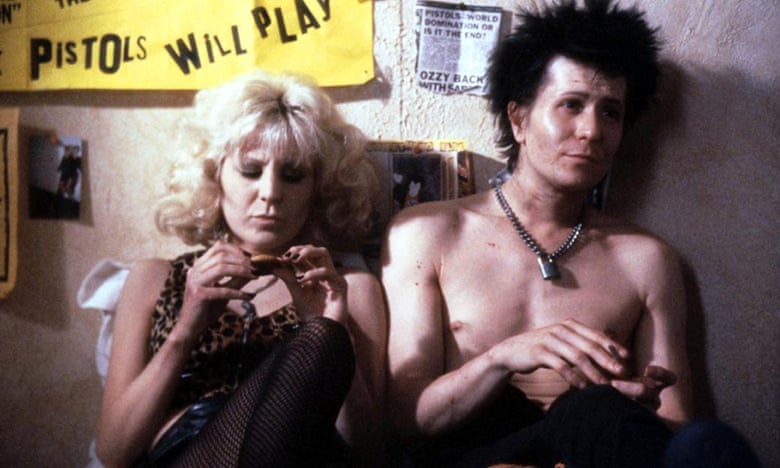 "I didn't work with a lot of people because I had the reputation of saying no. But men of power never say to other men of power: 'She said no to me.' They say: 'I can't work with her. She's too crazy.' Or: 'She's too difficult.' And you realise that all those actresses who had the reputation of being difficult, they're not difficult. You realise so much damage has been done. Careers destroyed. Lives destroyed. It really hurts me inside. Luckily, I was able to turn my life upside down by directing and writing. I won in the end." Interviewed by Cath Clarke, Julie Delpy remains as good a talker as ever for both her humor and her rage.
"Because he'd worked with Anderson before, he also knew that the director preferred a 'messy' and 'not overly polished or produced sound to things,' as he did in Punch-Drunk Love or There Will Be Blood. In essence, the directive was to bring on the irritation, with one caveat—'the fabrics, those have to sound really beautiful.'" Phantom Thread sound designer Christopher Scarabosio talks with Jackson McHenry about conjuring up the most teeth-on-edge sound effects in the history of movie breakfasts.
"I'm the best motherfucker that you ever heard/so don't you ever test/'cause I confess/HAHHH!/that I'm fucking ruthless." Back in 1999 Ed Tracy wrote and produced the music for a "never really finished" mixtape by aspiring rapper Tommy No. 1, whose rhymes and flow were pretty poor but who showed an uncommon talent for changing up his timber and accent to playact the songs' different characters. Which served Tom Hardy a lot better when he dropped the music dreams and went into acting. Via Sam Barsanti.
Obituary
Actor Bradford Dillman won the "Most Promising Newcomer (Male)" Golden Globe for In Love and War (1958) and shared the Best Actor prize at Cannes with his co-stars Dean Stockwell and Orson Welles for Compulsion (1959), establishing the serious young actor as a major talent. He studied at the Actor's Studio under Lee Strasburg in the same class with James Dean and Marilyn Monroe and made his Broadway debut in Long Day's Journey Into Night in 1956, which brought him to the attention of 20th Century Fox. He reunited with his Compulsion director Richard Fleischer and co-star Welles for Crack in the Mirror (1960), played the title role in Michael Curtiz's Francis of Assisi (1961), and appeared in The Bridge at Remagen (1969) but was much busier on the small screen in the 1960s. He had a recurring role in Dr. Kildare and starred in the short-lived series Court Martial, and appeared in Naked City, Wagon Train, The Alfred Hitchcock Hour, The Man from U.N.C.L.E., and The Big Valley, among many other shows. Though never a major movie star he was a busy actor and a reliable talent in movies and on TV through the 1980s. He was Robert Redford's best friend in The Way We Were (1973), co-starred with Lee Marvin, Fredric March, and Robert Ryan in John Frankenheimer's 1973 film of The Iceman Cometh, starred in the insect invasion horror Bug (1975) and Joe Dante's Piranha (1978), co-starred in the Dirty Harry sequels The Enforcer (1976) and Sudden Impact (1983), played John Wilkes Booth in The Lincoln Conspiracy (1977), and appeared in Mary Tyler Moore, Columbo, The Streets of San Francisco, Falcon Crest (in a recurring role), and Dynasty among many other shows. His final credited screen role was in 1995 on Murder, She Wrote, a show he appeared in eight times in different roles. He passed away at the age of 87. More from Mike Barnes for The Hollywood Reporter.
Hugh Wilson left advertising for TV in the 1970s, where he graduated from staff writer for The Bob Newhart Show and The Tony Randall Show to create WKRP in Cincinnati. It ran for four seasons and found a second life in syndication, even spawning a revival show, but his subsequent TV productions never lasted more than a season, among them the acclaimed Frank's Place and The Famous Teddy Z. He made the transition to movies writing Stroker Ace (1983) and stepped into the director's chair with Police Academy (1984), which became a huge comedy hit and spawned a franchise. He went on to write and direct the western spoof Rustler's Rhapsody (1985), Burglar (1987) with Whoopi Goldberg, Guarding Tess (1994) with Shirley MacLaine and Nicolas Cage, Down Periscope (1996) with Kelsey Grammer, and Blast from the Past (1999) and Dudley Do-Right (1999) with Brendan Fraser. He also directed The First Wives Club (1996) and Mickey (2004) and co-wrote the miniseries Rough Riders (1997) with director John Milius. He died at age 74. Neil Genzlinger for The New York Times.
Actor Peter Wyngarde was best known to British audiences for his roles as a suave, stylish spy in the TV shows Department S and the spin-off Jason King, a character that Mike Myers cited as major inspiration for Austin Powers. He co-starred in Alexander the Great (1956) with Richard Burton, starred opposite Deborah Kerr in The Innocents (1961) and Janet Blair in Burn, Witch, Burn (1962), and co-starred in Flash Gordon (1980) and in the Planet of Fire series of Doctor Who. He passed away at the age of 90. Rhett Bartlett for The Hollywood Reporter.
The weekly links page is compiled and curated by Bruce Reid, with obituaries curated by Sean Axmaker.