The new issue of feminist film journal cléo has dropped, built around the theme of "hot". Among other pleasures, Kathleen Kampeas-Rittenhouse shows the bleak political view that undergirds Ceyda Torun's Kedi ("And so perhaps the more-or-less explicit themes of interdependence and fragility woven in among Kedi's lighter-hearted narratives are an attempt to apply a loving lens to a bleak reality—a gentle, wet-nosed nudge reminding audiences of their capacity to nurture"); Elise Moore offers an interesting perspective on the dilemmas presented in The Bigamist and There's Always Tomorrow ("A comparison of the Lupino and Sirk films highlights what Lupino's outsider approach added to American cinema's criticism of postwar conformism"); Kiva Reardon highlights Denis's Friday Night as an important precursor to her supposedly anomalous latest, Let the Sunshine In ("in Denis' filmmaking, we locate a cinematic space where the immediacy of women's wants and needs is foregrounded, indulged and generously examined"); and Sarah Fonseca shows a century's worth of obsessing about mermaids culminating in Smoczynska's The Lure ("When the viewer realizes what Smoczynska is cheekily telling us about gender, the question of whether or not the mermaids' song is manipulating audiences becomes irrelevant").
"In Arbuckle's [first] two features, it's his physical presence that matters, not consistency of character; in one he's a genial sheriff, in the other a lawyer inclined toward crookedness. Chaplin retained the Tramp persona in The Kid, but the film is a rather episodic affair. Once the main plot is resolved, a reel pads out its length with a dream sequence set in heaven. The Linder films are lively but digressive, with plots propelled by casual pranks and lovers' misunderstandings. By contrast, Lloyd's features moved toward tight construction. Despite his claim that his films just grew longer accidentally, they were shaped in ways that make them seem through-composed. His comedy sequences are deftly prolonged, building and topping themselves with great speed. Gags are embedded and interwoven in ways that yield surprises, and motifs set up early in the film pay off later. We may have forgotten about them, but Lloyd hasn't." David Bordwell argues that most dismissals of Harold Lloyd are flat-out wrong, shaped by a prescient hold on copyright that restricted our sense of his variety and innovation. Though even he can't make Lloyd's meticulous courting of the commercial come off any less depressingly chipper.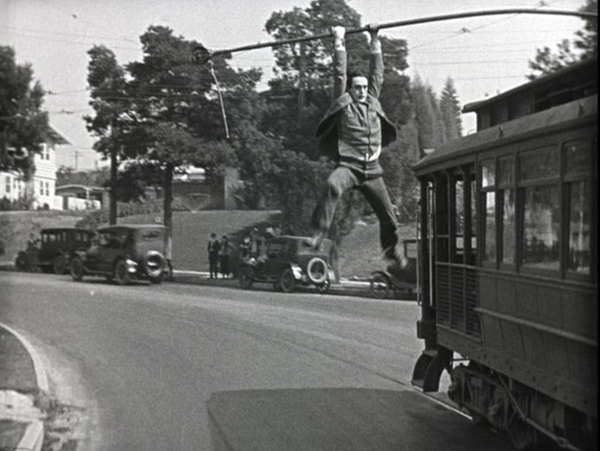 "The relationship between the regional and the universal, or between nature and art; the depiction of the artist's struggle as an act of faith and a vital apprenticeship; the movement between two countries with different landscapes and idiosyncrasies—all these themes are important topics from the novel that Godard and Miéville not only preserve but truly adapt. They find a new way to elaborate them, using different means and methods, creating a poetic and essayistic dialogue with the source that serves them as inspiration. And, by doing this, they manage to erase not only every distinction between fiction and reality but also, and more importantly, between life and art." Cristina Álvarez López's latest analysis of a masterful short film tackles Godard and Miéville's Liberté et Patrie.
"Where some see derring-do, however, I find a hint of desperation—I get the feeling that Anderson, having painted himself into a corner, is turning to the grand gesture to make his escape. This is, on one level, entirely appropriate. Desperation is the emotion with which Anderson, as a dramatist, is most comfortable. These bet-the-house moments, on which he is prepared to stake the entire integrity of his film, mirror the in extremis commitments of his damaged characters. Yet some of the exhilaration comes precisely because the risk of artistic failure is treacherously real." Nick Pinkerton isn't yet sold on Paul Thomas Anderson—too diagrammatic, too insular—but even he can't deny his frustration with what he finds the director's missteps is largely due to the magnificence of his triumphs. Via Mubi.
"The first moment in the writing process where I sat there and cried… was realizing that while I was having fun writing this mischievous popcorn film, there were real black people who were being abducted and put into dark holes, and the worst part of it is we don't think about them. I hadn't been thinking about them. We put them to the back of our minds. That was kind of a trigger point for me, this idea of the back of one's mind." Wesley Morris can't get Jordan Peele to offer any hints about his follow-up to Get Out, but he does discuss—in the thoughtful, let-me-back-up fashion of an artist who knows exactly where he's going even as he can see the appeal of other avenues—a worldview that has him upending cultural expectations of blackness as thoroughly as he does genre.
Can't believe I missed this, but let my untimely discovery act as a season's gift. Back in October the University of Indiana at Bloomington launched a marvelous resource, Orson Welles on the Air, a collection of radio broadcasts from 1938 to 1946. It's not complete, but the various Mercury Theater broadcasts sound as good as they ever have (with the fascinating bonus of script .pdfs, marked with last-minute changes, provided when available); and several rarities like the Orson Welles Commentaries are now widely available for the first time. Dramatizing literary works, giving orotund readings of poems, joshing along in silly sketches, ad-libbing with Groucho Marx and Lucille Ball, playing the raconteur, advocating passionately his radical politics; taken together this offers the most complete portrait of Welles ever assembled. Skipping, you know, the whole greatest filmmaker of all time thing. Via Wellesnet.
David Lynch's latest photography collection, Nudes, shows in its excerpts precisely the shadowy, distant, elegantly manicured mix of menace and eroticism you'd expect. Via David Hudson.
Obituary
Martin Ransohoff founded Filmways, which produced the TV shows The Beverly Hillbillies, Mr. Ed, The Addams Family, Petticoat Junction, Green Acres, and The Hollywood Squares, and then expanded into movies with Boys' Night Out (1962) and The Wheeler Dealers (1963), both starring James Garner. While his TV work was decidedly light and silly, he looked for more serious material for the big screen with such films as The Americanization of Emily (1964), The Cincinnati Kid (1965), The Sandpiper (1965) with Elizabeth Taylor and Richard Burton, Tony Richardson's Hamlet (1969), Catch-22 (1970) from Joseph Heller's novel, and Save the Tiger (1973), which earned an Oscar for actor Jack Lemmon. He was also producer or executive producer on Roman Polanski's The Fearless Vampire Killers (1967), Alistair Maclean action thriller Ice Station Zebra (1968), 10 Rillington Place (1971) with Richard Attenborough, hit comedy Silver Streak (1976) with Gene Wilder and Richard Pryor, Ralph Bakshi's animated American Pop (1981), and hit thriller Jagged Edge (1983) with Glenn Close and Jeff Bridges. His final credit was producer of the action thriller Turbulence (1997) with Ray Liotta. He passed away at the age of 90. Mike Barnes for The Hollywood reporter.
Keely Smith made her fame in a Grammy-winning singing partnership and hit lounge act with Louis Prima. She co-starred with Robert Mitchum in Thunder Road (1957) and appeared opposite Prima in the musical Hey Boy! Hey Girl! (1959), and her music has appeared in scores of movies and TV shows. She died at the age of 89. Richard Sandomir for The New York Times.
Vietnamese-born actress Hiep Thi Le, who escaped Vietnam in 1979 and made it to the U.S. after a series of refugee camps, was a college student when Oliver Stone cast her in Heaven and Earth (1994). She went on to appear in a number of movies and TV shows, including Cruel Intentions (1999) and Green Dragon (2000) before becoming a chef and restaurateur. She was 46. Kristen Chuba for Variety.
Clifford Irving became notorious for one of the most infamous literary hoaxes of all time: an autobiography of Howard Hughes based on completely fabricated interviews and forged documents. His cinematic legacy rests on the Orson Welles essay film F For Fake (1974), where he is featured in documentary footage, and Lasse Hallstrom's The Hoax (2006), which dramatizes the Hughes affair with Richard Gere as Irving. William Grimes for The New York Times.
The weekly links page is compiled and curated by Bruce Reid, with obituaries curated by Sean Axmaker.