The new issue of The Cine-Files contains a dossier on the rewards, surprises, and occasional hazards of teaching film studies. Among others, Joshua Glick discusses how he makes his students place themselves amidst the masses of Vidor's The Crowd ("Yes, John and Mary are back together and some form of economic stability might be possible. But can they achieve a heightened status beyond the "crowd?""); Liz Greene offers a nifty bit of pedagogy (with clips), having her students come up with a new sound design for a scene from The Elephant Man in the style of different directors; Christian Keathley uses Rosemary's Baby to discuss directorial choice and the orchestration of visual themes ("The students' answers are generally satisfactory, but I want them to see beyond the specifics of any one choice and to consider the ways in which individual choices sometimes fit together with others to form a pattern."); Maggie Hennefield finds the farcical take of then current events in To Be or Not to Be speaks clearly to young, modern audiences ("There is nothing that remains unsaid in To Be or Not to Be, but everything is said in the form of rapid-fire jokes and thinly veiled sexual or political innuendos. For my students, this film exemplifies the power of comedy to speak truth (or "truthiness") to the atrocities of state violence and populist dictatorship."); and Patricia White discusses a lifetime of teaching, loving, and growing with Akerman's Jeanne Dielman ("Jeanne Dielman can make a formalist out of anyone, and it is a great lesson for would-be filmmakers about how setting limits can inspire one's best work.").
"Indeed, the majority of these films adopt stylistic practices which are not susceptible to further development, and can ultimately do nothing except close in on themselves. Most of the previously mentioned titles fit neatly into this category, and thus feel right at home alongside Walter Matthau's Gangster Story (1959), S. Lee Pogostin's Hard Contract (1969), Leonard Kastle's The Honeymoon Killers (1969), Michael Barry's The Second Coming of Suzanne (1973), Walter Murch's Return to Oz (1985), Stephen King's Maximum Overdrive (1986) and Ryan Gosling's Lost River (2013). One-off auteurs generally favour aesthetics which are self-devouring, consuming narrative, film and filmmaker in a single gesture. The defining moment here is the final shot of Electra Glide in Blue, during which the camera pulls back from a dying Robert Blake and spends several minutes moving slowly down an empty highway, as if James William Guercio were watching his new career vanish into the distance." Brad Stevens finds an interesting pattern of resignation and failure in the works of filmmakers with only one completed feature, and a tragic exception, in its refusal of easy nihilism coupled with a true understanding of how difficult a follow-up would be, in Barbara Loden's Wanda.
"Where Vincent belongs is where Neil belongs: under the saturating artificial light of a parking garage, driving through the shifting hues of a California night, or beneath the spotlight of a hovering helicopter. The nocturnal bedrock of crime and punishment is secretive, ambiguous, familiar, and connective. Already linked by their appearance—perfectly groomed with sharply-defined facial features, upscale suits and an assured swagger—the unifying night swallows Neil and Vincent, enlivens them, coats them in amalgamated shades of moonlight and neon." Jeremy Carr charts the key roles played in Heat by locations, production design, and lighting—and how Mann keeps from becoming a prettified aesthete by using each to delineate characters and the world they inhabit. Staying at Mubi, a more surreal but no less evocative portrait of time and place is praised in Jesse Cummings' introduction to Suzuki's Taisho trilogy. ("Immediately following the Meiji epoch initiated in 1868, which saw Japan open its borders after nearly three centuries of isolationism, the Taisho era was one profoundly marked by cultural and artistic exchange with Western nations. It is this exchange and the distinct cosmopolitanism that is of interest to Suzuki, who places his characters into a maelstrom of desires, hauntings, and creative expression, by turns erotic and violent.")
"The longest sequence, placed in the middle, is like a microcosm for the entire film, a distillation of what Brick and Mirror is trying to convey. It's a 35-minute confrontation between Hashem and Taji (Taji Ahmadi), set in a tiny room, where we experience claustrophobia, fear, and tension along with them." Azadeh Jafari looks at the central sequence, a couple's long night's confrontation that precedes and predicts their collapse, in Golestan's Brick and Mirror.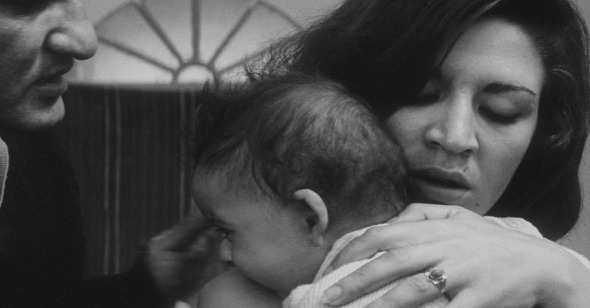 "I know many people who complain about the film industry but they cannot get out…. And I realize why it's so hard to get out. Because in a way it's almost guaranteed. If you are good, there will be a job that comes in and you make plenty of money and everything will be provided for you. Everyone treats you like a special person if you work in the film industry. When you travel and stay in a good hotel and fly in business class, you know, that becomes normal." Nate Jones profiles the make-up master Kazuhiro Tsuji, who'd left a remarkable but stressful Hollywood career to become a sculptor (dealing with Jim Carrey on How the Grinch Stole Christmas probably helped seal that decision), but was lured back to do his best to transform Gary Oldman into Winston Churchill.
"Music is often playing the role that dialogue might in another film…. A question that we had to solve was, how to have music that is there all the time, but not over-informing you. Because the story's a mystery that's hiding things from you all the time, so the music has to do that as well." Carter Burwell talks with Tim Greiving about the very different approaches he took with two of the year's best scores, for Wonderstruck and (admittedly more in his wheelhouse) Three Billboards outside Ebbing, Missouri.
Obituary
Johnny Hallyday has been called the Elvis of France, a rock and roll superstar who sold out concerts for over five decades and sold over 100 million records but whose musical fame never broke through in the U.S. or Britain. Like Elvis, he also appeared in movies, moving from performing as a featured act to starring in Where Are You From, Johnny? (1963) and co-starring in a series of rock and roll exploitation films in the sixties, often as himself. Jean-Luc Godard cast him in Detective (1985) and late in his career he found unexpected success starring a series of crime dramas: Patrice Leconte's Man on the Train (2002), Crimson Rivers 2: Angels of the Apocalypse (2004), and Johnnie To's Vengeance (Hong Kong, 2009). He passed away this week at the age of 74. Jon Henley for The Guardian.
Conrad Brooks was never a star and is probably unknown to most film buffs, but he earned cult fame as one of Ed Wood's regular actors. He appeared (in multiple roles) in Wood's debut Glen or Glenda (1953) and as a not-too-bright cop in Plan 9 From Outer Space (1959) and had uncredited appearances in Jail Bait (1954), Bride of the Monster (1955), and Night of the Ghouls (1959). After a bit part in The Beast of Yucca Flats (1961), he was off the screen for over two decades before being cast in a series of low budget exploitation films with names like Deathrow Gameshow (1987), F.A.R.T. The Movie (1991), and Bikini Drive-In (1995). He continued appearing in such films up to his death at the age of 86 (IMDb lists multiple movies in production), but reportedly he was most thrilled to be cast by Tim Burton in a bit part in Ed Wood (1994), playing a bartender in a scene opposite Johnny Depp as Ed Wood. Chris Kaltenbach reports for The Baltimore Sun.
The weekly links page is compiled and curated by Bruce Reid, with obituaries curated by Sean Axmaker, and other contributions from friends of Parallax View.