"Every genuine act of innovation starts with a bit of destruction. However, it's not the medium that Lynch blows up, but the rules and conventions associated with it. He has done this many times throughout his career: with the aesthetics of analogue film and low definition cameras, with serialized narratives, and compact (even ultra-short) durations. For Lynch, exploring the possibilities of a given medium often means turning it upside down in order to shake off the expectations attached to it, to unfold it like a glove into which he places his own, particular world, to extract from this medium what seems impossible, even utterly inconceivable." Cristina Álvarez López explores David Lynch's radical reinvention of the sequence-shot in his contribution to Lumière and Company, Premonition Following an Evil Deed.
The two latest entries in Reverse Shot's symposium on time feature two very different instances of the camera delicately approaching a seated man. Imogen Sara Smith highlights Anton Walbrook's monologue in the refugee office as a distillation of all the gaps and flashbacks that make time the implacable villain in the Archers's The Life and Death of Colonel Blimp. ("Theo can return to England, but never to the days when his wife was alive. Film, however, can rewind or replay, slow down or speed up time at will, as Colonel Blimp does with its flashbacks, its way of skipping over years as a stone skips over a pond. The challenge then is to make cinematic time feel like real time, to capture the irreversibility of age and loss, the way the past is at once inescapable and unrecoverable.") While Nadine Zylberberg finds the key to Sofia Coppola's whole project in Somewhere's suspended zoom on a face encased in plaster. ("Johnny and the lifeless substance that envelops him come together, he is at once dead and undead. In Coppola's world of existential boredom, there may as well be no difference between the two.")
"Cushing assumed the role of Frankenstein for all but one of Hammer's Frankenstein films, and his centrality to the franchise cannot be overstated. He was a departure from Colin Clive in the Universal films, commandeering his surroundings or presiding over some well-furnished laboratory with a placating assistant, impulsively murdering people for the benefit of science, and confronting his creation with uncharacteristic agility—in a later film Cushing, at 59 years of age, leaps onto the back of his latest creation in a brave attempt to subdue him. Both impetuous and remorseless in his actions, he is the principal cause of the films' violence, and so adept in his diabolical labor that at one point he even recreates himself in another body." Rumsey Taylor runs through the Hammer Frankenstein series, with its creatures that run the gamut from illiterate beasts to tortured humans, finding each "each an exploratory riff on the Shelley prototype," whose tragic, isolated dimension can be found in the series in aggregate. Via David Hudson.
"But Nick and Nora just drink—and with unflappable tolerance. After all, the 21st Amendment to the Constitution was passed the year before in 1933, thus ending national Prohibition, so, drink away! Of course, Nick and Nora always drank as everyone did under Prohibition, but never mind that, celebrate! Celebrate more. And have another. Have six, and order five more as Nora does when she is finally introduced in the picture." Like every delighted viewer since the film first played, Kim Morgan relishes the contact high you get from watching perfect couple William Powell and Myrna Loy in The Thin Man.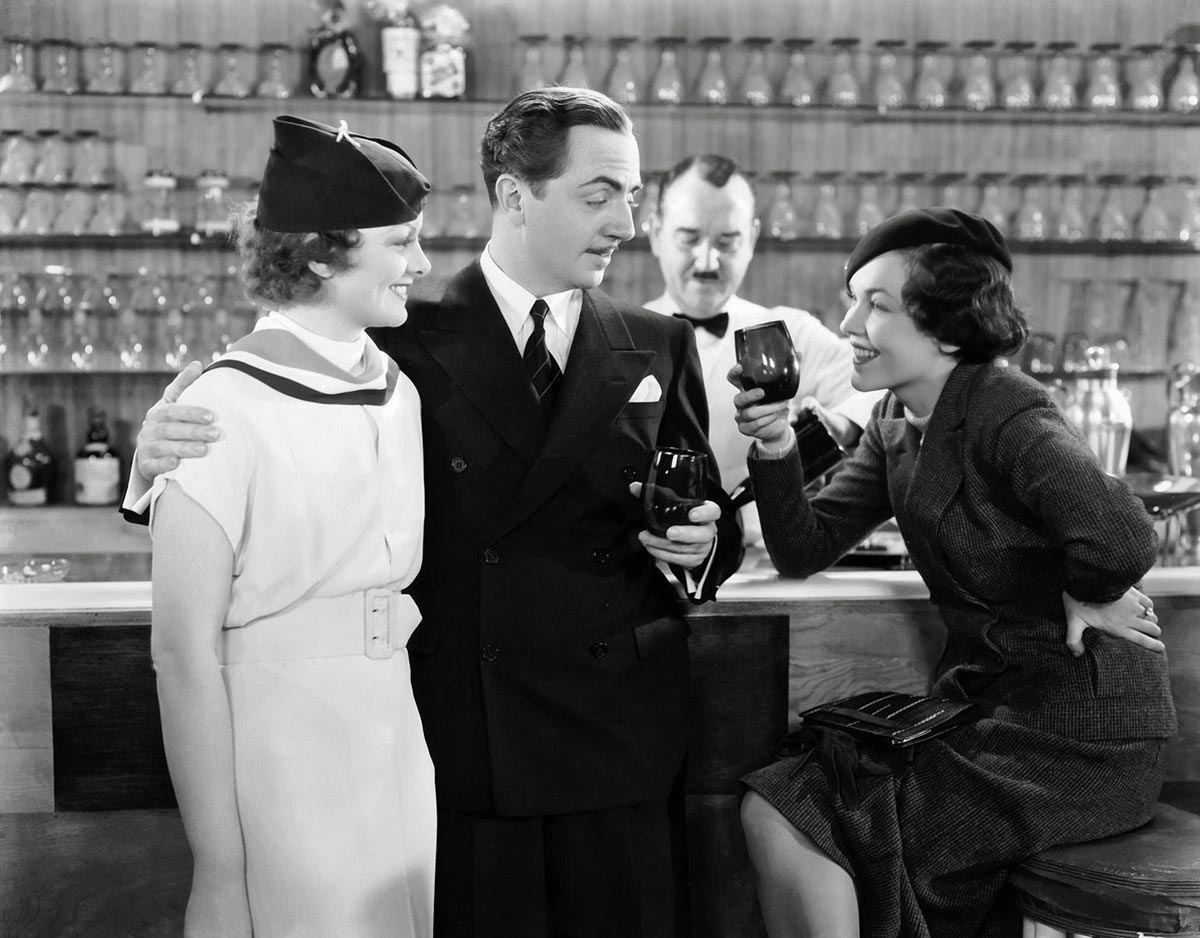 "We recorded everything from when they introduced themselves to when they started "acting." We wanted to see if they could stay the same. Usually people become more excited when they start improvising. The energy changes. We prefer people who can just be totally normal, to the point that we cannot tell if they're telling the truth or lying." Chris Shields talks to some directors and casting directors—including Weerasethakul's AD Sompot Chidgasornpongse, quoted above—about the use and casting of non-actors.
"What does the audience want? […] Well, they don't know what they want. They just know that they want it, and they'll know what that is when they see it." Brent Lang talks with Christopher Nolan—and some colleagues and collaborators—to craft a portrait of a filmmaker so obsessed with detail he floated alongside the actors scrambling up the ship side in Dunkirk and a businessman so shrewd he knew his unconventional war film would be a blockbuster.
"It's not your standard love story. It's more peculiar for sure. A lot of directors have tried and failed to make Rebecca. I'm probably next in line, but it's a different story. I'm a large aficionado of those large Gothic romance movies as the old masters might do them. What I like about those kinds of love stories is that they're very suspenseful. A good dollop of suspense with a love story is a nice combination." Paul Thomas Anderson, one of the voices praising Nolan in the previous article, tells Kevin P. Sullivan very little about his latest, Phantom Thread, while emphasizing repeatedly the importance of collaboration whether with Daniel Day-Lewis or the crew that would make it "just plain wrong" for Anderson to take director of photography credit on the film. Via Mubi.
"I once went through a major Sam Shepard phase, and I thought, "I'm completely in the wrong place, and I'm the wrong gender! And I'm also not a heavy drinker! And I need to somehow become a wild man and go out to the West and learn how to rope cattle!"" "I don't think Sam Shepard knew how to rope cattle." "Well, he seemed like he did!" Greta Gerwig talks with Francis Ford Coppola about the importance of rehearsals, letting first inspirations bloom, and leaving room for mistakes.
"I'm not the person to try and stick my finger in this particular dike of where technology is taking us as viewers. There are other filmmakers that can and should push back against that, and say, "No, I want to protect this other way of doing it." I'm just not the person to devote myself to a defense of that, because I don't care. All I care about is the story and telling the story. I don't care how people ingest it." Steven Soderbergh and Matt Zoller Seitz discuss why his new app-based project Mosaic might allow viewers narrative options but isn't a video game, and how the only good thing to come out of the Weinstein scandal may be a long-overdue shift away from directors abusing their positions of power.
Adrian Curry hands over his movie poster column to artist Nathan Gelgud, who picks his ten favorite illustrated posters, which all, even the one advertising Bresson, share a cartoonish vitality.
The posters Film Comment collated to illustrate a Nick Pinkerton article (itself not available online) about the golden age of film societies have a more scrappy, DIY aesthetic, while being no less fun.
Obituary
John Hillerman is best known to most people as the sardonic, cultured Higgins bantering with Tom Selleck on Magnum, P.I. (1980-1988) but he had a career as a busy character actor in the movies before taking that defining role. His first credited screen appearance was a small role in the Burt Lancaster western Lawman (1971) followed by The Last Picture Show (1971), his first of many films for Peter Bogdanovich, who cast him in supporting roles in What's Up, Doc? (1972), Paper Moon (1973, as twin brothers), and At Long Last Love (1975). He also appeared in The Carey Treatment (1972), The Thief Who Came to Dinner(1973), High Plains Drifter (1973), as Howard Johnson in Blazing Saddles (1974), Chinatown (1974), The Day of the Locust (1975), Lucky Lady (1975), and Audrey Rose (1977), and had recurring roles in the TV mystery Ellery Queen (1975-1976) and the sitcom One Day at a Time (1976-1980). He also played Higgins on episodes of Simon & Simon and Murder, She Wrote. His last role was in the comedy sequel A Very Brady Sequel (1996). He passed away this week at the age of 84. Matthew Haag for The New York Times.
German actress Karin Dor appeared in a series of westerns based on the novels of Karl May (The Treasure of the Silver Lake, 1962, Winnetou: The Red Gentleman, 1964) and lurid krimis, the distinctive genre of German thrillers based on the novels of Edgar and Bryan Wallace (The Strangler of Blackmoor Castle, 1963, The Sinister Monk, 1965), many of them directed by her then-husband Harald Reinl, and opposite Christopher Lee in The Invisible Dr. Mabuse (1962), The Face of Fu Manchu (1965), and The Torture Chamber of Dr. Sadism (1967). Her career briefly went international playing an assassin in the Bond film You Only Live Twice (1967) and Juanita de Cordoba in Hitchcock's Topaz (1969), but after a few appearances on American TV, she returned to Germany and continued acting in movies and on TV. Her final screen credit is in Margarethe von Trotta's Die abhandene Welt (2015). She died this week at the age of 79. More from Chris Pleasance for The Daily Mail.
Italian actor and musician Ray Lovelock appeared in spaghetti westerns (Django Kill… If you Live, Shoot!, 1967), gialli (Autopsy, 1975), and many Italian crime thrillers and poliziotteschi, beginning with Carlo Lizzani's The Violent Four (1968). Also a singer, he performed the theme to the horror fantasy Queens of Evil (1970) and co-starred in Fiddler on the Roof (1971). To genre fans, however, he's remembered as the lead in The Living Dead at Manchester Morgue (1974). In the eighties he turned to Italian TV and continued working practically until his death at the age of 67. No English language notices yet but the Italian press is full of remembrances.
The weekly links page is compiled and curated by Bruce Reid, with obituaries curated by Sean Axmaker, and other contributions from friends of Parallax View.