The New York Times Magazine offers a pair of profiles that emerge more complementary than you might expect. Alexander Chee finds Park Chan-wook committed to his modest domesticity, as fond of photographs and cats as Chris Marker, and proud of his self-taught sense of filmmaking. ("When you say you go to a film school in America or France, you would probably go to a lecture where they teach you about German Expressionism and show you what these German Expressionist films are…. But in Korea there was no systematic education I could be exposed to. It was sporadic, haphazard. And maybe that's why my films have ended up in this strange form, where it feels like it's a mishmash of everything.") While the mercurial Amy Adams, as profiled by Manohla Dargis, is steelier than her doe-eyed image suggests, if invariably polite, just as protective as the South Korean master of her personal life, and just as notably autodidact—about her feminist sensibilities. ("When a writer friend pitched Adams to a studio for another project, the limits of Spielberg's largess became conspicuous. The studio's response, as Adams described it to me, was:  'Oh, the homely girl from Catch Me if You Can.' That's preposterous and offensive, and typical of the industry's sexism. Adams, however, didn't frame it that way: 'I can't blame anything other than I did not do my best at that point. I don't think I inspired confidence.'")
Another intriguing pair as Geoffrey O'Brien does double duty for Criterion on Welles's Othello ("You may begin to wonder how much we even need the words. Here and elsewhere, Othello communicates as the most eloquent of silent films. It could be thought of, to borrow a phrase from Duke Ellington, as a "tone parallel" to the play, with Shakespeare's language forming only one strand of a mix in which music (Angelo Francesco Lavagnino developed his score in close collaboration with Welles), sound effects, visual design, and human faces each count for at least as much.") and Kubrick's Barry Lyndon ("Yet the more intimately present this reality becomes, the more ephemeral and ghostly the people in it seem. The past never stops being the past; the images freeze and recede into a frame, beyond our reach. That effect of doubleness is compounded by Kubrick's recurrent visual trope of slow zooms moving back from the action to reveal the indifferent landscape within which it is taking place. Those reverse zooms signal an incursion from the future, a telescope traveling through time as much as through space.")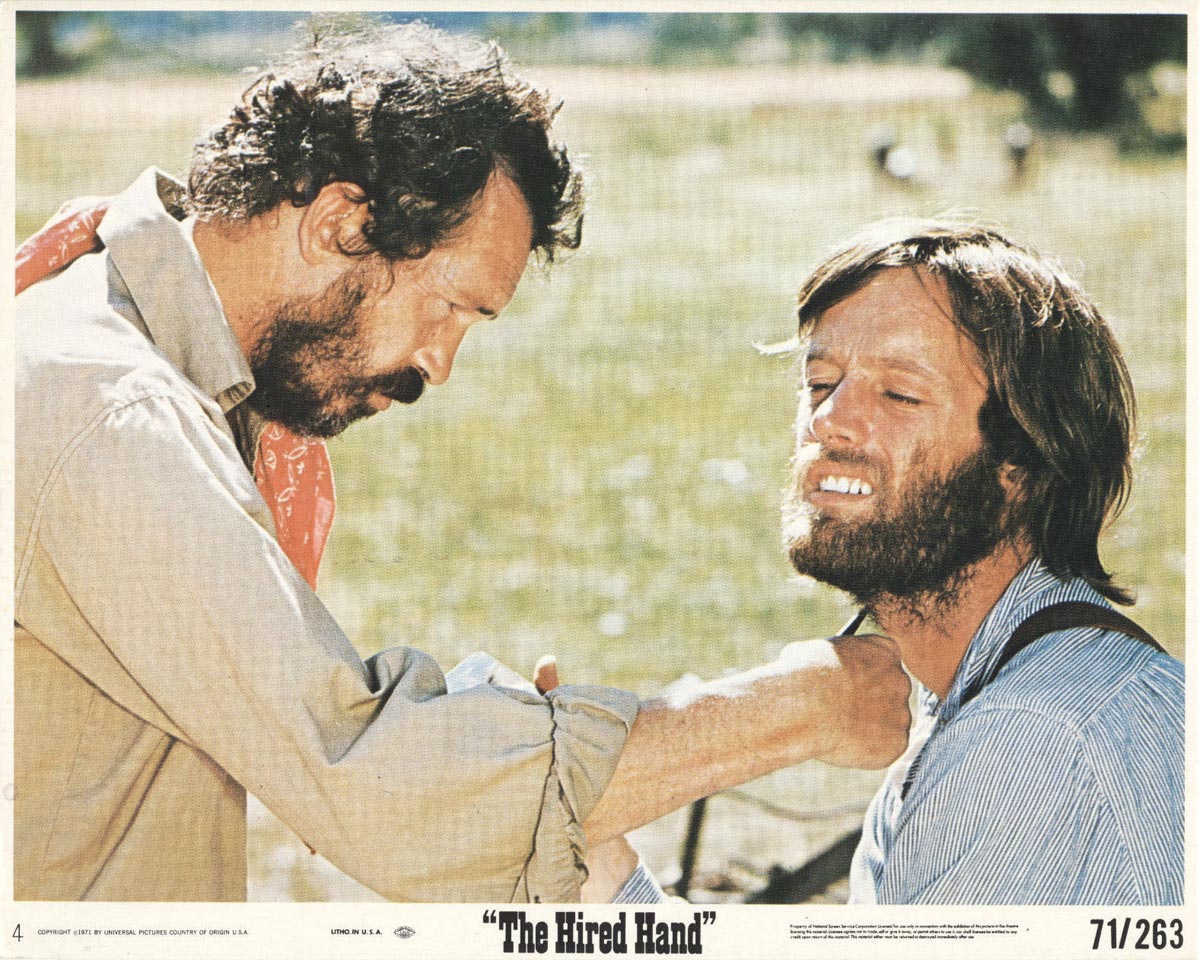 "Peter Fonda and Warren Oates looking at each other—it's an achingly beautiful thing. You feel the depth and concern of these two men, their friendship, lived-in and real, their faces, one blonde and stoic, sometimes dreamy eyed and languid, a little lost, mysterious; the other dark-haired and soulful, but wily, and with a toothy grin and crinkly smile that can veer from loving laughter to murder ballad darkness—as Oates put it himself, a face like, "two miles of country road." Captain America and Bennie. Iconic oddballs. Gorgeous in their own way and so deeply American. You see them together, take in their natural chemistry, and think, of course they love each other." Kim Morgan gives praise to the gentle, surprising, even feminist humanity of Peter Fonda's masterpiece The Hired Hand.
Multilingual journal La Furia Umana devotes a section of its new issue to Richard Quine. Among its offerings in English, Will Straw's career overview finds a director always tantalizingly out of step with his times, save one marvelous stretch ("Together, these six films exemplify that moment, just before and after 1960, when the lives of middle-class adults offered the terrain in which sexuality might be explored with levels of explicitness not seen in Hollywood in at least a quarter-century. Somewhat unexpectedly, Quine emerged during this period as one of the most effective stewards of this sensibility."); and Kevin John Bozelka delivers a fascinating read on Quine's use of songs and the shift in the industry from a "songbook" perspective that made pretty much any version of a song acceptable to the primacy and subsequent promotion of specific recordings. ("There is no break in [the performance of] «On The Sunny Side of the Street», as the film moves inside. Even consistent volume is maintained during the transition so that the music does not appear as any point of audition of a diegetic character. The song's ability to continue seamlessly over the dissolve heightens its omniscient effect. It can weave in and out of the narrative, functioning at once as non-diegetic score and diegetic sonic material.")
"The common thread running through all these films is that of marginalized urban dwellers willfully attaching themselves to the "wrong" objects of affection, the "wrong" ideations of hope or happiness, and the "wrong" versions of Manila; their navigations of a vibrant, constantly moving metropolis serve as an implicit rebuke to the regime's static vision of urban repair, rejuvenation, and beautification. This focus on those who do not "fit" with the ideological norms of authority remained a prominent trope in Philippine cinema even after Marcos was ousted from power." Robert Diaz argues the pursuit of pleasure in officially disreputable fashion was the best weapon the Philippine New Cinema of the '70s and '80s had against the dictatorial powers—and that it's time has come again.
"My communication skills with below the line weren't as strong as they should've been. I should've had individual meetings with every single crew member down to the PAs to tell them my style of filmmaking—that I will make the days, and I won't go into overtime, but you have to be comfortable with the fact that I won't exactly stick to the schedule. If I'm inspired by something that's happening off to the right or left, I'll be like, "Oh, let's scrap this right now and shoot that." I think in the first three days people were taken aback by that [process]. They didn't understand what was going on, and I was considered a rogue, crazy filmmaker." Sean Baker talks with Scott Macaulay about his transition with The Florida Project to union crews and name actors, and how it all circles back to the Little Rascals shorts he's always loved.
"I think we had an inferiority complex, knowing that Malle had made a masterpiece and that we were desperately trying to do something of our own. I thought, okay, through Anders we will listen to these conversations about contemporary Oslo and see how that informs his perspective on the world. I knew that would mean the film would exist in a certain bubble of time and that it would age. But I think people should keep making versions of this film every ten or twenty years, in different cities and with different characters, and maybe it will be a mirror of society at a certain time. I would encourage people to pick up this story again in the future and bring their personal experiences to it." Joachim Trier tells Hillary Weston about the inspiration and intimidation he felt remaking Malle's The Fire Within as his second feature Oslo, August 31st.
Barry Jenkins extends the sonic landscapes of Moonlight in his collaboration with DJ Candlestick, aka The Chop Stars, releasing a mix tape of Grizzly Bear songs chopped and screwed; i.e., slowed down and overlayed with various rhymes and sounds. The results only hold my interest for a song or three at stretch, but I can see them making fine dark-night-of-the-soul soundtracks.
Obituary
Actress and singer Danielle Darrieux was one of the greatest movie stars of France with a career that spanned over eighty years. Beautiful, poised, and extremely talented, she made her screen debut at age 14 in the 1931 comedy Le bal. She instantly became a busy leading lady and soon after, with Mayerling (1936), an international star. She made The Rage of Paris (1938) in America but turned her back on Hollywood and returned to Paris. She made La Ronde (1950) and Le Plaisir (1952) for Max Ophuls and, in England, 5 Fingers (1952) for Joseph Mankiewicz. I believe that her greatest role and her greatest film was Max Ophuls's masterpiece The Earrings of Madame de… (1953) but she claimed Madame de Rénal in The Red and the Black (1954) as her favorite role. She played the lead in Lady Chatterley's Lover (1955) and the mother of Alexander the Great (1956) and starred in Claude Chabrol's Landru (1963) and Jacques Demy's The Young Girls of Rochefort (1967), the first of several films where she played Catherine Deneuve's mother. Other notable films include André Téchiné's Scene of the Crime (1987), François Ozon's 8 Women (2002), and Anne Fontaine's Nouvelle chance (2006). She made her final big screen appearance in The Wedding Cake (2010), eighty years after her screen debut. She was a chevalier of the Légion d'Honneur and an officer of the Ordres des Arts et des Lettres, was nominated for three César Awards and awared an Honorary César in 1985, and received the Molière, France's equivalent of a Tony Award. She passed away at the age of 100. Anita Gates for The New York Times.
For some reason I missed reporting on the great French actor Jean Rochefort, who died last week at the age of 87. A state and cabaret star, he began in film career in 1960s costume dramas and adventures (Cartouche, 1962, The Devil by the Tail, 1969) and became a star in comedies and sex farces in the 1970s (The Tall Black Man with One Black Shoe, 1972, Paron Mon Affaire, 1976). His first major dramatic role was in Bertrand Tavernier's The Clockmaker (1974), he appeared in Luis Bunuel's The Phantom of Liberty (1974), and won his first Cesar for Tavernier's Let Joy Reign Supreme (1976) and his second for Le Crabe-Tambour (1977). He starred in The Hairdresser's Husband (1990), Ridicule (1996), and Man on the Train (2002) for Patrice Leconte, appeared in Robert Altman's Prêt-à-porter (1994), and starred in Fernando Trueba's The Artist and the Model (2012). But he's best known to many Americans for a role he ultimately was unable to play: Don Quixote in Terry Gilliam's The Man Who Killed Don Quixote, a troubled production chronicled in the documentary Lost in La Mancha (2002). More from Ronald Bergan for The Guardian.
British actor Roy Dotrice was more active on stage than on screen but for a generation of fantasy fans he was the warm, paternal Father Wells on the 1980s TV series Beauty and the Beast. Like many British stage actors, he was busy on British TV through the 1960s and 1970s, including playing Charles Dickens in the mini-series Dickens of London (1976). He played King George IV in the TV mini-series Shaka Zulu (1986), had a recurring role in Picket Fences, and played King Balor in Hellboy II: The Golden Army (2008). He also narrated the audio books of the first five of George R.R. Martin's A Song of Ice and Fire novels (Martin was a writer and producer on Beauty and the Beast) and his final screen role was, fittingly, in Game of Thrones. He passed away at the age of 94. More from Michael Coveney for the Guardian.
Italian filmmaker Umberto Lenzi is notorious for his gruesome Italian horror films The Man from Deep River (1972) Eaten Alive! (1980), City of the Walking Dead (1980), and Cannibal Ferox (1981), films notorious for their excesses and grotesque violence. Lenzi was workhorse in Italian genre filmmaking, taking on whatever genre was hot at the moment: pirate movies (Queen of the Seas, 1961), costumer adventures (Sandokan the Great, 1963), peplum (Samson and the Slave Queen, 1963), spy movies (008: Operation Exterminate, 1965), spaghetti westerns (Pistol for a Hundred Coffins, 1968) and war films (Desert Commandos, 1967), polizieschi (Gang War in Milan, 1973, Violent Naples, 1976), and of course giallo (Orgasmo, 1969, So Sweet… So Perverse, 1969, Spasmo, 1974). He was 86. Tim Lucas celebrates his legacy at Video Watchblog.
The weekly links page is compiled and curated by Bruce Reid, with obituaries curated by Sean Axmaker, and other contributions from friends of Parallax View.