The new issue of Screening the Past, as always, features some interesting articles about the history of Australian film, including Dirk de Bruyn's praise of the sparse, often years in the making works of experimental filmmaker Lynsey Martin ("That Light and Dark was initiated in 1973 and completed 25 years later defines and overwhelms this film and tests its content as a forgotten memory. Somehow the film folds in on itself, embracing all that frustration and darkness of the lost open-ended unfinished works. The period of its making bridges all of it.") and Lesley Speed's unearthing of the lost origins of Ozploitation ("That Australian exploitation films are part of mainstream local cinema is exemplified by the career of director P. J. Ramster…. By 1925, P. J. Ramster Photoplays was one of the "more established" local film companies and the director used his prominence to support the local industry by calling for a government quota requiring exhibitors to screen a percentage of Australian films. Whereas American "exploiteers kept fairly low profiles" because "little" was "to be gained by notoriety, Ramster's career reflects a more contradictory combination of prominence and low critical regard.").
But the issue kicks off with a dossier on the still overwhelming influence on many filmmakers of Stanley Kubrick. Peter Krämer shows the strong influence of 2001 on the making and marketing of Avatar ("There is an implied promise here that eventually all of humankind might learn to evolve to a higher level through its interaction with the life forms of Pandora, in the same way that in 2001 the transformation of astronaut David Bowman into a "Star-Child" was meant to signal that humanity could develop into a more highly evolved state"), Yeqi Zhu traces the long shadow of The Shining over Hong Kong horror films ("[T]he post-'golden age' Hong Kong horror films influenced by The Shining increasingly shift their focus from the realm of the supernatural towards 'realistic' and psychological reworkings of Kubrick's film"), while Stella Louis considers his influence on the genre in the west ("The same observation can be applied to the house in Funny Games (Michael Haneke, 1997), the desert in Gerry (Gus Van Sant, 2002), the high school in Elephant (Gus Van Sant, 2003), or the film set in David Lynch's Inland Empire (2006). They are all presented as maze-like, labyrinthine spaces"). Other aspects of the director's legacy are explored in James Fenwick's look at the curation of museum exhibits devoted to Kubrick ("The curation of Stanley Kubrick: Cult Auteur played into a trend for the need in Kubrick fandom to acquire a closer experiential understanding of Kubrick and his films. It is part of the fetishising of Kubrick, with the exhibition being part of a series of exhibitions that offer new perspectives via a tangible physical look at objects that Kubrick possessed and worked with and to use these to re-consume and re-interpret his work") and Filippo Ulivieri's account of collaborating with Kubrick's assistant Emilio D'Alessandro on what would be one of a flood of memoirs from collaborators ("By comparing the varied views of Kubrick, I began to think that he behaved quite differently in and out of his directorial work. When he was developing a story with a writer, or setting up a budget with the financiers, or testing the actors, or directing his crew – then he indulged in whatever strategy he felt was needed for achieving the desired result. I believe this might account for a feeling of aloofness and bewilderment in some of the memoirs.")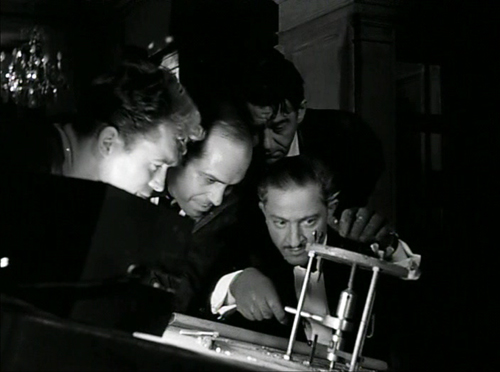 "The prototypical heist film, critics seem to agree, doesn't just include a robbery. There are robberies in films about Robin Hood and gentleman thieves like Raffles and the Saint. The outlaw or bandit film like They Live by Night and Bonnie and Clyde contains a string of robberies, but they wouldn't be at the center of the heist category. Donald Westlake proposed a concise characterization: "We follow the crooks before, during, and after a crime, usually a robbery." This indicates two things. First, the plot is structured around the big caper, though there might be lesser crimes enabling it, such as stealing weapons. Second, the viewpoint is organized around the criminals, not the detectives who might pursue them, as in a police procedural." Surveying several classic examples, David Bordwell considers the variations possible to makers of heist films, from fractured chronologies to eliding the central heist altogether.
"The Power falls into a category I happen to cherish, mid-to-late '60s films where the slow-motion collision between the last vestiges of the Hollywood studio system and the counterculture can be seen playing out on screen. This includes films by successful early adapters like Mike Nichols or Paul Mazursky, but also projects from old pros who suddenly found themselves in a bizarre cultural era, trying to create something that could speak to, and utilize, the new freedoms. Some big-name examples are the acid (lysergic and otherwise) zaniness of Otto Preminger's Skidoo, or the whiff of Aquarius that Jack Nicholson carries into Vincente Minnelli's On a Clear Day You Can See Forever." Robert Horton doesn't deny that producer George Pal, director Byron Haskin, and a host of MGM professionals only intermittently made The Power live up to its culture-clash modernism, but he treasures the moments when it does.
Nothing to be added to Ronan Farrow's meticulous takedown of Harvey Weinstein's gross sexual misconduct beyond the fact that it's already out of date, as certainly any update I tried to provide would be by the time you read it.
"I think everybody is a little everything. That's what an actor is about, you know. To pull a string that's stronger than another in every role you take: the string of shyness, the string of power… It's like an instrument. Like on a piano board you have all these notes, and you can use all these notes. It's the same for an actor." Isabelle Huppert discusses the nature of her art, and its limits, with Miriam Bale.
"In the early 2000s, I was at the International Film Festival Rotterdam and randomly went to a screening. It was a feature film, recording only an old lady talking, with almost no cuts. I thought the film was genius, though I couldn't understand at all what the old lady was talking about, and didn't know anything about the film. It was not until several years later that I found out it's Jean Eustache's Numéro Zéro (1971). Eustache filmed his mother recounting her life story. The film is an exemplification of the merit of zero editing." Wang Bing talks with Zoe Meng Jiang about the making of his Locarno-anointed documentary Mrs. Fang and the necessity of changing his style in response to the region of China in which he films.
"How do we know it's not a fake? It looks like a fake." "Well, one thing we know. You're no fake. You are a genuine idiot." A gallery of behind the scenes shots from North by Northwest, courtesy of the BFI.
The weekly links page is compiled and curated by Bruce Reid.