"The discovery of a 'secret child' (L'Enfant secret, J'entends plus la guitare), the failed or successful suicide attempts (Les Hautes Solitudes; the short Rue Fontaine, 1984; Night Wind, 1999; Frontier of Dawn, 2007), May '68 (at the core of Regular Lovers but repeatedly referenced in many others), electroshock therapy (L'Enfant secret, Frontier of Dawn), the inaugural infidelity of the female partner (Emergency Kisses; J'entends plus la guitare; The Birth of Love; Regular Lovers; A Burning Hot Summer; Jealousy, 2013; In the Shadow of Women), the birth of a child (J'entends plus la guitare, The Birth of Love, Frontier of Dawn, A Burning Hot Summer, Jealousy). It is the traumatic or joyful mark left by those events in the memory of the filmmaker that dictates their reappearance from film to film, as if the emotion associated with them compelled their depiction." Cristina Álvarez López and Adrian Martin take stock of Philippe Garrel's 50-year career, a half century dedicated to minimalist staging of autobiographical tales that insist upon authenticity even as they eschew realism.
"He more than once filmed Jane giving birth, turned their arguments and lovemaking into cinematic subjects, embellished his footage of their life in rural Colorado with wild superimposed images drawn from Norse mythology, and—in the Eighties—made pained films about their separation and divorce. But the moment he turned his camera on his family they, too, became concentrations of light whose "qualities and varieties" he could study. The films he made of them shine with love and tenderness and at the same time suggest an odd disregard for the recipients of that love." Another career five decades in length, and for large stretches as disquietingly autobiographical, was Stan Brakhage's. Max Nelson limns the domestic tension that acted as source for several of the most rapturous images ever captured, painted, scratched, or pasted on to film; a source Brakhage let drop with appropriate humility when his second wife nixed his filming the family for his art. Via David Hudson.
"Still, even though the book's most explicit dialogue is toned down, the characters clearly live in a similar atmosphere of pervasive poverty and general corruption, a world in which every encounter is a transaction. "You're an investment, and you're gonna pay off," the elder runaways tell Bowie. And Hawkins, the seedy marriage official (originally a corrupt judge), adds: "I believe in helping people get what they want, as long as they can pay for it." And they must pay for it in cash, in advance, as Thom Andersen comments in his 1991 essay "The Time of the Toad." Marriage between Bowie and Keechie (a must for the censors) had already been added, and results in one of the film's most beautiful scenes, when innocence is confronted with corruption and the power of money." Bernard Eisenschitz does a lovely job introducing They Live by Night, capturing all of Ray's passions and innovations and placing the film in context—not with noir, but with the burgeoning international fascination with social pressures and interior drama, aligning it more with Bresson and Antonioni than the genre then being born in Hollywood.
"Don't interfere. He's paying me fifteen thousand dollars just to touch my behind." "This is the kind of thing that could ruin our marriage." "Why? Because you don't want me to work?" Tim Lucas correctly praises The Man with Two Brains as probably the funniest of Steve Martin and Carl Reiner still undervalued collaborations—and the best career move Kathleen Turner could have made coming off of Body Heat.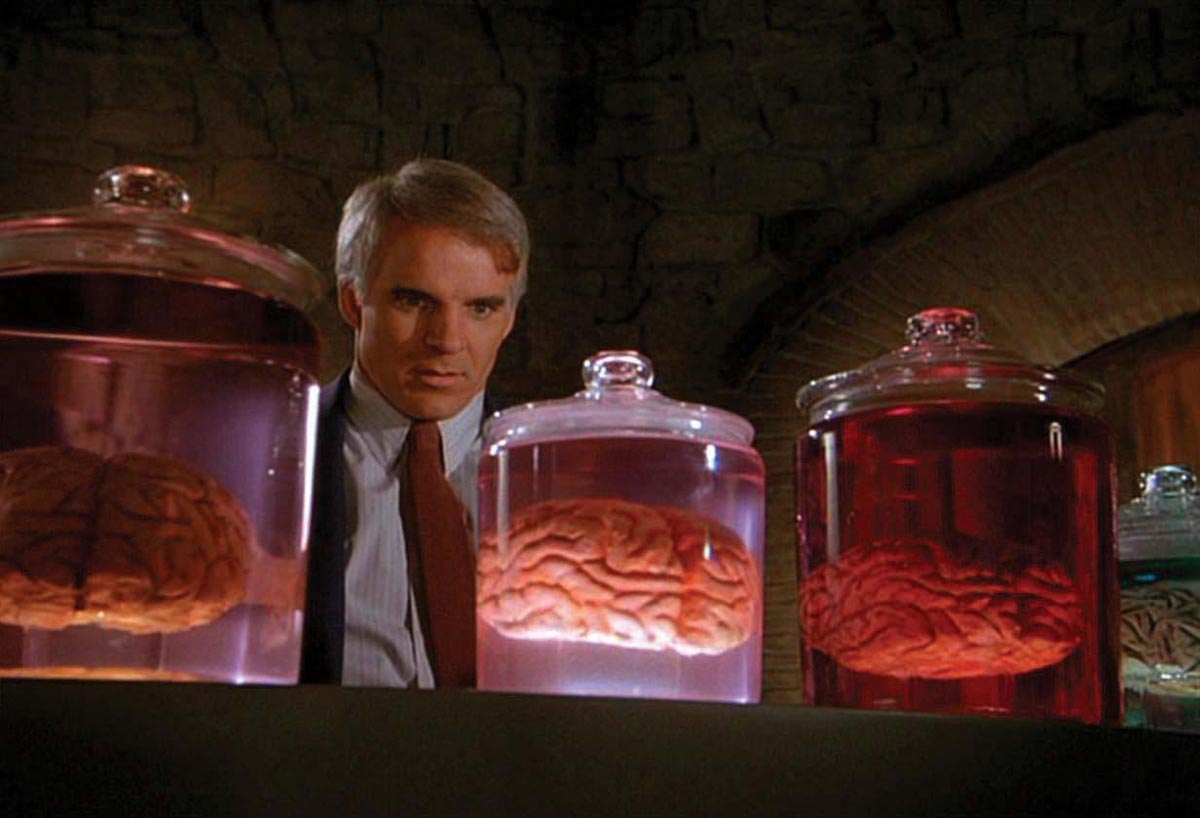 "It's in Cheever, but the visible-material existence of the scene on film, as with Lancaster's imposing demigod frame, does something even Cheever's prose can't: it creates a tangible and universal experience we therefore cannot dismiss. What literature does in our heads, privately, cinema does in the room, totemically. It's possible to read the story as one man's psychological tribulation, but the film is about an entire generation of mystified American men." The Library of America's Moviegoer blog focuses, naturally, on the methods of adaptation; Michael Atkinson's take on Perry's The Swimmer is an ideal example of how to show the necessary differences between prose and film without claiming inherent superiority on one form or the other.
"No one understood the perennial pull of nostalgia better than Raoul Walsh, who made a pair of films in 1941 that look back on the codes and customs of the late 19th century with pangs of fond regret. In The Strawberry Blonde and They Died with Their Boots On, Walsh offers more than a retreat to "simpler times": together they form a cinematic Rosetta Stone for understanding the phenomenon of backwards longing. Revisiting these movies 75 years after they were made invites us to covet both the eras that produced them and the eras they depict, which seem equally distant to today's viewer." Steven Mears looks at two of Walsh's lesser-rated masterpieces and finds them practically a diptych on our ways of finding glory when looking back on a past that doesn't really deserve it.
Matt Fagerholm highlights two interesting defenses of coming-of-age movies that made less of a splash than the authors feel they deserved. Jim Hemphill, perpetual defender of the critically reviled, finds a lot to admire in Daniel Waters's directorial debut Happy Campers, which twists the classic route of filming sexual awakening as a horror film by leaving out the metaphorical monsters. ("Happy Campers, on the other hand, is genuinely shocking even 16 years later, because its dozens of jaw-droppingly hilarious moments grow out of an authentically anarchic sensibility with no filter, no safety valve and no apology. Waters is the only comic filmmaker I know of who shares the relentless sadism of horror directors like Wes Craven and Tobe Hooper, directors whose movies feel like things that can hurt you; his is a cinema void of comfort and reassurance.") While Sasha Kohan found the shock of recognition coming across Marisa Silver's Old Enough, made when the writer/director was still a university student. ("I never fully appreciate the differences in how female characters are portrayed when directed by men versus women until I see something like Old Enough. It's a wonderful thing, to see women and girls in film playing with and up against each other in ways that are neither annoying to us nor antagonistic to each other, neither silly nor self-serious – they just are.")
"Bong asked me about writing Frank. I told him that Peter did the big brushstrokes and I filled in the details. Then the meeting ended and I went home, cursing myself. What if Bong had wanted a big-brushstroke person? It wasn't even true. Peter and I had done everything together. Why was I always so self-defeating? Then Bong offered me the job. He had, it turned out, wanted someone who could fill in the details." Okja cowriter Jon Ronson describes his contribution (proper Anglicizing and a one-upsmanship on the already present humor) to Bong Joon-ho's script, and includes an email from Tilda Swinton that confirms she has a better idea of what makes a good screenplay than most of the people getting paid for the job. Via Movie City News.
Obituary
Anita Pallenberg, the German-Italian model turned actress, was as famous for her cultural presence as she was for her film work in the 1960s. She dated Brian Jones and then Keith Richards of the Rolling Stones (and reportedly introduced Richards to heroine) and was a part of Andy Warhol's Factory circle, all of which kept her in the public eye. During that time she made her feature debut in Volker Schlöndorff's Degree of Murder (1967) in Germany and went to play memorable roles in the cult films Barbarella (1968), Candy (1968), Marco Ferreri's Dillinger is Dead (1969), and opposite Mick Jagger (yet another Rolling Stone) in Performance (1970). After one more film, Philippe Garrel's Le berceau de cristal (1976), she absent from the screen for over 20 years before returning in a series of small, eccentric films: Love is the Devil (1998) with Derek Jacobi as Francis Bacon, Harmony's Korine's Mister Lonely (2007), and three for Abel Ferrara, Go Go Tales (2007), Napoli, Napoli, Napoli (2009), and 4:44 Last Day on earth (2001). She passed away at the age of 75. Anita Gates for The New York Times.
Russian actor Alexy Batalov starred in The Cranes are Flying (1957), which won the Palm d'or at Cannes, and the Oscar-winning Moscow Does Not Believe in Tears (1980), the two films in a career with over 50 film and TV credits best known to western audiences. He shared the Best Actor Award at the 1955 Cannes Film Festival with the cast of Bolshaya semya (aka The Big Family, 1954), directed an adaptation of Gogol's The Overcoat (1959), starred in the acclaimed The Lady with the Dog (1960) and Mikhail Romm's Nine Days in One Year (1962). He was one of the most acclaimed Soviet actors of his generation and earned numerous awards in Russia, and he taught acting at the Moscow State Film Institute (VGIK) and in seminars in the US and Canada. He died at the age of 88. More from Vladimir Kozlov for The Hollywood Reporter.
The weekly links page is compiled and curated by Bruce Reid, with obituaries curated by Sean Axmaker, and other contributions from friends of Parallax View.