"Harlan County, U.S.A. is filled with sounds recorded this way—the voices of local people speaking, shouting, and singing; the hard breathing of protestors running in fear and the rasping breaths of people with black lung; the noise of people laughing, crying, and screaming; and the sound of instruments like fiddles, banjoes, and guitars, calling birds, chirping crickets, and barking dogs; the noise of the vehicles that carry workers into the mine and the grinding machines that dig the coal and the conveyor belts that carry the coal out; the sound of car engines, the crack of pistol fire, and the rat tat tat of machine guns; and the echoing thunder of a mine exploding. These sounds slide into each other without pause. They form layers. Often emerging at first without visual referents, they conjure missing spaces and alternate times. They produce emotions." Grace Elizabeth Hale does a magisterial job exploring Barbara Kopple's use of sound in Harlan County, U.S.A., not just to draw the viewer in but to simultaneously reject the documentary tradition of portraying Appalachia as populated by exotic victims of fate (in which goal, Hale informs us, Kopple leans on the work of such indigenous film collectives as Appalshop) and to include the filmmaker herself as both a participant and recorder of the events. Via David Hudson.
"So we have a director of some ambition. That inference is backed up by some flashy moments in earlier 1910s work. In 1916 Taylor released a remarkable nine features, and during my DC stay I saw what remains of four of them. Although they're in parlous shape, they show a lively pictorial and dramatic intelligence. Are they auteur films in the strong sense? At least we can say that Taylor, like many other directors, was channeling just that exuberant creative energy that Richard evokes. Certain moments in two of these movies have genuine flair, and one film is an all-out stunner. I had never heard of any of them." Sifting through the remnants of what may have been the filmmaker's annus mirabilis, or for all we know merely another stretch of admirable if clumsy innovation and occasional inspiration, David Bordwell finds William Desmond Taylor deserving to be remembered for much more than his still unsolved murder.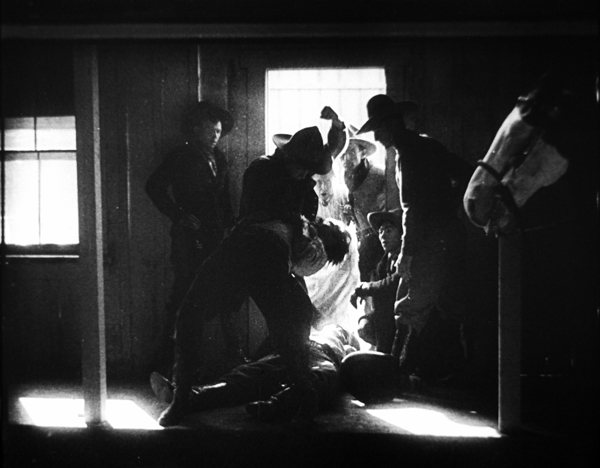 Staying at Bordwell and Thompson's site, they lend it out to Jeff Smith for a breakdown of the many ways Kieslowski prepares the audience of Red to grant almost a mystic significance to the strands of its narrative.
"You know, when someone believes in you, man, you can do anything, any fucking thing in the entire universe. And when you believe right back in that someone, then watch out world, because nobody can stop you then, nobody! Ever!" "You feel this way about Leigh?" "What? Fuck no, I'm talking about Christine, man!" After the flop of The Thing, John Carpenter made a few more studio productions before retreating back to the B-movie world; Duncan Gray correctly praises the first two, Christine and Starman, as both expectedly smooth, stylish entertainments and, respectively, a satire on teenage rebellion and the most endearingly cornball film Carpenter's ever made.
"Some of Schamus's changes as an adaptor are expedient simplifications of the material, such as Marcus changing his dorm room once rather than twice after clashes with his roommates (although this makes the Dean's worries in the film about a single room change more excessive), or having him work at the university library rather than as a taproom waiter. But other alterations yield significant if delicate differences in interpretation." Jonathan Rosenbaum argues for the ingenuity of many of James Schamus's choices in adapting Roth's Indignation—including the sacrifice of inherently "cinematic" events from the novel that would work against the film's laying out of its themes.
'People searched online for synopses and credits and titles to confirm the flying guesses. They spotted dates on calendars hanging on walls, judged years by fashions, noticed the logos of companies—the Pathé rooster, the IMP initials—incorporated into sets, a common practice in early days to prevent pirating. They recognized Los Angeles locations that turn up often in the earliest proto-Hollywood films, like Echo Park and Westlake Park. The lovely raw freshness of these LA streets and parks suggested another argument for the save-everything mentality: even if a film is nameless and it's not much good as a drama or comedy, there can be value in what it inadvertently captures. Behind the actors is the world a hundred years ago: reality blows through these films like the wind you can often see ruffling tablecloths and carpets in mocked-up interiors shot outdoors." Imogen Sara Smith visits the Library of Congress's Mostly Lost festival, the already legendary screening of unidentified films that encourages the calling out of clues to provenance.
From the communal recapturing of the past to the brute mechanics of preserving it, as Marty Perlmutter reports on the problems film archivists face with the continually rolling-over obsolescence of magnetic tape storage.
As you'd expect, Dan Callahan's is the loveliest and most perceptive of the articles written to celebrate Danielle Darrieux's centenary.
"I made Wake in Fright in a small town called Broken Hill, and the editor of The Barrier Truth told me over dinner, 'Mr. Kotcheff, you do know that the men outnumber the women in this town by three to one.' I said, 'Three to one?' Then I said, 'Well, I didn't see any brothels when I came through here. Are there any brothels here?' He said, 'Brothels? Certainly not! No, we don't have any brothels in our town!' I said, 'Well, is there a lot of homosexuality?' He said, 'Homosexuality! Hey, mate, we're Australians! We don't do dirty things like that!' And I said, 'Well, what do they do for human contact?' And he said, 'They fight.'" Ted Kotcheff talks with Aaron Cutler about First Blood, Wake in Fright, and how the first thing to do on location is take a newspaper editor out to dinner so you get insights like the one above.
"I'm really not sure whether I want to interview you. I'm not even sure that I believe in the interview process at all. And I've been told that you're a notoriously difficult person. Evasive, rarely forthcoming, and deeply self-deceived about who you are and what you're doing." "Well, doesn't that make me the perfect candidate for such a thing? Are you really interested in finding out anything about me, anyway?" Errol Morris wittily conveys the limitations of the interview format, and its marvelous ability to elicit something surprising and human, but sitting down for a testy conversation with himself.
Obituary
American actor Don Gordon had a career that reached back to the 1950s, working his way up from bit parts to play a series of bad guys in TV westerns and crime shows. He co-starred in the short-lived TV series The Blue Angels (1960) and became a busy character actor on the big screen in films like Bullit (1968), WUSA (1970), The Mack (1973), Papillon (1973), The Towering Inferno (1974), and The Exorcist III (1990) and in dozens of TV shows over the years, playing both cops and crooks. He passed away last month at the age of 91. Laura Wagner reported it on Facebook, with confirmation from the Gordon family.
Glamorous Israeli actress Daliah Lavi had an international career. She made the leap to American films with Two Weeks in Another Town (1962) but had a busy career in Europe, starring in the German films The Return of Dr. Mabuse (1961) and Old Shatterhand (1964), Mario Bava's The Whip and the Body (1963) in Italy, and the British films Ten Little Indians (1965) and The Spy with a Cold Nose (1966). She co-starred opposite Peter O'Toole in Lord Jim (1965) and Dean Martin in The Silencers (1966), and was a Bond girl (or sorts) in the comic Casino Royale (1967). She was also a singer and retired from the screen in the seventies to focus on her singing career. She died at the age of 74. Mike Barnes for The Hollywood Reporter.
The weekly links page is compiled and curated by Bruce Reid, with obituaries curated by Sean Axmaker, and other contributions from friends of Parallax View.