The new issue of cléo is organized around the theme of "soft," realized by such diverse analyses as Mallory Andrews on the ingenious costuming choices of 9 to 5's Ann Roth ("Each woman leaves the office early to commiserate at a local bar. Judy and Doralee have covered their outfits in matching cream jackets, and the lapels on Doralee match those of Violet's blazer. Any earlier animosity has been pushed aside, the cream colours acting as a uniform for a three-woman army.") and Veronica Fitzpatrick's admiring take on Ex Machina's ambiguity towards machines, women, and rape ("Much of Ex Machina's criticism has hinged on whether it's a feminist revenge parable or an objectifying robot fantasy, but both readings threaten to flatten the complexity that we, like Caleb, are asked to feel without explaining."). Elsewhere, Jaime Chu highlights the dizzying tactility in Jane Campion's filmography ("In her films, Campion reminds us of what hands do: they clasp, they rub, they catch, they soothe, they kill, they possess, they hurt, they hold, they remember."); Justine Smith praises the tensions between repression and erotic arousal in nunsploitation ("Somehow, the fusion of pain and pleasure made "sinful" desires feel more acceptable—the punishment was built into the act itself."); and Sophie Meyer cuts through metaphor to assess the films that break the phallocentric norm by celebrating soft cock ("While early reviews drew attention to the unprecedented sex acts of the opening minutes, it is in the closing minutes that the film enters truly new territory, of a tenderness that is also explicitly erotic and embodied….")
"The film's history is a drama in itself, part thriller, part tragedy. It involves an American Army base, the late-night pilfering of film canisters, a screening that left Mike Nichols in tears and a fatal review. The long final act ends in redemption at the hands of Martin Scorsese (among others) and includes the film's long-delayed television premiere, on HBO2 on Monday, April 24. This is the story according to the 89-year-old Mr. Ophuls, anyway, and he tells it—by phone recently from his home in Southern France—very convincingly, with frequent bouts of wheezing laughter." With Marcel Ophuls's Memory of Justice receiving a long overdue rediscovery, Mike Hale recounts the film's troubled production and disastrous reception.
"In the more than fifty years of his quest—with an artist such as this one, to speak in terms of a "career" seems insultingly reductive—Francis Ford Coppola has gone through many profound changes, but he has never reinvented himself. Rather, he has lost and found himself over and over again. Like his friends Martin Scorsese and George Lucas, Coppola has a sensibility that derives from the tension between dual attractions: these three have all always been drawn to classic Hollywood film language and production values, but also to higher-than-average levels of personal expression." One such rediscovery of self, in Glenn Kenny's persuasive argument, is the deliriously expressionist, and dreamily personal, Rumble Fish.
"Dean's "mannerisms" may appear "too much," but the whole film is "too much" and Kazan was smart enough to realize he needed an actor capable of going to that extreme. The result, of course, was that James Dean in East of Eden wasn't just Cal trying to connect with his father. He became, instantly, Every Misunderstood Kid Everywhere (an identification that would reach its baroque height in Dean's next film, Rebel Without a Cause). Dean became an archetype of Teen Angst while he was still alive." Sheila O'Malley's as impassioned as you'd expect on James Dean's breakthrough role, and how much of a piece he is with Kazan's other, equally non-naturalistic choices in the adaptation.
"I think of it as akin to the low-budget sci-fi and horror B-movies of a much earlier generation, whose blank spaces asked for some kind of leap from the audience to facilitate a point. But New Rose Hotel is part of a tradition of alienated sci-fi that rarely makes it to the screen—the sort that deals not with how basic tenets of the human experience might endure, but how they could be irreparably damaged. And its future, in theory, is a lot like our present." Ignatiy Vishnevetsky sticks up for one of Abel Ferrara's most maligned genre-in-theory, sui-generis-in-actuality pieces.
"There is a disconnect here. To millions around the world, the phrase 'French cinema' is synonymous with a certain type of liberal arthouse movies, usually starring Juliette Binoche or Isabelle Huppert. It isn't difficult to see, in the chasm between those films and the popular comedies that are the bread and butter of the French box office, an emblem of the state of French politics in 2017. Even as the critics deride these movies (Télérama called Les Profs "a rehearsal of tacky comedy clichés"), they connect with a certain audience, and even as the political establishment scorns and reviles the National Front, so an element of the French electorate clearly feels that Marine Le Pen's hateful discourse speaks to them, and are prepared to turn out at the ballot box to say so." Caspar Salmon charts the rise of xenophobic, even nastily racist comedies to the head of France's domestic box office. Via Mubi.
"I'm nobody's fool/I'm nobody's clown/I'm treating you cool/I'm putting you down/But baby I don't intend to leave empty-handed." Robert Kolker details Harry Shearer's (and silent co-plaintiffs Christopher Guest, Rob Reiner, and Michael McKean's) nearly unprecedented stand against the Hollywood accountancy game in their lawsuit to get money they claim they're owed for This Is Spinal Tap, while various studios and rights-holders are asserting neither the film or its ancillary products have yet managed to turn a profit. Via Longform.
The influence of Saul Bass hangs heavy over two of the finer credit sequences of recent months. Lola Landekic discusses Split's Psycho-homage with designer Aaron Becker and producer Seth Kleinberg. ("We didn't want to go down a road of an all live-action title sequence, for example, because his directorial style is so distinct and so it was understood that we would be exploring concepts that evoked a metaphor, or that alluded to the many faces of our main character, so we began thinking of how to express that with typography only.") And Hugh Hart talks with title designer Kyle Cooper about his marvelous silhouetted titles for FX's Feud. ("The great thing about animation is, you can transition to anything you want because you don't have to be completely literal. That allowed us to include metaphors like the cigar, which represents the largess of the studio executives all clamoring for the Oscar-like crumbs that fall from the table.") Via Movie City News.
"The ultimate in stabbing suspense! The intimate in shear shock! Tallulah Bankhead…is the Demon" And speaking of Feud, Adrian Curry salutes the series with a collection of hagsploitation posters, shrill, lurid advertisements for late-career, roles—as monsters or sometimes victims, but in those cases the misdirection is strong—by the likes of Bette Davis and Deborah Kerr.
Obituary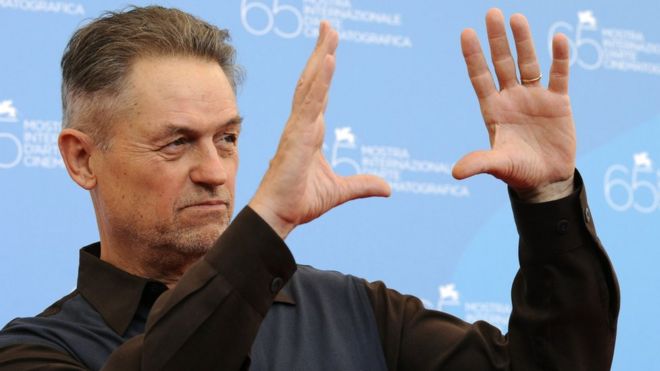 Jonathan Demme earned an Oscar for directing The Silence of the Lambs (1991), one of five that film won, and used his clout to make Philadelphia (1993), one of the first films from a major studio to confront AIDS (it earned Oscars for star Tom Hanks and for the theme song by Bruce Springsteen) but his legacy embraces a wide swatch of subjects and genres. He made his first films for Roger Corman, first as a screenwriter and then as director of Caged Heat (1974), a witty take on the women in prison film, and Crazy Mama (1975) with Cloris Leachman. Demme's heart and humanism came through in Handle With Care (1977), a piece of offbeat Americana built around the CB craze, and Melvin and Howard (1980), which earned two Oscars and rave reviews, and he directed the modest concert film Stop Making Sense (1984) with Talking Heads, which has been called the greatest concert movie ever made. And then Something Wild (1986) put him on the map and elevated him to the top rank. After Philadelphia he made Beloved (1998) and the big budget remakes The Truth About Charlie (2002, based on Charade) and The Manchurian Candidate (2004), and then shifted back to a mode indie for Rachel Getting Married (2008) and Ricki and the Flash (2015), but all the while he continued making performance films (Swimming to Cambodia, 1987, Storefront Hitchcock, 1998, Neil Young: Heart of Gold, 2006, Justin Timberlake + the Tennessee Kids, 2016), documentaries (Cousin Bobby, 1992, The Agronomist, 2003, Jimmy Carter: Man From the Plains, 2007), and lots of music videos. He passed away at the age of 73 from complications from cancer. Bruce Weber for The New York Times.
The weekly links page is compiled and curated by Bruce Reid, with obituaries curated by Sean Axmaker, and other contributions from friends of Parallax View.