The new issue of Lola has finished rolling out, with Laura Mulvey on Lola Montès ("In one remarkable scene at the centre of Lola Montès, Ophüls plainly lays out the film's key theme, while his mise en scène and the characters' choreography present, equally explicitly, a formal statement on cinema and on CinemaScope"), Yusef Sayed on Tony Conrad ("Across the … years, Conrad would continue to jam signals, change the tonic, boost the contrast wherever his own practices directed him—with a view to renegotiating the terms on which the individual, media and society might intersect."), Susan Felleman on the artistic nods (to painters and sculptors, natch) in David Lynch ("Twin Peaks' Venuses are part of a dreamscape…. Thus, these are images that can float free of material culture; if they can be said to ground their respective scenes at all, finally they ground them in fantasy."), and Girish Shambu on the A to Z of James Gray ("E for Emotion:  A word that crops up frequently in interviews with Gray—and one that clearly carries an enormous personal weight for him").
"Curled over a table in an upscale Mexico City restaurant recently, the 55-year-old director gets a little irritated when I laud the film's imaginative prescience. 'This thing was not imagination,' he says, jabbing his index finger into the tablecloth. By Cuarón's estimation, anyone surprised at the accuracy of his movie's predictions was either uninformed or willfully ignorant about the way the world already was by 2006. 'People were talking about those things, just not in the mainstream!' he says." As Children of Men reaches the decade mark—and the world apparently decides to celebrate by rushing to live up to its vision—Abraham Riesman looks back at its making with Alfonso Cuarón, who insists the film wasn't prescient, but rather utterly contemporary.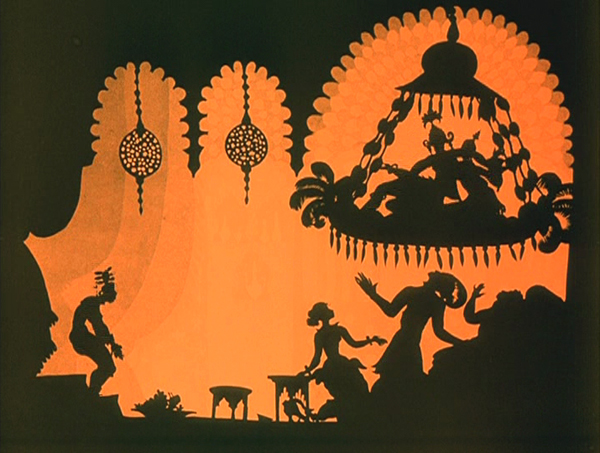 Experimenting Russians, expressionistic Germans, avant-garde Frenchmen, and Harold Lloyd all make the cut as Kristin Thompson ("with some help from David") presents the ten best films of 1926.
"The shot is among the longest and the most sublime in the film (not to mention one of the few not set to Mozart's Clarinet Quintet), but it's by no means the only one that tries to approximate the content and condition of a painting. Entire scenes of Le bonheur evoke the best-known Impressionist canvases of Manet, Monet, Cassatt, Seurat, and Renoir, which Varda—like many of the Impressionists, a student of art at the École des Beaux-Arts in Paris—knew as well as her contemporary Truffaut knew Rear Window." Jackson Arn considers the importance of painting in Varda's work—not just as reference points, but as an art form that's essentially mute of things beyond its surface, and thus one that speaks to her sensibilities.
"The theme's rhythmic ostinato and Cléo's walk evoke the methodical sound of a ticking clock, propelling her to move forward onscreen despite her clear distress. It's a telling choice in musical accompaniment at this early stage in the film because for Cléo time is running out." While it's Varda's ear Clare Nina Norelli praises; or at least the filmmaker's good sense in hiring Michel Legrand to compose the score for Cléo from 5 to 7.
"While it's easy to talk about Eyes Wide Shut in terms of what isn't worn, the clothes we do see become more significant by virtue of being framed by nudity. The film's famous, perfect final line, Alice's utterance of the word "fuck," becomes even more subversive when we consider that she's wearing a classic, well-tailored camel coat (that matches all the teddy bears around her, no less) when she says it." Abbey Bender offers a gallery of Nicole Kidman's fashions—unmistakably elegant, but also offering an anchor throughout the increasingly dreamlike film—throughout Eyes Wide Shut. Via David Hudson.
"There isn't the usual sense of an actor's physique that seems socially sculptured, as if the blocking and persona were a unified, prefab front. Instead, there's a feeling of guardedness and compulsivity, private drives camouflaged by off-the-cuff slackness. Masochism is as a front that masks something more enigmatic and disturbing: transmissions from the nethermind." Howard Hampton makes the case for Deborah Harry's indispensable contribution to Videodrome, the porno-ice-queen wild card helping to keep Cronenberg's cerebral fantasies tantalizingly physical.
"Because the auteur thing is nonsense. Film is so collaborative, and especially in my case, because I have artistic control over the film. That means I choose the people I collaborate with—we're making the film together. I use "a film by [Jim Jarmusch]" in the credits to protect my ability to choose my collaborators in this world of financing and using other people's money. But we're collaborating all the time, so the film is evolving each day we scout, and then each day we shoot, and then if we rehearse, whatever that might mean, it's just changing, changing, changing." But since somebody's got to talk to the press about the results, Jim Jarmusch sits down with Amy Taubin and discusses how he selected Paterson's subject, its actors, and its central bar.
"[In] Women on the Verge of a Nervous Breakdown I was bored because my character drinks the gazpacho and falls asleep. When I got calls to let me know they needed me because the camera would do a traveling and they needed to show my legs I would say, 'Pedro, this is a bore. I'm asleep all the time.' I became very obnoxious, even if he told me people don't do anything when they sleep. So one day he told me he'd decided I'd have an orgasm while I slept, and since my character was a virgin it would serve her well because she was so dislikable. In Spain we say "ask and ye shall receive," so it was good that I was obnoxious because I became a collaborator of this moment." Rossy de Palma talks with Jose Solìs about her career-long collaboration with Almodóvar. Via Criterion.
Obituary
Actress, author, screenwriter, and script doctor Carrie Fisher, who became an instant celebrity for playing Princess Leia in Star Wars (1977) and sequels), passed away this week after suffering a heart attack on a transatlantic flight from London to Los Angeles. She was 60.
One day later, her mother Debbie Reynolds, the celebrated actress, singer, dancer, and all-around entertainer who elevated to fame in Singin' in the Rain (1952), suffered a stroke and died at the age of 84. Her last words reportedly were "I want to be with Carrie."
2016 continues taking its toll right up through the final week of the year and it's heartbreaking. I leave to commentary to others. Carrie Fisher is remembered by Dave Itzkoff at The New York Times and Hillary Busis at Vanity Fair, while at The Hollywood Reporter Jackie Strauss reminds us of the obituary Ms. Fisher requested in her memoir Wishful Drinking: "I want it reported that I drowned in moonlight, strangled by my own bra."
For Debbie Reynolds: Carmel Dagan at Variety and Ronald Bergan at The Guardian, while Makeda Easter chronicles her passion for preserving Hollywood history through her collection of memorabilia, for the Los Angeles Times.
American actor George S. Irving was a Broadway mainstay for six decades, appearing in the original production of Oklahoma! in 1943 and performing a one-man cabaret show in 2008. Though he rarely appeared on screen, he is familiar to certain generation as the narrator of the animated series Underdog, the voice Heat Miser in the animated A Year Without a Santa Claus (1974), and in a recurring role on All in the Family. He passed away at 94. Dave McNary for Variety.
Argentine film director Eliseo Subiela earned international attention for Man Facing Southeast (1986), which took his brand of cinematic magic realism to audiences around the world. His films The Dark Side of the Heart (1992) and Don't Die Without Telling Me Where You're Going (1995) played international film festivals and he continued making films and TV programs through 2012. He died at age 71. La Nacion remembers his legacy (in Spanish).
The weekly links page is compiled and curated by Bruce Reid, with obituaries by Sean Axmaker and other contributions from friends of Parallax View.