The new issue of cléo arrives, with a focus on firsts. The theme is treated variously by the contributors, from Erin Delaney's appreciation of the assault on heteronormality in the Wachowski's Bound, particularly in contrast with other lesbian-themed noirs of the period ("While Basic Instinct is preoccupied by the fear that sexual performance may indeed be just a performance, Bound ultimately finds a profound power in Violet's ability to deceive men both socially and sexually"); Clara Miranda Scherffig's placing of Heaven Knows What (based on the writings of its first-time actor Arielle Holmes) in the tradition of The Panic in Needle Park and Christiane F. ("In casting actual drug users and soliciting their input, the Safdies were able create a narrative that conveys the attractions of drug use and street life—since getting sober, Holmes has spoken about missing "the adventure" of living on the street[iv]—without romanticizing addiction and homelessness"); a look at the one-take Uruguayan horror film La Casa Muda and its American remake Silent House by Nadya Sarah Domingo ("As Laura's terror and confusion intensifies, the camera seldom breaks from her perspective, and the viewer sees the events of the night through her experience as a survivor of abuse and other unforgivably violent acts. The single take here is intimate and uncomfortably so."); and a roundtable on women's sports movies ("I think the thing that is really striking about movies that feature women in sports is that the women are always "not like other girls." […] [I love these] movies, but I hate how our heroine is defined by the fact that she hates traditionally "feminine" things.").
"Weber doesn't lavish a lot of close-ups on Pavlova, preferring instead to show the dancer-star in longer shots. This may have had to do with Pavlova's age (she was in her 30s and not remotely girlish, at least here), but it also comes across as a shrewd directorial choice that serves both the story and the star." Speaking of feminism and firsts, Manohla Dargis catches up with the restoration of 1916's The Dumb Girl of Portici, and the other groundbreaking works of its director Lois Weber.
"Few countries experienced more violent and disorienting change in the twentieth century than Japan, which after centuries of isolation went through a sudden spurt of full-throttle westernization and modernization, followed by the rise of militaristic nationalism climaxing in the cataclysm of the Second World War. Well before the war or the start of the classic noir cycle, Japanese crime movies reflected—in both their style and their subjects—the conflicts and ambivalence spawned by a society torn between tradition and the new. " Imogen Sara Smith finds noirish themes emerging avant la lettre and half-a-world away in Ozu's Dragnet Girl and Uchida's Police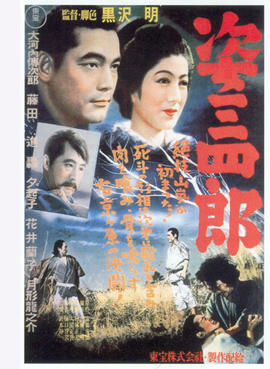 "So he was a cinephile director, perhaps not quite as passionate as Ozu, but a young man who looked and learned. Like most Japanese directors, he had mastered Hollywood continuity staging and cutting. I've argued elsewhere that many of his contemporaries were bolder stylists than the Americans. Whether it's a matter of long takes, camera movements, rapid cutting, or subtle transitions—the Japanese found their own striking innovations." Supplementing a video he's shot for FilmStruck, David Bordwell uses his blog to consider the technical achievements in Kurosawa's flashy debut Sanshiro Sugata, especially his considered use of the axial cut.
"But then more commies come, BETTER commies, to the rescue! It turns out Hollywood in the thirties COULD make a blatantly pro-Bolshie movie, if the plot got so fankled there was no other way out of it." David Cairns casts his satirical eye on the convoluted Russian revolution pre-code The World and the Flesh.
"A sensation trails behind the cinematic experience, as of a memory or a dream, evocable though also elusive. How to make a shot that's as mobile as a person, but as pristine as a tracking shot? It led to a technical solution that still begs questions. About what cinema can and can't do. About the possibilities and limitations of what we can see, of what we can or can't experience." Eric Hynes considers the "uncanny" effect of the Steadicam, so close to how humans perceive the world yet still alien in its impartial, gliding grace, in a handful of legendary scenes.
"I understand the temptation to romanticize jazz. And I know it's an art form that's faced questions about its relevance more than a lot of other art forms. The same thing applies to the musical. When you tell people that you're going to make a musical where people sing and dance and fall in love, there's the sense that you're fundamentally going into the past. So instead of deny that, I wanted to try to really highlight elements of the past, certain tropes that I loved in those movies and certain styles of music." Interviewed by David Marchese, Damien Chazelle discusses his love of jazz, his understanding of how it lost its audience, and how La La Land attempts to thread the needle between update and nostalgia.
"One of the best things about it is that puppeteers, compared to actors, are much nicer, gentler, kinder people. They're really the loveliest of people. I'd never worked with a cast where every single person was lovely. You always get a couple of actors who think too much of themselves. But these were all kind, gentle, loving people and I had the best time." Michael Caine confirms to Lauren Larson what you'd probably long suspected: The Muppet Christmas Carol is one of his favorite working experiences. Via Matt Fagerholm.
Obituary
French actress Michéle Morgan made her reputation starring in Marc Allégret's Gribouille (1937) and starred opposite Jean Gabin in Marcel Carné's Le quai des Brumes (1938) and Jean Gremillon's Remorques (1941). During the war she went to Hollywood, where she starred in Joan of Paris (1942), Passage to Marseille (1944) opposite Humphrey Bogart, and the cult film noir The Chase (1946), but her career never took hold and she returned to Europe, where she won the first Best Actress Award at the Cannes Film Festival for Jean Delannoy's La symphonie pastorale (1946). She starred in Carol Reed's The Fallen Idol (1948), René Clement's Le grandes manoeuvres (1955), and Claude Lelouch's Cat and Mouse (1975), and was awarded an honorary César in 1992 and a Career Golden Lion at the Venice Film Festival in 1996. She passed away at the age of 96. Adam Bernstein for The Washington Post.
Zsa Zsa Gabor was the original modern celebrity, an actress and entertainer more famous for her numerous marriages to (and divorces from) millionaires and for her puckish, eminently quotable comments on said activities on scores of chat shows and game shows and variety programs, than for her talents. She was Miss Hungary in 1936 and appeared on the big screen and the small screen in a career spanning over 40 years. She was Jane Avril in John Huston's Moulin Rouge (1952) and the title character in The Girl in the Kremlin (1957) and the campy Queen of Outer Space (1958), had a cameo in Orson Welles's Touch of Evil (1958), was the decadent villain Minerva in two-episode story in the 1960s Batman series, and played herself in numerous TV shows and movies. She was 99. Valerie J. Nelson and Beverly Beyette for Lost Angeles Times.
Singer, dancer, and actress Fran Jeffries performed the song "It Had Better Be Tonight" in a chalet in the original The Pink Panther (1963) and appeared in Sex and the Single Girl (1964) and A Talent for Loving (1969), both directed by her then-husband Richard Quine, and opposite Elvis Presley in Harum Scarum (1965). She ended her acting career in the 1970s but continued singing and recording for decades. She passed away at age 79. William Grimes for The New York Times.
The weekly links page is compiled and curated by Bruce Reid, with obituaries curated by Sean Axmaker, and other contributions from friends of Parallax View.