"In retrospect, the authentic set of the film looks mostly unreal, and in spite of minute attention to details, even by the 1920s standards, it is a décor which looks like décor. It has an MGM quality to it. The camera never makes any attempt to hide the fresh paint on the walls (in reality, when Joan of Arc was on trial the castle was already 200 years old and ravaged by wars and natural elements). In fact, the sets were painted pink to look grey in the final film—more Frank Tashlin than "transcendental." But was Dreyer looking for any sort of realism at the first place?" A tour of the models and photos at the Danish Film Institute has Ehsan Khoshbakht considering anew the full-scale set built for Dreyer's The Passion of Joan of Arc, whose every carefully researched detail was radically fragmented, deconstructed, and "ignored" in the filming and editing.
The new issue of La Furia Umana contains a dossier on Jack Smith, including Marc Siegel's career overviews of both the filmmaker ("While Smith found redeeming social and aesthetic qualities in all of these undervalued genre films that allowed visual spectacle and exotic settings to trump narrative and character development, he reserved a special place in his personal pantheon for the films of director Josef von Sternberg and actress María Montez.") and one of his stars, Mario Montez ("At that point they were releasing Cleopatra [Joseph Mankiewicz, 1963] with Elizabeth Taylor. And there were these wide-screen posters in the subways in New York City. (I stole one. I used to steal posters and things like that.) I said, 'Jack, why don't we do a version of Cleopatra. And we'll title it Cleo Pot Roast.'"). Andrea Lissoni argues his centrality in American underground art ("How could I summarize the essential traits of such a dense body of work, spanning film, theatre, performance, photography, visual art and life? It could all be wrapped up in one word: authenticity."), while J. Hoberman recounts Smith's live performances of the later years. ("At the performance [of Smith's staging of Ibsen's Ghosts] I attended, Regina was played by a large pink plush hippo suspended in a pulley-operated basket, Engstrand and Pastor Manders by a pair of toy monkeys, each placed on a little wagon, while Mrs. Alving had a human interpreter (NYU drama professor Ron Argelander) who sat inside a supermarket shopping cart, swathed in scarves and a thick, black veil.") There's an essential interview (by Renaldo Censi) with Jerry Tartaglia, the restorer of Smith's film archive ("There never was any Normal Love movie in a complete form that he preordered. His life and his art were an ongoing process of mixture and reinvention. That is the point. The "restoration" was not a scientifically ordered procedure. It was a preservation of the works in the state that they were in at the time of his death."), and some short, rancorous personal anecdotes from Ken Jacobs and David E. James that testify to the affronted paranoia almost inevitable when an artist as personal and rapturous as Smith is greeted mostly with censorship and harassment.
"Strip serendipitously follows Trish into Schwab's Pharmacy (nowhere near Rodeo Drive, but who cares) and stands behind her as she utters to the pharmacist the infamous first line of the film: "What about the sleeping pills?" Any film that references a barbiturate or painkiller in its first line (think Elizabeth Taylor yelling "Injection!" at the outset of Boom!) is destined to be camp, and the fact that the couple meets at Schwab's, the very hangout where many a young starlet was discovered by a lecherous producer back in the day, makes it clear that the story is going to be embedded in classic Hollywood tropes." Bruce LaBruce reclaims Jane Wagner's much-derided Moment by Moment as a misunderstood camp classic, and a lesbian melodrama so coded it can't help but recall Sirk. Via Movie City News.
"Okay, let's stop there for a second. The central argument forwarded by those people who insist (and loudly) Abbott and Costello Meet Frankenstein could not possibly be a continuation of the Universal Horror shared universe notes Talbot had been cured of his lycanthropy at the end of the previous film. So how is it he's turning into a werewolf again, huh? I mean (derisive snort)… that doesn't make any sense at all!" Jim Knipfel steps in to one of the great film debates, offering not only the definitive answer but an amusing rundown of how little the previous entries concerned themselves with continuity or narrative logic.
"Most affecting to me were descriptions of childhood memories of going as often as possible to his local theater in Oklahoma, with each viewing inspiring the young Malick to "make vows"—to be a more loving son, a more just person, or any other moral and personal mission that each new title might provoke in him. Though the vows would inevitably be forgotten "in about five months' time," the cumulative personal impact remained…." As often has to be pointed out, Terrence Malick isn't some bitter Salingerian hermit, merely a shy guy who never does press (almost as disconcerting for such a media-saturated age, sure). He even does occasional public appearances, as when Princeton asked him to discuss Rossellini's Voyage to Italy. No recording was allowed, but Eli F. shares his recollections and reflections.
"If you don't want to hear excuses, / if you really want to know what time it is, / if you want to know / whatever holds the world together in its inmost folds / the visitor from outer space / should go to the movies instead / and see Claire Denis' films / and you should, too." The previous via David Hudson, who also spotted Christoph Hochhäusler's poem of praise to Claire Denis (who once responded to his request for a manifesto by quoting a poem by Pessoa back at him).
"This is it, isn't it? Here's our original sin metastasized into a perverted sticking point: The white dick means nothing, while, whether out of revulsion or lust, the black dick means too much." From Griffith to Barry Jenkins, with stops along the way for Poitier, blaxploitation, Mapplethorpe, music videos, and Tarantino, Wesley Morris charges the last taboo held on to in these cinematically sexually liberated times is the black penis; more specifically the sexual thoughts of those who possess one, since, as Morris puts it, "a black penis is mysterious only to those who don't have one."
"How did these modern things make their way into Korea? It wasn't in a way that happened over time in a harmonious manner, organically becoming part of Korea along with those things that were already part of Korean tradition, customs, and heritage. It was done forcibly. They were just placed upon Korea, just like you see with the architecture of this house—there is a Western wing and a Japanese wing, and they are mechanically put together." Park Chan-wook discusses his latest, The Handmaiden, and its underlying themes of feminism and Korea adapting to Western culture, with Emma Brown.
"Even though I grew up in L.A., no one in my family was in the movie industry. I've always felt whatever the opposite of disillusioned is. I guess illusioned with movies and with people in movies and things like that. It's all exciting to me." Staying at Interview, Alden Ehrenreich talks working with Woody Allen, Warren Beatty, the Coens—and auditioning on the set of the Millennium Falcon—with Michael Martin.
"Well, [orchestral scores] sure are used a lot. They're still considered the best, you know, anyone can play a synthesiser. I have very minimal chops, which is why I say that. So there's a little bit of snobbery involved." Talking music-making with Adam Woodward for British film mag Little White Lies (thus the spelling of synthesizer above), John Carpenter doesn't say anything he hasn't before (it's great to work with his son; remakes are fine as long as they pay him); but he's amusing and pragmatic as always, and his exit line is worthy of any of his sardonically fatalist antiheroes.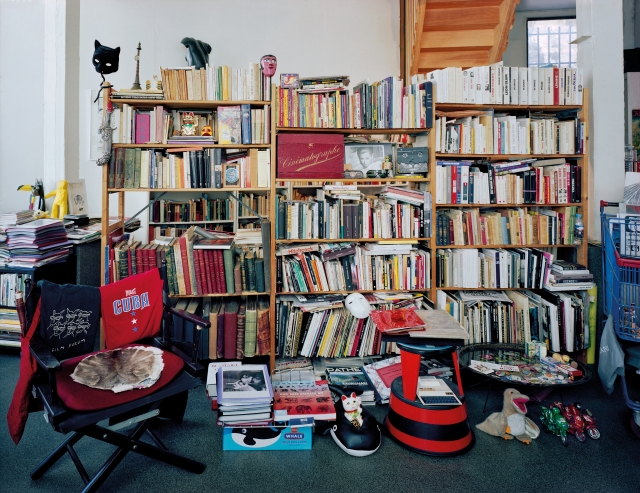 "The studio is both remarkably cluttered and remarkably clean. There is no trash (although there is plenty of kitsch), no dust; the thousands of books, VHS tapes, and CDs, the multiple computers, monitors, keyboards, and other production technologies all seem in their place. A sense of highly personal order prevails; Marker, I feel, would have just the right texts and images and totems at hand, but anyone else would be at a loss regarding how to navigate his systems."  Ben Lerner introduces the photography of Adam Bartos, in particular five taken in 2007 of Chris Marker's studio, its shelves as chockablock with texts and videos and travel mementos (and, yes, cats) as you'd expect.
Obituary
I don't know if this belongs here or not, but Tim and Donna Lucas announced today that after 27 years of publication and over 180 issues, they will cease publishing Video Watchdog as a print magazine. The magazine brought intelligence, acute critical skills, curatorial focus, research skills, and historical perspective to genre films past and present, celebrated classics and dismissed and disreputable films alike, at a time when such attention was far less common, and its fans included the likes of Martin Scorsese, Guillermo Del Toro, and Joe Dante (whose early reviews were revived and published in the magazine's pages). The announcement was made earlier this week on Video Watchblog, the magazine's online blog.
Actor Michael Massee was a popular choice for villains in movies and TV shows. Sadly, the credit most referenced in Massee's obituaries is The Crow (1994), one of his first major roles, where a gun improperly loaded with blanks by the propmaster killed Brandon Lee. Massee was the actor who fired the prop and he was so shaken by it that he took a year-long sabbatical from acting. When he returned, he landed roles in David Fincher's Seven (1995) and The Game (1997), David Lynch's Lost Highway (1997), Steven Spielberg's Amistad (1996), and the notorious Catwoman (2004), and he played a character known as The Gentleman in The Amazing Spider-Man (2012) and The Amazing Spider-Man 2 (2014). On TV he played the mercenary Ira Gaines in the first season of the TV series 24 and had a recurring role as killer Charles Hoyt on Rizzoli and Isles, and guest starred in episodes of such shows as The X-Files, Millennium, Alias, Supernatural, Fringe, and The Blacklist. He passed away at the age of 61. Mike Barnes for The Hollywood Reporter.
Actress Kathryn Adams made her screen debut in the Ginger Rogers comedy Fifth Avenue Girl (1939) and had supporting roles in The Hunchback of Notre Dame (1939) and Alfred Hitchcock's Sabateur (1942) but spent most of her brief career as a contract actress at Universal. She married actor Hugh Beaumont on 1941 and retired soon after to raise a family, returning for a final role opposite Beaumont in Blonde for a Day (1946). More from Mike Barnes at The Hollywood Reporter.
Pop singer Bobby Vee had a No. 1 hit with "Take Good Care of My Baby" in 1961 and kept on recording and performing for the next five decades. Along with his numerous performances on TV and the occasional musical spot on the big screen, he took the lead in the college music comedy C'mon, Let's Live a Little (1967). Needless to say, it did not launch him as an actor. Sam Roberts for The New York Times.
There are no obituaries up yet but it as of this writing, is has been reported the John Zacherle passed away at the age of 98. As an actor he had a handful of credits between 1953 and 2010 but he became a part of horror movie lore and cult movie celebrity in the guise of his alter ego Zacherley, host of horror movies showings on late night TV in Philadelphia and later New York City. Performing in make-up and performing skits and comic commentary on a makeshift horror set, he began as a local sensation and became a minor cult figure, inspiring dozens of imitators across the nation, and went on to host pop music and dance shows and even make live appearances at rock shows. As Zacherley, he also recorded the top ten novelty single "Dinner With Drac," a tongue-in-cheek spoken rap over rock music that anticipated "Monster Mash." He continued to revive the character throughout his lifetime and appeared at horror conventions through his eighties. Here's a remembrance from David Colton.
The weekly links page is compiled and curated by Bruce Reid, with obituaries curated by Sean Axmaker, and other contributions from friends of Parallax View.