"While cooler styles have always been with us, from Greta Garbo and Cary Grant to Steve McQueen and Charlotte Rampling, those actors communicate that they are above or outside of emotion, either aristocratically detached or winningly unflappable. In contrast, the thread of resistance to and evasion of spectacular emotionality among many in today's new generation of stars doesn't evoke emotional detachment or indifference but rather a tortured mistrust of expression itself—one that, in its understated way, clearly forms its own kind of emotional appeal to the audience at the same time as it dramatizes why the actor must resist making one. In fact, many of today's most popular young actors communicate to us, in various ways, that they don't want to perform." Shonni Enelow traces a new trend in American acting, a withdrawal from expression, and suggests there's no paradox that audiences happily embrace stars who embody such stand-offishness. Staying at Film Comment, whatever your method (or lack of it), some actors are just going to be better at it than others; Steven Mears writes up two less celebrated but typically fine turns—in The Gypsy Moths and I Never Sang for My Father—by one of the best, Gene Hackman. ("It's difficult to imagine, let alone recall, an inauthentic moment from Hackman—a reading that isn't at once perfectly judged and erupting with surprise. Paired with an antithesis of vanity, Hackman was a star both of and outside his time.")
"A Movie is set to excerpts from Respighi's Pines of Rome (it, too, sampled from another movie, Kenneth Anger's 1947 debut short, Fireworks). In the first two-thirds of the film, the music is in sync with the tone and tempo of the pictures, but as the images spiral downward, the music rises in triumph. The juxtaposition heightens the horror—surely horror is at the very heart of "It's All True"—and also sharpens Conner's critique of our (and his) pleasure and fascination. What exactly have we all been enjoying?" Observant, thoughtful, and alive to the different ways the films, photographs, and artpieces speak to one another, Amy Taubin offers much the best walkthrough I've read of MoMA's Bruce Conner exhibit. Via Mubi.
"The dialectic (or shotgun marriage) suggested by combining the materialism (as well as the idealism) of Straub-Huillet with the more disembodied and spiritual or supernatural realm of Tourneur—the director of Cat People, I Walked with a Zombie, The Leopard Man, Out of the Past, Stars in My Crown, Wichita, Nightfall, and Night of the Demon, among other key works—is fundamental to Costa's own aesthetic, and part of what distinguishes him the most from Straub-Huillet (who at one time or another have praised all the filmmakers discussed by Costa in Rouge, apart from Tourneur.)" In a previously unpublished piece, Jonathan Rosenbaum finds the Criterion collection of Pedro Costa's Fontainhas films elides the critical key to understanding the work: Costa's cinephilia. Via David Hudson.
"Lions Love (…and Lies) certainly paints a seductive portrait of hippie culture: the characters are beautiful young people in a beautiful setting, seeking beautiful new ways to live. Varda was not too dazzled to miss the nostalgia lurking beneath their innocence, though, which she contrasts with the ugly forces driving Hollywood and American politics. Shot months before Altamont, the Manson murders, and the release of Easy Rider, Lions Love captures a counterculture and a studio system on the verge of crumbling." Judy Berman finds Agnès Varda's supposed paean to hippie culture too aware of the narcissistic traps that fuel the fame game to work as simple salute.
"It's been called the "pornography of violence"—but as with the cigarette analogy, I think the expression might be misleading. With few exceptions, pornography's requirement is the lack of simulation: the sex might be contrived and emotionally fake, but it is physically "real," and that's why people watch it. Movie violence works the other way around: people rely on the knowledge that it's not real, in order to grant themselves permission to enjoy it." Screenwriter and producer Alessandro Camon explains why he's not persuaded by hysterical attacks on movie violence; then, prompted by his feelings when Bullet in the Head—a script he worked on—came out shortly after Sandy Hook, admits his indifference isn't the whole answer either.
"What exactly is my illness? Unclear. My symptoms shift from scene to scene. Sometimes I'm OCD in all the visible quirky ways of OCD, sometimes I'm bipolar, sometimes I have multiple personalities, sometimes I hear voices, sometimes I am a sloppy pastiche of various earlier cinematic characters with mental illnesses. Often I'm sad in a way that could be clinical depression but is probably just the sort of sadness that afflicts a 43-year-old screenwriter who feels unfulfilled professionally. You know, the kind that magically lifts if you sell a script or meet an attractive woman twenty years your junior who is willing to have sex with you." Jeffery Blum delivers exactly what the title of his piece promises: Hi, I'm a Mentally Ill Person as Portrayed in a Movie!
Doing the interview circuit to promote his first starring role in years, Jerry Lewis disarms a somewhat condescending John Hiscock ("Being 90 is not simple, but it's interesting, very interesting…. Before I was 90, I could walk, I could see well, I could hear terrific, and now, I can't hear, or see, or walk. But I am thrilled to be 90."), intimidates Mark Olsen with gimlet-eyed stares ("Can't talk about [The Day the Clown Cried]. I won't…. You can ask me anything you want, that doesn't mean I'm going to answer you."), and (in what might be an archival piece) does the deadpan thing with Interview's list of Andy Warhol's standard questions ("Do you dream? (What's the last one you remember?)" "Always (none of your business)") It might seem excessive to tag three Lewis interviews, but if I always believed that less is more then I wouldn't be such a fan, now would I?
"Everything was wrong. Jimmy's a chronic complainer. I love him now! But when he walked off, we cut off all the cars. I called all the cops and said, There's a lunatic loose on the roads! Recoup him for us! So we had cops looking for him to bring him back as a madman! He walked for about an hour and a half along the road some fucking place, and we finally got him back. I mean, every day with Jimmy was rocky. On Salvador he was the lead, so that was tooth and nail. We were like two madmen in a Cuisinart, he said. Isn't that a great expression?" In another excerpt from Matt Zoller Seitz's The Oliver Stone Experience, Stone's reminiscences of filming Salvador in Mexico with an obstinate star and a wild man as inspiration remind you that from his perspective, the director probably considers himself a realist. Via Movie City News.
"I grew up in the northwest, and if you couldn't see it, feel it, touch it or kick it then it didn't exist. But as a kid i would dream and i would feel, and i knew that something more was going on, but i didn't think about it all the time. And when you grow up then you start getting anxieties, you start getting fears; things happen and you start getting angry, you get confused. I had darkness and confusion, and it's tough being a human being—but it shouldn't be. It's ignorance that keeps us in that boat of suffering. That's not the way it's supposed to be." To celebrate the tenth anniversary of David Lynch's pro-TM manifesto Catching the Big Fish the book's editor, Mitch Horowitz, published for the first time a 2006 interview where the director discusses his embrace of meditation, and offers an intriguing hint that might explain one of his more peculiar sidelines, the daily reports on LA's weather he used to announce on the web.
Obituary
Director Leslie H. Martinson has one genuine cult movie to his credit—the campy 1966 Batman: The Movie with Adam West and Burt Ward, a big screen spin-off from the TV series—and one notable Hollywood landmark, the young JFK biopic PT 109 (1963) starring Cliff Robertson as Lt. JG Kennedy, commander of a PT boat during World War II. His 35-year career, however, was dominated by episodic TV, where he directed hundreds of episodes of scores of different shows, from The Roy Rogers Show and The Mickey Rooney Show to Maverick and 77 Sunset Strip to Mission: Impossible and Wonder Woman to The Brady Bunch and Diff'rent Strokes. He made his feature directing debut with The Atomic Kid (1954), written for Mickey Rooney by Blake Edwards, helmed Hot Rod Girl (1956) for AIP and Hot Rod Rumble (1957) for Allied, directed Raquel Welch in Fathom (1967), reunited most of the sitcom cast for the TV movie Rescue from Gilligan's Island (1978), and guided Gary Coleman thorugh the TV movies The Kid with the Broken Halo (1982), The Kid with the 200 I.Q. (1983), and The Fantastic World of D.C. Collins (1984). He retired in 1989 and passed away at the age of 101. John Otis for The New York Times.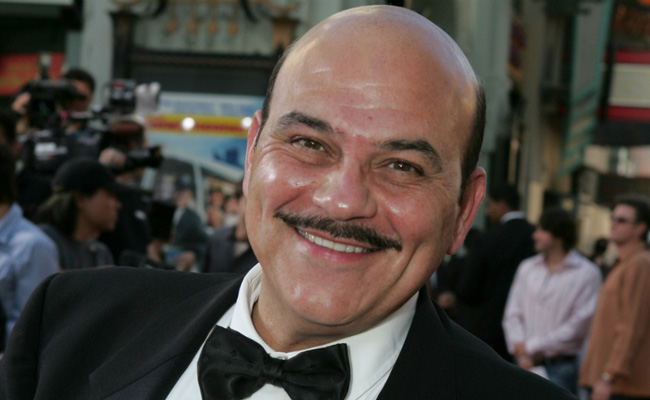 Jon Polito, a favorite actor of the Coen Bros. and a member of the ensemble in the early seasons of the TV series Homicide: Life on the Streets, was one of the most distinctive and recognizable characters of the last couple of decades, even by folks who don't recognize the name. He made his screen debut playing a gangster in the TV mini-series The Gangster Chronicles (1981) and his big screen debut as a detective in The Clairvoyant (1982) and that pretty much set the template for his career, though he later showed a penchant for comedy that expanded kinds of gangster, cops, and private detectives he would play. He appeared on Crime Story and was veteran Det. Crosetti on Homicide, was mob boss Johnny Caspar in Miller's Crossing (1990) and a private detective tailing The Dude in The Big Lebowski (1998), and earned over 200 TV and movie credits over his career. He was 65. Daniel E. Slotnik for The New York Times.
Hugh O'Brian is best known as the star of The Life and Times of Wyatt Earp, a pioneering TV western created for an adult audience, and remained an iconic western icon through his life. He began playing small roles in B-movie in the late 1940s then landed a contract at Universal, where he appeared in films like Son of Ali Baba (1952), The Lawless Breed (1953), Saskatchewen (1953), and Budd Boetticher's Seminole (1953) and The Man from The Alamo (1953). The westerns and adventure pictures prepared him for Wyatt Earp, who he played in over 200 TV episode and revived for the TV movies The Gambler Returns: The Luck of the Draw (1991) and Wyatt Earp: Return to Tombstone (1994), among other programs. He appeared in The Shootist (1976) with John Wayne and starred as one of three revolving leads in the TV series Search (1972), and off screen he founded and ran the Hugh O'Brian Youth Leadership organization, helping more than 375,000 high school students over the decades. He passed away at the age of 91. Dennis McLellan for Los Angeles Times.
The weekly links page is compiled and curated by Bruce Reid, with obituaries and Seattle Screens curated by Sean Axmaker, and other contributions from friends of Parallax View.