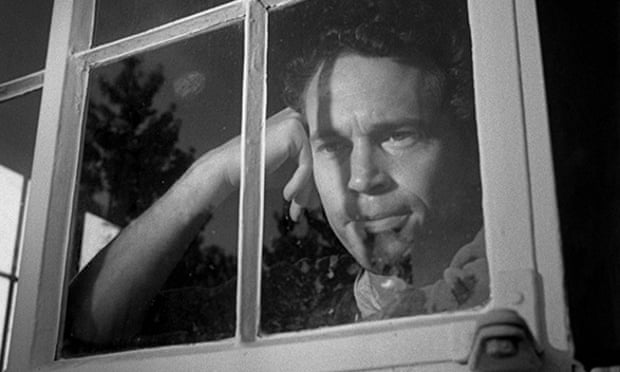 Framing Pictures is back and this month the discussion topics include Warren Oates (who stars in the newly rediscovered Private Property), Hirokazu Kore-eda's new film Our Little Sister, the Kino Lorber Video box set Pioneers of African-American Cinema, Brazilian director Hector Babenco (who passed away this month), and more. Discussion begins on Friday, August 12 at 7pm at the screening room of Scarecrow Video on 5030 Roosevelt Way and it is free. More details at the official Facebook page.
The recently rediscovered and restored 1960 film Private Property, directed by Leslie Stevens and starring Warren Oates and Corey Allen as homicidal drifters who wander into the Beverly Hills home of an unhappy housewife, plays for a week at Grand Illusion.
Blood Simple (1984), the debut feature by Joel and Ethan Coen, plays for a week at SIFF Cinema Uptown in a new 4K restoration. Also at the Uptown for a week is David Lynch's Blue Velvet (1986), arriving for a 30th anniversary run.
Monte Hellman's Cockfighter (1974), based on the novel by Charles Willeford and starring Warren Oates, plays for one day only on a 35mm print at Grand Illusion on Saturday, August 13.
Buster Keaton's The General (1926) returns in a newly-restored edition featuring a new orchestral score composed and conducted by Joe Hisashi, who scored the great animated features of Studio Ghibli and the classic gangster films of Takeshi Kitano. It was announced to play SIFF last month but an older version was shown, so this is the first time Seattle audiences will be able to experience this new presentation. Plays matinees Saturday and Sunday only.
NWFF reopens (after a brief closure for renovations) for a screening this week of 'Til Madness Do Us Part, an epic documentary about the inmates of an isolated mental institution in rural Zhaotong directed by Wang Bing. It plays on Wednesday, August 17, and then again on Thursday, August 25.
The documentary Tattoo Nation plays one show only on Thursday, August 18 at SIFF Cinema Uptown, presented by Bloodworks Northwest and timed to kick off Seattle's Tattoo Expo. Director Eric Schwartz and renowned tattoo artist Jack Rudy are scheduled to attend and will hold a Q&A following the film.
This week's free outdoor movie at Cal Anderson Park is Mel Brooks' Star Wars spoof Spaceballs (1987). The screening begins at sunset on Friday, August 12, around 8:30pm, but viewers are encouraged to arrive early for a good seat, concessions, and entertainment by a DJ playing from 7pm.
Seattle Center Movies at the Mural continues with a free outdoor screening of Galaxy Quest at the Seattle Center Mural Amphitheatre on Saturday, August 13. The film begins a dusk, around 8:30 or 9pm, and seating is first come, first served.
Asian Invasion:
Operation Chromite, a South Korean take on the Battle of Inchon from director John H. Lee starring Hak-soo Jang, Gye-jin Lim, and Liam Neeson as Douglas MacArthur, opens at Regal Meridian 16 and the Alderwood Mall 16.
My Best Friend's Wedding is a romantic comedy from Hong Kong starring Shu Qi and Feng Shaofeng. It opens at Pacific Place.
Visit the film review pages at The Seattle Times, Seattle Weekly, and The Stranger for more releases.
View complete screening schedules through IMDb, MSN, Yahoo, or Fandango, pick the interface of your choice.
The weekly links page is compiled and curated by Bruce Reid, with obituaries and Seattle Screens curated by Sean Axmaker, and other contributions from friends of Parallax View.