"Never call Griffith quaint, either. If he was quaint at all, he was far-sightedly quaint. The naive excitement of grasping that all this fakery is genuine—meaning the way "How'd they do that?" used to play leapfrog in viewers' minds with "Wow, they must've actually done that"—stayed part of the appeal of Hollywood spectaculars up through the late 1960s." Starting with Griffith's Babylon, with stops along the way for Tara, Metropolis, James Bond's globetrotting, DeMille's (and Las Vegas's) Egypt and Harold Lloyd hanging from a skyscraper, Tom Carson takes a witty, oddly moving tour through Hollywood's many fake worlds, and how they made so much more vivid an impression than the real one. Via David Hudson.
"Its hero might stumble over his words, but he does so in a Jimmy Stewart-like fashion, so full of gee-whiz energy that he sometime forgets himself before zooming off to the next crazy coincidence. The film is full of daytime shots and bright light, of reflections off the cars and planes, checkerboard dance floors, sequined dresses and metal helmets that make up its mise-en-scène. Most crucially, the movie's spirit is deeply optimistic—it uses its satire not just to poke fun at old-time serial clichés, but to cast a light back on the present, and remind us of what we might have lost in the 53 intervening years." Now that Marvel movies have proven the economic viability of upbeat superhero flicks, Brian Doan looks back to notorious flop The Rocketeer as a bright charmer ahead of its time.
At Film Comment, a pair of articles on two very different icons. Steven Mears praises Robert Ryan's haunted isolation, focusing (due to a partnership between the magazine and TCM) on some lesser heralded roles like his gold-obsessed farmer in God's Little Acre or The Iceman Cometh's Larry Slade. ("He may be the loneliest man Ryan ever played, the culmination of a long line of anguished, sensitive characters whose articulations of the failings and falsities of men are lost on the cloddish company he's doomed to keep.") While Grady Hendrix breaks down what makes Sammo Hung such a master at directing action, and highlights Pedicab Driver's fight between Hung and Lau Kar-Leung as an honorable passing of the torch from a grand master to the next generation. ("The result is a perfect combination of both styles. Lau shows off his mastery of different martial arts schools and has poise and gravitas, while Sammo's camera movement and framing emphasizes impact, and his on-screen attitude plays up his image as the brash young Turk who likes to break the rules.")
"Likewise, even though Hou has surrendered his very wide anamorphic frame, he finds ways to balance human action and tangible surroundings in the ways he did with city landscapes and village rooftops in the earlier films. The bullying of a motorcyclist and a pursuit by a rival gang aren't rendered with the aggressive cuts and angles we'd expect in violent scenes in the Hong Kong action pictures then ruling Taiwanese screens. It's as if Hou, along with his colleagues, is rejecting that other Chinese-language tradition." Forget geography; Hou Hsiao-hsien is a world away from Hung aesthetically, possibly in response. David Bordwell takes the release of some of Hou's earliest films on home video to expand upon an essay detailing the director's ingenious adoption of the possibilities for framing and blocking presented by the telephoto lens.
"The Bride of Frankenstein doesn't romp. It's oneiric, a beautiful, formless sequence of silver nitrate shadows, and when it ends I wonder what happened, and then I begin to rebuild it in my head. I've seen it I do not know how many times since I was a boy, and I'm almost pleased to say that I still can't quite tell you the plot. Or rather, I can tell you the plot as it goes along. And then, when it's done, the film begins to scum over in my mind, to reconfigure like a dream does once you've wakened, and it all becomes much harder to explain." Drawing from a new collection, Lit Hub has reprinted Neil Gaiman's 2005 essay on his favorite horror film. Via Movie City News.
"She is the only [actress in the director's films] who ever seemed to be fully in on the joke, and maybe even one step ahead of De Palma himself. She is Liz to his Peter. He can sit at his computer, headphones on, or he can peer, open-mouthed, into the peephole, but she's the one making it all happen. She's always game, and she is hustling, and she is both magician's assistant and a magician herself. You look at her and you see not just creamy flesh and kink but a brain on fire." Megan Abbott writes beautifully on the roles Nancy Allen played for Brian De Palma, not just as great, diverse showcases for the actor but as women so realized and touching they single-handedly rebut charges of the director's misogyny. Via Criterion.
"Everything about these tales runs in precisely the opposite direction to the music of Popul Vuh. ("Too much the darkness," Fricke once muttered of the travails and disasters that were part and parcel of the making of any Herzog movie). Fricke's music aspires cleanly heavenward, whereas Fitzcarraldo and Aguirre are on a downward journey, down the slopes of the Andes, through churning mud and the difficult headwaters." Yet the musician and movie maker proved a perfect match, as David Stubbs argues after linking the German New Wave and Krautrock movements as artists responding to the brutality of the Nazi years by reaching back to the influence of their "grandfathers." Another find from Criterion.
Melena Ryzik reports on the networking efforts begun by female cinematographers and camera operators, facing a career path no less outrageously exclusionary than women directors but without, ironically, any of the public visibility.
"I've usually found that the more powerful the actor, the easier they are to direct. They've made a lot of movies, and they've been directed badly a lot of times. When they see that you're very concerned about protecting their performances, watching what they're doing, and giving them the right suggestions at the right time, they become very easy to direct and look for all the help they can get." Jim Hemphill's interview with Brian De Palma takes the refreshingly rare tack of focusing exclusively on the director's underappreciated work with actors. No mention of Nancy Allen, surprisingly, but there's a justified shout-out to Gregg Henry.
"I had a guy show me his tattoo of [RocknRolla's] Johnny Quid on his thigh and buttock, and would not be convinced I was Johnny Quid. It was the weirdest thing on Earth. He pulled his pants down, telling me, 'That's the motherfucker.' He kept saying it. But he didn't understand." Thus was blown one of Toby Kebbell's few chances to be recognized a fan, as the skilled motion-capture actor tells Jen Yamato about acting as an ape alongside Andy Serkis and an Orc in Warcraft—and pointedly not playing Doom in The Fantastic Four, as all but three small scenes are some other actor hiding behind cgi for the reshoots.
Like a lot of poster artists, Fernando Reza shows off his chops turning out unsolicited designs; unlike most, he had the clever idea of illustrating posters for films that were never made. There's little effort to make the finished work fit in line with the purported filmmakers' esthetics, and none whatsoever at accuracy to the time at which the film would have been released, but Reza's pulpy illustrations make a better fit than you might think for Hitchcock's Kaleidoscope and Lynch's Ronny Rocket. Via Dangerous Minds.
Obituary
Peter Shaffer was more prolific as a playwright than a screenwriter but he personally adapted his two most celebrated plays for the big screen: Equus (1977) for Sidney Lumet and Amadeus (1984) for Milos Forman. He earned an Oscar nominated for the former and won the Academy Award for the latter. Other writers adapted his earlier plays to the screen: Five Finger Exercise (1962), The Pad and How to Use It (1969), and The Royal Hunt of the Sun (1969) among them. He passed away at the age of 90. Lyn Gardner for The Guardian.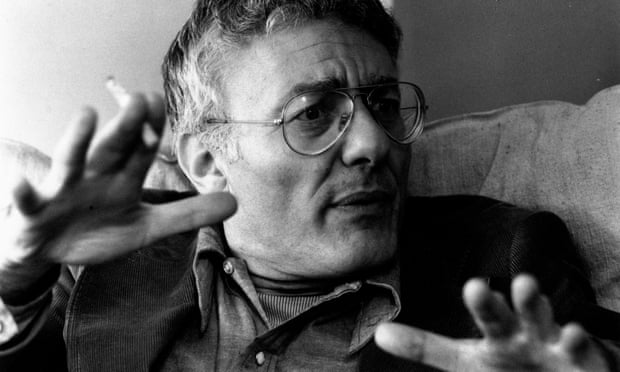 Teresa Saldano starred in I Wanna Hold Your Hand (1978) and Raging Bull (1980), playing Joe Pesci's wife, before a mentally unbalanced fan attacked and nearly killed her in 1982. She became an activist for anti-stalking laws and survivors of violence while resuming her career. She later played herself in the TV movie Victims for Victims: The Theresa Saldana Story (1984) and starred in the TV series The Commish for five seasons. She died at age 61. William Grimes for The New York Times.
Italian actress Marina Malfatti starred in the giallo classics The Night Evelyn Came Out of the Grave (1971), The Red Queen Kills 7 Times (1972), and All the Colors of the Dark (1972). Her passing this week at the age of 76 was noted in the Italian press but I found out thanks to a Facebook note by giallo champion Tim Lucas.
The weekly links page is compiled and curated by Bruce Reid, with obituaries and Seattle Screens curated by Sean Axmaker, and other contributions from friends of Parallax View.