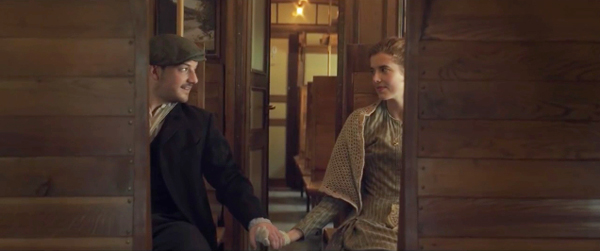 David Bordwell's two most recent blog entries celebrate a pair of filmmakers who take their undeniable influences and transform them into something so distinct and personal they seem utterly original. By now it's accepted that Citizen Kane didn't innovate so much as synthesize with an until then unreached purpose and power; Bordwell does a fine job showing the precedents for Kane's low-angled, long-take compositions and zig-zagging flashback structure even as it transcends them all. ("Most filmmakers who used these depth schemas inserted them into passages of orthodox scene dissection. The depth shots might establish a locale, or they might be inserted into a series of analytical cuts, or they might be part of a shot/ reverse shot pattern. But in Kane you're forced to notice the Baroque plunge of space because the lengthy take rubs your nose in the flashy composition.") While reacquainting himself with the movies of Terence Davies has him rapturous over the director's unique amalgam of autobiographical detail and Hollywood memories. ("Davies understood, as so many postwar critics of mass culture didn't, that Hollywood, for all its formulas and conventions, captured genuine feeling; indeed, those very formulas and conventions released that feeling. In Davies' hands, however, the feelings gain a rougher texture. In tales of patriarchal power and everyday betrayals, echoes of the yearning of Judy Garland and the vibrato of Doris Day seem distant and distorted. Davies finds the evanescence hidden in Yankee exuberance, and he takes it very personally.")
"Dix constantly views life as though it were a script he was writing—one wonders if he notices the echoes of Althea Bruce's silly plot in his own relationship with Laurel—and Ray uses the character's shoptalk as a scalpel with which to probe the gap between movies and reality. Fixing breakfast for Laurel after they have become lovers, Dix explains that "a good love scene should be about something else besides love." To illustrate this, he uses the scene at hand: he clumsily hacking away at a grapefruit, she half-asleep in her negligee: "Anyone looking at us could tell we were in love," he says, but doubt edges into his voice. Laurel is not dopey with sleep, she's paralyzed by fear of this unpredictably violent man. The scene is indeed about something besides love: it's about love strained to the breaking point by lack of trust." Imogen Sara Smith is as perceptive and persuasive as ever tackling that darkest, most downbeat of noirs, In a Lonely Place.
"Join us for an in-depth discussion of the penetrating issues facing society today. Issues like abortion, terrorism, crime, poverty, social reform, quantum teleportation, teen horniness, and war." Tatiana Siegel looks back at the calamitous Cannes reception to Richard Kelly's Southland Tales, while skillfully dodging the question whether that acknowledged mess of a movie deserves reassessment and a larger cult than J. Hoberman and Manohla Dargis.
Reverse Shot's latest symposium asked critics to pair up a documentary and fictional narrative feature to investigate "[w]hich feels more "real," and why? What is it that makes a film feel authentic?" Of the entries up so far, Jeff Reichart's pairing of Low Tide and the similar milieu as explored in the documentary Rich Hill finds the latter suffering from artifice the former artfully manages to avoid. ("Rich Hill never allows itself to become a sensorial, immersive work because it's too often concerned with elevating the small moments of these boys' lives to the level of the consequential—or what it thinks its audience will regard as such. Most of what happens in Low Tide is placed on a similar plane as that brief interaction with the butcher—incidental, ambient. Real.") While Shonni Enelow considers the "realness" of performance as portrayed in Birdman and Listen to Me Marlon ("Whether the film knows it or not, the characters of Birdman want to be Brando. Brando is the template for their masculine realness").
"But Why is he killing people? For the same reason that Ted Bundy did. For the same reason that Dennis Rader did. For the same reason that John Wayne Gacy did. This reason, I believe, is far scarier than any other. This reason, I believe, is the heart of horror, both in the world and in fiction. BECAUSE." Mike Flanagan, the promising director of intriguing horror films like Absentia and Oculus, took to his Facebook to answer a frequent complaint about his latest, Hush—the lack of a backstory for the film's killer. By rejecting any simple justifications for his villain, Flanagan makes a nice defense for one of horror's great, too often ignored motifs: the genuine terror of the unknowable. Via Rob Dean.
"Observing a farcical conclusion to a scene where Jerry and the troublemaking Armand (Alexander D'Arcy) run out of their apartment, Patsy simply says, "They forgot to touch second," with tomboy aplomb. Surely most of us could really benefit from having an Aunt Patsy in our lives, and Cunningham gives her all the style and hard-edged wit she deserves." Dan Callahan's homage to The Awful Truth's Cecil Cunningham shows the importance of projection when it comes to our favorite actors, as Callahan's merry albeit unfounded fantasies of Cunningham injecting her roles with a knowing dose of lesbian irony.
"It's a thing we like in period films and Austen: the idea of a whole society that has texture, a unity of connections. People know each other and have opinions about each other. My big depressing concern coming out of university was that there were no connections anymore. I can read Tolstoy and see that everyone in St. Petersburg or Moscow seems to know each other. There was none of that in New York back then. The films are kind of a search for the group, the context, the social texture." Whit Stillman talks Austen, adaptation, and nostalgia with Bilge Ebiri—and shatters the preconceptions of his many conservative admirers who've claimed him as one of their own by admitting he's a Fourierist.
"Terry's a great destroyer of vanity. You might do something where normally you'd think, 'Wow, man, I did a really good scene,' then you'd look up and the camera's looking over that way instead. You learn, 'Right, just do it for yourself and then if he does decide to turn the camera around, don't try to repeat what you just did. Alright, so it might not be as great, or dramatic, or memorable but, just keep it truthful.' That was all that he ever looked for." Talking with Sophie Monks Kaufman about Knight of Cups, Christian Bale reveals himself the rare actor with nothing bad to say about Terrence Malick. Via David Hudson.
"I sort of subscribe to the Alan Moore theory that artists are magicians, because they create something where there was once nothing. What that means for me is that I choose films that make me think there's something in me that I can bring out. That isn't necessarily every film ever made; I believe very much in inspiration, I don't believe that I can just do any film. I can put music on any film but that doesn't make it good. So I look for the films that warrant the sort of work I want to do. I want to be involved with something that means something." Clint Mansell explains his "method" approach to film scoring with Hilary Weston.
Leaving the exposure on his camera open for the length of a movie, Jason Shulman creates vivid, expressionistic images that, with a little imagination, actually can bring the movies captured to mind. Via Mubi.
[Video] As John Carpenter—who recently shared with Kyle Cassidy his selections for the 10 best film soundtracks, complete with one-sentence explanations that would have to be puffed up to make it to laconic—prepares for his music tour, he got together with his band to record a version of the tremendous Escape from New York theme, and directed the music video to boot.
Obituary
William Schallert was never a leading man but he was a very busy working actor in movies and on TV for six decades. He has over 350 movie and TV credits on IMDb, and that doesn't count the multiple roles he played on shows such as Gunsmoke and Death Valley Days. On TV he was familiar as a father (The Patty Duke Show, The Hardy Boys/Nancy Drew Mysteries as Nancy's dad), a teacher (The Many Loves of Dobie Gillis), and other authority figures (Harry Hopkins in War and Remembrance and Mayor Norris in True Blood), and to movie buffs he was the star of The Man From Planet X (1951) and Gog (1954). As a supporting actor and bit player, he appeared in The Red Badge of Courage (1951) and Singin' in Rain (1952), both uncredited, Riot in Cell Block 11 (1954), The High and the Mighty (1954), Written on the Wind (1956), Some Came Running (1958), In the Heat of the Night (1967), Colossus: The Forbin Project (1970), Charlie Varrick (1973), and Teachers (1978). Genre hound Joe Dante cast Schallert in small roles in many of his films, from Gremlins (1984) to Innerspace (1987) to Matinee (1993), where he was the mad scientist of the B-movie spook Mant! And a generation of fans remember him from the iconic "The Trouble With Tribbles" episode of Star Trek. He died this week at age 93. James Endrst for The New York Times.
Isao Tomita has been called the father of Japanese electronic music for his Moog synthesizer renditions of classical music standards in the 1970s. He was also a prolific composer for movies and TV shows, nominated for eight Japanese Academy Awards and winning one for Yoji Yamada's The Twilight Samurai (2002). He wrote the theme for the popular animated series Kimba the White Line (1965) and scored the cult camp classic Black Lizard (1968) for Kinji Fukasaku, two Zatiochi features from the seventies, the horror film Demon Pond (1979), for which he received his first Japanese Academy Award nomination, and Yamada's Gakko (1994), The Hidden Blade (2004), Love and Honor (2006), and Kabei: Our Mother (2008), all of which were nominated for Japanese Academy Awards. Dexter Thomas for Los Angeles Times.
The weekly links page is compiled and curated by Bruce Reid, with obituaries and Seattle Screens curated by Sean Axmaker, and other contributions from friends of Parallax View.