The Hollywood Reporter this week features the behind-the-scenes stories of two of the '70s most iconic films, however little else they have in common. Gregg Kilday compiles an oral history on the making of Taxi Driver, from Paul Schrader's sleepless, haunted nights of inspiration to a box office that wound up surprising the studio so much Scorsese won a bet. ("Bob called me and said, 'Well, in the script, it says that he pulls out the gun, looks at himself, talks to himself. Well, what's he saying?' I said, 'He's just a kid in front of a mirror playing with his gun. Just make up stuff.' I figured whatever he made up would be better than writing those kind of lines.") While Stephen Galloway gets the story of Superman straight from the horse's—i.e., Richard Donner's—mouth. ("I had to go back to London, and I flew Chris back, which was so far from his life. When he told his father, who was a professor at Princeton, that he was doing Superman, his father said, 'Man and Superman?' […] That's the world Chris came from. He came over, we did this test in costume, the one I had in L.A. He was just wonderful as Clark Kent and as Superman. He really got the idea of a terribly pained individual living a dual life.")
"What you will not find [in Tay Garnett's autobiography] is anything about the film's dazzling tracking shots through the dives of waterfront Havana, nor the swooping crane shots in the Thalia clip joint where most action takes place, nor any other quality that makes Her Man such an exhilarating discovery. Garnett seems to realize the movie is good, but not that it is "a forgotten masterwork," as the Museum of Modern Art billed its pristine restoration during a recent run. Adjunct curator Dave Kehr is not given to hyperbole, so when he describes a film that way, you'd best find time to see it." Farran Smith Nehme is appropriately bowled over by her discovery of Garnett's "brawling, sleazy pre-Code… [that is] more romantic than it may seem."
"But Ustinov's Billy Budd is a hardy sea story, not a religious parable. It's unusual among literary adaptations for the way it strengthens rather than diffuses the poetry and moral arguments of the original with heaps of invented action and fresh dialogue (some, like Claggart's speech above, taken from Louis O. Coxe and Robert Chapman's 1951 play). It builds to a heartrending climax that also functions as a provocation. Billy Budd is a prime example of the kind of film that gets audiences arguing on their way home from the theater." Michael Sragow praises Ustinov's Melville adaptation as a triumph of intelligent, daring filmmaking—and of casting, even beyond the perfection of Terence Stamp and Robert Ryan.
"For me, as a teenage movie lover, it was transformative. It captured the sensory feel of Northern Ireland in the 1980s—languorous, then panicked. Hollywood thrillers don't do torpid. In Angel, our world wasn't only a problem, it was a place. It wasn't only using Northern Ireland for generic ends; it was making art out of it. Often great art is made out of anger, but once adrenaline was removed from the portrayals of Belfast on screen, a world opened up." Mark Cousins remembers growing up with the portrayals of Belfast on screen—from pumped-up Hollywood features that always got it wrong to the small, observant miracles from Reed, Clarke, O'Connor, Jordan, and others that managed to get so much right.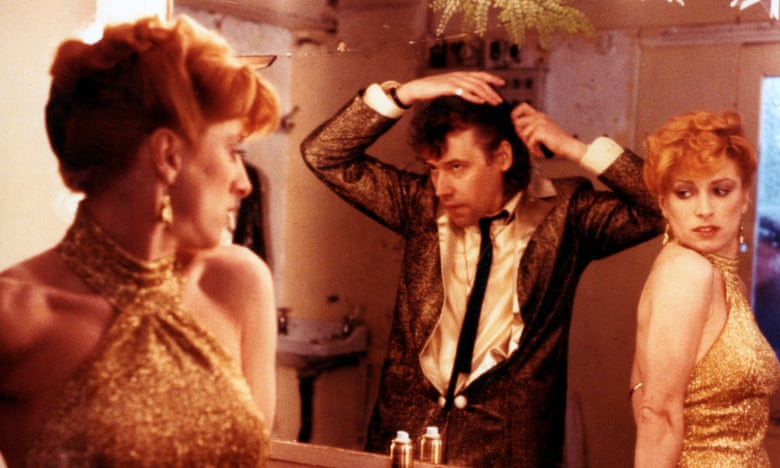 "But would you like to know how much time I've spent explaining to an innumerable number of whites why Chameleon Street has been banned from global broadcast television? That one I can answer: 25 years. A full quarter of a century. And if you want to know the reason why it's been banned and blacklisted from being broadcast in every country on the planet since 1994, don't ask Werner Herzog, Quentin Tarantino, or Bill O'Reilly. Ask me. Or ask my Mom. Or ask Evelyn Keyes." Wendell B. Harris, Jr., recounts the silencing of his debut, Chameleon Street, while treasuring the real impact it has made and lives it's touched—Gone with the Wind star Keyes among them. Via David Hudson.
"Louise Brooks worked with Menjou in this period and learned a valuable lesson about screen acting versus screen presence, which she always trusted to. 'Look at Adolphe Menjou,' Brooks said. 'He never felt anything. He used to say, "Now I do Lubitsch number one." "Now I do Lubitsch number two." And that's exactly what he did. You felt nothing, working with him, and yet see him on the screen—and he was a great actor.' A great actor? Maybe not, but an essential screen player of his period, and ideally suited for rotters, dandies, and unsympathetic seducers." The nastiness of Adolphe Menjou's HUAC testimony is all over his performances from the '20s and '30s—and they're better for it, Dan Callahan argues.
"Until recently, vain actors were limited to makeup, flattering lighting, corsets, plastic surgery, Botox, crash diets, personal trainers, steroids, muscle suits, color grading, lenses and filters, body doubles, and spray-on abs. Now they also have software: Zits vanish with a click. Wrinkles ­disappear. Abs harden. Jawlines sharpen. Cellulite vanishes. 'In postproduction, if they want your nose to be a little smaller or a little bigger, that's up to them, man,' says actor Michael Shannon. 'Some attractive person gets out of a swimming pool dripping wet? Nobody wants to see how they really look: It's fantasy.'" Hollywood's always been about putting a prettier face on reality, but the new era of digital make-up, as Logan Hill reports, is rapidly approaching the level of ontological crisis.
"Given that the business already has a small, niche consumer base, it becomes even trickier predicting what the niches within the niches might buy. Over the years, [Amy] Heller has noticed that films made by women have definitely resulted in less-than-enthusiastic reactions. When Milestone puts out a film by a woman, 'we're definitely swimming upstream,' she says. 'Misogyny is not limited to production or distribution,' Heller explains. 'But let me tell you, if you want to find a film that won't make money, you should go after a film made by a woman. People won't book them. People won't buy them.'" Surveying the home video market, Tina Hassannia finds that Criterion might deserve its pride of place, but when it comes to promoting films made by women, some other companies deserve mention and a place in the canon. Criterion's Peter Becker was given space to respond.
And just as a reminder that the overwhelming exclusion of women from central roles in our cinema is institutional, Radha Vatsal looks back to the silent serials, a genre pretty much dominated by plucky heroines, not all of whom needed rescuing at the hands of their man. Via, full-circlingly, Criterion.
"I think maybe the smaller budget allows me to feel a little more relaxed and a little more willing to blow days and make stupid decisions. Usually the stupid decisions are some of the best things I do. Although I've gotten so immune to the process that now, even on Godfather II which is costing a lot, I'll do something even though it may be crazy and jeopardize a lot of money. So I think that, in a sense, the two poles of my so-called career are coming closer together, and what I hope to do in the future is make only personal films—but in such a way that even my big projects will be what you would call personal films." Cinephilia & Beyond has tracked down a terrific document, a 1974 interview from Filmmakers Newsletter where Francis Coppola discusses The Conversation with Brian De Palma—who, in addition to making some remarkably observant comments on Harry Caul's character, spends his role as interviewer plugging for the influence of Hitchcock that Coppola mostly denies. Via Mubi.
"But what happens as an actor is that you're really trained to listen and to be open and have empathy. It's such a natural consequence that you end up being more political. You can empathize with the mother whose kids are going to be sent to Iraq, or you can emphasize with the mother who is losing their child to a disease. How could you not then be active? So you're automatically drawn to that aspect in the rest of your life. Most of the people I really admire bring that attitude toward their life." Interviewed by George Saunders, Susan Sarandon talks about growing up Catholic, her almost accidental, completely untrained beginnings as an actor, and the need to trust your collaborators.
"We were different in age, but we had something in common. We were women, we had been affected by the fact that the film world was a man's world in Europe as much as here, actually. Now, I would have never gone to Hollywood. I was not interested in the film industry, frankly. The experimental film scene was very much misogynistic as well…. It was coming from the general environment. I think both Chantal and I shared that. We wanted to find a language, which was the language of women". Staying at Interview, Colleen Kelsey talks with filmmaker and cinematographer Babette Mangolte about the experimental film scene in '70s New York and her collaborations with Chantal Akerman.
Obituary
Barbara Turner began acting for the screen in 1955 but her greater legacy was as a screenwriter. Beginning in B-movies like Two-Gun Lady (1955) and Monster from Green Hell (1957) and appearance in TV shows including Medic and The Lineup, she wrote her first script, an adaptation of Jean Genet's Deathwatch (1966), for her then-husband Vic Morrow to direct. She went on to script Petulia (1968) for Richard Lester, which earned her Writers' Guild of America nomination, earned an Emmy nomination for the TV movie The War Between the Tates (1977), wrote and co-produced Georgia (1995) with her daughter Jennifer Jason Leigh, who starred in the film, and scripted Pollock (2000) for Ed Harris and The Company (2003), developed with Neve Campbell, for director Robert Altman. Her screenplay for the made-for-cable feature Hemingway & Gellhorn (2012) earned her her second Emmy and Writers' Guild nominations. She passed away at the age of 79. Carmel Dagan for Variety.
British actress Adrienne Corri is best known to film lovers for her breakthrough performance as Valerie, the fiery re-headed teenage girl of Jean Renoir's The River (1951), and as the artist brutally raped and assaulted by Malcom McDowell in Stanley Kubrick's A Clockwork Orange (1971). She was a busy actress, appearing on stage and on the small screen as much as in movies, from the 1950s through the 1970s. She appeared opposite Boris Karloff in Corridors of Blood (1958) and Cornel Wilde in Sword of Lancelot (1963), played Julie Christie's mother in Doctor Zhivago (1965), appeared in the Hammer films The Viking Queen (1967) and Vampire Circus (1972) and in Otto Preminger's Bunny Lake is Missing (1965), Rosebud (1975), and The Human Factor (1979). She passed away at the age of 85. Ronald Bergan for The Guardian.
The weekly links page is compiled and curated by Bruce Reid, with obituaries and Seattle Screens (published separately here) curated by Sean Axmaker, and other contributions from friends of Parallax View.