Between the articles from the new issue available online and the ever-expanding blog, Film Comment offers almost a week's worth of good reads by itself. Michael Koresky takes in a Lincoln Center festival on early gay films and argues that, along with simplistic views of gender and sexuality, one false binary that needs to go is the notion that cinematic portraits of homosexuality come in two flavors: ashamed and fatalistic pre-Stonewall, liberated afterwards. ("If any single title could stand in for the sublimated yet radical titillation of all pre-Stonewall gay cinema, it's the 26-minute Un chant d'amour (50), the one and only feature made by Jean Genet, and a complete sensual experience: film as erogenous zone.") Paul Schrader then sets about constructing a binary of his own, dividing production design into an art cleanly demarcated between films before and after The Conformist. ("So here's the radical importance of The Conformist: this to my mind is the first film shot entirely on location in which the locations are treated as sets. It has the same freedom with a location that you would have if you had designed your own room.")
Farran Smith Nehme finds much to admire in Sirk's Sleep, My Love, even if dampening Claudette Colbert of her usual "canny and commonsensical " intelligence so she doesn't spot the conspiracy against her isn't among them. ("Ameche slithers around in heavy silk dressing gowns, smoking cigarettes and saying soothing things in a low-pitched, doctorly voice. If it weren't for Brooks's opiate presence, you could argue that he's the one with the femme fatale role.") And on the eve of Jerry Lewis's 90th birthday, Violet Lucca dismantles the harmful myths about work in America that Lewis's movies endorsed ("Being the utterly wonderful nouveau riche narcissist he is, Lewis would always portray these man-children while wearing a large gold pinky ring, giant wedding ring, and, sometimes, a gold watch, giving more than a touch of cognitive dissonance to his performances."); while some highlights from last October's sitdown at the Museum of the Moving Image between Lewis and Martin Scorsese are offered by an unidentified transcriber/editor. ("Sometime he ["Jerry"] gave me problems. When he got overly anxious, he would screw me up and I would yell to the crew, tea time! Get coffee or do something, cause I've got to have a talk with the star of the movie! I looked at the mirror and said, do you want to make this, or what's your plan? And I would talk back to myself.")
Some terrific interviews as well, as Michael Sragow goes in-depth with both Jack Fisk—mostly about Knight of Cups, but on several of his other notable collaborators as well ("Just for my own temperament, I like people calling me and saying: "We've got a film, can you start Wednesday." And you work like crazy, building this world. It's a little different each time, with different people involved. And then when it finishes you say, "Goodbye," and you leave, and you have another life.")—and with Jan Troell about The Emigrants and The New Land. ("I love details. And sometimes I don't feel as free shooting a film today as I did with those films. In a sense, the more you know about the work and how to do it, the less free you feel, and that's not good. You lose a sort of naïve feeling.") While Cassie da Costa talks with Julie Dash about Daughters in the Dust and how she's actually been quite busy in the 25 years since, even if not in the public spotlight. ("That's a false notion of the antebellum South and the postwar South. It's still false, but people are still going with it. It's all cotton picking when cotton wasn't the only thing—it's indigo, it's tobacco, it's all kinds of things. And then there were the enslaved people who lived, for instance, in Charleston. In the city, where my people are from, they didn't work plantations, they were craftspeople. No one really showed that type of slavery because it doesn't depict the aesthetic frame that's been established with Gone with the Wind with picking cotton.")
"Of course, you can add all these things together, and throw in the Spanish exiles plotting to go home and organize strikes in order to undermine Franco, but you will not arrive at a decipherable code. What you get instead is the somber and confused mood of the late 1950s, when threats seemed abundant and paths of resistance few. The evocation of a political mood through the buildup of cultural litter—overheard talk, literary citations, bits of decor, paranoid mutterings—is exactly the same strategy Rivette was to employ when he made Out 1, which is preoccupied with people's feelings of betrayal and letdown in the wake of May '68." For all its classical filmmaking and pre-established script, Paris Belongs to Us legitimately sketches out the paths Rivette would follow in his later, more radically composed films, according to Luc Sante. (Who I wish had spent more than an aside in his pretty much unique defense of Betty Schneider's performance.)
"Miéville's sustained concern with sexual difference, the couple, family relations, loneliness and the everyday are accompanied by a striking attentiveness to the emotional power of music and bodily expression. Anne-Marie Miéville is anything but Jean-Luc Godard's quiet companion. Indeed, it is her intense interest in communication, its possibility and its failure, that has shaped and continually reignited the long-lasting bond between them." Albertine Fox gives Anne-Marie Miéville her due as more than just another collaborator for Godard, but as a powerful, dancing filmmaker in her own right, and one who clearly steered the would-be revolutionary away from agitprop and to an equally radical, politicized style that still had time (unlike the Dziga Vertov output) for such personal concerns as poetry, music, and love. Via Criterion.
"So Gibson gets to be working-class, earthy and sexy (overcoming the handcap [sic] of a modest bust by exposing practically all of it), Gargan gets to be a comic grotesque from the pages of Popeye, and Farrell gets to spoof his own struggles to inhabit the role of leading man in talking pictures. This is a dispatch from some alien universe where these actors were the most exciting in their field." David Cairns salutes Aggie Appleby, Maker of Men, one of those pre-Codes that doesn't seem promising as you scan the credits but proves a highlight for most concerned, and a doozy right down to "the greatest fade-out line of 1933 (Forget "Twas beauty killed the beast.")" Staying at The Chiseler, Dan Callahan praises the singular career of Gail Patrick, "the ultimate in resting bitch face," who won a contest for the part of Panther Woman in Island of Lost Souls but fortunately didn't take the role, and the typecasting that came with it, setting out on a series of remarkably malicious women tailor-made for an actress who "knew instantly where she could stick all her knives, but the funny thing about her is that she seemed too basically cool and sedentary to really do too much damage, like a cat who stretches out and just scratches a canary before going back to sleep in the sun."
Clarity might have been a key watchword for classical filmmaking, but the boxy Academy Ratio frame proved no impediment to masters who wanted to steer our eyes towards its margins and corners, as David Bordwell demonstrates with examples from the likes of Keaton, Hawks, and Lang—and several fine examples from Michael Gordon.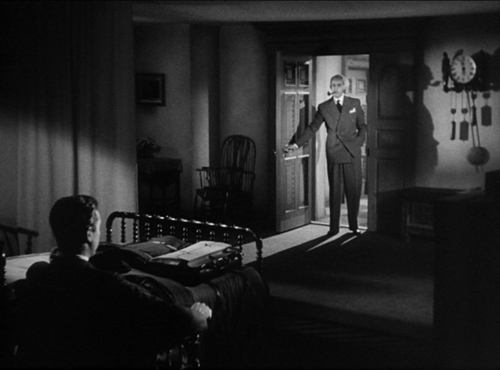 "'I was cast as Christian [Bale]'s douchey Hollywood Hills friend. I realized if his character was a shallow Hollywood screenwriter, two of his really good friends probably would be Joe Lo Truglio and me,' Lennon said. 'Terrence Malick actually is a genius.'" There have been accounts of Terrence Malick's onset method from participants both enthusiastic and appalled; Thomas Lennon, describing to Jason Guerrasio the eleven hours it took to shoot a one-minute cameo in Knight of Cups, splits the difference, clearly enjoying the experience even as his comic sensibility can't help but puncture Malick's "straw hat, slightly dirty khaki pants, and a real loose, floppy shirt" to release some of the hot air. Via Mubi.
"Of course, I consider the audience when I edit the film, but first of all I am pleasing myself. I am editing the film for myself and therefore it is my film. I do not lose that feeling. When I watch the film now, after so long, I know every single cut was not done for the audience, but for myself. At the same time, I give the film to the audience to share with me, but I still own it and that's my movie. I don't have the feeling that I gave it away and it's not mine anymore. No, no, it's very much my own film. I am a possessive person and so I do not easily give up anything." Jerzy Skolimowski talks with Paul Risker about his unique beginnings in the Polish film industry, the reinvigoration that came with his 17-year hiatus, and how he'll never, never work with Klaus Maria Brandauer again. Via David Hudson.
"[When] the film came out, the Daily Variety reviewer at that time who was named Art Murphy described it as an exploitation film. I had never heard that term before. Roger never used it. So that's how I learned that I had made an exploitation film. Then I went and did some research to find out exactly what exploitation films were, their history and so forth, and then I knew that's what I was doing, because I was making low-budget films that were transgressive in that they showed more extreme things than what would be shown in a studio film, and whose success depended on their advertising, because they had no stars in them. It was dismaying to me, but at the same time I decided to make the best exploitation films I could. If that was going to be my lot, then that's what I was going to try and do with it." With a new print of The Student Nurses hitting theaters, Colleen Kelsey talks with director Stephanie Rothman about how well she imbued the film with political themes, and how little Hollywood noticed, making her one of the few of Corman's protégés the system decided not to snatch up, for whatever reason. (It's because she's a woman.)
Obituary
George Martin, the music producer who has been called "the Fifth Beatle," is a rock and roll legend. His legacy as a producer and arranger can't be overstated but he also left his mark on the movies, both with the Beatles (along with producing their songs, Martin wrote original music for their films A Hard Day's Night, 1964, and Yellow Submarine, 1968) and without, composing the scores for the film Ferry Cross the Mersey (1965), Pulp (1972), and the James Bond film Live and Let Die (1973). He passed away at the age of 90. More from The Telegraph.
Before Nancy Davis Reagan became the first lady of the State of California and the United States of America, she was Hollywood actress Nancy Davis, whose 15-year career included roles in East Side, West Side (1949), The Next Voice You Hear (1950), and the cult science fiction movie Donovan's Brain (1953). In the low-budget military drama Hellcats of the Navy (1957) she co-starred opposite her husband, Ronald Reagan, first the first and only time though she still used her screen name. She retired from acting in 1962. She was 94 when she died. Elaine Woo at Los Angeles Times.
Author Pat Conroy adapted his novel for Barbra Streisand's adaptation of The Prince of Tides (1991) and scripted the 1989 TV movie Unconquered (1989), while filmmakers adapted three of his other novels to the screen: Conrack (1974), based on "The Water is Wide," The Great Santini (1979), and The Lords of Discipline (1983), all inspired by his own experiences. He passed away at the age of 70. William Grimes for The New York Times.
Special effects artist Tony Dyson built robots for the movies, including Moonraker (1979), Superman II (1980), and Dragonslayer (1981), but his cinema legacy is building R2-D2 for the original Star Wars (1977). He build eight R2-D2 units, six of them radio controlled and two designed for actor Kenny Baker to inhabit and operate. He died at age 68. Liam Stack for The New York Times.
Kathryn Trosper Popper is not a name most cinephiles will know but she made her way into film history when Orson Welles cast his 25-year-old personal assistant in the final scene of Citizen Kane (1941), where plays a photographer who delivers the line "What's Rosebud?" to a group of reporters. She was the last surviving actor to have appeared in the landmark film. She never appeared in another film but her brother, Guy Trosper, became an Oscar-nominated screenwriter and her husband was a lawyer who defended Dalton Trumbo and John Howard Lawson. She died this week at the age of 100. Sam Roberts at The New York Times.
Seattle Screens
"Framing Pictures," the monthly film discussion, convenes at 7pm on Friday, March 11 in the screening room at Scarecrow Video, with your hosts Robert Horton, Richard T. Jameson, and Kathleen Murphy. Topics up for discussion this week include Wim Wenders (whose films are showing through the month of March at SIFF Cinema and NWFF) and Terrence Malick's Knight of Cups, but of course the floor is open. It's free. Check out their Facebook page for more.
For even more movie discussion, Robert Horton is your guide for the Cinema Dissection of Some Like It Hot (1959), this month's installment in the educational series produced by SIFF. It's on Saturday, March 12 at SIFF Film Center and the program starts at 11am.
Composer and cellist Lori Goldston performs a live score to the rare 1966 underground movie Echoes of Silence (shown on period-accurate 16mm film) on Friday, March 11 at 8pm. More information here.
A new digital restoration of Kenji Mizoguchi's The Story of the Last Chrysanthemum (1939) plays at NWFF on Sunday and Monday, March 12 and 14. Showtimes and ticket information here.
This week's in the "Wim Wenders: Portraits Along the Road": Wrong Move (1975), the second film in Wenders' Road Trilogy (and the film debut of Nastassja Kinski) at SIFF Film Center on Wednesday, March 16 and Wings of Desire (1987) at NWFF on Thursday, March 17.
Il Divo (2009), the final film in the Seattle Art Museum's winter film series "Magnifico! Cinema Italian Style" series, screens at 7:30pm on Thursday, March 17. Tickets can be purchased online or at the door on a first come, first served basis. More here.
Visit the film review pages at The Seattle Times, Seattle Weekly, and The Stranger for more releases.
View complete screening schedules through IMDb, MSN, Yahoo, or Fandango, pick the interface of your choice.
The weekly links page is compiled and curated by Bruce Reid, with obituaries and Seattle Screens curated by Sean Axmaker, and other contributions from friends of Parallax View.