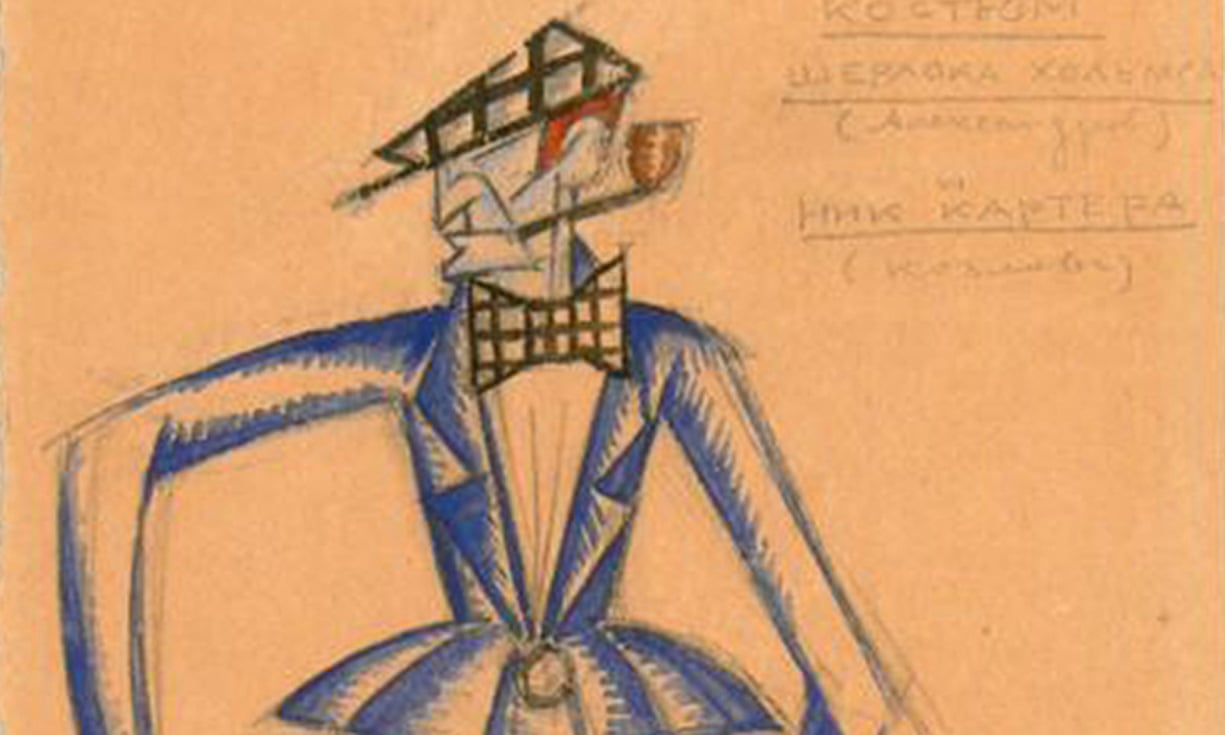 Costume design for Sherlock Holmes by Sergei Eisenstein, 1922.
Sergei Eisenstein's happiest years were probably those as an expatriate. His sojourns in Hollywood and Mexico are well known, but a new exhibit makes the case for his six weeks in London as equivalently liberating and personally transforming. Curator Ian Christie charts the subsequent cultural back-and-forth that led to Alexander Nevsky's inspiring Olivier's equally propagandist and spectacular Henry V; while Rob Sharp examines the filmmaker's links to English culture, particularly for Sherlock Holmes (whom Einsenstein drew in an amalgam with Nick Carter). Both are beautifully illustrated by Eisenstein's sketches, some dizzyingly geometric, some Thurberesque. Via David Hudson.
"Chaplin was warned by a number of people as he embarked on The Kid that slapstick and sentiment would not mix and that gag comedy could not support the length of a feature film. The success of the movie proved them wrong, even if it remains poised on a knife-edge between a wonderfully original comedy and a perhaps too predictable maternal melodrama. But the old-fashioned plot offered Chaplin the chance to base his comedy not simply in burlesque but in a deeper exploration of the primal emotions of separation and abandonment. His engagement with melodrama no longer relied on Keystone's parodies of mustachioed villains in top hats pursuing innocent maidens but on the genuine feelings of a family separated and then reinvented, and of a child's fear of loss and desire for union and security." Tom Gunning notes the unprecedented risks Chaplin was taking on in making The Kid, and his triumphant leap over them. Criterion also points out a pair of recent posts from silent movie location detective John Bengston, one tracing the locations employed on The Kid, and the other a delightful collection of screenshots where Chaplin's fans have accidentally been caught spying on their hero from the edges of the frame.
"Always ahead of his time, Sturges anticipated the games of cinematic postmodernism before modernism had even found its feet, while his satirical targets remain as current as ever: economic and political corruption, the contingency of success, the delusions of meritocracy, the jaundiced sense that the US is a lottery that's either rigged or random. In Christmas in July (1940), about a working man who mistakenly believes he has won a big-ticket contest, Sturges offers an acidic jibe at false consciousness: 'I'm not a failure,' insists a corporate middle manager. 'I'm a success … No system could be right where only half of 1% were successes and all the rest were failures.'" Sarah Churchwell marvels at the career of Preston Sturges, which saw one of the highest-paid screenwriters in Hollywood turn into the town's finest comedy directors in a meteoric burst of four years and five flat-out masterpieces.
"That's cynical. But cynicism is an unpleasant way of telling the truth." Jeremy Carr finds Wyler's The Little Foxes an unremitting portrait of "hypocrisy and cruelty," enlivened by the actors swirling Hellman's lines in their mouths like brandy and Gregg Toland's "extraordinary deep-focus photography…remarkable for [its] sharp balance of foreground intimacy and background activity."
For Film Comment, Farran Smith Nehme salutes A Room with a View as one of the masterpieces of the '80s ("Simon Callow gave this illustration of Ivory's on-set manner: "'That was all right,' he said once, after a particularly difficult scene in A Room with a View. 'All right?' I snapped. 'By which, I mean, of course, sublime,' he replied." Something of Ivory's calm, unhurried personality seems to drive the movie's pace, which is deliberate but never dull."). While one of the great performances of the '90s gets its due in Steven Mears's praise for Debbi Morgan's unforgettable turn as the fortune teller in Eve's Bayou. ("Her unsettlingly wide eyes flicker between emotions outsize and minute, and her sultry, worldly-wise voice sounds just as one imagines Ava Gardner's did before the studio sanded down the Southern edges. She feels born of the bayous, as endemic to the region as Spanish moss.")
Vadim Rizov rounds up the approximately 64 (there are plenty of asterisks) features released in 2015 that were shot on 35mm, most often, it seems, to evoke the expected continuity with the way movies looked in the past; even if, in The Force Awakens case, the imagery was explicitly otherworldly. Via Movie City News.
"Typical of a Peggy Siegal event, the lemon-yellow banquettes at Kappo Masa were dotted with highly familiar faces that day. Mr. DiCaprio, shorn of his mountain-man beard, chatted about global warming with Sting, who seemed to have inherited that very beard. Lorraine Bracco chatted with Wendi Murdoch and Steve Golin, the Revenant producer, about her Oscar night disappointment in 1991, when she was a runner-up for best actress in a supporting role for Goodfellas." A backstage look at the race for the Oscars, New York Society style, comes courtesy of Alex Williams's profile of film publicist Peggy Siegal, throwing together ridiculously expensive lunches so the cream of the high life can gather and garner a better appreciation for the merits of, say, Adam McKay's The Big Short. Via Matt Fagerholm.
"See, that's why I'm always questioning whether we are following the right rules. (Laughing). I do understand that it brings some kind of criteria for normality, creates a structure that enables communication with other people. But beyond that it is quite complex. The negative thing is, we get used to it. And the more you get used to something the less you are able to see that it is not working. We stop wondering. People are so different; they might need different things. How do we allow freedom within that context for everyone? Are those rules and that particular structure the best we can do? So there is, you know, there's always a lot of questions to be asked." Yorgos Lanthimos talks with Anna Tatarska about The Lobster—and admits he doesn't have many more answers for how its strange universe works than she does.
"Accuracy for accuracy's sake, there's no point in it, but in order for the witch to be real for audiences the way she would have then, I had to articulate this world with believable detail. And, also, to get that dread and atmosphere and that extra transportive quality, it has to feel like my memories of childhood as a Puritan. What did my dad smell like in the cornfield that day? Without ultra-specific detail, you can't do it. Getting a bunch of fence posts from Home Depot and calling them clabbards is not going to work." Robert Eggars talks with Brian Tallerico about the lengths he went to ensuring The Witch's historical accuracy—and hints at the film's autobiographical roots.
"He's cool in one regard in particular: he's an artist and he wants to do things his way, but he actually wants a director to be comfortable. And he knows since I'm used to taking music and fitting it in, he recorded music that's not about this scene in particular or this piece that happens here. No, it was about music he thought could fit the mood of the given movie." Talking about collaborating with Ennio Morricone—as he does with Anne Thompson—makes even Quentin Tarantino sound humble as he describes his pilgrimage to the great man's Italian home.
"Boy, have we got a vacation for you… Where nothing can possibly go worng!" Adrian Curry turns over his column to Mondo's creative director Jay Shaw, who picks his ten favorite American posters, which depend not just on striking designs but such marvelous blurbs of text as Westworld's punchline above, or the delightful parenthetical following Dracula Has Risen from the Grave.
Obituary
Polish-born filmmaker Andrzej Zulawski, whose notoriety grew after a series of intimate and controversial dramas in France during the 1980s, studied film in France and apprenticed as an assistant to Andrzej Wajda on Poland before he made his debut feature, The Third Part of the Night (1971), about the German occupation of Poland in World War II. His second feature, The Devil (1972), was banned in Poland and he left for France, where he made The Most Important Thing is Love (1975) with Romy Schneider (who won a Cesar for her performance). When his next Polish film was shut down by the Communist authorities, he returned to France for Possession (1981), a surreal psycho-sexual horror thriller with Isabelle Adjani that remains his most well-known film. He made La femme publique (1984) with Valérie Kaprisky and four films with Sophie Marceau (L'Amour braque, 1985, My Nights Are More Beautiful Than Your Days, 1989, La Note bleue, 1991, and Fidelity, 2000). Cosmos (2015), his first film in fifteen years, premiered at the 2015 Locarno Film Festival and was just picked up for distribution in the United States. In addition to his 13 feature films, he wrote several novels. He passed away at the age of 75 after a battle with cancer. William Grimes for The New York Times, and of course a round-up of articles and interviews from David Hudson at Keyframe.
Harper Lee, author of "To Kill a Mockingbird," passed away at the age of 87. The author, who was a childhood friend of Truman Capote and assisted his research in what would become "In Cold Blood," all while working on her novel. "To Kill a Mockingbird" was published in 1960, becoming an instant best-seller, and was brought to the big screen (with a screenplay adaptation by Horton Foote) in 1962, with Gregory Peck as Atticus Finch, the man who became the model of paternal morality. She never wrote another book, though an early draft of her novel, titled "Go Set a Watchman," was discovered and published in 2015 a controversial act. She otherwise lived a quiet life in Monroeville, Alabama, refusing to give interviews about the novel or her life. She was portrayed twice on the big screen, by Catherine Keener in Capote (2005) and Sandra Bullock in Infamous (2006). William Grimes for The New York Times.
Denise Katrina Matthews, better known as Vanity, as she was rechristened by Prince when he launched her as the lead singer of his group Vanity 6, was a Canadian-born model and actress who appeared in the cult films Tanya's Island (1980) (under the name D.D. Winters) and The Last Dragon (1985), co-starred in John Frankenheimer's 52 Pick-Up (1986), and headlined the action films Deadly Illusion (1987), opposite Billy Dee Williams, and Action Jackson (1988) with Carl Weathers. In 1995, after almost dying from a drug overdose, she turned her back on show business and became a born-again Christian. She died at the age 57 from kidney failure, the result of years of drug abuse. Seth Abramovitch for The Hollywood Reporter.
Seattle Screens
Lime Kiln Club Field Day (1913) plays Monday, February 22 at the Paramount. For more on this and other film events in Seattle, continue reading here.
The weekly links page is compiled and curated by Bruce Reid, with obituaries and Seattle Screens curated by Sean Axmaker, and other contributions from friends of Parallax View.