Rummaging in cartons on the top floor of our house—a process that has gone and will go on for years—I recently found two crumbling pieces of newsprint that mark, among other things, the beginning of what became "Moments out of Time." The "Moments" stuff comes at the end, the entries for any given film clumped together. Only a few anticipate the way such things would be composed in later years. Still, I'd like to enter them into the Parallax View record.
While I'm at it, please indulge the year-end remarks which precede them. (The venue was the counterculture weekly Helix, which expired not long afterward.) Seattle film year 1969 was a remarkably rich time, not least for the fact that it included some local and/or personal premieres from the preceding five decades of cinema. And happily coincident with a landmark restoration this current film year is my top choice for 1969, the year it first played in the greater Seattle area. —RTJ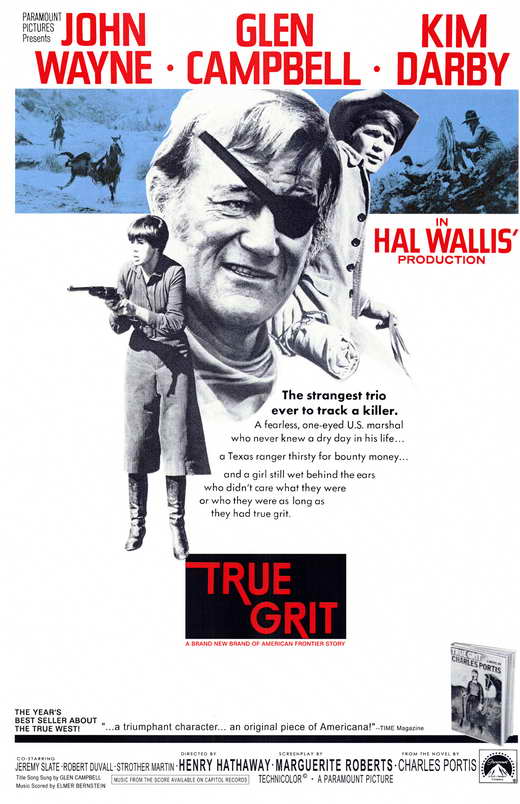 [Originally published in Helix, January 15, 1970]
'69: A GOOD YEAR (for movies…)
by Dick Jameson
It's a few minutes past Ten Best time again, and while I'm usually champing at the bit preparing tentative lists as early as November, this year I held off. Not that movies were less interesting in Seattle in 1969. Movies were too interesting. Trying to cull ten titles out of the wealth of fine films making their first appearance in Seattle last year is a hellish prospect, and maybe a leetle bit impossible.
So I sympathize with Johns Hartl and Voorhees of the Times, who made it easier on themselves by limiting eligibility only to released-in-1969 pictures. That does make things a lot easier; I can manage that standing on one hand:
1. TRUE GRIT (Henry Hathaway)
2. THE WILD BUNCH (Sam Peckinpah)
3. STOLEN KISSES (François Truffaut)
4. IF… (Lindsay Anderson)
5. BOB & CAROL & TED & ALICE (Paul Mazursky)
6. MIDNIGHT COWBOY (John Schlesinger)
7. CASTLE KEEP (Sydney Pollack)
8. ONCE UPON A TIME IN THE WEST (Sergio Leone)
9. A WALK WITH LOVE AND DEATH (John Huston)
10. I AM CURIOUS—YELLOW (Vilgot Sjoman)
Runners-up: Last Summer and Goodbye Columbus, primarily for their performances; Easy Rider, the most overrated film of the entire 1960s; Medium Cool, which was fluid, exciting and persuasive in progress, but disintegrated two minutes after it was off the screen; Butch Cassidy and the Sundance Kid, an entertaining thing and a fascinating mess; and Justine, a charmingly old-fashioned Hollywood movie.
But the Seattle movie scene in 1969 really wasn't that simple at all, and to pretend it was is to shirk the considerable responsibility of informing one's readers as to the true perspective of possibilities of Films as an Experience last year. The Timesmen's arrangement does ensure that they'll fit right in among the other lists which will be collected in Variety over the next few weeks, and maybe our boys will even break into some national ads.
Another reason I'm a trifle disgusted? OK, sure, yeah, I run the Edgemont Theatre, and the Times' policy automatically rules out every single picture I showed in the past twelvemonth. What is more, it will automatically disqualify such notable 1969 offerings as Hitchcock's Topaz, Abraham Polonsky's Tell Them Willie Boy Is Here, Robert Downey's Putney Swope, and the New York Film Critics/Cannes Festival award-winner Z, by Costa-Gavras, when they come here during 1970. All right, the year-end game is only a game, and it's a lot of fun, but games have to be played with a certain style.
Here are thirty films that came to town last year; they're sometimes grouped in blocks of merit, within which listings are alphabetical:
1. FALSTAFF: CHIMES AT MIDNIGHT (Orson Welles)
2. TRUE GRIT (Henry Hathaway)
3. THE WILD BUNCH (Sam Peckinpah)
4. STOLEN KISSES (François Truffaut)
5. LES BICHES (Claude Chabrol)
6. PIERROT LE FOU (Jean-Luc Godard)
7. BELLE DU JOUR (Luis Buñuel)
8. WEEKEND (J-LG)
9. WARRENDALE (Allan King)
10. IF… (Lindsay Anderson)
11. DAVID HOLZMAN'S DIARY (Jim McBride)
______
12. LES CARABINIERS (J-LG)
13. CHARULATA (Satyajit Ray)
14. LE FEU FOLLET (Louis Malle)
15. PICKPOCKET (Robert Bresson)
______
16. BOB & CAROL & TED & ALICE (Paul Mazursky)
17. FACES (John Cassavetes)
18. MIDNIGHT COWBOY (John Schlesinger)
19. TARGETS (Peter Bogdanovich)
______
20. THE MAN WITH THE BALLOONS (Marco Ferreri)
21. CASTLE KEEP (Sydney Pollack)
22. CHARGE OF THE LIGHT BRIGADE (Tony Richardson)
23. ONCE UPON A TIME IN THE WEST (Sergio Leone)
24. A WALK WITH LOVE AND DEATH (John Huston)
______
25. BEFORE THE REVOLUTION (Bernardo Bertolucci)
______
26. THE IMMORTAL STORY (Orson Welles)
______
27. LA CHINOISE (J-LG)
28. I AM CURIOUS—YELLOW (Vilgot Sjoman)
______
29. GOODBYE COLUMBUS (Larry Peerce)
30. LAST SUMMER (Frank Perry)
Even the sketchiest account of my film year would be incomplete without mentioning my first encounters with:
THE CRIME OF MONSIEUR LANGE (Jean Renoir, 1935)
DAY OF WRATH (Carl Dreyer, 1943)
HANGMEN ALSO DIE! (Fritz Lang, 1943)
JALSAGHAR (Satyajit Ray, 1958)
THE NAVIGATOR (Buster Keaton and Donald Crisp, 1924)
SHERLOCK JR. (Keaton, 1924)
THE SLEEPING CAR MURDERS (Costa-Gavras, 1966)
SPIES (Lang, 1928)
SUMMER INTERLUDE (Ingmar Bergman, 1950)
SUNRISE (F.W. Murnau, 1927)
TROUBLE IN PARADISE (Ernst Lubitsch, 1932)
TRUE HEART SUSIE (D.W. Griffith, 1919)
THE WHITE ZOMBIE (Victor Halperin, 1932)
These were indispensable aspects of the texture of cinema in 1969.
And these:
Prince Hal chasing Falstaff among the birch trees;
the Battle of Shrewsbury;
John Gielgud as Henry Bolingbroke;
Falstaff's funeral march;
John Wayne doing W.C. Fields on the hilltop;
the courthouse door in True Grit and what you could see through it;
Lucky Ned Pepper, and "Fill your hand, you son-of-a-bitch," and—oh hell, the whole movie;
the terrible beauty of The Wild Bunch;
Ben Johnson and Warren Oates as the Gortch brothers;
the walk to the general's courtyard;
Jean-Pierre Léaud in Stolen Kisses;
Delphine Seyrig in the blue light of the shoe store, one shoeless foot upraised, a fugitive from Last Year at Marienbad;
the poker game in Les Biches;
the opening of Pierrot le Fou with Coutard's camera breathing the life and space and colors Belmondo is reading about;
Buñuel among the café society in Belle du Jour;
the faces of Carol, Irene, Tony, and Warrendale;
Karloff narrating An Appointment in Samarra [Targets];
Joe Buck combing Ratso's hair on the staircase;
Sergio Leone's Spain giving way to John Ford's Monument Valley during a single buckboard ride;
the flashback scene in Once Upon a Time in the West, a Giotto arch and Giotto angels against a surreal but genuine Western mountain range, and a 1930s Henry Fonda striding dreamlike into his own present day—the single most powerful vision of the year…
Which, all told, was a good year to be alive and seeing movies.
RTJ
Copyright © 1970 Richard T. Jameson