Rivette tributes arrive at a rapider rate (if not a greater length) then the filmmaker's own masterpieces. Film Comment reprints a classic 1974 interview with Jonathan Rosenbaum, Lauren Sedofsky, and Gilbert Adair on Celine and Julie Go Boating and Out 1. ("We began by elimination: we didn't want to make a serious film; we didn't want to make a film about the theater because we'd done that too often; we didn't want to make a film about current events or politics. But we did have the desire from the very beginning to do something close to comedy, and even frankly commedia dell'arte.")
The same year and films feature in Sight & Sound's reprinting of a magnificent interview with Carlos Clarens and Edgardo Cozarinsky that functions as Rivette's clearest mission statement ("There is a persistent idea of a cinema partitioned off in tiers: first you look for a subject, then you write as detailed a script as possible, on the basis of which you find someone to put up the money, for which purpose you pencil in the names of certain actors opposite fully defined characters. Once you have got all the elements together, often compromising some of your original ideas in the process, comes another stage: the actual shooting. You shoot little bits here and there, as meticulously as possible, and then you stick them together, and you're pleased if you end up with something that corresponds to what was described more or less in your two hundred typewritten pages. Personally I find all this a dreadful bore."); and Rosenbaum, again, reviewing the films (rather Out 1: Spectre, all that was available to view at the time). ("And if the scepticism towards fiction in Spectre leads to transparent actions playing over a void, Céline et Julie is like a game of catch played over the same void, with the ball tossed back and forth remaining solid as long as it is kept in motion.") While Out 1's continued relevance, and relative monstrosity, is testified to by David Thomson's account of introducing the film to a dozen Norwegian spectators (making, plus him, an audience of 13) this past January. ("There is something about Out 1 that admits, or permits, the lifelike habit of missing a few things here and there. After all, we can be making love to someone, or even murdering them, and not quite hear what they say or catch the expression on their face. Movies seem to be arrangements of attention, but Rivette was one of those directors who saw that in passing time some things could pass by, precious in the dark, not so much unnoticed as missed.")
At MUBI Evelyn Emile considers Love on the Ground's many teasing references to who, ultimately, is the author (or dreamer) of the play-within-the-film we're watching. ("Is this love or is it empty intimacy, powerful anxiety, fear of death? These are such violent and terrible things, as we know. But Rivette gives us no consolation. Even if one were to ask, 'Am I dead or not?' the verdict is spoken simply and with a smile: 'That's for you to decide.'") While Kino Slang reprints two examples of Rivette's criticism—on Truffaut at the start of his career and Ivan the Terrible as the "culmination" of Eisenstein's—that in hindsight say less about the two men than they do about the writer whose work arguably surpassed them both. ("The whole film mounts toward this moment, and little by little sloughs off time in order to rejoin duration….") And if that isn't enough—for many of us, of course, it isn't—the 1977 collection Texts and Interviews turns out to be available online, courtesy (but of course) of Rosenbaum. Many of these via David Hudson.
"These heads and faces, offering such unequivocal, complete statements, are already disquieting in the isolation of the screen. What they offer is a seduction (even if that's for an eight-month course of chemotherapy), an offer to unfold a whole world that's a cure for the ills of this one. Although in the end there may be nothing beyond the unfolding process. Vivian Bearing suffers chemotherapy, and brings her own academic specialty, study of the Holy Sonnets of John Donne, to bear on her condition, but neither proves a cure. Jake Terrell tries to make the dolphins' world his own, but at the end is left on the edge of his island paradise while the image burns out to white—another favorite Nichols device, exiting the stage by dissolving the film." Richard Combs traces intimations of death and its vivid if ultimately powerless counterforce through the films of Mike Nichols; and wins Auteurist of The Week for building his argument primarily on Catch-22 and The Day of the Dolphin.
"The movie's ravishing design is like a 3-D puzzle, and some pieces are deliberately out of place. Barry's show seems only slightly smaller than the Folies Bergère, with about a hundred showgirls in lavish costumes, a full orchestra, even clowns for the act intervals, and yet the stars are living and traveling quite modestly…. The film is a maze of narrow stairways and walkways, people popping in and out of doors and glimpsed through windows—we are eavesdropping, looking through a keyhole, getting only part of the picture at any one time." Staying at Film Comment, Farran Smith Nehme praises the effervescence and the mystery that Cukor and his collaborators pack into Les Girls.
"I went over to Oscar to make my pitch. 'You may be right. I may not need it,' I argued, 'but [this action] affronts an audience as few other things do. How are they going to be reconciled to the character's choice if we aren't explicit enough?' Oscar showed real irritation with me for the first and only time in the long weeks of filming: 'How?' he said. 'Acting.'" David Simon shares an argument with Oscar Isaac—with Winona Ryder and director Paul Haggis as wary go-betweens—from the set of Show Me a Hero that proves, hard as Simon finds to admit it, sometimes writers need to defer to the story sense of actors. The dialogue in question hinges on a major spoiler for the miniseries; one reason Simon waited till the DVD release to share it.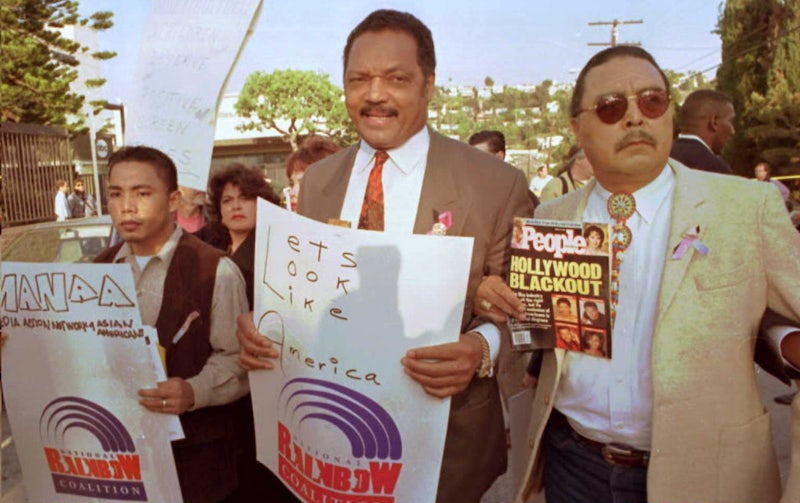 From the More Things Change… Department, Esther Breger looks back at the outrage, sparked by People Magazine of all places, that surrounded the lack of diversity at the 1996 Oscars, which featured only one black contender out of 166 nominees. Leading to a protest by Jesse Jackson met with derision (from the Some Things Change Ironically Department) by Will Smith, among others. Via Joe Blevins.
"It was supposed to be the Los Angeles mob, and I was the Al Pacino character, and Ted Danson, who was in it, was the Sonny, the James Caan character. He was the bad, bad boy, and I was the good boy, and Sam Wanamaker was our father. And it was… [Snorts.] Well, thank God nobody saw it. And thank God it didn't become a series, because Ted went on to do Cheers, and I went on to do St. Elsewhere." David Morse recollects the byways of his career—with sharp portraits of collaborators both pleasant (Donner, Hackman) and otherwise (Cimino)—with Will Harris. (If you're familiar with the format for Harris's Random Roles feature, this is actually Morse's second round—the first was back in 2008—so only passing mention of such key works as The Indian Runner and St. Elsewhere, and much attention paid to the likes of Extreme Measures, Prototype, and (as quoted above) the TV pilot Our Family Business.)
"He was only fifty years old when he died. In his last days he began to talk about Mexico again. The resentment and the hurt were still there—he never seemed to have accepted his part of the blame for what happened. But there was also a wistful nostalgia, and a recognition that Mexico had changed his life as an artist for the better, despite all the dire consequences for his career. And to the end, he drew sketches of things he had seen in Mexico. For Eisenstein, Mexico never ended." Peter Greenaway talks with David Ehrenstein about the inspiration behind his latest feature, Eisenstein in Guanajuato, and the future installments he has planned in this multi-part biopic (none of which, Ehrenstein notes, should please the homophobic conservatives currently setting the tone for Russia's cultural climate).
"It's a little bit scary how crazy I am! It could have been terrible. Everything could have gone wrong very easily… There were so many challenges every day. You become a creature of your own work. Sometimes you are God and sometimes you are a creature. And here you are just a creature surviving your own creation." Features continue to come out burnishing the legend of the making of The Revenant: charmingly self-grandiose in Alejandro Iñárritu's interview with The Talks; otherworldly beautiful when it comes to Emmanuel Lubezki's location photography, shared with Sam Adams. ("That afternoon, we started playing with the actors and suddenly I said, 'Why don't we use fire?' So we started playing with fire, me telling them to burn the walls of the dwelling. We asked for a little more, and suddenly the dwelling caught on fire. And the moment that the fire was real, and not organized by the effects people, it started to be more magical and more interesting. Then we got a gust of wind and we couldn't control the fire anymore. The special effects guy said if we don't shut it down, it's going to burn the dwelling, we won't be able to use it again. It doesn't matter. Let it burn.") Via Movie City News.
Obituary
Jacques Rivette, the least well known of the French Nouvelle Vague founders, was less prolific than his critic-turned-filmmaker colleagues Jean-Luc Godard, François Truffaut, Claude Chabrol, and Eric Rohmer but in some ways the most influential. He was the first of the "Cahiers du Cinema" writers to make a short film and the second to embark on a feature film (behind Claude Chabrol). In between he shot the first shorts by fellow critics Francois Truffaut and Jean-Luc Godard. His debut feature Paris Nous Appartient was finally completed in 1960 but didn't get distributed for two years, by which time Godard, Truffaut, and Chabrol had all but launched and defined the Nouvelle Vague, and Rivette's subsequent films rarely received the distribution and attention of his contemporaries. Yet he kept the Nouvelle Vague spirit of invention and creative freedom alive with his youthful explorations and his collaborative methods; more than any other director of his time (including John Cassavetes and Robert Altman) Rivette treated his actors as collaborators, or maybe conspirators, in the mysterious process of filmmaking. That collaborative spirit reaches its zenith in his 13-hour Out 1, which was produced in 1971 but barely seen until 2015, when it was restored and re-released, making its official theatrical debut in a successful two-week run in New York City. It also informs Celine and Julie Go Boating (1974), a mix of fantasy, comedy, and mystery thriller that has great fun deconstructing the nature of storytelling, and Pont du Nord (1981), a film about games and conspiracies played out on the gameboard of Paris. He won the Jury Grand Prize at Cannes for La belle noiseuse (1991), made a variant version called Divertimento (1992), directed Sandrine Bonnaire in the two-part Joan of Arc film Joan the Maid (1994) and the thriller Secret Defense (1998), had his most successful American release with the playful Va Savoir (2001), and retired after Around a Small Mountain (2009). Most of his films are still difficult to see in the U.S. (most have never been released on disc, and many of those are long out of print) but Criterion is finally bringing out their first Rivette film later this year and Kino has released Out 1 and Pont du Nord. He suffered from Alzheimer's in his final years and passed away at the age of 87 last week.
Though it hasn't been updated in a while, Order of the Exile is the official home base of all things Jacques Rivette in the U.S., while Catherine Grant provides an essential guide to writings by and about Rivette at Film Studies for Free. And, of course, as mentioned above there is the invaluable round-up from David Hudson at Keyframe.
British actor Frank Finlay earned an Oscar nomination starring as Iago opposite Laurence Olivier in the 1965 Othello, became a sex symbol in Britain for playing Casanova (1971) in the Dennis Potter-scripted mini-series and Peter Manson in the mini-series A Bouquet of Barbed Wire (1976), and became an international star playing Porthos in Richard Lester's comic swashbucklers The Three Musketeers (1973) and The Four Musketeers (1974). He was a founding member of the National Theater Company and was a busy stage actor from his debut in 1954 to his final stage appearance in 2008. Along with scores of TV roles over the years, he appeared in the films A Study in Terror (1965), playing Lestrade to John Neville's Sherlock Holmes, The Molly Maguires (1970), Cromwell (1970), Stephen Frears' debut feature Gumshoe (1971), The Wild Geese (1978), playing Lestrade again in Murder by Decree (1979), Lifeforce (1985), and Roman Polanski's The Pianist (2002). His death, at the age of 89, was reported on his official website over the weekend. More from The Telegraph.
Bob Elliot, half of the legendary radio comedy team Bob and Ray, also brought their deadpan comedy to stage, TV, and movies, where the he and partner Ray Goulding did their two-man act for the films Cold Turkey (1971) and Author! Author! (1982). After Goulding's death in 1990, Elliot appeared solo in the film Quick Change (1990) and played the father of his real-life son Chris Elliot's character in the sitcom Get a Life (1990-1992). He passed away at the age of 92 from throat cancer. Peter Keepnews and Richard Severo for The New York Times.
Seattle Screens
The Framing Pictures panel of film critics—Robert Horton, Richard T. Jameson, and Kathleen Murphy—reconvenes on Thursday, February 11 at 7pm (rather than the regularly scheduled Friday) in the screening room at Scarecrow Video (5030 Roosevelt Way N.E.). You can keep up with the series through the Framing Pictures Facebook page.
The new season of Silent Movie Mondays begins at the Paramount on Monday, February 8 with Charlie Chaplin's The Gold Rush (1925). It's the only presentation in the four-film series screened with a recorded soundtrack, featuring the score composed by Chaplin himself. The rest of the series, titled "Silent Treasures," includes King Vidor's The Big Parade (1925) on Monday, February 15; Lime Kiln Club Field Day (1913), an unfinished feature with an all-black cast that was recently rediscovered and restored, on February 22; and Ben-Hur: A Tale of the Christ (1925), shown in a version significantly edited down from the original epic presentation with a score composed and performed by Stewart Copeland, accompanied by the Seattle Rock Orchestra.
Matthew Barney's three-part epic screen opera River of Fundament opens on Friday, February 5. Each act is presented as a separate event but series tickets for all three films are also available. Schedule of screenings and more information at SIFF here.
Iraqi Odyssey, Switzerland's official submission for the 88th Academy Awards, plays four days only at NWFF beginning Friday, February 5. Showtimes and more details here.
The Automatic Hate, an independent feature by Justin Lerner, plays Friday through Sunday at NWFF. Screenings include a Q&A with producer Lacey Leavitt, moderated by Seattle filmmaker Megan Griffiths. More here.
Next week, SIFF Cinema begins the series "Witches Brew," presenting four features on the theme of witchcraft and the supernatural followed by a sneak preview of The Witch with filmmaker Robert Eggers in attendance. The screenings are free for SIFF members. Details here.
Visit the film review pages at The Seattle Times, Seattle Weekly, and The Stranger for more releases.
View complete screening schedules through IMDb, MSN, Yahoo, or Fandango, pick the interface of your choice.
The weekly links page is compiled and curated by Bruce Reid, with obituaries curated by Sean Axmaker, and other contributions from friends of Parallax View.