"When they first met, Coogler mistakenly assumed Jordan had already played starring roles. 'I talked to him, and I just knew there was a movie that he had made—that he carried—that I hadn't heard of,' says Coogler. 'And he was like, Nah.' Jordan buckles over laughing and hits the director on the shoulder. 'His was the first one!' says Jordan." Their winning streak is likely to hit pause unless Ryan Coogler can shoehorn a role into Black Panther—Achebe, maybe?—for Michael B. Jordan; But the camaraderie and respect the pair display for one another in Rembert Browne's dual profile makes clear the partnership is far from over.
"With each message received, the needle on the speedometer rises; we are cruising at well over 100 miles per hour. I like speed. But not without my own hands on the wheel." Sean Penn's interview with Mexican drug lord El Chapo is no great shakes, the kind of intelligent but unenlightening questions a smart neophyte would ask, and that an experienced criminal like Chapo has no trouble deflecting. But Penn's much derided introduction, solipsistic even as it tries to show off its concern (genuine, I'm sure) for the wider world, overlong without ever quite rambling, makes for a hell of a self-portrait of one of our more curious, socially committed actors.
"We may feel that Highsmith's interest in Jonathan Trevanny is mostly about how the puppeteer Ripley yanks on his strings. But Wenders portrays Ripley's victim… as a tragic figure, a hero for whom we are actively rooting in his struggle against the forces unleashed by the reprehensible caprice of his American friend. How can we not side with a character played by Bruno Ganz at his most radiantly handsome, an actor who can manage to perform the deceptively simple but in fact challenging feat of making a mild and fundamentally decent family man both interesting and charismatic?" Francine Prose praises Wenders's The American Friend as something "deeper than crime, than noir," and if it's not quite Highsmith it compensates by being the director's most complicated take on his love/hate relationship with America.
The first and last collaborations of Rossellini and Ingrid Bergman—Stromboli and Fear, respectively—share the interesting complication of multiple endings, some attributable to the films' Italian distributors, that rather thoroughly contradict each other. Though, as Brad Stevens notes, perhaps some of the confusion deserves to be laid at the director's feet.
"The movie itself, in the first cut Al made, was unsellable. But even the distributors who turned it down were knocked out by the camerawork." Amidst the tributes to Vilmos Zsigmond, don't miss Glenn Kenny's enterprising decision to call up producer Sam Sherman to confirm that even working with Al Adamson on no-budget schlock, "Ziggy's" genius was apparent from the start.
When Philippe Garrel appeared at the NYFF, he had a pair of seemingly contradictory demands when it came to press interviews: he'd only participate in one roundtable discussion, but it had to last at least three hours. The mammoth result has been split up by its three participants, with part one, primarily on Garrel's origins and his choice of film stock, presented by Vadim Rizov at Filmmaker ("[W]hen I first tried oil painting, I found my painting very bad and I broke it, I destroyed it. That's when I decided I would make films. For me, black and white is like a pencil drawing, color is like a gouache, and it's because of that moment, with that first oil painting—when I was maybe 13 or 14—I realized it's very, very, very hard to do oil painting…. So, I'm scared of color, and I make three black and white films for one color film."); the second, about working with his father and children as actors, at Mubi by Darren Hughes ("It's very, very important for me that art is grafted onto real, intimate life because a film is a piece of your life. Sometimes it takes a year, sometimes three years. I think it would be hard for me to maintain professional—even emotional—ties with people in cinema if I didn't have these people from my family around me."); and Eric Hynes at Reverse Shot wrapping things up ("There's no intention before the gesture. I do it. I observe. Then I do the next thing. I observe. I do the next thing. I observe the continuity. But there's no outside definition of what I want to get. There's no film in my head. There's no imaginary film I want to make. I organize reality, in the present, on the set.").
"Those people who think that this is an erotic film will be disillusioned. They are in for a strange confrontation with a movie that is… not ordinary. I don't think the story is erotic; it's about rape. An erotic thriller would be a bit weird, right? I mean, it might be erotic for the person doing it, but I don't think that rape in general is something you would call erotic." Gleefully putting his foot in it even as he sends the accepted PC message, Paul Verhoeven talks with Margaret Barton-Fumo about his new film, Elle, and working with Isabelle Huppert.
"In film, when I'm sitting in a movie theatre and I close my eyes—to, say, escape a nightmare or a horror film—I close my eyes and I am back in the comfort of my seat and I can feel my armrest and my chair and I know I am in the cinema and I can feel the air-conditioning on my face. But when I closed my eyes in V.R., I still felt that I was in the virtual room. I still felt that I was there. There was no escape. I wonder if this could be used by a filmmaker to make a true type of horror by keeping the audience captive." There are few directors whose thoughts on virtual reality filmmaking you'd want to hear more than Werner Herzog. (Of course, there are very few filmmakers whose thoughts on anything you want to hear more than Herzog's.) Patrick House apparently agrees, since that's the sole topic of their brief conversation.
"One day I was in a car with Jean-Luc and he said, 'You need an agent,' and I asked him why, and he said, 'To earn money.' So I went to see Gerard Lebovici, you know, the editor and producer who was assassinated in an underground parking garage in 1984. At the time he was just starting out, and there were two or three photos of actors in his office. He said to me, 'Would you like to work with [Roger] Vadim?' I said, 'No.' So he mentions some other names, and each time I say, 'No.' So he said, 'You'll work for your reputation in 40 years.' Which was true. Not that I've always been right." Jean-Pierre Leaud talks with Simon Liberati about being a teenager and stealing girlfriends away from Mexican movie stars, working as Godard's assistant, and, of course, warding off possession by voodoo spirits. Via Matt Fagerholm.
"In Mumbai, in India, it is very difficult to afford or imagine concepts with a lot of visual effects or graphics. It's still just growing. It's not there yet. Especially title sequences—they're sort of a specialty thing. Only a few directors have that in mind. Thinking in advance, 'OK, I want to do a title sequence and I'm going to call someone for it'—that happens very rarely. But it's catching up!" One example of the change is the colorful title sequence for Angry Indian Goddesses, unfortunately already censored in its home country. Lola Landekic talks with director Pan Nalin and designers Vijesh Rajan and Yashoda Parthasarthy about making the sequence on a low budget.
Adrian Curry rounds up international posters for Chimes at Midnight, a grand collection of illustrations that generally do as good a job capturing Falstaff's swagger and good humor as they do his bulk.
Obituary
David Bowie. Words cannot express the loss of this artist, a true space oddity whose constant reinvention is a musical artist was also a lifelong act of performance art, whose music touched so many lives and influenced and inspired so many artists. I myself didn't discover his music until college, but I discovered The Man Who Fell to Earth in high school and was introduced to Bowie initially as an actor. He died this week at the age of 69 from cancer, which he managed to keep secret over his 18 month battle. Jon Pareles at The New York Times. And the best round-up of obituaries, remembrances, and essays with an emphasis on his film work is, as always, from David Hudson at Keyframe Daily.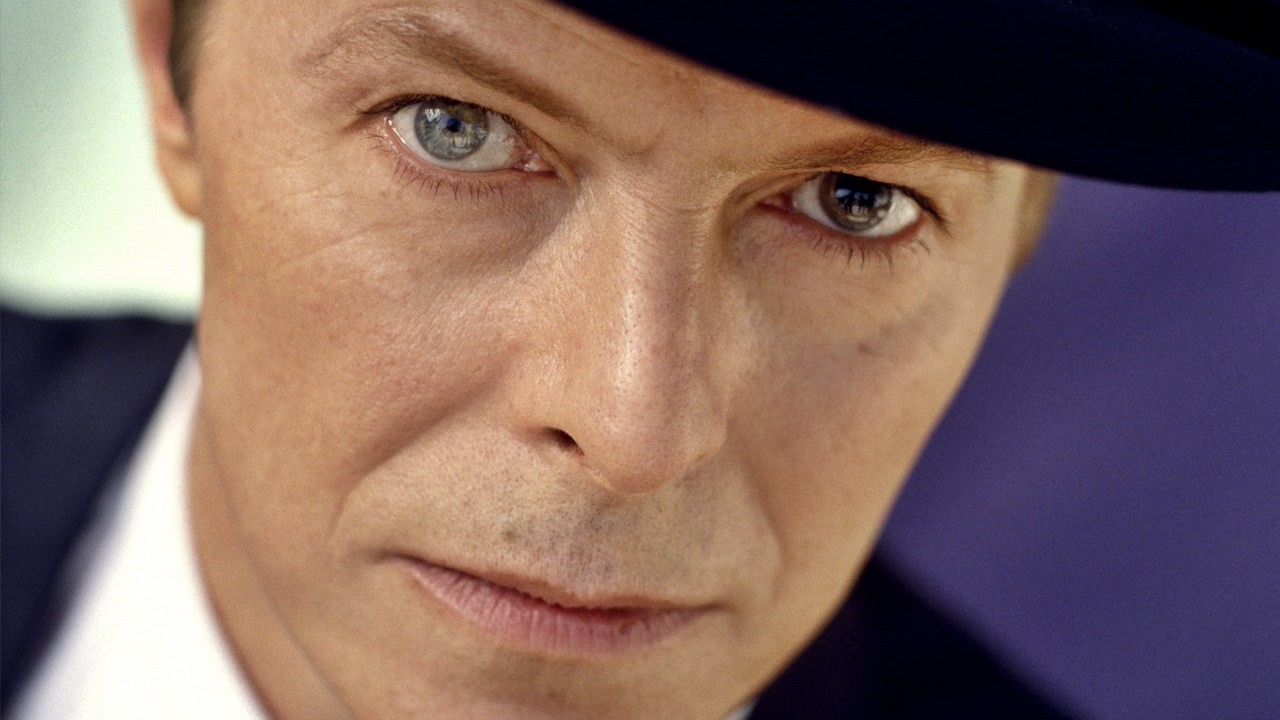 Alan Rickman was best known to American audiences for his villainous roles—Hans Gruber in Die Hard (1989), the Sheriff of Nottingham in Robin Hood: Prince of Thieves (1991), and of course Professor Severus Snape in the Harry Potter films—but he was a versatile actor (and an often very funny presence) on stage and screen for almost 40 years. After Die Hard introduced him to American audiences, he showed a romantic and comic side in Truly Madly Deeply (1990) and played the brooding romantic in An Awfully Big Adventure (1995) and Ang Lee's Sense and Sensibility (1995), and spoofed his own image as well as Leonard Nimoy's Mr. Spock in Galaxy Quest (1999). Other films include the title role of the TV movie Rasputin (1992), for which he won an Emmy Award, Dogma (1999), Love Actually (2003), Perfume: The Story of a Murderer (2006), Bottle Shock (2008), playing Ronald Reagan in The Butler (2013), and of course eight Harry Potter films. He also directed two features, The Winter Guest (1997) with Emma Thompson and Phyllida Law and A Little Chaos (2014) with Kate Winslet. Rickman died at age 69 after a long struggle with cancer. More from Catherine Shoard at The Guardian.
Richard Libertini made the jump from stage, where he was busy in both comedy revues and plays, to screen in 1968 playing a small role in The Night They Raided Minsky's (1968) and was a busy character actor in movies and on TV for the next 40 years, best remembered as the Latin American despot in the original The In-Laws (1979) and the swami of indeterminate origin in All of Me (1984). He reprised the role he created on stage in Don't Drink the Water (1969) and had small roles in Catch-22 (1970), Days of Heaven (1978), Robert Altman's Popeye (1980), Fletch (1985), Awakenings (1990), Nell (1994), and Dolphin Tale (2011) and appeared in episodes of Mary Tyler Moore, Charlie's Angels, Soap, The Bob Newhart Show, Barney Miller, Moonlighting, Star Trek: Deep Space Nine, Columbo, and Law & Order. He died at age 82. Mike Barnes at The Hollywood Reporter.
Actor David Margulies entered the pop culture consciousness playing the mayor of New York City in Ghostbusters (1984) and Ghostbusters II (1989) and a recurring role in the HBO series The Sopranos as Tony Soprano's lawyer. He was a major stage presence in New York, playing Roy Cohn in the original "Angels Over America," but was a busy screen actor too, appearing in The Front (1976), All That Jazz (1979), Dressed to Kill (1980), Daniel (1983), Nine ½ Weeks (1986), A Stranger Among Us (1992), and A Most Violent Year (2014), and hours and hours of television including The Good Wife, Blue Bloods, and four appearances on Law & Order. He passed away at age 78.
British-born actor Brian Bedford was a legend on stage in Britain and the US (where he starred in 18 Broadway productions and earned seven Tony Award nominations). He was less prolific on the screen. Along with a couple of dozen TV appearances, he co-starred in Grand Prix (1966), played Clyde Tolson in Nixon (1995), and voiced the title character in Disney's animated Robin Hood (1973). Bruce Weber for The New York Times.
The weekly links page is compiled and curated by Bruce Reid, with obituaries curated by Sean Axmaker, and other contributions from friends of Parallax View.