"Fogelson knows early in development what the sell of a movie is, and he shapes the film accordingly. He's an optician, swapping out the lenses in his refractor and inquiring, "Clearer now? Or now?," until the image is crisp. When STX was negotiating with the owners of UglyDoll, a line of mischievous, misshapen plush dolls, for the rights to make an animated movie, Fogelson told his staff that he could already see the tagline over 'a cute-looking version of that one-eyed character: 'Beauty is in the eye of the beholder.' How do you not want to see that? There are so many good and easy ways to make you care about creatures who know they're not attractive.'" Tad Friend profiles start-up studio STX and its chairman Adam Fogelson, who's betting on the success of mid-range hits rather than the all-or-nothing blockbusters that dominate the majors' slate. But whether he's changing a movie's elusive villain into the hero to attract a big-name star or bonding with Jackie Chan over the changes necessary to make a film more successful, Fogelson comes off very much as more of the same, if on an admirably smaller scale.
Adam Smith's history of Flash Gordon glosses over some details—such as Sam Jones's falling out from the project—that are probably more interesting than they come across. But Mike Hodges talks amusingly about what it's like to step in at the last minute on a De Laurentiis super-production that had been designed for Nic Roeg, and Brian Blessed turns out to have been cast exactly the way you'd hope he was: by threatening to kill the filmmakers if he wasn't.
In the course of nearly 30 years living in Japan, Pico Iyer has seen his appreciation of Ikiru go from enthusiasm to dissatisfaction with its Western attitudes back around to an appreciation for how thoroughly Kurosawa portrayed the Japanese soul, which turns out not to be the exclusive bailiwick of Ozu.
"Suddenly, a gang leader approaches in his rickshaw, and his thugs demand that she get out of their way. One acrobatic somersault, one quick midair extraction of a sword from the umbrella's handle, and four slashes/thrusts of her blade later, and the men have been cut down in a blood-spurting floral pattern splayed out like a Payback Bouquet in the snow. "Who the hell are you?" asks the dying crime boss. But we already sense the answer from Meiko Kaji's commanding presence, a glare that communicates how much evil she has seen and how much more she is willing to do." More Japanese films, maybe not an entire world away, as Howard Hampton does the honors introducing Criterion audiences to the Lady Snowblood films.
With Chimes at Midnight back in theaters, one of the greatest Shakespearean films—one of the great films, period—is receiving the rapturous appreciation long overdue. Michael Sragow devotes most of his attention to the cast, and how brilliantly Welles stitched their performances together. ("According to Baxter, "Margaret Rutherford used to say that working with Orson was like walking where there was always sunshine." The cast's joy at collaborating with Welles feeds into an extraordinary ensemble performance—extraordinary partly because each "guest star" shot at different times.") While Ignatiy Vishnevetsky focuses more on the brilliance of Welles's images, and the compassion they invoke. ("Orson Welles made innovative use of low angles in his debut, Citizen Kane, reinventing ceilings as backdrops; here, in his final trip into the corridors of power, they seem so far above as to be unreachable.")
"You don't mind if we talk, do you?" "Just keep it funny." Jeremy Carr doesn't argue that Ball of Fire represents any of its creators at their very best; but with such a legendary line-up of talent, everybody doing just a fine job is more than good enough.
"He set about picking his production team by looking at as many recent British films as he could lay his hands on. Time and again in the ones he liked the editor was David Lean. In many more the cameraman was Ronald Neame. A consistent producer was Anthony Havelock-Allan. He gathered them all together and offered them his project. The only possible problem was David Lean, who asked for a co-director credit, even though he had never directed. Breaths were in-drawn. How would Noel react? 'Only too delighted,' he said, 'It will take a weight off my shoulders. I've never directed either!'" Barry Day looks back at Noel Coward's career as a screenwriter, which seemed an unlikely career move for a writer so disdainful of the movies till a call to help the war effort and the inspirational story of his friend Lord Mounbatten surviving the sinking of his ship coincided. Via Criterion.
"A widely viewed YouTube video pairs the Star Wars main title with Erich Wolfgang Korngold's music for Kings Row, a 1942 picture starring Ronald Reagan. Indeed, both share a fundamental pattern: a triplet figure, a rising fifth, a stepwise three-note descent…. To accuse Williams of plagiarism, however, brings to mind the famous retort made by Brahms when it was pointed out that the big tune in the finale of his First Symphony resembled Beethoven's Ode to Joy: 'Any ass can hear that.' Williams takes material from Korngold and uses it to forge something new." Alex Ross assesses the career of John Williams, whose compositional skills remain top-tier and remarkably human, even if we can all share a bit of Ross's disappointment that the 83-year-old have given up some of the wilder tendencies of his younger days.
"It wasn't until after I finished A Touch of Sin [13] that I decided to explore deeper emotional issues arising from China's social changes. We take for granted that, in all of us, there is a private inner life—something sacred and personal that cannot be touched by any outside force. But have the rapid social, economic, and technological changes in our world begun to insidiously invade that aspect of our lives? That's what I wanted to explore with this film." Funnily enough, I'd have considered that a pretty good précis for what Jia Zhang-ke has been up to all along, not just with his latest film; but as he explains to Aliza Ma, Mountains May Depart represents a far more personal project that his previous films, inspired by a touching exchange with his mother and informed not just by his memories of 1999 (one of the film's three time frames), but documentary footage he shot then as well.
"I do have an idea. I think that we should be allowed time off. Like—" "Off from being famous?" "Yes. Three months. 'Oh, it's my three months off. You can't photograph me.' I would love to be able to control being photographed. Then I wouldn't have a new headline out today that I wore the same jeans three days in a row. [Laughs.] I was like, 'First of all, yes, I did. Second of all, [fuck] you, yes, I did.' [Laughs.] But I hate the "movie star blues." We are so lucky, and I love my life. I wouldn't take any of it back for anything. So I don't like complaining about it." Glamour is selling Jennifer Lawrence's interview with Cindi Leive as refreshing, in-your-face plain talk from a woman with all the answers. And why not? Lawrence is nimble-minded and uncensored, which always makes for a great talker. But the more relatable portrait that emerges may be the one of a smart, independent thinker who freely admits she has no idea what she's doing with her life whenever she isn't acting. Via Movie City News.
Obituary
Since our weekly links page went on hiatus for the holidays, two of the great cinematographers of contemporary American cinema passed away.
Haskell Wexler devoted himself to social and political causes all his life and his personal interests guided his projects throughout his life. Beginning as a documentary filmmaker, he brought a documentary immediacy to his early features as a cinematographer: Stakeout on Dope Street (1958), The Hoodlum Priest (1961), A Face in the Rain (1963), America, America (1963). He used handheld cameras in these films as well as in Mike Nichols' Who's Afraid of Virginia Woolf? (1966), which earned him his first Academy Award, and his first fiction feature as a director, Medium Cool (1968), where he shot scenes in the riots of the 1968 Democratic convention in Chicago. He earned his second Oscar for Bound For Glory (1976), was fired halfway through One Flew Over the Cuckoo's Nest (1975), and shot (among many others) Coming Home (1978), Blaze (1989), The Secret of Roan Inish (11994), and Mulholland Falls (1996). Among the many documentaries he directed and/or photographed are Interviews with My Lai Veterans (1971), Introduction to the Enemy (1974), Underground (1976), and Four Days in Chicago (2013). He passed away in late December at the age of 93, still politically active up to his last days. Ronald Bergan at The Guardian. More obituaries and remembrances curated by David Hudson at Keyframe.
Vilmos Zsigmond fled his native Hungary with his best friend and fellow film student László Kovács in 1956 and spent the 1960s working on low-budget films by Al Adamson (Blood of Ghastly Horror) and James Landis (Nasty Rabbit) before shooting McCabe & Mrs. Miller (1971) for Robert Altman. He went on to photograph two more films for Altman, Images (1972) and The Long Goodbye (1973), Deliverance (1972) for John Boorman, The Sugarland Express (1974) and Close Encounters of the Third Kind (1977) for Steven Spielberg, Obsession (1976) and Blow Out (1981) for Brian De Palma, and The Deer Hunter (1978) and Heaven's Gate (1980) for Michael Cimino, in an incredibly busy decade. He never stopped working—subsequent films include The Witches of Eastwick (1987), The Crossing Guard (1995), The Black Dahlia (2006), three for Woody Allen, and dozens of episodes of the TV series The Mindy Project—and he split his time between shooting films and teaching. He died last week at age 85. Glenn Kenny celebrates his legacy at Some Came Running and, again, David Hudson's round-up at Keyframe is the place to go for more.
Actors Wayne Roger and Pat Harrington Jr. are most famous for their small screen work. Rogers played Trapper John in the first three seasons of M*A*S*H (1972-1975) and went on to play another doctor in another series adapted from a movie: House Calls (1979-1982), starring opposite Lynn Redgrave. In addition to a busy career doing guest shots on TV, he had small roles in Cool Hand Luke (1967), WUSA (1970), and Ghosts of Mississippi (1996), but in later years he turned from acting to investment banking and was a regular panelist on the Fox News financial show Cashin' In. He passed away at the age of 82. Alan Alda remembers his friend and co-star at The Hollywood Reporter.
Pat Harrington Jr. began doing comedy bits on The Tonight Show and The Steve Allen Show in the early 1960s and, after more than a decade of guest spots on TV, he landed the role that made his name: Schneider the building superintendent on One Day at a Time (1975-1984) for which he earned an Emmy award. On the big screen, he had small roles in The President's Analyst (1967) and The Candidate (1972), and he was a busy voice actor doing dozens of animated shows, including both main characters in the DePatie-Freleng "Inspector Clouseau" cartoons. He died at age 86 from complications from Alzheimer's disease. Jill Leovy at Los Angeles Times.
Seattle Screens
Framing Pictures is back at the Screening Room at Scarecrow Video on Friday, January 8. The conversation starts at 7pm and the event is free. More at the Framing Pictures Facebook page.
Jacques Rivette's complete 8-part, 12 hour 55 minute New Wave epic Out 1 makes its Seattle debut this weekend at SIFF Film Center. It plays over three days on the weekend, and again over four days beginning Sunday (I have brief review here). Screening times and ticket information at the SIFF website.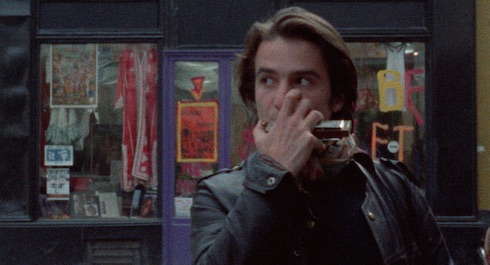 The Seattle International Film Festival is still months away but it's not too early to start thinking about it. Early Bird tickets (for Full Series passes, ticket bundles, and more) are on sale until January 15, at which point the prices go up.
Visit the film review pages at The Seattle Times, Seattle Weekly, and The Stranger for more releases.
View complete screening schedules through IMDb, MSN, Yahoo, or Fandango, pick the interface of your choice.
The weekly links page is compiled and curated by Bruce Reid, with obituaries curated by Sean Axmaker, and other contributions from friends of Parallax View.