I had no time to peruse any of the new Senses of Cinema before passing it along, but with a dossier on Akerman featuring articles by, among others, Nicole Brenez, Yvonne Rainer, and Bérénice Reynaud; another clutch of articles on the Legacy of Pasolini; looks at the early history of Australian animation and the malignant vibrancy of Luciano Tovoli's cinematography for Suspiria; Quentin Tarantino initiated into the journal's Great Directors pantheon; and an interview with Weerasthakul, it's hard to imagine it doesn't provide some of the best writing on cinema you'll read going into this holiday season (aka, when all the blogs stop posting anything but 10 Best lists and revisionist/deconstructed/reconstructed takes on every Christmas movie from It's a Wonderful Life to Eyes Wide Shut).
Speaking of lists, the one most worth reading this time every year is out again—the National Film Registry's 25 selections for preservation. Yes, as Daniel Eagan reports, the committee is small enough to have considerable individual clout, and there are political and populist mandates they clearly have to juggle in their choices. But at a time when so many of the same films keep popping up as one of the best of the year, any list that includes Preston Sturges, George Pal, Douglas Sirk, Thom Anderson, Su Friedrich, and Tony Scott—not to mention Frankenheimer doing science-fiction, Curtis Hanson doing noir, and William Greaves doing whatever Symbiopsychotaxiplasm: Take One could be classified as—only reminds you that cinema is vaster than you could even dream.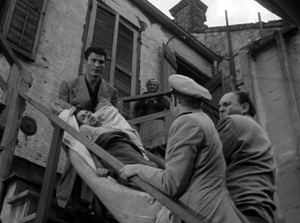 David Bordwell has some advice for filmmakers of today: stop editing so much and trust that careful blocking of actors in the frame can convey all the information you need. Or, in other words, pay very close attention to what Kazan made seem so effortless in Panic in the Streets.
"It was right after I did The Last of the Mohicans (1992), and then I went to work on what would become Heat. When I had finished the rewrite, I was talking about it with a friend of mine, Art Linson, who is a great producer. We were having breakfast and I said, 'Listen, read this and if you'd like we can co-produce it, and we'll find somebody to direct it.' Because at that point, after coming off of Mohicans, I didn't necessarily want to do a crime story. He read it and came back to me the next day and said, 'You're out of your fucking mind. You've got to direct this.' I, with a clear head, said, 'You're absolutely 100 percent right. Who should be in it? Let's go after Bob and Al.'" Michael Mann is such a self-aware artist that the stories he tells of making his movies have varied barely at all over the decades. But if you've somehow missed him discussing the filming of Heat—or just want to revel in the anecdotes again—here it is once more once, as told to Jennifer Wood.
"Berkeley's career in the movies was a roller coaster, every bit as baroque as the choreography of his movies. He moved from one studio to another during the '30s and '40s. He was in and out of favor with some of the era's biggest stars, including Judy Garland, Mickey Rooney and Gene Kelly, who all had him replaced on their movies. He was married six times, and lived on and off with his beloved mother until her death. His lovingly moving close-ups of women's faces suggest that he idolized womanhood, though there were rumors of homosexuality. A military discipline defined his work, yet his unpredictable lifestyle and reputed alcoholism haunted him, reaching a nadir even at the very summit of his creativity." John Bailey takes stock of Hollywood's greatest surrealist (non-Comedy Division), Busby Berkeley.
"You gain a lot by having the control of having takes and being able to edit. But there's also something that's always wonderful about performance. Like when they did those operas in the 18th century, they were like huge productions, but they did it for them live. I saw Aida the first night. That you could have in film, too. All in all, I just want to have… the horizon is very wonderfully big, and there are many possibilities. Only our own prejudices of what a film shouldn't be will hold us back." Francis Ford Coppola, who's probably spent as much time talking about the future of cinema as he has his own past films, was at it again at the Marrakech Film Festival, where Raffi Asdourian interviewed him. Via David Hudson.
"There are grand assumptions on the part of people who've been making movies their whole lives about what sound is and what we do. No one would suddenly suggest to the DP, "Why use that 50? You should use a 25mm lens, it'll save you a lot of grief." But no one will hesitate to say, "Why are you using a boom on that, why aren't you using a radio mic to solve that problem?" Well, you know, the reason I do or don't is the reason you have me here." Jim Hemphill talks with sound mixer Mark Ulano—who claims in 20 years of collaboration with Quentin Tarantino to have never ADR'd a single word—about the unique challenges posed by working on location and in 70mm on The Hateful Eight.
"[Charlie Kaufman] puts this big premise in front of you as though it's sort of a threshold you have to, as an audience member, get across, and of course also amusing and entertaining and mind-bending. But once you have gotten across it, he's dealing with just the same things that most storytellers and writers do. He's dealing with love and loneliness and existential issues that everybody faces. I think that, as I implied for Anomalisa, the music is partly there to help you with that transition." Carter Burwell talks with Kristopher Tapley about the four movies he scored this year—most in depth on Mr. Holmes, of which Tapley is most fond, but with perceptive remarks as well about Carol, Legend, and, again, Anomalisa (whose genesis, remember, is owed to Burwell), and the different music required for each. Via Movie City News.
"It's funny that you said "felt." Did you read that somewhere else or did they look felt to you?" "I think it's a combination of the two. They're not felt, are they?" "They're not felt. That's interesting." "A lot of people say that." "I'm wondering where this felt myth came from. [Laughs.]" Charlie Kaufman and Duke Johnson discuss Anomalisa with A. A. Dowd, who helpfully shares some popular misconceptions—about the inspiration for the appearance of most of the puppets and, quoted above, the material of which they're made—that give a better sense of the film's tone than most else I've read.
"Somewhere in the middle of all this, while I was still putting it together, Jimmy Nelson called me up and said, George wants me to ask you: Would you be willing to take a half a point of the movie instead of your fee? And I said, "Are you crazy, no way in hell! No way!" [..] So I turned down that half a point to get my seven thousand dollars 'cause I was being paid to do the design." In fairness, title designer Dan Perri, interviewed by Ian Albinson and Will Perkins, had been burned on two previous jobs that had offered him points—Days of Heaven and Flesh Gordon, linking that pair of films for the first time ever—so his months of hard work designing and filming the Star Wars text crawl probably seemed much more suitable to recompense by bird in the hand rather than two in the bush.
Adrian Curry salutes Sinatra's centennial with a collection of fine movie posters; though, as Curry admits, there's not an iconic image of the man in the bunch, since his better films tended to favor ensembles, the resulting posters "never really showcasing Sinatra in any memorable way." Well, but there's iconic and then there's iconic; you'll notice the different designers for Lady in Cement kept trying out variations on our man in action; but the image of Raquel Welch in a bikini was set in stone from the beginning.
Obituary
Marjorie Lord is best known for her role opposite Danny Thomas in the sitcom Make Room for Daddy, which ran from 1953 to 1965 but she began in the movies working at RKO and Universal Studios, mostly appearing in B movies, though she did co-star with Basil Rathbone in Sherlock Holmes in Washington (1943), James Cagney in Johnny Come Lately (1943), and Bing Crosby in Riding High (1950). In addition to Make Room for Daddy and the attempted 1970 revival Make Room for Granddaddy, she appeared on scores of TV shows. Her daughter is actress Anne Archer. She passed away last month at the age of 97. Daniel E. Slotnik at The New York Times.
Seattle Screens
A little thing called Star Wars: The Force Awakens opens this weekend. It's probably at a theater near you.
TCM presents big screen showings of the Christmas classic Miracle on 34th Street in select theaters on Sunday, December 20 and Wednesday, December 23. Pacific Place and The Varsity Theater are participating in this event. More details here.
Visit the film review pages at The Seattle Times, Seattle Weekly, and The Stranger for more releases.
View complete screening schedules through IMDb, MSN, Yahoo, or Fandango, pick the interface of your choice.
The weekly links page is compiled and curated by Bruce Reid, with obituaries curated by Sean Axmaker, and other contributions from friends of Parallax View.