The new issue of cléo has arrived, organized around the theme of grace. Which makes a natural fit for Sophie Meyer's praise of Tilda Swinton's "unboundaried possibility" ("It's not that she brooks no contradiction. She embodies contradiction and pushes us to do the same, to be all the clones in one flesh.") and Colleen Kelsey's appreciation for Catherine Deneuve's vampiric turn in The Hunger ("Even when she strikes—well-appointed in jewelry or black leather gloves and without pausing to put out her cigarette—the victim finds herself absorbed not in the killing, but in the shadow show of Miriam's grace and sexuality."). Not to mention Julia Pennauer assessing the gender-flipped stoner comedy Smiley Face, and Anna Faris's remarkable performance therein ("She pays tribute to the stoner comedy's dissident tradition while problematizing its male-homosocial conduct—and she's really funny."). Elsewhere Sarah Gadon—academic buzzword alert!—frets over the agency of female characters in Rome: Open City ("Pina proves to be one of the most contradictory female characters in neorealism, as she is the only woman to achieve hero status."), and Kiva Reardon interviews Geraldine Chaplin about playing love scenes in her latest film Sand Dollars ("[I]n my house in my village in Switzerland we have a picture of me in the garage all dolled up from years ago—the gown, flowers. The kids from the town come and say: "Let's see the picture of Geraldine when she was a princess!" That was when I was princess and now I'm the old bag! That's the way the cookie crumbles.").
As the Welles centennial reaches its end, some more fine articles slip in before the midnight chimes. Alex Ross offers a fine survey of recent publications, making clear how, when it comes to Welles's ever-fluid reputation, the "partisans" are finally winning out over the "adversarial" batch. ("On one hand, he spun tales of damaged power: a newspaper tycoon rises from poverty and ends in desolation; a cop fakes evidence in order to convict people he thinks to be guilty; a macho director secretly longs for the young male stars of his pictures. Truffaut once described Welles's work as a meditation on the "weakness of the strong." On the other hand, the movies take life from the margins, from the grotesques in the background.") And John Thomason makes the connection that's obvious in hindsight between Welles's volatile, ferociously independent movies and the new queer cinema of the '90s. ("We're left, then, with an odd kind of symmetry. My Own Private Idaho and Velvet Goldmine form the two obvious bookends for the New Queer Cinema's crossover period, and each pays homage to a bookend at one pole or the other of the career of Orson Welles.")
"From here, Müller's work would proliferate both in the U.S. and abroad, but I want to focus on the former locale for two reasons: one, it houses arguably his most accomplished and varied work; and two, for its potency as a form of tourism. Not all of his films are hallmarks, but none of them take for granted the American landscape." Rumsey Taylor maps out—quite literally at one point—Robby Müller's voyages across the United States, and the remarkable visions the cinematographer captured along the way. Via Movie City News.
At The Chiseler, a pair of articles on singular talents. Jim Knipfel praises Larry Tucker who, before his writing partnership with Paul Mazursky led to creating a series of mostly forgotten television sitcoms, had a series of memorable turns in films for the likes of Preminger and Fuller. While Dan Callahan salutes Mae Busch, whose brusque lack of sensuality—a hindrance in her silent days—reached its fruition henpecking Oliver Hardy ("She is genuinely disagreeable, one of life's malcontents, and she doesn't need a rolling pin when a glare will do, or a derisive 'Ha!'")
"A report on injuries among thirty-seven movie companies from 1918 to 1919 stated, "Temporary injuries amounted to 1,052. Permanent ones totaled eighteen. There were three fatal injuries." The report called this "a surprisingly low rate of accidents, considering the risk." But more than a thousand injuries a year does not reflect a safe or trouble-free profession. The industry's attitude was exemplified by Pathé (dubbed "The House of the Serials"), where Louis Gasnier advised his writers, "Put the girl in danger." They fulfilled that mission with vigor." An excerpt from Mollie Gregory's Stuntwomen:  The Untold Hollywood Story focuses on the silent years, when stars like Helen Holmes and Mary Pickford were happily puncturing gender expectations by performing their own stunts, till the risks became so great even producers admitted maybe some professionals should take the risks.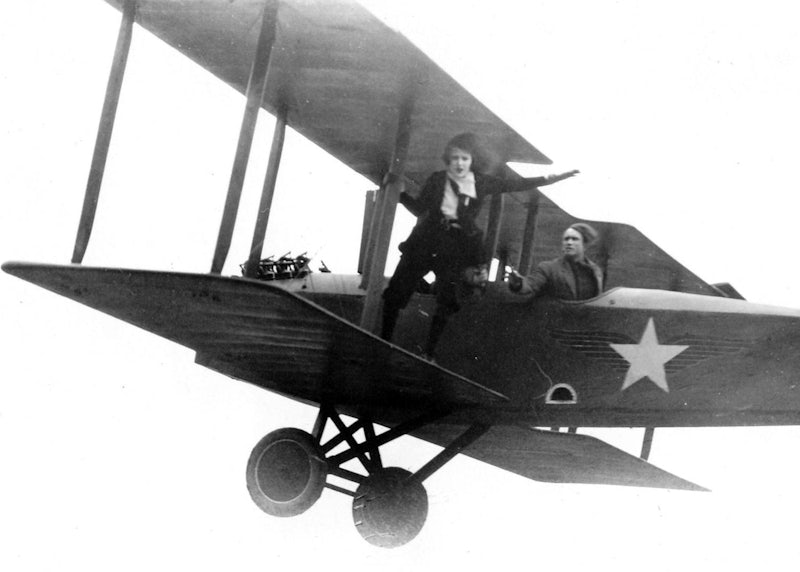 John Hazelton reports on the journey—essentially, an interested animation producer and a surprisingly successful Kickstarter campaign—that Charlie Kaufman's Anomalisa took from a play for voices to a stop-motion feature.
"When I was working before with Orion and Carolco, which was mostly Mike Medavoy and Mario Kassar, they left me alone. Mario would say, "I want Michael Douglas for Basic Instinct," or "I want Arnold Schwarzenegger," and that was the only thing that was on the table: Here is the script, and Arnold. Here is the script, and Michael. Take it or leave it. For the rest, you're free." Paul Verhoeven talks Showgirls, Hollywood, and the impossibility of filming his story of Jesus, with Eric Kohn.
"Afterward it's true that you spend much more time writing what's not in the film than what ends up in it. Otherwise you can't engage with the actors, you don't know what's at stake in the moment. You're going to shoot the scene and you can only do it once in your life. You can't do it tomorrow. You have to know that day. So even for On Tour for instance, the script was written over seven years with several interruptions, but we wrote so much. I can't tell you how much we wrote." One of the finest actors around, Mathieu Amalric, talks with Yonca Talu about his career as a director—which includes several years of filming John Zorn for a project the two haven't clarified for themselves just yet.
"Time was, in a so-called classical tradition of cinema, when the preparation of a film meant first of all finding a good story, developing it, scripting it and writing dialogue; with that done, you found actors who suited the characters and then you shot it. This is something I've done twice, with Paris nous appartient and La religieuse, and I found the method totally unsatisfying, if only because it involves such boredom." A 1973 interview with Jacques Rivette from the writers of La Nouvelle Critique has resurfaced, focusing mostly on Out 1 and his thoughts on the then-current cinema. ("One could perhaps salvage Bergman simply as a sort of monster, a perfect schizo. Bergman is dual, like Jekyll/Hyde. There is a Bergman who writes a script, then a Bergman who films the script, and they aren't the same.").
The above via David Hudson, who also passes along Annie van den Oever's interview with filmmaker Eric de Kuyper about his friend and frequent collaborator Chantal Akerman—one of whose projects, it turns out, was going to be The Price of Salt, till Todd Haynes got there first. ("[Pierrot le Fou] helped her to discover filmmaking as a way to escape the fatalism of a petit-bourgeois family life: their tiny family flat in Brussels; the small family business, a leather shop; her younger sister, accepting the established rules and meeting the expectations of becoming a good daughter. Don't forget that these were the sixties! Her quest was to find out how to lead a different life, how to divert from the mainstream and be 'marginal' and make 'marginal films.'")
Obituary
Setsuko Hara was not only one of the great actresses of Japanese cinema, she was one of the acting greats of world cinema. Born Masaé Aida, she played her first leading role in the 1937 German-Japanese co-production The New Earth (1937) and spent the war making propaganda films and period dramas, but her legacy came in the mature roles of her post-war movies. She made six films with Yasujiro Ozu (including Early Summer, 1951, and Tokyo Story, 1953), four features with Mikio Naruse (from Repast, 1951, to Daughters, Wives and a Mother, 1960), and two with Akira Kurosawa (No Regrets for Our Youth, 1946, The Idiot, 1951). One of her final roles was in the 1962 version of Chushingura, one of the many film version of the "47 Ronin" story. She retired from the screen at the age of 43, just a few years after Ozu's death, and left the public eye to live quietly in a small house in the country. She passed away at the age of 95 in September but the public announcement was withheld for months so some reason. Ronald Bergan at The Guardian.
Gabriele Ferzetti was the playboy in Michelangelo Antonioni's L'avventura (1960), the railroad baron who famously wore "suspenders and a belt" in Once Upon a Time in the West (1968), and Draco, James Bond's first and only father-in-law in On Her Majesty's Secret Service (1969) in his long and varied career. The Italian actor made his screen debut in 1942 and made one of his final screen appearances in Luca Guadagnino's 2009 film I Am Love. In between, he appeared in over 150 films and TV shows. He died in Rome this week at the age of 90. Nick Vivarelli at Variety.
Seattle Screens
The Genius Festival at the Frye Art Museum focuses on film this weekend with filmmakers Megan Griffiths (screening her feature The Off Hours) and Drew Christie (showing his animated shorts) on Saturday, December 5 and cinematographer Ben Kasulke (showing short films and excerpts from feature films) and filmmaker Lynn Shelton (screening My Effortless Brilliance) on Sunday, December 6. Both events include Q&As with the filmmakers and are free but you should register in advance for tickets. Showtimes, program details, and registration here for the Saturday and Sunday programs.
Series passes now on sale for the Seattle Art Museum's winter film series "Magnifico! Cinema Italian Style." The series begins in early January. Full schedule and ticket information here.
Mark your calendars now: Next Friday, December 11, the Framing Pictures panel—Robert Horton, Richard T. Jameson, and Kathleen Murphy—will convene at the Scarecrow Video screening room to discuss the best films of 2015. Check the Facebook page for details.
Visit the film review pages at The Seattle Times, Seattle Weekly, and The Stranger for more releases.
View complete screening schedules through IMDb, MSN, Yahoo, or Fandango, pick the interface of your choice.
The weekly links page is compiled and curated by Bruce Reid, with obituaries curated by Sean Axmaker, and other contributions from friends of Parallax View.