"While Lime's high ground, as it were, is meant to be ironic (the film hints as much early on when the porter at Martins's hotel [Paul Hörbiger], with a weak grasp of the English language, gestures towards hell above and heaven below), the manner in which he is brought down to the restricted domain of the camera at eye level, to be trapped and destroyed, doesn't necessarily suggest a better view." Martin Zirulnik revisits The Third Man, and finds a movie careful to articulate its horizontal and vertical spaces—and to make clear how little even the purportedly clear-eyed Harry Lime perceives the real, desperate Vienna kept to "the margins of the screen."
"In its very human focus, the "Rocky" series is, oddly, the closest analogue that American cinema has produced to François Truffaut's Antoine Doinel cycle. But, whereas Doinel's fictional life was defined, as any self-mythologizing Frenchman's would be, in terms of his relationships with a series of stunning women, Rocky must measure himself always in his workplace: the ring. Across four decades, we've witnessed a full-blown, epic saga of a man perpetually considering, but never achieving, retirement." With Creed soon to arrive as a presumed handing over of the reins, Andrew Bujalski looks back over Sylvester Stallone's career-making creation Rocky Balboa, six movies charting the writer/director/star's savvy growth of his character from loveable loser to definitive winner to old, alone, and surrounded by death.
Cristina Álvarez López and Adrian Martin's close reading of a scene from Nuit et jour shows how Chantal Akerman could make even the smallest, most seemingly conventional gestures resonate. Via Mubi.
While Adrian Searle visits the NOW exhibit of Akerman's gallery and installation work, savoring in work "full of life, in all its extraordinary ordinariness, its sorrows and complications, its lengthening hours, its difficulties and terrors."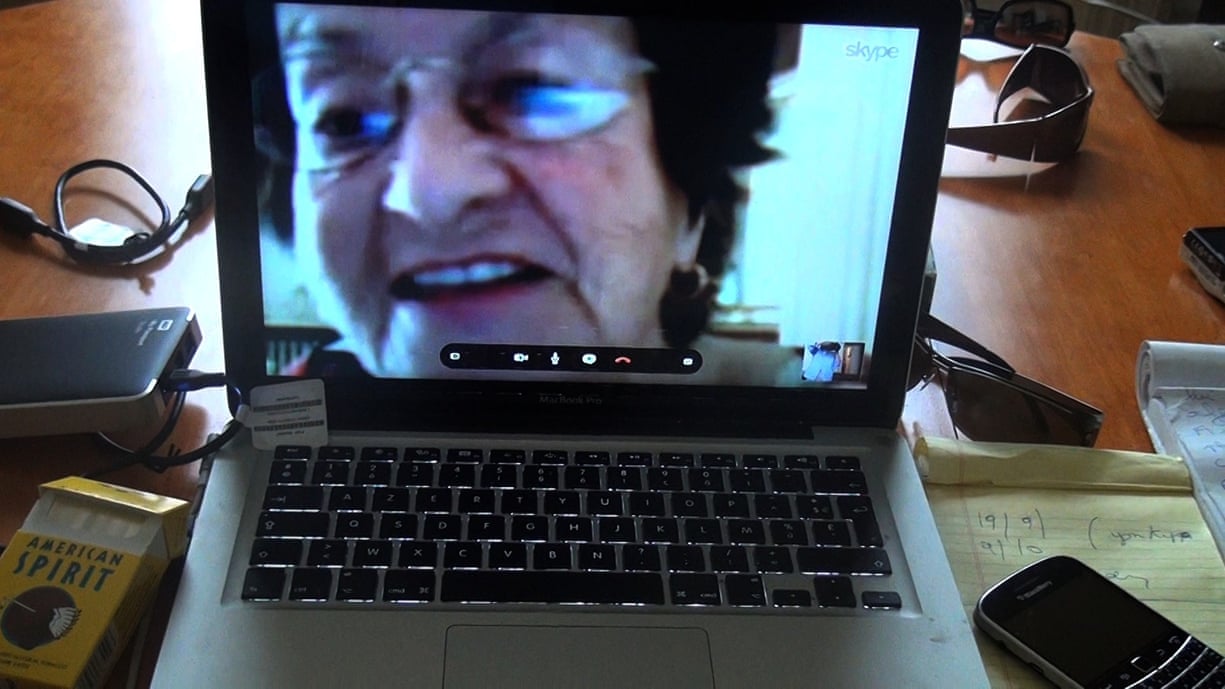 Jonathan Rosenbaum shares the essay he wrote for the home release of Je t'aime, je t'aime, wherein he argues for Resnais as the most daring—and, covertly, given his famous supposed dependence upon screenwriters, the most personal—French filmmaker of his time. Via David Hudson.
Hudson also passes along what he rightly calls the "big read of the day"; and it's a fine one at that. In 2006 Masters of Cinema assembled Jean-Pierre Coursodon, Dan Sallitt and Brad Stevens to have a roundtable discussion on Buster Keaton's silent shorts, to go with the company's box set of same. Sallitt received permission to put the result online, making available an engaging, informative run through of everything from his fully-realized debut in The Butcher Boy to The Love Nest—which, Coursodon points out, shares a nifty bit of physical business with the Arbuckle short, a mop kicked up from the floor in Keaton's first onscreen appearance transformed to a shotgun raised in the same fashion.
Bryan Thomas's article on Head isn't an essay so much as a bricolage of behind-the-scenes trivia, casting stories, friction between The Monkees and their hipper-than-thou creators/producers, a curious fascination with cast and crew's birthdays—but it makes for a read almost as playfully meandering and full of incident (if not as smart) as the movie itself. Via Matt Fagerholm.
"There isn't anything, no matter how good it is, or how good it tastes, or how much fun it is, where too much is good for you. It can destroy you. And you have to learn. It's a hard lesson. But you have to learn to back off and do as good as you can in your chosen profession. And don't screw it up. And the best way to screw it up is having too much of a good thing." Ned Zeman's profile of Burt Reynolds might push the good ol' boy narrative a bit much—we're told Reynolds was both a "redneck Croesus" and, with Loni Anderson, "redneck heirs" to Dick and Liz—but it's a moving portrait of an actor incensed by reports that he's in financial straits while seeming to prove it with his every complaint about alimony and shady business partners. Via Longform.
"And, my God, that one shot. I've never studied a shot and copied it to the degree that, in Far From Heaven, I copy Joan Bennett crying on the bed. Not that anybody would ever care unless they were complete and total nerds, like me." For a Lincoln Center retrospective, Todd Haynes has selected several personal favorites to add as double-features with his own films. He walks Nick Davis through his selections, and explains, quite convincingly, why Sirk's been paired up with Safe rather than one of Haynes's later melodramas.
"When editing is being taught, it is being taught from the bottom up, which is, you begin with spatial geometry. That has a virtue to it, but what happens is that as you learn more and more, you have to flip more and more. And, in fact, at a certain point, spatial geometry is the last thing you want to really obsess over. You need to achieve emotional and intellectual—which is to say story—coherence." Walter Murch talks with Emily Buder about his working method, down to how many times he'll hassle a director about a point of disagreement (three strikes and the idea's out).
"Nobody is wearing period underwear and we were using "live" modern baseballs instead of the old rag jobs that would get dented out of shape easily, but that's fine because it's invisible to the audience. There are plenty of tricks to stretch a budget—I have run the same extras in front of the camera multiple times in a shot, changing their shirts in between." John Sayles talks with Jim Hemphill about the making of Eight Men Out, finding the rhythm of an ensemble cast, and stretching a low budget to make a convincing period piece.
"I arrived in London airport, and I was terribly, terribly late, so I rushed for the taxi line, and [the driver] said, 'What's the address?' I said, 'I don't know. If we go there, I'll be able to recognize it.' He said, 'That fucking woman in that fucking taxi doesn't even know the fucking address,' and I nearly fainted. He dropped me off at Bushy Park, and I went through the park, running with my suitcase. I arrived at my sister's house and collapsed into tears. She said, 'You're spoilt.' I said, 'Yes, I am. I'm spoilt. That's exactly what I am.'" Interviewed by Katherine Cusumano, Jane Birkin discusses her good life in Paris and London, and how her friend Agnès Varda captured some of it in Jane B. par Agnes V. and Kung-Fu Master!
Adrian Curry gathers the Italian posters for Godard's '60s films, most of which are charmingly deceptive as they sell these radical antimovies as chockfull of the old standbys of sex, violence, and glamour.
Obituary
Betsy Drake, born in France of American expatriate parents and raised in the U.S. from childhood, made the leap from stage to screen with Every Girl Should Be Married (1948) opposite Cary Grant, who she married the next year. She only appeared in a handful of films, including Room for One More (1952), also with Grant, and Will Success Spoil Rock Hunter? (1957), and separated from Grant in 1958. They divorced in 1962 and Drake left acting to study at Harvard and take up a career in psychotherapy. She passed away at the age of 92. Sam Roberts at The New York Times.
Gunnar Hansen, the Icelandic-born actor behind the Leatherface in the original The Texas Chainsaw Massacre (1974), died this week from pancreatic cancer. He never intended to be an actor—he auditioned on a lark just after finishing graduate school—and spent the next decade writing for magazines and penning the poetic book "Islands at the Edge of Time: A Journey To America's Barrier Islands." Then he signed on to the tongue-in-cheek Hollywood Chainsaw Hookers (1988), the first of a couple of dozen low-budget horrors, most of which went directly to video. He was 68. Justen Wm. Moyer at The Washington Post.
Seattle Screens
Framing Pictures, the event where we gather to talk about the movies, has been resurrected by Scarecrow Video. Robert Horton is your master of ceremonies and Richard T. Jameson and Kathleen Murphy complete the esteemed panel. The next event is Monday, November 16 at Scarecrow Video's screening room and it is free. See the Talking Pictures Facebook page to keep up with upcoming events, which are set to continue on the second Friday of every month starting in December.
Cinema Italian Style continues at SIFF Cinema Uptown through November 19. Highlights include Don't Be Bad, Italy's official submission for the 2016 Academy Award; Paolo Sorrentino's Youth with Michael Caine and Harvey Keitel; Wondrous Boccaccio, the most recent from Paolo and Vittorio Taviani; and a revival of the Taviani's 1982 The Night of the Shooting Stars. Complete schedule and ticket details here.
The Fifth Seattle Shorts Film Festival plays on Saturday and Sunday, November 14 and 15, at SIFF Film Center. The full program is here and you can visit the website here.
Visit the film review pages at The Seattle Times, Seattle Weekly, and The Stranger for more releases.
View complete screening schedules through IMDb, MSN, Yahoo, or Fandango, pick the interface of your choice.
The weekly links page is compiled and curated by Bruce Reid, with obituaries curated by Sean Axmaker, and other contributions from friends of Parallax View.