"The Berlin of the 1920s, Paris and New York—these were cities of poverty and excess. Night clubs, cabaret, drugs, sex and alcohol jostled dangerously against poverty and radical politics. These were cities with one foot in the future and another in the medieval, Grimm forests of these country's recent past; as a barbarous, magical life which slumbered in the recesses, ready to burst forth." Which cocktail set the stage for expressionist film sets, Owen Vince argues, The Golem, Caligari, and Metropolis all serving up fractured reflections of the "real" world that found their fulfillment in the same Nazis that would eradicate their decadent designs. Via David Hudson.
"'The biggest crime here was not stealing the dough, because Mickey could've made the dough back. The biggest crime was they turned Mickey into a dog-and-pony show, and nobody wanted to have anything to do with him.'" For Mickey Rooney fans, which title I happily claim, his whirligig indomitability is a large part of the appeal, the sense that when Hurricane Mickey roared into a room everyone had to shut up and listen. All the more tragic then, as Gary Baum and Scott Feinberg report, that he spent his final years under the abusive thumb of his wife and stepson. Via Movie City News.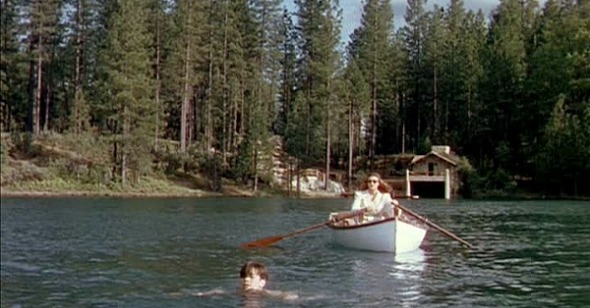 Reverse Shot is gathering a symposium that argues for different authorship for movies most often viewed under an auteur lens—in part, they admit, to see familiar favorites with new eyes. Which so far has meant crediting films to an actress (Shonnie Enelow on Juliette Binoche's Clouds of Sils Maria), a director of photography (Imogen Sara Smith arguing for Leon Shamroy's contribution to Leaver Her to Heaven), a producer (Michael Koresky granting that film's collaborative nature makes Arthur Freed first among equals to credit for Meet Me in St Louis), and even a musician featured prominently on the soundtrack (Adam Nayman plugging for Paul Westerberg's Adventureland).
Jon Emont fills in a gap that non-Indonesian audiences may not notice watching The Act of Killing; that Oppenheimer's movie isn't just a response to a historical tragedy, but to the one propaganda film the regime made about it, 1984's Pengkhianatan G30s/PKI, "in part a "Reefer Madness"-style horror flick depicting gruesome Communist atrocities, many of which never occurred."
"The last shot of the movie is a title card reading: "Simultaneously, the moral of this story is to admonish people against casual sex, and to be on guard against witchcraft." Done and done." Grady Hendrix looks back at the spate of goopy, sex-laden, xenophobic black magic movies that Shaw Brothers launched in the late '70s.
One little-remarked consequence of the shift to digital projection is how to cope with silent films, whose optimal frame rate playback could vary even in the course of a single print. Without getting technical (all right, he gets a little technical, but as he says, it's interesting), curator of the Brussels Cinematek Nicola Mazzanti explains the problem, the compromise solution he helped develop, and how that solution isn't doing a whit of good so long as the industry standards it sets remain voluntary.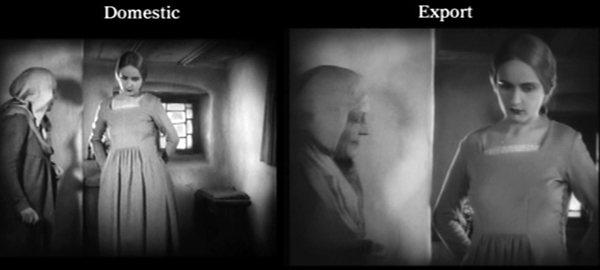 "In her last big scene on the phone in Sweet Bird of Youth, when Alexandra finds out from the columnist Walter Winchell that her latest movie comeback was a success after all, Page overflows with vulnerable yet blissful "I knew it all the time!" nervous relief, and this phone monologue is a real star turn that again is grounded in emotional truthfulness. Page shows that you can go as high, wide, and handsome with over-embroidered acting as you want as long as you have done the work beforehand to make the character real and specific underneath." Dan Callahan admits Geraldine Page didn't always strike that balance between fraught mannerisms and inner truth, but when she did she was riveting like no one else.
"'It's important that today's movie fans are aware upon entering the theater that none of what they will see has been adapted from a well-known comic book, television series, novel, video game, historical event, previous movie, or theme park ride.'" Thus the MPAA's latest movie rating, as reported by The Onion, so give it a year or three before it actually happens. Via Mubi.
"…I was there working with a diverse group of independent filmmakers. Many of them were politically-minded, making films about the working class and their exploitation. But their films had the same kind of structure, where the workers have been exploited, they form a union and everything goes happily after that. But I wasn't coming from that sort of environment. I was coming from the situation where people needed a job and if you got a job, you just endured it. There was no solution. You just worked every day, got ripped off and maybe moved on to another job." Charles Burnett talks with Sergio Mims about To Sleep with Anger, and his beginnings at the UCLA Film School.
"Both of us are Hitchcock fans—Guillermo even wrote a book about Hitchcock when he was a young man barely out of film school—and Hitchcock (believed) it was better that the audience knows something is brewing because that is how you generate suspense. I think that we made the same assumption, which is that you don't have to have a tremendously active imagination when you meet a shabby pair of aristocrats like Lucille and Thomas to worry that something's not right. It seemed to us there was no harm in the audience knowing that, yes indeed, something is not right." Matthew Robbins discusses his latest collaboration with Guillermo del Toro—and his undergraduate days in Paris, learning about movies in the company of Walter Murch—with Matt Mulcahey.
"One of the things we've noticed is that audiences have a sense of [how animation is a series of choices]. They know that every movement was decided upon and therefore, it allows you to pay particular attention to some of the more subtle things—" "And the mundane things, things that might not be interesting to people otherwise, like the way in which somebody walks around a hotel room. If it was a real actor walking around the room, it wouldn't be inherently interesting." Charlie Kaufman and Duke Johnson talk about Anomalisa with Matt Fagerholm. (With Kaufman claiming he'd made no connection between this puppet movie and Being John Malkovich until he was asked.)
"I felt like I had a connection to the drama just as an audience member, and actually as a composer, that's a good way to start, just viewing the subjects and having an emotional feeling about them. Music is so much an emotional language that you must have an inner driving force to create it for these subjects." Fagerholm also talks with Howard Shore about how he can summon up such diverse scores for such wildly divergent films as his Cronenberg collaborations and Mrs. Doubtfire. Via, conveniently enough, Matt Fagerholm.
Criterion salutes Edith Head with a gallery of some of her best designs; well, her best designs available in the collection, but that still makes room for Bergman and Grant in Notorious, Colbert in The Palm Beach Story, and Stanwyck in The Lady Eve, so something pretty close to her all-time best at any rate.
Obituary
In the 2002, a group of Seattle film professionals, enthusiasts, teachers, and critics formed the first incarnation of Parallax View, then a nascent film society, and created the (short lived) Seattle Film Critics Awards. It only lasted three years, sadly, but that first year we honored a Living Treasure of the cinema: Maureen O'Hara. She wrote us a very sweet thank you note. The Irish-born actress was nicknamed the Queen of Technicolor for her fiery red tresses and green eyes, and she played strong-willed, often tempestuous women throughout her career. After appearing in bit parts in two films, Charles Laughton elevated her to leading lady when he cast her in Jamaica Inn (1939), directed by Alfred Hitchcock and produced by Laughton, and she followed Laughton to Hollywood to co-star with him in The Hunchback of Notre Dame (1939). It launched a mighty career. In 1941 she starred in How Green Was My Valley (1941), the beginning of a long cinematic relationship with John Ford, who she described as both "the best" and "the meanest" director she ever worked with: "I would rather work with the—pardon me—the old bastard than not." In 1950, Ford paired her with John Wayne in Rio Grande (1950), the first of five films the stars made together as one of the most dynamic screen couples in Hollywood history. O'Hara starred in the original Miracle on 34th Street (1947), Sitting Pretty (1948), the comedy that launched the Mr. Belvedere films, and the original The Parent Trap (1961), worked with directors Dorothy Arzner (Dance, Girl, Dance, 1940), Jean Renoir (This Land in Mine, 1943, again with Laughton), Nicholas Ray (A Woman's Secret, 1949), Carol Reed (Our Man in Havana, 1959) and Sam Peckinpah (The Deadly Companions, 1961), and appeared opposite Tyrone Power (The Black Swan, 1942), Henry Fonda (three times, starring with Immortal Sergeant, 1943), John Garfield (The Fallen Sparrow, 1943), Errol Flynn (Against All Flags, 1952), and James Stewart twice (Mr. Hobbs Takes a Vacation, 1962, The Rare Breed, 1966). She made her final big screen appearance in Only the Lonely (1991) but continued with occasional TV roles until the retired for good in 2000. She was and always will be one of the treasures of cinema. An appreciation from Dan Callahan at RogerEbert.com and more remembrances collected by the invaluable David Hudson.
Penelope Houston started writing for Sight & Sound, the grand old film magazine published by the British Film Institute, in 1950, and was involved in creating the Sight & Sound critics poll which surveys hundreds of film critics, historians, and filmmakers every ten years. She took over as its editor in 1956 and guided the journal through 1990. Before that, she founded the short-lived film journal Sequence in 1947 with fellow Oxford students Lindsay Anderson, Karel Reisz and Gavin Lambert, and was it first editor, and later was a regular contributor to Sight & Sound's sister publication Monthly Film Bulletin and wrote for The Spectator, The Times, the Observer, and The Guardian. The BFI recalls her legacy. Peter Bradshaw at The Guardian pays tribute.
Philip French had been the film critic for The Observer in London for over 50 years when he retired in 2013, though official retirement did not mean he stopped writing for the paper. In addition to his contributions to The Observer and other publications (such as Sight and Sound), he authored the books The Movie Moguls: An Informal History of the Hollywood Tycoons (1969) and Westerns, originally written in the early seventies and revised in 2005. Tim Robey at The Telegraph.
Visit the film review pages at The Seattle Times, Seattle Weekly, and The Stranger for more releases.
View complete screening schedules through IMDb, MSN, Yahoo, or Fandango, pick the interface of your choice.
The weekly links page is compiled and curated by Bruce Reid, with obituaries curated by Sean Axmaker, and other contributions from friends of Parallax View.