"According to Kalat, when German producer Artur Brauner offered Lang a deal to remake the May film, he had no idea that Lang had been so intimately involved in the original: 'Ironically, Brauner did not recognize what it meant to Lang: Brauner was unaware that Lang had been involved with the original and was ignorant of the entire story of Lang's history with Joe May…. To Peter Bogdanovich, discussing the remake in 1965, Lang said simply 'You should make a picture you started.' He elaborated, reflecting that doing this at the end of his career was 'like a circle that was beginning to close—a kind of fate.'" Comparing The Tiger of Eschnapur and The Indian Tomb to a Borgesian rewrite of familiar tropes, Glenn Kenny finds the films anything but the charmingly naïve outliers in Lang's filmography as which they are so easily dismissed.
"Some of the Hollywood tycoons ruled by fear but it was obvious Mickey Balcon was popular, though he could also be a little shy and formal. Well, he was British—as you might guess from the films he made." Douglas Slocombe, Peggy Cummins (quoted above), and BFI historian Mark Duguid help Vincent Dowd look back at the glory days—which were still very modest and proper—of Ealing Studios.
"Unlike French cinema, American cinema didn't have anything to do with literature at the time: perhaps this is the reason why in my experience it stands out from the rest in an isolated prominence: these memories of mine as a spectator are part of the memories from before literature reached me." The New York Review has published a cinema-goer's history by Italo Calvino, his childhood memories of "the glittering world of Hollywood" including a sharply observed taxonomy of what different stars brought to the screen, consideration of the gains and hazards formed by first falling in love with idealized movie stars, and a lovely ode to the cinephile's profound connection to the change in seasons, that time of the year when you know the days have shortened because the sun's gone down while you were in the theater.
"[Norman] didn't want this movie to be an art object. He wanted it to look like a documentary crew had shown up at the hospital and was shooting off the cuff…. It was the same thing with the music: There were composers who wanted the [composing] job, [and they] wrote beautiful, lush, heartbreaking music. And Norman was like, 'No, that's not what people are listening to when they find out they have HIV. They're listening to Madonna. They're listening to Blondie. They're listening to crappy, catchy pop.'" Kerrie Mitchell compiles an oral history on the making of Longtime Companion (and some of its critics), which, sadly, functions as well as eulogy for director Norman René, who knew he was HIV positive before filming began, which he managed to keep secret from studio heads and the insurance men.
With a wealth of examples to choose from in Side Street to show Mann's visual genius, David Bordwell focuses on an electric, elegant display of single-shot reframing that collapses opportunity and impulse into an unforgettable image of a silhouetted axe and the face behind it deciding to take the plunge.
The latest video from Cristina Álvarez López and Adrian Martin tackles The Birds and Cronenberg's The Brood, finding the titular flocks in both "carriers of evil and death…a displacement, a manifestation of someone else's rage, someone else's desire, someone else's fantasy. But whose, exactly? An individual character, a whole society, the nuclear family, a film director?"
"Who are we to ask whether 8 mm. will be the avant-garde of the future when only God and the Vatican know for sure? Moral issues of this nature should never be left for the filthy hands of the beatnik to twist into pretzels of degeneracy. Let the beatnik and the frustrated executive twist 8 mm. film into his own image and thereby give others a chance to sniff the world of narcotics and total spiritual breakdown." The new issue of desistfilm celebrates the 50th anniversary of super 8 film, with a collection of manifestos and inspirational quotes (including George Kuchar, above); appreciations of experimental filmmakers Kenji Onishi and Pablo Marín; and Australian filmmaker Bill Mousoulis on the mid-80s period when super 8 clubs fostered "the best cinema that Australia has produced." Via David Hudson.
Few actors had a decline as harrowing as Barbara Payton; but then, Dan Callahan urges us to remember rather than linger only on her tragedy, fewer still gave as good as they got toe-to-toe with James Cagney.
"Those are the stories that you're not going to be told in American film. Those are the stories that are not going to be seen. Because what you have in the Haitian Revolution is the defeat of an empire. It's the first and only time where slaves threw out the power enslaving them and formed their own country. The first time. It's not an acceptable narrative in American film." Danny Glover brilliantly analyzes the institutional hurdles involved in getting financing for certain kinds of films—films the likes of which he wanted to see, and led to his career as a producer for the likes of Burnett, Weerasethakul, and Martel—interviewed by Violet Lucca.
"I don't think that movies are all alike; they're very, very, very different. And that's one thing I was trying to show with [the movie of] Max Ophüls. You will probably put that under classic, and maybe you put Mizoguchi, Dreyer, Chaplin… they're very different. I don't see that there is some commonality in these movies, they're all modern, whatever that means. I think you are deceiving yourself when you put these labels this way." In conversation with Fabian Cantieri, Tag Gallagher runs through the history of cinema, and breaks apart some conventional wisdom about how we categorize it, in his fearlessly inquisitive fashion. Via Movie City News.
"I get that all the time, 'Where does this come from? You seem like such a nice guy.' I don't know. Now I know most of the major guys and girls who make horror films and they are a jolly bunch. We've all talked about it amongst ourselves and we were scared in school or bullied or whatever, or had scary fathers. It's partially a way to immune yourself from terror and fear. And I'm sure there is a certain amount of anger and even rage in being raised in a way that says half of the great sources of inspiration and joy in life are sins and you burn in hell forever. I'm sure that had done a lot of psychic damage." Movie City News also spots Jennifer Juniper Stratford's interview—conducted "just after last Thanksgiving"—with Wes Craven, which makes a strong, final reminder how thoughtful Craven was about the horrors he portrayed, and how carefully he ensured his happy personal life stayed free of them.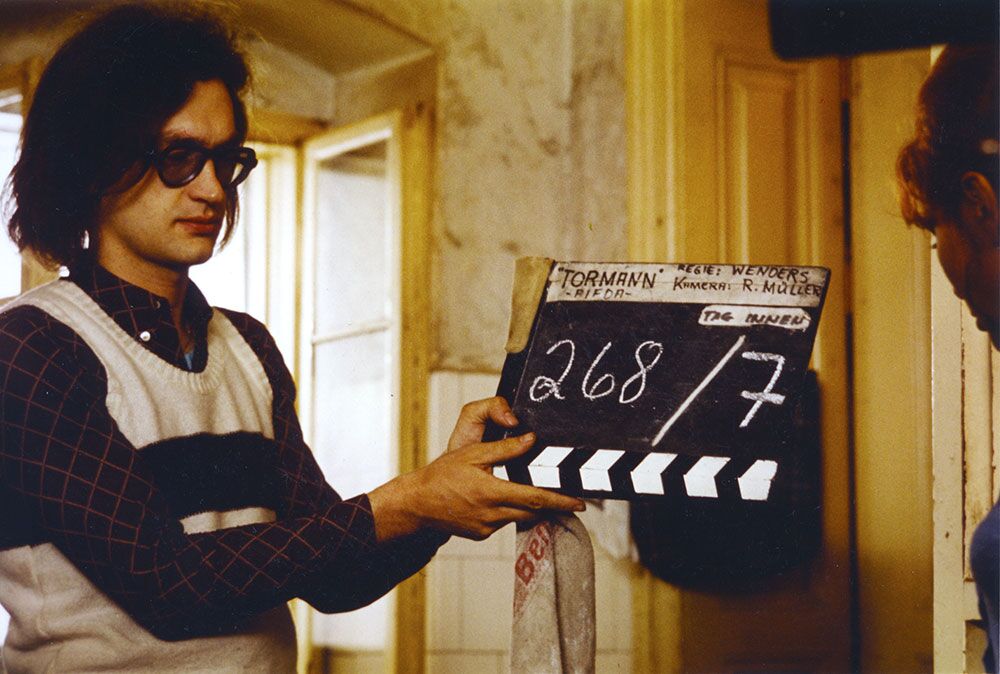 "When I realized I didn't have to dissociate between my love for music and my love for filmmaking, that was the happiest moment of my life, and that hasn't changed." Wim Wenders, one of the most adroit users of pop songs in movie history, talks with Hillary Weston about five iconic moments of sound plus image in his career.
"Here's where I was a better executive than the people making the thing—I could evaluate the elements before it was even shot and I knew there was no chance of it succeeding, not commercially, and not as a movie anyone could be proud of." Screenwriters are treated so disrespectfully in Hollywood, their ideas chewed up and spat aside, and what do they get in return? (Other than the millions of dollars, as David Thomson pointed out.) The license to come off righteously complaining about the process even a decade-and-a-half after the fact, as Adam Resnick does unleashing on to Mike Sullivan what happened to turn his dark, tiny story of Harrisburg lottery thieves to the Nora Ephron comedy Lucky Numbers. Via Joe Blevins.
As Adrian Curry says introducing a gallery of his favorite Franciszek Starowieyski designs, "Starowieyski is what we talk about when we talk about Polish movie posters." What further encouragement you need (or that could be) I have no idea.
Obituary
Wes Craven's impact on American movies can't be overstated, even though he spent his entire career (save one oddball outlier) making horror films. An English professor with a passion to direct, he was one of the founding filmmakers of the transgressive new American horror of the 1970s with The Last House on the Left (1972), which cinephiles are pleased to note is a grindhouse remake of Bergman's The Virgin Spring. He invaded our dreams with A Nightmare on Elm Street (1984), which spawned a franchise, and bookended it with the meta-horror Wes Craven's New Nightmare (1994), which anticipated Scream (1996), the self-aware horror hit that gave revived Craven's career and even gave him a shot at a non-horror passion project: Music of the Heart (1999), an inspirational real-life story with Meryl Streep in the lead. He clearly had ambitions beyond horror (just see his contribution to Paris, je t'aime, 2006) but horror was what everyone expected of him so he played within the genre. He passed away at age 76, from brain cancer. Wesley Morris at Grantland, while at Criticwire Sam Adams collects tributes from critics and colleagues. And of course, David Hudson rounds up a wealth of tributes and remembrances at Keyframe.
Dean Jones starred in what seemed like dozens of Disney family films in the sixties and seventies (it was actually ten), including his biggest hit The Love Bug (1968) and The Shaggy D.A. (1976). He was also a respected stage actor and in the original cast of Stephen Sondheim's Company in 1970. He did at age 84 from Parkinson's disease. Mike Flaherty at The New York Times.
Documentary filmmaker Gary Keys specialized in documenting the jazz greats and other music figures. He made film portraits of Duke Ellington, Dionne Warwick, Whitney Houston, produced concert films and TV specials, and created the PBS series Jazz in America, among other projects. He passed away early in August at age 81. William Grimes at The New York Times.
Neurologist turned author Oliver Sacks isn't really a film figure but his books and essays were adapted into the feature films Awakenings (1990) with Robin Williams and Robert De Niro, At First Sight (1999) with Val Kilmer and Mira Sorvino, and The Music Never Stopped (2011) with J.K. Simmons. Gregory Cowles at The New York Times.
Seattle Screens
The 1 Reel Film Festival returns to Bumbershoot with more than 100 US and international short films at the SIFF Film Center over Labor Day weekend, September 5-7, 2015. More here.
Mercy Housing Northwest is hosting a special advance screening of Ramin Bahrani's 99 Homes starring Andrew Garfield and Michael Shannon on Wednesday, September 9, 2015 at 8:00 pm at the SIFF Cinema Uptown. All proceeds from the screening will benefit Mercy Housing Northwest (MHNW); a nonprofit whose mission is to build affordable homes for low-income families. Tickets available at Brown Paper Tickets.
Visit the film review pages at The Seattle Times, Seattle Weekly, and The Stranger for more releases.
View complete screening schedules through IMDb, MSN, Yahoo, or Fandango, pick the interface of your choice.
The weekly links page is compiled and curated by Bruce Reid, with obituaries curated by Sean Axmaker, and other contributions from friends of Parallax View.