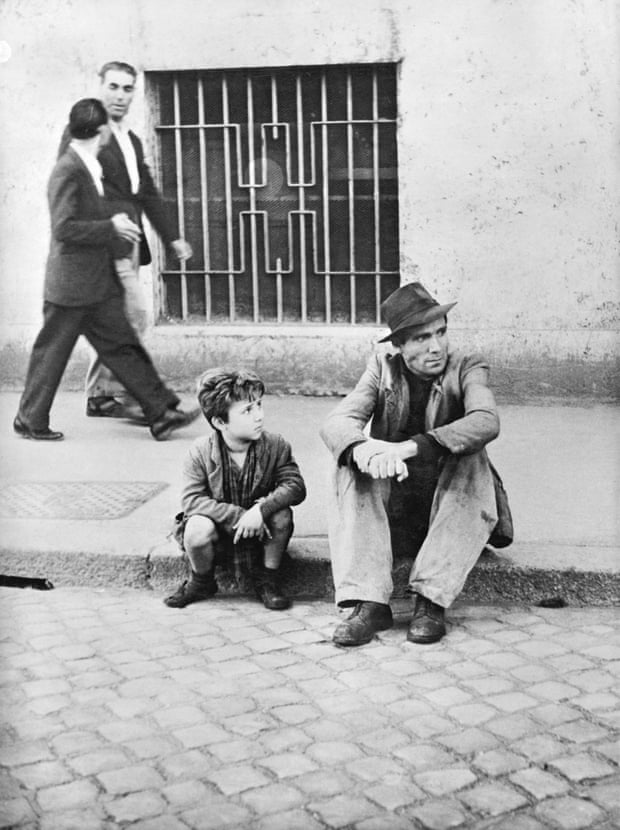 "De Sica was an expert on the subject of being disregarded. His characters are invisible persons made visible to us. The lack of what would be, to others, very small sums of money drives them to desperation; the loss of a bicycle can destroy a whole life. Harried by oppression and poverty, his protagonists fall into acts of moral compromise; the heroes must become that which their conscience condemns—a snitch, a bully and thief, a beggar. His people are too flawed to be the pitiable saints some repute them to be. The sadness here is not inevitable; it is a consequence of a social structure, a political pathos." Michael Newton praises the humane understanding of people and the tragedies they find themselves in that's the heart of every great De Sica film. (Not that the comedies are without their charms, "as long as we banish the thought that they were made by the same man who made Bicycle Thieves.") Via Criterion.
The new issue of Screening the Past is out, with too much for me to have gone over thoroughly. Read and recommended, however, are Sally Jackson's article on the filming of the 1896 Melbourne Cup, which finds a rivalry for control of the emerging Australian film market telegraphed in a seemingly innocuous crowd shot; Adrian Danks's article on Buffalo Bill and the Indians's myth-busting, which takes a closer look at Altman's TV westerns than most; Sam Roggen weaving a series of metatextual allusions to explain the cinephile thrill he gets from a glance from Linda Darnell in Fallen Angel; and David Resha elucidating how Edith Head's costume designs were sensitive to the nature of the film stock, and changed accordingly for black-and-white and color photography.
"His convoluted plots stuck to the letter of the Code, always finally coming down on the side of pure romance and happy marriage. But they wreaked havoc with its spirit—often with the PCA's sanction. By the premiere of The Miracle of Morgan's Creek, Sturges was relentlessly mocking the PCA's regulations. It's likely, I think, that the PCA was for the most part in on the joke." Matthew H. Bernstein, guest-blogging at David Bordwell's place, analyzes the back-and-forth on The Lady Eve to show how open to negotiation and reassessment the Production Code could be with Sturges's screwball comedies—and how little that mattered when the films hit the theaters and local censors had their say about what was permissible.
"[L'Herbier] is not well known now outside or even within France, but L'Argent is his testament film, a film that still throbs with life, a film that still shows the way." At the Chiseler, Dan Callahan surveys the films of Marcel L'Herbier, finding a weakness for décor for décor's sake (and for the "milky blond presence, passive, very much a dandy, and tacitly feminine," of Jacque Catelain) matched in at least one masterpiece by a dizzying depth; and Jim Knipfel posits a reading of Stranger on the Third Floor that has Peter Lorre merely a pitiable fall guy for John McGuire's glory-seeking psychopath. ("In the end, the film has the courage (or maybe given the times, the wisdom) to never show its hand, and never let audiences know straight out what's really going on here.")
"Everyone was telling me this wouldn't work and my career would be over. Including New Line. They'd already greenlighted the movie, and the studio head walked in with the script, threw it down on the table and said, 'I hate the script. I hate this movie.' And he yelled at us for an hour and then said, 'Go ahead and make it.'" Aaron Couch's oral history on the making of Mortal Kombat reminds you that fighting studio heads to be allowed to innovate and maintain the integrity of your vision (Janet Jackson for a Mortal Kombat soundtrack?) doesn't only fall on the heads of auteurs making small, personal (or even very good, says this P. W. S. Anderson fan) films. Via Rob Dean.
"Every time someone lights a cigarette in Wild at Heart (and, like Lynch himself, people smoke a lot in this film), there it is, the look and sound of combustion. Lynch relates fire and smoke to both violence and sex—and in so doing relates violence and sex to each other." Robert C. Cumbow places Wild at Heart alongside its bookending Twin Peaks entries as the films where David Lynch walked with fire—and as "a film on the cusp," pointing the way to his great films of fractured identities from the next decade.
"Well, I see no reason why you can't go, if you get all your work done." "Oh, I will. I promise." "And if you can find something suitable to wear." Emanuele Luigi finds the other fairy tale hiding in the fashions of Disney's Cinderella—the one where Christian Dior frees women from the tired excesses of designer Elsa Schiaparelli and fosters the "simplistic view that fashion expresses the inner self."
"You look like an angel / Walk like an angel / Talk like an angel / But I got wise / You're the devil in disguise." Ed Halter annotates the 13 songs (a fittingly occult number, as Halter notes) that comprise the groundbreaking soundtrack to Anger's Scorpio Rising. Via David Hudson.
"But, once, I was in Mexico with her because my niece had her wedding—my sister lives in Mexico—and my film about Conrad, Almayer's Folly, was screened there, and I went on the stage, I had a Q&A, and my mother was deaf, you know, so she didn't understand anything. But when we went out, she said, 'you have all that, and I had only Auschwitz.' And then I realized that same moment that I could not speak on her behalf, she was the only one who could speak, and if she didn't want to speak, that should be it." Daniel Kasman participates in a roundtable with Chantal Akerman about her latest, No Home Movie, and its intimate subject: her mother and the horrors she survived.
"You can't make a good movie unless that's what your objective is. Most people think it's an interesting career path. It's not. It's a terrible waste of your life, making movies. Your life will be sucked into an awful black hole of nothing but unpleasant things going on. 'How should I go about making my first movie?' If you have to ask me, don't do it." Bernard Rose talks with Ryan Lattanzio about working with studios (never again) and the appeal of horror films.
"In a sense we are obsessive, and anything that we do, read, or any music that we listen to, we always look to each other and say, can that be—we use the word cinematized—can it be "cinematized"? And there's nothing more that we like than to coax new material out of something that almost doesn't have a potential. We could never do adaptations of famous pieces. We need the marginal. Whenever we're reading a book, if it's a research book, we always find that it's the footnotes that open up new chapters of imagination." The Quay Brothers talk with Christopher Nolan, enough of a fan to have made a short film about them. And it's nice to see they got him to watch Dreyer's Vampyr.
Life celebrates Maureen O'Hara's birthday with a gallery of photos. Most from a set visit to Our Man in Havana (which isn't a problem) taken in black-and-white (which kind of is).
Jeremy Saunders surveys the dismal state of Australian movie posters, with their long history of avoiding portrayals of the landscapes so memorably captured on film. With a link to a helpful site for the many posters he mentions but doesn't reproduce himself. Via Movie City News.
Obituary
Yvonne Craig will be remembered by fanboys and fangirls who came of age in the sixties and seventies as the original Batgirl and the first bat-crush of many a young boy. A classically-trained ballet dancer who performed with the Ballet Russe de Monte Carlo, she turned to acting in the late 1950s, both on TV and in the movies. She had supporting roles in Gidget (1959) and The Gene Krupa Story (1959) and appeared opposite Elvis in two movies, It Happened at the World's Fair (1963) and Kissin' Cousins (1964), and danced in In Like Flint (1967). But it was the tongue-in-cheek superhero show Batman that made her fame, joining the cast in the third season as Batgirl and her librarian alter-ego, Barbara Gordon, and using her dancing training to do her own stunts. She traded her form-fitting costume for green body paint to play a dancing assassin for an episode of Star Trek and continued on with TV roles through the seventies, but largely retired from acting after that, though she continued to appear at conventions. She passed away this week at the age of 78. Here's the obituary from her official website, plus David Colker at the Los Angeles Times.
Bud Yorkin graduated from TV specials to direct a number of features through the sixties and early 1970s with his writing and producing partner, Norman Lear, among them Come Blow Your Horn (1963) with Frank Sinatra, Divorce American Style (1967) with Dick Van Dyke and Debbie Reynolds, Inspector Clouseau (1968) with Alan Arkin in the Peter Sellers role, Start the Revolution Without Me (1970) with Gene Wilder and Donald Sutherland, and The Thief Who Came to Dinner (1973) with Ryan O'Neal and Warren Oates. But his most enduring legacy on American pop culture was his collaboration with Lear on some of the most influential and socially pointed TV shows of the 1970s: All in the Family, Sanford and Son, Maude, and The Jeffersons. After a very busy decade on TV, he returned to film in the eighties, directing Twice in a Lifetime (1985) and serving as one of the producers on Blade Runner (1982). He died this week at age 89. Sam Roberts at The New York Times.
The weekly links page is compiled and curated by Bruce Reid, with obituaries curated by Sean Axmaker, and other contributions from friends of Parallax View.