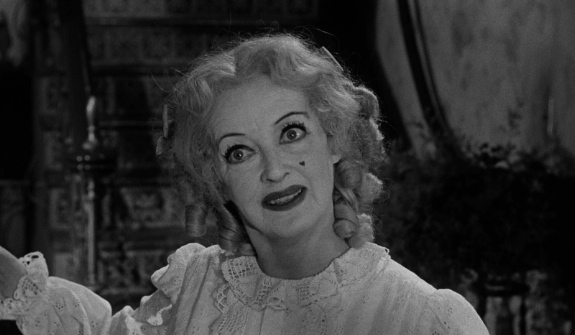 The new issue of feminist film journal cléo arrives, with a focus on camp. Among the writers quoting Susan Sontag are A. Mistry on how Bollywood's employment of camp values "creates a cultural and linguistic bridge that can be meaningful when struggling with the tension of growing up between identities" in the Indian diaspora; Willow Maclay on the hatefulness of Sleepaway Camp's notorious twist; Sara Black McCulloch on how What Ever Happened to Baby Jane? knowingly invoked its stars' personas and famous rivalry; Simran Hans uniting Showgirls, Crossroads, and Glitter as sly, camp features that play off the naïveté of their awkward stars; and Davina Quinlivin on how some recent portrayals of Queen Elizabeth play on constricted ideas of femininity, from the "dense and structured" layers of costume that transformed Quentin Crisp to the Beyoncé tour poster that marks the Elizabeth trope as "part of the very fabric of contemporary camp iconography." Via David Hudson.
Nick Pinkerton's history of wide-screen formats reminds you the push for expansive canvases is as old as the cinema itself, and has been pursued diligently by artists and hucksters alike. (Not that there's such a sharp distinction between the two when it comes to movies.) Via Criterion.
"Varda moved to Los Angeles for the first time in 1967, after her husband, director Jacques Demy, coming off the international success of The Umbrellas of Cherbourg, was contracted to direct a film for Columbia Pictures…. During this time, Varda found herself galvanized by the pervasive progressive politics and burgeoning youth movement—not to mention the weather—and struck out to work on her own projects. So while Demy was busy dealing with the demands and restrictions of directing for an American studio, Varda was working with great autonomy." Michael Koresky runs through Agnès Varda's L.A. movies, an eclectic, personal mix of documentary, fiction, and Varda's own inimitable mix of the two.
"Sure, sure, I hear you: Middling good novelist and screenwriter strikes it rich with a bestseller and a few screenplays and thinks he can direct, right? Well, few people love William Friedkin, John Boorman, and Paul Schrader as much as I do, but in my book, of the six or so films that have tried to turn that tortured title into a continuing franchise Blatty's The Exorcist III is the best, hands down." Robert Cumbow goes to bat for Exorcist III as the highlight of the series—and he may be right, just based on that scene (if you've seen the movie, you know which one) alone.
"I'm seeing something that was always hidden. I'm in the middle of a mystery and it's all secret." Ben Brantley's recollection of his first viewing of Blue Velvet, and "the excitement of its darkness wrapping around me, like a blanket at bedtime on a night you just know your dreams are going to take you someplace new," isn't just a fine ode to a unique film but to a lost time, before advance hype and the internet made every film seem old news before you even saw it, and unexpected strangeness could reach out from the screen and grab you by surprise in the dark.
"He saw all of Rome when he was casting. He received everybody like an emperor—anyone could get to see him then…. The corridor was filled with people waiting to meet him: immaculately dressed counts and contessas, butchers, nuns, ladies of the night, dwarves, one-legged men, women with babies, professors, journalists, actors, acrobats, gardeners, house-keepers, tutto-Roma." A queue that could only be called Felliniesque, from Barbara Steele's memoirs of filming 8½. And staying at The Chiseler, Dan Callahan is riveted by the unique intensity—part outdated acting style, part the drug addict's "heightened heroin rhythms"—of Jeanne Eagels in 1929's The Letter. ("She makes some mistakes: the moment when she looks up and emotes when writing the letter to her lover in the first scene is dated. But as The Letter progresses it becomes increasingly clear that Eagels is an acting freak in a class all by herself.")
"The speech is cut in half, the language pared to simple eloquence. The face and body do the rest; downcast eyes, shrugging shoulders, raised eyebrows, and jutting chin show how hard it is for a proud man to overcome such slights." An excerpt from Susan L. Mizruchi's book on Marlon Brando highlights the political messages of The Godfather that drew the actor to the role, and shows how much Don Corleone on screen owes to Brando's insistence on paring down what he deemed unnecessary excesses in the script.
David Cairns celebrates The Knack at his website, with fresh interviews with screenwriter Charles Wood ("I fancied getting back into uniform for a minute and being a Horse Guard rather than a Lancer this time and Richard didn't think the line meant anything so he punished me by making me say it—I got my own back by doing it badly. Serves him right. Shouldn't meddle in military matters.") and Rita Tushingham ("[Lester] doesn't labour it, he goes onto the next—and this is what was so innovative about him when he came to the fore, and a lot of people have been inspired and copied his style—the comedy sort of rolls on. You hope the audience are going to be with you, but you don't layer it on like… a thick layer of lard."); and older interviews with Richard Lester ("The story of my life is, "You've only got two weeks." I mean, Juggernaut was rewritten in two and a half weeks, completely.") and the late cinematographer David Watkin, the latter conducted by Allen Thomson ("The first film, I can remember this, that when The Knack won a Golden Palm I think at Cannes and I was talking to Richard on the phone about that and he said, 'Now you can go steadily downhill from now on.' No, I would always be very grateful and I owe him a tremendous amount.").
"[Downey] really pushed against the idea of spending the whole movie in bed, even though it's what the script is about—a man in the worst prison possible, his own body. I got him to come around by using one thing he was struggling with to help him solve another: he was afraid of not being physical, but he was also afraid of the anger he had to convey. Robert is not an angry person, and this guy he was playing was vicious. So I used one thing against the other and told Robert that one of the things that would help him get to that anger would be to allow himself to grow frustrated being confined to the bed all the time. He ended up loving that idea, and by the time of shooting he had done a 180-degree turn and decided that the confinement was one of the best things about the character. Later Robert accused me of playing Jedi mind tricks on him, which I took as a wonderful compliment!" Jim Hemphill, who's becoming the go-to interviewer for directors of maligned films, talks to Keith Gordon about the making of The Singing Detective.
"No one expected anything. We viewed this as a wildly safe experiment. Who would ever see this film? If you were to set out to make a film about hyper-verbal Upper East Side young people, you don't think there's a built-in audience for that. This was everyone's first film. We thought it was a good way to figure out how to act. That made it easy to manage expectations." Gary M. Kramer talks (separately) to Whit Stillman and Chris Eigeman about the making of Metropolitan, and how well it holds up 25 years on. (Perfectly well in Stillman's mind; Eigeman hasn't seen it since Cannes.)
A shift in key from minor to major and some famous horror themes become unrecognizable in tone even as the melody stays the same; Tubular Bells is all smiles and bright cheer, while Halloween could open an inspirational story about long-distance runners. Via Mike Vanderbilt.
The weekly links page is compiled and curated by Bruce Reid, with obituaries curated by Sean Axmaker, and other contributions from friends of Parallax View.