"Dickey wrote a long speech for himself to give as the sheriff. And Boorman was such a clever man and brilliant filmmaker he told him, 'When you start this speech, you have to come to the front of the hood of the car and say that paragraph. Then come over to the window and talk to the character of Ed directly.' So Dickey did it. And then of course what happened was that John simply took out the section where Dickey was standing in front of the hood. He got Dickey's speech down to a workable size. But Dickey was an actor—he acted in his daily life. He put drama into everything. That's what I figured out." Timed to commemorate the publication of the novel, John Meroney's oral history on the making of Deliverance focuses mostly on John Dickey's possessive attitude towards the story and characters, and the friction that resulted. Which provides plenty drama enough for a good read. Via Movie City News.
"Now, one of the executive producers at the time was Marty Scorsese. And Marty's independent film person was his ex-wife, a woman called Barbara De Fina, and there were some disagreements with Barbara…. Well, then Marty's leaving, she says. And I'm like, oh fuck, Marty's my idol—he's leaving? And you know in terms of selling the movie, losing Marty's name, I mean… there are no stars. So I call Larry and I go listen, if we make this deal, Marty is going to be gone. Do you care? And he goes, 'Are we going to be able to start this summer? Yes? Then fuck him.' The next thing I know we're making a movie." Another oral history about another film where a band travels through the wilderness, as Eric Hynes gets participants to recount the making of Kids. No real surprises, as the ones you'd expect to be obnoxious prove to be so and the ones who look back graciously have all gone on to better things.
"'American noir is largely a product of war trauma; Mexican noir of economic trauma,' Mr. Kehr said when reached by email. 'So instead of lonely, guilt-ridden men with persecution complexes, you have a lot of strivers—con men, athletes, politicians—who are desperate to better themselves in the corrupt, rapidly industrializing economy of the Miguel Alemán administration (1946–52).'" Kristin M. Jones walks through some of the unfamiliar highlights of the MoMA series Mexico at Midnight: Film Noir From Mexican Cinema's Golden Age with curator David Kehr. J. Hoberman surveys the series with customary insight for the New York Times. ("'The night is gone forever,' she assures her hapless lover moments before the movie ends. Don't bet on it. Midnight in Mexico suggests that the darkest hour is the dawn.")
"On the one hand, the ideal viewer for Brakhage's cinema goes in with absolutely no explanations, no verbal cues, no conceptual shortcuts. To look at his technique and think, 'Oh, this is about the attempt to break down language's hold on vision,' is in some sense to label Brakhage, just as surely as if the films themselves invited us to say, 'That's a car, that's a table, that's a bankrobber and a bomb … '" Michael Sicinski does a beautiful job getting at the central paradox of writing about Brakhage, that you're prepping an audience for films idealistically meant to be viewed in a "hypothetical, perhaps even false, state of grace" without any preconceptions at all.
"'I wanted to heal the sick and raise the dead instantly. I didn't want to go through all the trouble of medicine,' said Arzner, according to the book Directed by Dorothy Arzner. 'So that took me into the motion picture industry.'" Ella Morton wonders why such a seminal figure as Dorothy Arzner has gone mostly forgotten today—just kidding; the answer is obvious. Via Smithsonian Magazine.
Filmmaker's annual 25 New Faces of Independent Film has come around, with another invaluable rundown of two dozen names to keep an eye out for.
Though the more interesting director list to pore over may be the one Peter Labuza posted of the going rates for 1954 non-contract directors represented by the Jaffe Agency. If only to realize there was once some metric by which Mark Robson was worth more that Raoul Walsh.
"Families park in the front, and usually they get out and picnic beside the car so the kids can run around. Older couples are the ones parked in the middle, and teenagers always settle in the far back, along the tree line. You can guess why. 'You don't even want to know what I find,' McGrane says. 'What do you come to the drive-in for? I have older people pull in and say, 'Our first child was conceived here!'" Anthony Breznican relates the efforts of Donna McGrane and family to save Connecticut's Pleasant Valley Drive-In, a passion that has nothing to do with movie love—none of the employees and few of the regulars are movie buffs—but such intangibles as picnicking in the twilight, wandering around the automobiles, and the time during a showing of Brave that a bear wandered out of the woods and in front of the movie screen.
"You don't need the big bucks and the big trucks to make a film. Rather, you need what Riis, Evans, and Smith used: patience, time, love, observation, and a few technical skills. And work, work, work. Stay a bit longer in a place. Stay with the person you are filming a bit longer, and refuse the kind of military raid which cinema has transformed itself into: coming to a location, conquering it, shooting it and then running away—that's how a film crew operates nowadays." Pedro Costa talks with Michael Guarneri about Horse Money, and the documentary photographers that influenced him as much as the "citizen-filmmakers" he's loved. While Ruben Demasure offers some thought-provoking takeaways from the conversations Costa and Thom Andersen held at the Courtisane Film Festival where both were artists in focus. ("If Andersen and Costa's movies are postcards—maybe the directors are cine-cartographers themselves—they sure come from secret worlds, where tourists or the film industry doesn't venture.") And while we're on Costa, Film Comment has a translation of a poetic, doom-laden exegesis the young director wrote in 1990 about Hawks's Land of the Pharaohs. ("Nobody leaves or enters a shot by Hawks: we are trapped in them and don't come out alive. Hawks is a hard worker: he builds his shots brick over brick like a mausoleum, like a huge graveyard. But a pyramid takes such a long time to build. It is a science of nightmares. A man dreams about the Absolute and gets lost in it.")
"At one point I needed some extra time to shoot the shot where Alec [Baldwin] sees the rings that reveal the mystery of the movie of who's the murderer in the story. The producer said, 'No, you don't need that.' So I cut the movie together, and of course of the higher-ups said, 'Where the hell's the shot?' And I said, 'Well, wasn't allowed to do it.' […] That's how absurd it was. The clue that tells the story, they wouldn't let me shoot. No interest in the story we're trying to tell." Phil Joanou talks with Jim Hemphill about studio interference at all levels, from stars altering the logical arc of their characters to what it's like trying to film a movie when the studio's monetary house of cards collapses down around you. And even what it's like when, once in a blue moon, their support of the filmmakers is total and unwavering. Via Matt Fagerholm.
David Davidson interviews nearly 30 "cinephile directors," (and, for laughs, his cat) from established figures like Mark Rappaport and Dan Sallitt to up and comers on the (mostly) Canadian film scene (Simon Ennis, Andrew Cividino) and just-out-the-gate experimental figures, about the love of film he sees uniting their diverse efforts. Via David Hudson.
"Hey lady! Look at the pretty baby." A nice collection of set photos from Touch of Evil shows off family visits from Tony Curtis and Welles in conference with Russell Metty.
Ignatiy Vishnevetsky spotted a "cool thing" indeed, a Singapore film locations blog that captures frames from moving shots to form panoramic collages, oddly shaped and haunted by doppelgangers and ghostly wisps as the actors are caught in successive frames.
Obituary
Actor, folk singer, and social activist Theodore Bikel was the original Baron von Trapp in the Broadway production of The Sound of Music and is embraced as the definitive Tevye in Fiddler on the Roof by many (he took over the role from Zero Mostel in 1967 and played the part in over 2000 performance). Though not as well known for his big screen roles, he earned an Academy Award nomination for playing a sheriff in The Defiant Ones (1958), played German officers in The African Queen (1951) and The Enemy Below (1957), a French General in The Pride and the Passion (1957), a Russian submarine commander in The Russians Are Coming, The Russians Are Coming (1966), the King of Serbia in Moulin Rouge (1952), and an arrogant Hungarian linguist in My Fair Lady (1964), and he starred in hundreds of hours of TV shows. He also spoke have a dozen languages, was a member of MENSA, co-founded the Newport Folk Festival, hosted a radio show on WBAI in New York, was a regular performer in the music program Hootenanny, and released a number of albums of folk music from around the world. He passed away at age 91. Richard Severo and Ralph Blumenthal for The New York Times.
Alex Rocco, born Alexander Petricone, made his feature debut in Russ Meyer's Motorpsycho (1965) and made his name as Moe Green in The Godfather (1972), a role that made him a go-to actor for gangsters and cops alike, the former in The Friends of Eddie Coyle (1973) and Get Shorty (1995), the latter in Detroit 9000 (1973) and Freebie and the Bean (1974). But he didn't let that typecast him. Though he drew from his own experience on the street of Boston for his gangster roles, he also made comedies, dramas, and family films, jumping between movies and TV. He was a single dad teaching his kids about life in the short-lived TV series Three for the Road (1975), the father of a tomboy in The Facts of Life, won an Emmy as the conniving talent agent in the sitcom The Famous Teddy Z (1989), and was a recurring voice on The Simpsons. He died this week at the age of 79. Anita Gates for The New York Times.
Nova Pilbeam played the kidnapped daughter of Alfred Hitchcock's original The Man Who Knew Too Much (1934), which put her in scenes with Peter Lorre, and the rebellious daughter of a police chief in Young and Innocent (1937), the most famous roles of a relatively brief career in Britain. She made her screen debut at the age of 14 in The Little Friend (1934) and her final appearance in Devil's Plot (1948), and acted on stage as well as on screen in the years between. She retired after marrying her second husband (her first was killed in World War II) in 1950. She was 95 when she passed away. More from The Telegraph.
British character actor Aubrey Morris was a prolific player of small roles in the movies and on TV. Most memorably he was the probation officer in Stanley Kubrick's A Clockwork Orange (1971) and the sardonic gravedigger in The Wicker Man (1973). Simon Farguhar for The Independent.
Author E.L. Doctorow never wrote a screenplay but five of his works were adapted into films: Welcome to Hard Times (1967), Ragtime (1981), Daniel (1983, based on The Book of Daniel), Billy Bathgate (1991), and Jolene (2008, based on the story "Jolene: A Life). George Saunders reflects on his legacy for The New Yorker.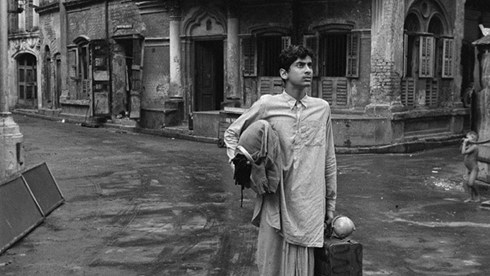 Seattle Screens
The new restoration of Satyajit Ray's "The Apu Trilogy," which screened at SIFF this year, is back and plays for a week at SIFF Cinema Uptown. Details and showtimes here, my preview is at Seattle Weekly here.
Director Steve De Jarnatt will be at Scarecrow on Thursday, July 30 to show his rarely-seen short film Tarzana (featuring Michael C. Gwynne, Timothy Carey, and Carel Struycken) and engage in a Q&A with film critic Richard Jameson. He will also be signing new Blu-rays of his films Miracle Mile and Cherry 2000. It begins at 7pm and is free. Check the Facebook page for more details.
Tickets are now on sale for "Nightfall: The 38th Film Noir Series" at the Seattle Art Museum. The nine-film series opens with Fritz Lang's Scarlett Street (1944) on September 24 and plays Thursday nights through December. All films screened on 35mm. Schedule and ticket information at the SAM website here.
Visit the film review pages at The Seattle Times, Seattle Weekly, and The Stranger for more releases.
View complete screening schedules through IMDb, MSN, Yahoo, or Fandango, pick the interface of your choice.
The weekly links page is compiled and curated by Bruce Reid, with obituaries curated by Sean Axmaker, and other contributions from friends of Parallax View.