"At any given moment, the Packard labs are working on several different titles, all at varying stages of completion. During my visit, this list included Abbott and Costello Meet Frankenstein; a one-reel sound film called Old Man Trouble; a 1951 commercial for Durkee's Famous Sauce (starring Buster Keaton); and Fred Wiseman's 1967 documentary about the Bridgewater State Hospital for the criminally insane, Titicut Follies." As Bryan Gardiner's list suggests, inclusiveness is the watchword at the Packard Campus for Audio-Visual Conservation, its 124 vaults, once the storage facility for billions of Federal Reserve dollars should the economy have needed capital infusion after a nuclear holocaust, now home to the Library of Congress's collection, currently facing the more immediate threat of decay and data loss. Via Mubi.
"This lovely early sketch illustrates one of the various contradictions in Ford, namely how his reputation as a magisterial storyteller clashes with his predilection for leisurely digressions, for moments when characters gaze at the world outside their windows, engage in vaudeville turns, or simply sit and talk and remember. Ford's art is an essentially meditative one, and Judge Priest's flavor lies less in its dramatic plot than in the way small human details—say, how a party is viewed as an occasion both for matchmaking and for vote-hunting—are woven together into an affectionate picture of a teeming community." Fernando F. Croce does a lovely job writing up three less appreciated—but by no means lesser—John Ford films playing as part of the Museum of Moving Images's series: Judge Priest, Wagon Master, and the singular The Wings of Eagles.
"Marvel at the scene where Hayward's Barbara walks through a construction site and suddenly does a random, spastic little dance for the workers, as if she were a robot malfunctioning. That's a moment that shows just how bold and heedless Hayward could be when she didn't feel the need to retreat into being aloof and self-protective. At her best, and at her worst, she always skates on thin ice." Dan Callahan appraises the career of Susan Hayward, whose anxious, continual clawing for an Academy Award may have led her career to camp overdrive, but also made for flashes of desperate inspiration that were utterly unique.
"None of the goodies ever talks about self-determination, self-government, democracy or equal rights either, so one must assume that mountaineers want to be free for freedom's sake…. But then, if they like freedom so much, why did they never revolt against the Italian feudatories that ruled over the land before the Germans came?" Michael Guarneri takes The Flame and the Arrow's naked metaphor for the resistance of Nazi-occupied Italy to wonder about the limits of Hollywood political films, and about the probably unsolvable mystery of Tourneur's own politics.
"Describing Indonesian exploitation cinema as unmapped territory isn't a lazy metaphor using the language of colonialization and exploration to turn a film industry into an Other. Indonesian exploitation filmmaking is, without exaggeration, an entire branch of world cinema that has become almost completely lost, and its history is one of the saddest stories around." Grady Hendrix digs up what history he can of a genre movement that has been beset by interference from foreign oppressors, homegrown dictators, and producers too budget-minded to preserve even their biggest hits.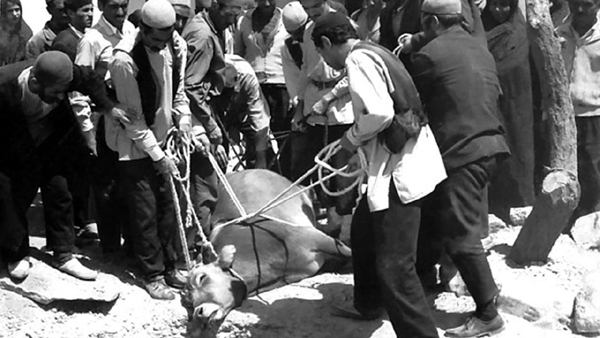 Ehsan Khoshbakht's notes for the Iranian New Wave spotlight at the recent Il Cinema Ritrovato festival do a good job situating its four selected filmmakers, each returning to the Shah's Iran from study abroad in Paris, Los Angeles, and Rome, as part of a larger movement none was consciously aware of—though the censorious state was, and interfered accordingly. Via Kristin Thompson, whose thoughts on the series are of course well worth reading in their own right.
"Rare is the great figure—Marcel Duchamp, Jim Brown—who departs at the top of his game. That the man who made The Americans would leave photography was such a shocking decision that people in the arts still speculate about it. 'He was painfully compassionate,' Peter Schjeldahl says. 'Maybe he didn't want the pain anymore.'" Nicholas Dawidoff profiles the groundbreaking photographer and filmmaker Robert Frank, at 90 as uncompromising as ever. The long article is more than 2/3rds done before it gets around to discussing the likes of Pull My Daisy or Cocksucker Blues, but Dawidoff makes clear Frank has thought partly in cinematic terms throughout his career.
Longform gathers a collection of classic articles in the grand old tradition of exposing the seaminess that lies under the Hollywood sunshine, from Tad Friend on the death of River Phoenix and David Grann's chronicle of the fatal match up of Robert Blake and scamming groupie Bonnie Lee Bakley (which, regrettably, never troubles to get her name right), to Ken Auletta's unraveling the conspiracy behind Anthony Pellicano's crimes and Evan Wright's simultaneously sympathetic and vaguely appalled portrait of agent turned gonzo pro-Iraq-war documentarian Pat Dollard.
The LA Review's blog Avidly presents a series of brief but interesting essays on the Back to the Future trilogy. Eltan Kensky praises the first film as "the moment Hollywood decided that understanding the science and technology was one of the joys of the time travel genre"; Stephen Vider considers the crucial onscreen role played by television as a marker for lower-class stagnation and family isolation; and for Maggie Greaves the film's status as a Cold War thriller is too often overlooked. Considering Back to the Future II, Wendy Allison Lee looks at the genial but still stereotypical use of the Asian futurism trope in the movie's 2015, while Corey McEleney is taken by the "queer temporality" at play in the alternate timeline dubbed 1985A. And Claudia Calhoun makes clear that the third installment doesn't return to 1885 but rather to the "West" portrayed in the movies of the 1950s. Via Smithsonian Magazine.
Technicolor turns 100, and Ben Kenigsberg celebrates the centennial of one of the movie's glories—whether at its most delirious and garish or in the subtler hues it could achieve.
Lola Landekic finds all the anxieties of the early '60s pressing in on the opening titles of Lady in a Cage—as well as the heavy, unmistakable influence of Saul Bass.
"And I'm not trying to be preachy, or trying to convert anybody. I'm just trying to play with perception. That's all. Because I've realized that even when I jump into these worlds, knowing that I'm going in with an empathetic eye, even my eyes are opened." Sean Baker talks to Jordan Cronk about how the motives and collaborative methods of his celebrated latest, Tangerine, fits in with his previous films even as its monetarily dictated shooting on iPhones marks it as something new. And Amy Nicholson catches up with Baker and his two first-time actors Mya Taylor and Kitana Kiki Rodriguez. ("The last time a dude tried to heckle Rodriguez on the street by calling her a man, she simply gave him more material: 'I also got crooked teeth. I can't spell that good,' she yelled. He shut up. 'I turned back around and was like, Come back when you can make a joke, dumbass.'") Via David Hudson.
"It's a book between two filmmakers. Truffaut may have been a critic but he was already a renowned director at that point which makes it immediately different, very different from the interviews done by critics at the time where the critic would speak one language, and the filmmaker another, or where you'd get the filmmaker meeting the critic more than halfway and adapting to their language…. This is filmmaking being picked apart, how the films were made, by two directors. It's like Fincher says, it's very basic." Kent Jones discusses his documentary Hitchcock/Truffaut, and the passion its source inspires in directors, with Adam Cook.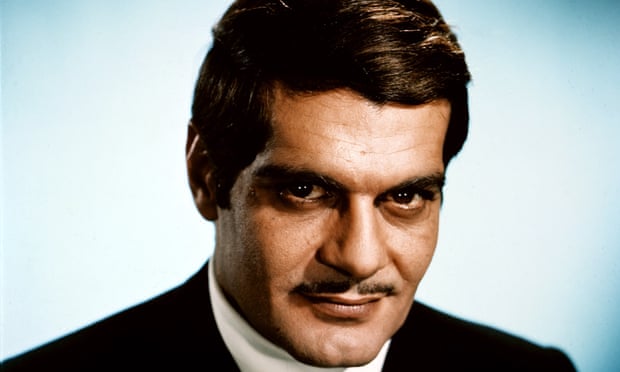 Obituary
Omar Sharif was a superstar of Egyptian cinema but unknown to the world outside of North Africa when he rose to international stardom playing desert tribal chief Sherif Ali in David Lean's Lawrence of Arabia (1962), for which he earned an Oscar nomination. He went on to play the title characters in Genghis Khan (1965), Lean's Doctor Zhivago (1965), and Che! (1969) and leading roles in The Night of the Generals (1967), John Frankenheimer's The Horsemen (1971), Blake Edwards' The Tamarind Seed (1974), and Richard Lester's Juggernaut (1974). He was gambler Nick Arnstein Funny Girl (1968) and a guest assassin in The Pink Panther Strikes Again (1976) and he reunited with his Lawrence co-star Peter O'Toole in Alejandro Jodorowsky's The Rainbow Thief (1990), but he was frustrated with most of his roles through the eighties and nineties until his career received a late-in-life boost when he won the Cesar for his performance in the French film Monsieur Ibrahim (2003). In addition to acting, Sharif was an international authority on the game of bridge and he collaborated on a newspaper column and several books on the subject. He passed away at the age of 83 after suffering a heart attack. Benjamin Lee at The Guardian.
Jerry Weintraub was one of the last of the old Hollywood showmen. He started in the music industry as a concert promoter, working with Elvis Presley, Frank Sinatra, Led Zeppelin, the Moody Blues, and John Denver. He made the transition to movies as an executive producer on Nashville (1975) and went on to produce Diner (1982), The Karate Kid (1984) and its sequels and remakes, and Steven Soderbergh's Ocean's Eleven (2001) remakes and its sequels. His life and career was profiled in the documentary His Way (2011). He died this week at age 77. More from Carmel Dagan at Variety, and Anne Thompson offers a personal remembrance at TOH!
Model and actress Diana Douglas, the first wife of Kirk Douglas and the mother of Michael Douglas, never became a star but worked steadily from the late 1940s through the late 1980s. Though she divorced Douglas in 1951, she kept his name and they remained on good terms, even starring together in The Indian Fighter (1955). She had significant roles in the TV shows The Waltons, Dynasty, and The Paper Chase and co-starred in Another Man, Another Chance (1977), The Star Chamber (1983) (with son Michael), and Planes, Trains and Automobiles (1987). She made her last film appearance in It Runs in the Family (2003), appearing with Kirk, son Michael, and grandson Cameron. She died of cancer at the age of 92. Mike Barnes at The Hollywood Reporter.
If you don't know who Amanda Peterson is, then you weren't watching youth movies in the eighties. She co-starred in Joe Dante's Explorers (1985), took the lead in Can't Buy Me Love (1987), and debated Kirk Cameron and Jami Gertz in Listen to Me (1989), and starred in the TV shows Boone (1984) and A Year in the Life (1986-1988). She retired from the entertainment industry in the late 1990s and returned to her home in Colorado. She passed away at the young age of 43 from causes still undetermined. More from The Hollywood Reporter.
Seattle Screens
Not a screen event per se but very much a Seattle film event: Stephanie Ogle's Cinema Books closes its doors on July 15. You have a few days to make a final visit, pick up a couple of goodies, and show a little appreciation for Ms. Ogle's years of service. And if you need another reason, here's one you can't beat: everything is 75% off: books, magazines, posters. If you already have everything you need, get yourself something you don't need. Cinema Books is located at 4753 Roosevelt Avenue, on the corner of Roosevelt and 50th St., below the Seven Gables and a block from Scarecrow Video. Check out the Facebook Page for updates.
The weekly links page is compiled and curated by Bruce Reid, with obituaries curated by Sean Axmaker, and other contributions from friends of Parallax View.