"James Agee, Harold Lloyd, and John Ford all named it as one of their favorites, although they couldn't agree on the title or director, and no one remembered the boxing match, just the pie fight. As Henry Miller (yes, that Henry Miller) put it, 'There was nothing but pie throwing in it, nothing but pies, thousands and thousands of pies and everybody throwing them right and left.'" One more (mostly) lost film recovered, and it's a doozy: The Battle of the Century, the legendary Laurel and Hardy two-reeler containing what is surely the zenith of that enjoyable low-comedy staple, the custard pie fight. Silent London broke the news, and Matthew Dessem, who's written a forthcoming book on director Clyde Bruckman, has the best account on how such a masterpiece went missing all these years.
"Sanaa had improved [at basketball], but not completely. She was better, but you couldn't throw her out in a game and have her really hang. It just came down to finally my husband said, 'Is this a basketball movie, or is it a love story?' And at the end of the day, I realized it was a love story and you can fake a jump shot, but you can't fake a close-up." Lucy McCalmont compiles an oral history of Love & Basketball that's not least rewarding for confirming that Gina Prince-Bythewood has known what she's been up to from the jump.
At Mubi, a pair of articles on films that blend perennial genre verities with some fresh ideas. Jeremy Carr finds much to praise in Hondo's admiring portrait of the Apache even as it hews to standard gender roles—however enlivened by Wayne and Geraldine Page—and tries to have it both ways in the action climax. ("But after the secure white victory, and with the consequential step toward the end of the Apaches as a way of life, Hondo laments, 'Too bad. It was a good way.'") While Sara Freeman notes that Basic, like all of McTiernan's films, is concerned with its hero's unlocking of a narrative puzzle, but that placing a woman in the role changes up the routine in rewarding ways. ("Captain Osborne feels perfectly in-sync with her environment. She even moves in perfect parallel with the wall paint. For the moment, she is in her element.")
"I don't pretend to be a martyr, no." "Not even a victim of society?" "I am a member of society." Bilge Ebiri argues that Anthony Perkin's Josef K. is more complicit in The Trial's nightmarish world than generally acknowledged; just one reason the film stands as Welles's "greatest, most acute testament on the times in which he lived." Via Rachel Handler.
"You recognize the M.O.?" "M.O.? Is that they're good." Against long odds, Ignatiy Vishnevetsky finds some new things to say about Mann's Heat—and, in an aside about the director's constant reworking of earlier material, Blackhat, which he traces in part to a Mercedes-Benz commercial.
Grady Hendrix looks back at the first films of Kim Jee-woon and Park Chan-wook, finding in both a messy, compelling warmth the directors might have been better off not shedding on their path to international success.
In 1981, during a series of lectures in Rotterdam, Jean-Luc Godard spliced in reels from older movies (Cops, Old and New, Man of Marble) into his then-current Sauve qui peut (la vie) to create a collage film he dubbed Sauve qui vie (la peut). Michael Witt reconstructs what he can of this "laboratory for Histoire(s) du cinema". Via David Hudson.
"Dreaming of Buster's voice is a natural activity. Some peculiar flutter in the mind always makes you lend voices to silent things. A sudden pall of sadness is perhaps natural, too, on hearing it for the first time, as he doesn't produce the angelic mumble you might imagine but the parched groan of something that lives in the dark." Charlie Fox chronicles the years-long lost weekend that overtook Buster Keaton with the coming of sound, and his hard-working later career, in a compassionate (albeit, ironically, somewhat overwritten) piece. Via Movie City News.
David Bordwell, spinning off of Kent Jones's new documentary about the book, recalls how thoroughly the interviews (and illustrations) that comprise Truffaut/Hitchcock changed everything, for audiences, film critics, and filmmakers—not least Truffaut himself.
"The event is little recalled today—and even back then it slipped mostly under the radar—but those daylong classes, where movie stars mingled with midgets, Madonna's ex-boyfriend nearly caused a riot and an Osama bin Laden look­alike almost gave Jon Voight a coronary, was a never-to-be-repeated moment of Hollywood letting its freak flag fly. It also featured some of the strangest, and some would say finest, performances of Brando's later years." Benjamin Svetkey recounts the ten-day acting seminar Marlon Brando ran in 2001, an explicit money-making scheme that Brando let get weirder and possibly more dangerously inspired—thanks to his executors we'll likely never know, even though the whole thing was filmed—than anyone would who was really only in it for the cash.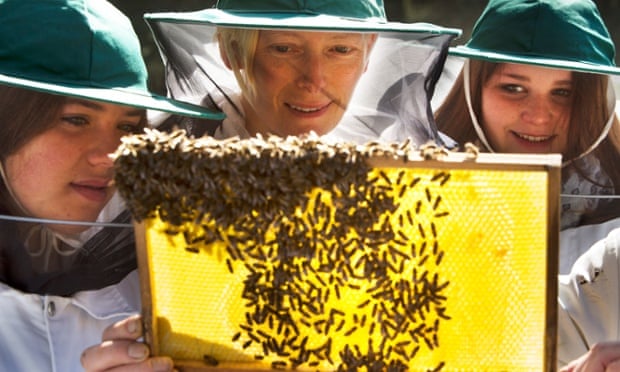 When celebrity profiles get to the part where the subject picks up a broom and joins in the cleaning or helps out preparing lunch I tend to get a chuckle at the tacky PR move. But Tilda Swinton, promoting to Aaron Hicklin the Steiner-based (no tests, curricula devised by the students) secondary school she co-founded? Sure, I can see her pitching in without complaint.
The new Senses of Cinema has arrived, with a dossier of articles on Michael Bay—why not, I suppose—and several interviews I actually have gotten around to reading. Amir Ganjavie takes part in roundtable discussions with Corneliu Porumboiu about his latest, The Treasure ("My stories are often based on real events but I always attempt to layer these little stories with history, which says something about certain features of our society. It is nonsense to think of somebody without history since we are historical products."); and Hou Hsiao-hsien about infusing his martial-arts movie The Assassin with his trademark "realism" ("It is the same as my other movies since I won't accept anything fake or false. It must first be accepted by my eyes or else it is impossible.") And Tom Ryan publishes for the first time an interview he conducted a decade ago with Albert Maysles. ("I believe that the strongest kind of film is the one where, somehow or other, it's related to something very personal on the part of the filmmaker. Early images, early experiences, something basic to your own interests and personality. That's why so many films don't quite ake [sic] it, because they're assignments rather than coming from the filmmaker's heart.")
"I know brilliant actors who feel they will never work again, and I've never had that. Sometimes I go into a very minor depression about, like, why can't I get better stuff? And then I'll do something kind of great. And my own life is interesting enough where if my career is not galvanizing and riveting, something else is. I have many neuroses, but one of them is not I will never work again." Holly Hunter talks with Meredith Blake about her recent and upcoming projects, finding good words for everyone from Jane Campion to Zack Snyder.
In 1968 Brigitte Bardot came to London to promote Shalako, her publicity stops in a pub and department store photographed by Ray Bellisario. The never-before seen images capture the actress at her most radiant and relaxed. Via It's Nice That.
But to truly appreciate the art of being photographed, check out Nigel Arthur's gallery of Marilyn Monroe photos, proving her mastery of everything from the staged publicity pic to candid documentary shots. Not that there wasn't plenty more to Monroe beneath the surface; Kim Morgan transcribes an incisive, sometimes harrowing letter the actress wrote to her psychiatrist in 1961: "I indicated if they didn't let me out I would harm myself—the furthest thing from my mind at the moment since you know Dr. Greenson I'm an actress and would never intentionally mark or mar myself, I'm just that vain. Remember when I tried to do away with myself I did it very carefully with ten seconal and ten nembutal and swallowed them with relief (that's how I felt at the time.)"
Obituary
As Woody Allen's manager (in partnership with Charles H. Joffe), Jack Rollins produced Allen's Take the Money and Run (1969) and went on to produce or executive produce nearly all of Allen's film and TV projects up to and including the soon-to-be-released Irrational Man. Along the way, he also managed Harry Belafonte, Lenny Bruce, Nichols and May, Dick Cavett, Robert Klein, Robin Williams, and David Letterman and produced Late Night with David Letterman from 1982 to 1992. Allen reportedly modeled his character in Broadway Danny Rose on Rollins. He passed away a few months after turning 100. Robert D. McFadden remembers his legacy for The New York Times.
Canadian-born comedian and actor Rick Docummun starred in dozens of films and TV shows in the past thirty years, including Die Hard (1988), The Hunt for Red October (1990), The Last Boy Scout (1991), The Last Action Hero (1993), and Scary Movie (2000), but he's probably best known for playing Tom Hanks' neighbor in The 'Burbs (1989) and the barfly who helps Bill Murray try to kill himself in Groundhog Day (1993). He died at the age of 62 from complications due to diabetes. Mike Barnes at The Hollywood Reporter.
Seattle Screens
In tribute to Christopher Lee, who passed away last week, The Egyptian Theatre is showing The Horror of Dracula (195), featuring his breakthrough performance as a horror icon and a commanding screen presence, in the Midnight Adrenaline spot on Friday, June 19.
Visit the film review pages at The Seattle Times, Seattle Weekly, and The Stranger for more releases.
View complete screening schedules through IMDb, MSN, Yahoo, or Fandango, pick the interface of your choice.
The weekly links page is compiled and curated by Bruce Reid, with obituaries curated by Sean Axmaker, and other contributions from friends of Parallax View.