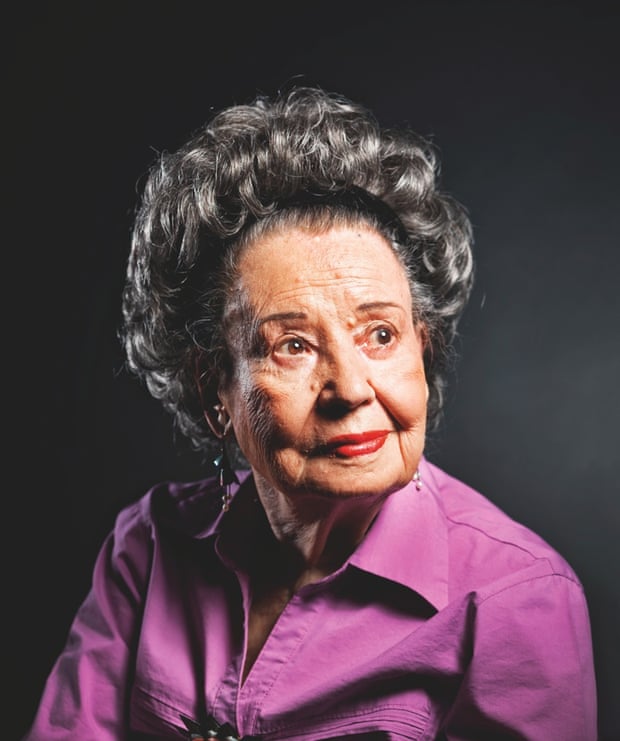 At 4 she had to improvise her way off a burning movie set when the route she was supposed to take through the flames was accidentally set ablaze; by 10 she estimates she was worth about 4 million dollars (what her parents didn't spend a business manager stole); by 17 she was unemployable, a relic from an era Hollywood at the time preferred to forget. Tom Lamont profiles Diana Serra Cary, née Baby Peggy, child movie star of silent films who at 96 has come through with a happy ending after all.
Let's hope the same after similarly long life for Arielle Holmes, whose days of drug addiction and homelessness became, at the age of 20, inspiration for her starring debut Heaven Knows What. Amy Larocca has the story.
A clear highlight of the new [in]Transition, a journal of audio-visual media essays, is Cristina Álvarez López and Adrian Martin's close reads of a pair of slow dances to show how insufficient it is to pigeonhole either Burnett's Killer of Sheep or Ramsay's Ratcatcher as "realist" films. Elsewhere Richard Misek hommages Michael Snow and Hollis Frampton; and Austin Fisher amusingly interweaves Kim Jae Woon's The Good, the Bad, and the Weird with its chief inspiration and near-namesake. Via Film Studies for Free.
Sooner or later, it seems, every Nicholas Ray fan comes around to defending Party Girl. For Brad Stevens it isn't just a matter of mise-en-scène, "an empty exercise in ornate visual excess, but rather one of American cinema's most devastating critiques of McCarthyism."
"Our Eisner mustn't die, she will not die, I won't permit it. She is not dying now because she isn't dying. Not now, no, she is not allowed to. My steps are ?rm. And now the earth trembles. When I move, a buffalo moves. When I rest, a mountain reposes." Of Walking in Ice, Werner Herzog's account of the 400-mile journey he took on foot to be at the side of his ailing friend Lotte Eisner, did as much to fix his popular image as mythopoeic madman as any of his films. With a new edition coming out, Vulture excerpts the first chapter and reminds you even the most over-the-top parodies seem feeble compared to the real thing.
"Works off the street. Never asks a question. Always wears a dark suit. And never wears a tie." Cinephelia & Beyond posts Walter Hill's screenplay for The Driver, so tough and lean (the quote comes from the description of the title character) it doesn't seem boiled down so much as built of nothing but polished bone from the ground up. With an opening quote from Edmund Spenser, because Hill remains one of the most intellectual chroniclers of silent men Hollywood's ever seen. (Click through for .pdf.)
The Self-Styled Siren anoints Claude Rains bearer of "The Greatest Side-Eye of All Time," discussing the war injury that probably contributed to it before amassing a gallery that pretty much confirms the title.
Screenwriter Arash Amel was dissatisfied with Grace of Monaco before the cameras started rolling. When it finally had its premier on Lifetime—in the third bad edit he'd seen—he took to Twitter to express his frustrations. An amusingly nasty blurt from behind the scenes, even if he starts off on the wrong foot complaining that his "Peter-Morgan-type biopic" had become "a Douglas Sirk melodrama," as if that somehow was a downgrade. The Washington Post offers highlights if you just wish to skim.
The appendix from Mark Feeney's book Nixon at the Movies lists every screening our 37th President saw while in office. On the one hand I loathe inferring moral failings from aesthetic ones; on the other, a quick survey suggests the movie he saw most (three viewings) in those troubled years was Around the World in 80 Days, so…. Via Movie City News.
Daniel Kasman returns from Cannes with a pair of fine interviews, discussing politics, dreams, and working under censorship with Apichatpong Weerasethakul ("It's something I'm really into. An act of sleeping as a way to escape. That when you cannot deal with reality you have to find another reality. So for me this film is like that. To go somewhere…. It's like a movie and a movie is also part of the escape, the hypnotism machine, so the movie is so obvious, it has the spinning fans, and all these lights that almost hypnotize not only Jenjira, but the audience as well."); and talking religion, the afterlife, and CinemaScope with Kiyoshi Kurosawa ("Maybe it's better explored in text, but making a film with regards to death is a very complicated task. Not just me, but many auteurs do it in a very simple way. We look for a very simple method for making a film about death. And that is—and it might sound idiotic—to have a living actor play a dead character. You might think this very simple, but it is the most powerful and effective way to explore that theme.") Spoilers for both directors' most recent films.
"Once I talked in prison and met victims, I realized these are real people and you have to be careful what you write about them. You can't make jokes about it…. I did apologize in that book—Female Trouble was dedicated to [murderer] "Tex" Watson. What was I thinking? The Manson family was everything your parents warned you about come true. You take LSD and you're going to kill people. Before Manson, it was an idle threat. Once it was true, it scared the world and that's why they're still in jail." John Waters is aging exactly as you'd hope—with empathy and grace, but as disreputably as ever—based on this interview with Thelma Adams (who asks good questions but you'd think a self-proclaimed Oscarologist would know how to spell Jayne Mansfield's name). Via Movie City News.
"Everything I do—everything I write about and everything I make movies about—is about the distance between the world and us. We think the world is just given to us, that there's no slack in the system, but there is. Everything I do is about the slack of the system: the difference between reality and our perception of reality." Errol Morris's latest inquisition into what is truth and how do we recognize it (or fail to do so) as such takes the form of a book on typography, and the font (Baskerville, ironically enough for Holmesians) that best conveys veracity. Morris discusses this—and provides a gallery of images from what seems an elegant, and eminently trustworthy, publication—with John Browlee. Via Criterion.
It wasn't the most lavish or star-studded wedding in Hollywood history, but look at the way Bogart and Bacall flirt with each other in Time Life's gallery and tell me it wasn't among the happiest.
Julien Mignot's portraits from Cannes are a three-way collaboration: the photographer's intimate photos of his subjects are given a further mysterious dimension by the artist Camille Rousseau, who drew spectral wisps in the dark surrounding the subjects to suggest "the aura that lives around the person."
Obituary
Anne Meara, a longtime star of stage and screen and one half of the popular comedy duo Stiller and Meara with her husband Jerry Stiller, had a career that spanned 60 years. On the big screen appeared in Nasty Habits (1977), the original Fame (1980), Awakenings (1990), and Reality Bites (1994), which directed by her son, Ben Stiller. She starred in a short-lived 1975 TV legal drama Kate McShane and co-starred in numerous other TV shows, including Rhoda, Archie Bunker's Place, ALF, Sex and the City, and The King of Queens. One of her last projects was Stiller and Meara, a 2011 series produced for Yahoo by their son, Stiller. She passed away at the age of 85. More from Peter Keepnews at The New York Times.
Spanish film director Vicente Aranda, whose career began in the Franco reign and took off in the new freedoms afforded directors after Franco's death, passed away at the age of 88. The Blood Spattered Bride (1972) was one of the best Spanish horrors of the 1970s, and he won the Goya for Lovers: A True Story (1991), a film still counted among the greatest Spanish films of all time. He contributed to the anthology film Lumiere and Company (1995) and also directed Libertarias (1996), about women in the Spanish Civil War, Mad Love (2001), about Juana "the Mad Queen" of Spain, and a modern Carmen (2003) with Paz Vega. Reported by David Hudson at Keyframe Daily, who collects a few of the English language notes.
Seattle Screens
The third weekend of the Seattle International Film Festival is here. Parallax View has it covered here.
Visit the film review pages at The Seattle Times, Seattle Weekly, and The Stranger for more releases.
View complete screening schedules through IMDb, MSN, Yahoo, or Fandango, pick the interface of your choice.
The weekly links page is compiled and curated by Bruce Reid, with obituaries curated by Sean Axmaker, and other contributions from friends of Parallax View.