"When I attempt to describe my years in Paris, no one believes me, I can tell. It was too Hollywood-dream perfect. Here is Nadja coming out of the student restaurant, minding her own business, and who should appear next but Eric Rohmer who stops her ("Why you of all people?" they ask) and within minutes he wants to make a film about her life." Before she died last year Nadja Tesich, the subject of Rohmer's 1964 documentary Nadja à Paris, collaborated with Lucy McKeon on a lovely account of that time, that city, and the director who seemed to give her free rein even while crafting his own "portrait" of the young student.
"One of the grim proverbs of noir is that you can't escape yourself. There are no fresh starts, no second chances. But noir also demonstrates the instability of identity, the way character can be corrupted, and stories about facial transformations harbor a nebulous fear that there is in the end no fixed self. If noir is pessimistic about the possibility of change, it is at the same time haunted by fear of change—fear of looking in the mirror and seeing a stranger." Imogen Smith examines a collection of noirish films that play on the theme of plastic surgery, from Joan Crawford's improbable transformation in A Woman's Face to Seconds's promise of a new identity to come with your new face. ("There is never a moment in the movie when this seems like a good idea.")
"That Night's Wife invokes the social consciousness that marked not only many of Ozu's early works but most serious Japanese films of the thirties. Like the country's art and literature, its cinema of this era often spoke to the plight of people living in economic conditions that were partly a result of the worldwide Great Depression. […] That Night's Wife may concern a crime, but it's above all a work of empathy." As were the other two crime dramas from Criterion's new collection of early Ozu, Michael Koresky shows.
"Grimy," "apocalyptically sleazy," "one big punch to the audience's face," "a movie that will turn your hair white." Knowing we're discussing a director in the Shaw Brothers stable, it's clear to see Grady Hendrix's Kaiju Shakedown column has gotten around to Kuei Chih-hung.
As is her fashion, Gina Telaroli lets the images bear as much weight as her brief words in her essay on Wellman's A Star Is Born; also as always, they are so well-chosen and intriguingly contrasted she pulls off the conceit with style.
Jessica P. Ogilvie does such a thorough job laying out the networking opportunities that have frozen women out of director's chairs in Hollywood, I'm kind of surprised she gives the last word to a neuroscientist. The 170 milliseconds it takes for stereotypes to kick in in our brains seems rather less relevant than the minutes, hours, and years that follow, when all those guys in all those boardrooms ignore the qualified women sitting right next to them.
Another excerpt from David Thomson's Why Acting Matters focuses on Truckline Cafe, the notoriously awful Maxwell Anderson play that marked the first collaboration between producer Elia Kazan, already itching to direct, and Marlon Brando, then "an odd twenty-two-year-old, a very ambitious actor who was famously unconvincing in or unready for auditions, and who could be alarmingly hesitant or withdrawn in rehearsals." Via Movie City News.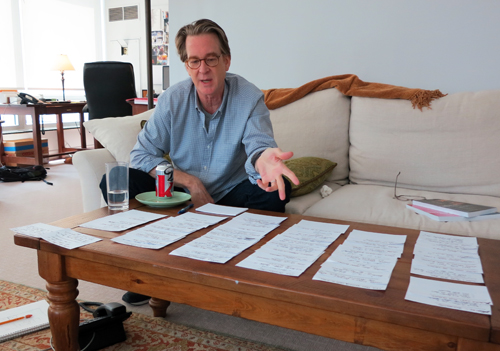 "Filmmakers love noir, but don't describe your project as a noir. Studios hate the term. They believe it doesn't sell. Panic Room isn't a noir, the producers were told; it's like "an Ashley Judd movie."" David Koepp's advice on successful screenwriting, as condensed by David Bordwell from Koepp's recent visit to UW-Madison, is as intelligent and pragmatic as you'd expect.
"After every movie, it's a year where you're off the planet. I don't like to be off the planet that long. So when they're over, the next year I'm just sort of oof, y'know? I go and live. And then I start over again. I write constantly, I've written at least a hundred original screenplays and probably, God, five thousand drafts, God knows how many passes. So I'm constantly writing. Some of them nobody ever reads. I was in a meeting with Michael Douglas one time and he said 'What happened to the Eighties?' And I said: 'I just thought I had to get better as a writer, and that's what I tried to do.' And luckily, along came Miami Blues." Nick Pinkerton's fine appreciation of George Armitage a few months' back has led to an even better read after the director contacted him to dispel a rumor about his health and agreed to sit down for a career-spanning interview.
"Each medium has its charms. You love watercolors for the special properties of what watercolors can do. Oils cannot do what watercolors can do, just as 16mm film cannot produce the effects of 8mm film, and so on down the line. We are now in a very complex period and I think it will last for some time. We're still in the digital era, and I cannot predict what's next. The digital will have a big effect, unless there is a return to wood, to ground stone pigments [laughs]. There I stop—I leave it to the future." At 92 Jonas Mekas has practiced and curated the art of filmmaking across decades of evolving media, and continues to bring the same care and optimism to such current projects as the expansion of the Anthology Film Archives. He discusses projects old and new with Dylan Kerr. Via David Hudson.
"I have a dear friend, Jean Carper, who is making a documentary about Alzheimer's—she's 83 and plays a mean game of tennis. I put her in touch with the brilliant Scott Small, who is working on Alzheimer's at Columbia University, and he's working on the value of forgetting, a subject I relish. You have to throw some things in the trash, or there's not going to be room for the exciting stuff ahead." Also spotted by Hudson, Tilda Swinton (quoted above) and painter Chuck Close talk about art, rebellion, and disease in a warm, wide-ranging interview. And in the matter of another of their subjects, fame, it's Close who brings up the charming Meryl Streep and Oprah Winfrey anecdotes.
"I'm serious, I'm dead serious—when I was in film school the precious thing to do was to get final cut. That was it, that's the ultimate. Directors don't give a shit now. They don't care, they just wanna get hired. They'll do whatever they'll [sic] told. It's unbelievable—what the hell happened to you guys? You fuckin' sell-outs!" With each interview about his album Lost Themes, as in this latest by John Twells, John Carpenter's enthusiasm for his new music gets balanced by more and more cynicism towards his old (former?) profession. Via Mubi.
"It's much better when you're friends with a director. There must be mutual respect and trust between director and composer but if there is friendship, then the work is much better. It means you can be brave enough to propose strange and interesting things." I have no idea what Johnny Davis did to write this collection of Ennio Morricone "in his own words"; whether this is the result of interviews or snippets collected from various sources. But the intelligent thoughts on collaboration and relief at having achieved retirement confirm it's Morricone, at least.
The photographs of Renaud Monfourny, presented in everyday_i_show's gallery, are stylishly confrontational in a way that makes good portraits of directors such as Jarmusch, Hopper, and Carax. (And rockers like Nick Cave as well.)
Obituary
Oscar-winning cinematographer Andrew Lesnie, whose 40-year career includes shooting the complete The Lord of the Rings and The Hobbit trilogies for Peter Jackson, passed away this week at the age of 59. The Australian native also shot Babe (1995) and its sequel, Babe: Pig in the City (1998), Peter Jackson's King Kong (2005) and The Lovely Bones (2009), I Am Legend (2007), and Rise of the Planet of the Apes (2011). His final film, the Russell Crowe-directed The Water Diviner (2014), is currently in theaters. More from Mike Barnes at The Hollywood Reporter.
Actress Jayne Meadows made her name on Broadway before making the leap to movies, starring in Undercurrent (1946), Lady in the Lake (1947), and Song of the Thin Man (1947) in short order. On TV she was a regular on the panel of the 1950s game show I've Got a Secret and had a recurring role on Medical Center, but she is best known for her collaborations with her husband, Steve Allen (who died in 2000). They appeared together in movies (College Confidential, 1960) and on TV (a memorable 1998 episode of Homicide: Life on the Street) as well the many TV shows he hosted and produced, from the original The Tonight Show to his PBS series Meeting of Minds (1977-1981), for which she both wrote and performed. She died this week at the age of 95. Michael Pollack at The New York Times.
Don Mankiewicz, the son of Oscar-winning screenwriter Herman J. Mankiewicz and the nephew of Oscar-winning director and screenwriter Joseph L. Mankiewicz, earned an Oscar nomination for I Want to Live! (1958), as well as two Emmy nominations, for the pilot episodes of Ironside (1967) and Marcus Welby, M.D. (1970). He also adapted his own novel for the Glenn Ford drama Trial (1955), scripted The Chapman Report (1962) for George Cukor, and wrote the episode "Court Martial" for the first season of Star Trek (1967) among his dozens of credits. His son, Ben Maniewicz, is one of the onscreen hosts of Turner Classic Movies. He passed away this week at the age of 93. More from Variety.
Seattle Screens
STIFF presents the 2015 Seattle Transmedia & Independent Film Festival, which opens on Friday May 1 at Grand Illusion and runs through May 9 at three venues in the University District. Schedules, tickets, and other information at the STFF website.

The Seattle International Film Festival schedule was released on Thursday and the box-office is now open. The festival opens on Thursday, May 14 with the gala Spy with director Paul Feig and ends on Sunday, June 7 with another comedy for the official Closing Night Film, The Overnight. Just a few of the numbers: 450 films representing 92 countries, 193 feature films, 70 documentary features, 19 archival films, 164 short films. There's a tribute to Kevin Bacon, an evening with Jason Schwartzman, special presentations of End of the Tour, Mr. Holmes (which reunites filmmaker Bill Condon with his Gods and Monsters star Ian McKellan), and the animated features Inside Out (with director and producer in attendance) and Ardman's Shaun the Sheep. The Alloy Orchestra plays with Son of the Sheik, Martin Scorsese's The Film Foundation gets a 25th Anniversary celebration with eight archival restorations (with four additional restored shorts to play later at the Paramount), and Stewart Stern's screenplay to Rebel Without a Cause gets a live reading. A new section has been added, "Culinary Cinema" with 11 documentaries and features, which joins recent SIFF addition "African Pictures" and the popular "Face the Music," and Memorial Day Weekend brings us Shortsfest. And yes, there's plenty more. Paper guides are also now available at SIFF Uptown and Egyptian and other locations. Start planning your schedule now!
The best film in theaters now, IMHO, is Clouds of Sils Maria, a film written and directed by Olivier Assayas in part as a challenge from Juliette Binoche, who stars as a forty-something actress facing the turn in her career. Kristen Stewart is fiercely good as her personal assistant and their relationship is reflected (in a distorted fashion) in the play she is rehearsing and Chloe Grace Moritz is the hot young Hollywood star taking the role that Binoche's character first played 20 years before. It's at the Landmark Seven Gables.
The Rolling Stones are on the screen in two documentaries: the Maysles Bros.'s classic (and notorious) concert film Gimme Shelter (1970) and the 50th Anniversary documentary Crossfire Hurricane made for HBO a couple years ago. They both play Monday through Wednesday at The Egyptian. Note: not a double feature. They are separate admissions.
Oh yeah, there's a comic book movie too, a little thing called Avengers: Age of Ultron that Disney expects big things from. Andrew Wright seems to like it too.
Visit the film review pages at The Seattle Times, Seattle Weekly, and The Stranger for more releases.
View complete screening schedules through IMDb, MSN, Yahoo, or Fandango, pick the interface of your choice.
The weekly links page is compiled and curated by Bruce Reid, with obituaries curated by Sean Axmaker, and other contributions from friends of Parallax View.