"She's exploring relationships that take years of self-reflection and conflict to reach a flawed but harmonious state. As a result, love at first sight doesn't mean instant happiness; it's simply the spark that inspires a long and thorny journey toward mutual connection, an endgame that transcends fleeting feelings like lust and infatuation." Glenn Heath, Jr. praises how Gina Prince-Bythewood's Love & Basketball and Beyond the Lights manage to be among the best romances in recent memories while upending some of the genre's ickier, stickier conventions.
Josephine Decker's rise from mumblecore star to acclaimed director of Butter on the Latch and Thou Wast Mild and Lovely seems rapid, but behind the ascent lay years of grappling with her faith, documentary filmmaking (a particularly painful experience), and playing the accordion. Aaron Hillis's profile fills in the background. Via David Hudson.
The November issue of lola finishes its protracted rollout, with, among other items, Yvette Bíró on the "skillful storytelling" (a devastating critique in context) of Lanzmann's The Last of the Unjust; David T. Johnson arguing for the Romantic soul of Upstream Color, and its fragmented suggestions of the "[I]narticulable, inexpressible, inexhaustible, infinite"; and David Davidson exploring the philosophical schism—"l'art d'aimer against rigorous, formal analysis"—that divided Cahiers du cinema and Positif.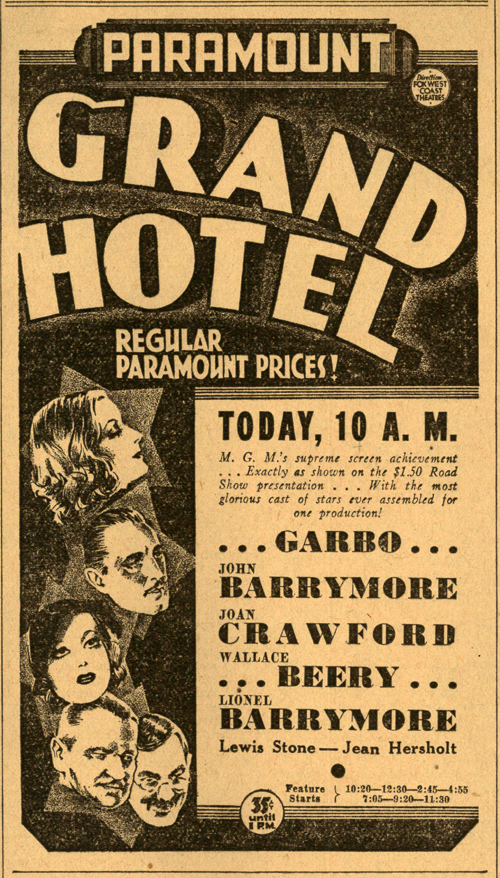 Following up his article on Strange Interlude, David Bordwell looks at the other story-telling breakthrough courtesy of 1932 MGM: the "network narrative" of disparate characters united by (in this case) locale, crystallized by Grand Hotel.
"The initial script was the work of a woman named Rachel Kronstadt Mann, who has no other credits or discernible internet presence. Hopper wanted nothing to do with it aside from the basic storyline. 'He directed me to make a really tight, taut thriller,' [screenwriter Ann Louise] Bardach laughed, 'and in the end what he shot was a … vaudevillian caper.'" Even newly sober Dennis Hopper led seemingly conventional projects down unorthodox, raggedly psychedelic paths, as Chris Randle confirms catching up with the flop thriller Backtrack.
Grady Hendrix counts down the surefire way to horror movie success, listing the ten key tropes of Bollywood's Ramsay brothers, for a decade the country's horror maestros. In fairness most lessons—low-budget actors; blow your monster up but good at the end—could have been cribbed from low-rent genre practitioners the world over.
"You're there to have fun. I mean, what are you going to do? It's never going to be Judgment At Nuremberg, you know? And Al and Jay had such a great rapport from their videos, I said, 'Leave 'em alone! If they want to do 'Wheel Of Fish,' fantastic!'" Sean O'Neal's oral history on the making of UHF is more compelling than you might think, thanks to the ill-disguised undertones of bitterness whenever Weird Al Yankovic and co-writer/director Jay Levey discuss their dealings with Hollywood.
"Now you two. For your next mission you two sons of bitches going to medical school." "What?" Noah R. Taylor talks with Phil Lord, Chris Miller, designer Brian Mah, and others responsible for what those of us indifferent to the charms of Marvel recognize as the best reason to sit through end credits since Jackie Chan's heyday: 22 Jump Street's giddy pile-up of sequel on top of spin-off on top of tie-in video game.
"Anyway, that interaction, that sharing of experience—it's fucking awesome, man! It's what I live for. And no one's going to prevent me from defending the work I've done. To protect and defend, isn't that the motto of the New York City Police Department? Or is it the post office? The post office protects and defends." Even those of us who think Abel Ferrara's recent, hard-to-find output has been pretty remarkable will admit Welcome to New York can be called some kind of a comeback; if only because it's restored to him enough cultural relevancy he can be the center of a public controversy, just like the good old days. In his inimitable fashion, Ferrara communicates his displeasure over distributor IFC's insistence on an R-rated cut—and talks his follow up Pasolini—with The Dissolve's Simon Abrams (quoted above) and Flavorwire's Alison Nastasi. ("You have to have the ability to do it. You can't cut a film unless you can make it. And these cats can't make these films. You gotta make a film to cut a film.")
"Even just the story of this little wooden soldier, what does that mean in terms of layers, time, past, present? Or whose dream is it, if it is a dream? Is it the girl's dream, is it the wooden soldier's dream, is it the dog's dream?" "That's the wonderful thing in the film. I didn't know, maybe nobody else knows. It doesn't matter. What matters is, did you enjoy the film?" Lisandro Alonso and Viggo Mortensen prove as simpatico as interview subjects as they were director and star of Jauja, occasionally finishing each other's sentences in their sitdown with Calum Marsh.
"We want to be with the character. One of the ways you can be with the character is to follow their point of view. By staying with Carlito when he enters the room, and then seeing what he sees—the guy behind the bathroom door, and Quisqueya, the guy by the cooler who is going to pull a gun and kill everybody—we want to make sure the audience is oriented right at the beginning. Once you do that, then you can isolated [sic] the little pieces, and the audience will follow you. We don't want them be confused or disoriented in any way. I had learned up to that point quite a bit about how to make that work by working on Brian's films." Violet Lucca talks to the great Bill Pankow about editing Brian De Palma's movies, with special emphasis on Carlito's Way.
"In the final product ten shots survived from my original shoot: only exteriors. Because there wasn't much money left, and I was too stubborn to drop it and or say, "Well then let somebody else do it." Francis [Ford Coppola] was too stubborn to fire me so we stuck it out…." In a brief excerpt from a forthcoming interview by Rodrigo Perez, Wim Wenders clears up decades of rumors and best guesses as to how much of what remains of Hammett can be credited to him. (All of it, albeit unwillingly.)
Kimberly Lindbergs offers a gallery of glamour shots from William Mortensen; not the Fay Wray ones that curtailed his career, however. Via Criterion.
Adrian Curry hands his column this week over to Mike Kaplan, selecting highlights from Kaplan's new book Gotta Dance! The Art of the Dance Movie Poster to display. Eleven colorful choices, mostly from European designers, that manage the tricky feat of freezing an image that seems constantly in motion.
Obituary
Alberta Watson, the Canadian actress best known to American audiences for her roles on the TV shows La Femme Nikita, the American reboot Nikita (in a different role), and Season Four of 24, passed away at the age of 60 after a long battle with lymphoma. She made an impression with audience in In Praise of Older Women (1978) and went on to play major roles in David O. Russell's debut feature Spanking the Monkey (1994), Atom Egoyan's The Sweet Hereafter (1997), Hedwig and the Angry Inch (2001), and Away From Her (2006), among many others. More from Carmel Dagan at Variety.
Actress and dancer Sally Forrest had uncredited appearances in a number Hollywood musicals when Ida Lupino cast her as an unwed mother in Not Wanted (1949), Lupino's directorial debut. Forrest starred in two more Lupino features, Never Fear (1949) and Hard, Fast and Beautiful (1951), and she had major roles in Mystery Street (1950), Vengeance Valley (1951), and Fritz Lang's While the City Sleeps (1956), but left Hollywood for New York and the stage. She died this week at the age of 86. Mike Barnes at The Hollywood Reporter.
Actor Gregory Walcott played over 100 roles in movies and on TV in his forty-plus year career, rarely the star and often uncredited, from a shore patrolman in Mister Roberts (1955) to small roles in the Clint Eastwood films Joe Kidd (1972), Thunderbolt and Lightfoot (1974), The Eiger Sanction (1975), and Every Which Way But Loose (1978). He took the lead in the short-lived 1960s series 87th Precinct (based on the Ed McBain novels), but every obituary singles out one accident of fate in his career: he was Jeff Trent, the heroic pilot in Ed Wood Jr.'s Plan Nine From Outer Space (1959). Fittingly, his made his final screen appearance in Tim Burton's Ed Wood (1994), playing a potential backer being wooed to invest in (naturally) Plan Nine From Outer Space. He passed away at the age of 87. Peter Keepnews at The New York Times.
The weekly links page is compiled and curated by Bruce Reid, with obituaries curated by Sean Axmaker, and other contributions from friends of Parallax View.