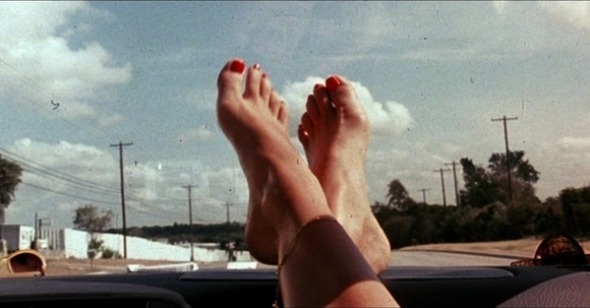 "With the woman's dainty toes center screen, the foregrounded width of the image, and the lovingly worn texture of the film itself—one of Grindhouse's gimmicks was that it would look like a crummy old 35mm print unearthed from some dusty, ill-maintained archive—Death Proof is from its very first shot the ultimate Tarantino fetish film." Michael Koresky has a lovely reading—formalist, but alive to humanist ironies and complexities—for "the lowest-grossing, least discussed, and perhaps most misunderstood work" of Tarantino's career.
"Classical Hollywood director Cecil B. DeMille, subject of a recent retrospective at the UCLA Film & Television Archive, is charged in pages upon pages of film history and criticism with codifying modern Hollywood spectacle, often through the lens of Old Testament biblical narrative. However, bookended by his prolific (and oft revered) silent work, and his late career showmanship are a string of virtually un-regarded films that push the director's ideology into something bordering Naturalism." Daniel Watkins looks at the unique tug-of-wars between civilization and the call of the wild in DeMille's This Day and Age, Four Frightened People, and Reap the Wild Wind.
From the wealth of tributes extended to Albert Maysles, Arun Chaudhary offers a fresh perspective on the documentarian as a great soundman; and Chaudhary's observation that "listening" is a more apt description than the usual "impressionistic" or "dynamic" for Maysles's camerawork is borne out by S. Jhoanna Robledo's charming account of Maysles filming her son and his friends for an apparently unfinished work.
Visiting the set of Weerasethakul's Love in Khon Kaen, Giovanni Marchini Camia finds a relaxed, improvisatory mood that has the director filling in for a topless shot and a scene added on the spot based on the personal lives of the actors involved.
"Wanda follows the group that is now crowded into the gully, sinking into the damp subterranean gloom—all we can make out of Wanda Goronsky is her mass of blonde hair and sometimes, when she gets close to a light bulb, the big white flowers on her headscarf seem to glow. We might imagine that perhaps she is at last finding a little solace in this dark space…." In an excerpt from her Suite for Barbara Loden, Nathalie Léger visits the Mattatuck Museum whose reconstructed catacombs make such startling impression in Wanda. Via David Hudson.
Also spotted by Hudson: Christoph Huber's find, in Robert Parrish's autobiography, of an anecdote that ingeniously links Breathless to All the King's Men, and has them both indebted to Walsh's The Roaring Twenties.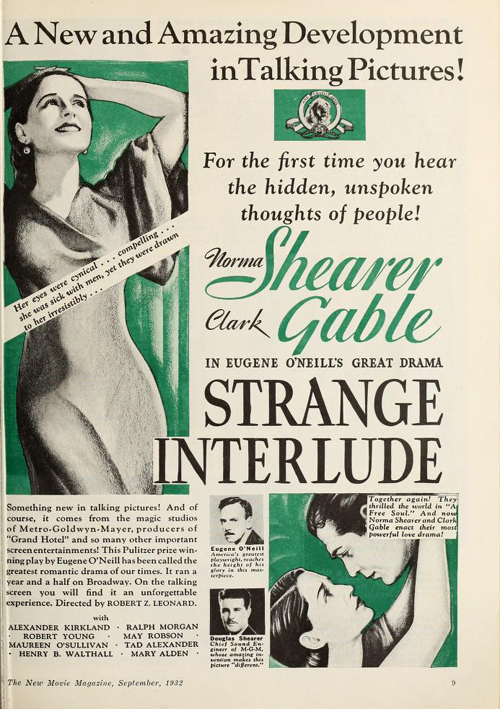 "I saw a swell picture last night. The name of it was, uh, Strange something-or-other. Strange Innertube or something." "Oh I know, I saw that. That's the one where the actors say one thing and then a minute later say out loud what they really think." With so many cinematic innovations impossible to trace back to their origin, David Bordwell examines one that is: the use of multiple voiceovers for various characters' internal monologues in 1932's Strange Interlude. A method so rare it maybe hasn't had the greatest influence on future filmmakers, but surely inspiring that Me and My Gal scene is legacy enough.
"Are we in control of the life we are leading, or does it occasionally run away with us? One reason we love actors is because we are so understanding of their professional predicament." In an excerpt from his new book Why Acting Matters, David Thomson considers Daniel Day-Lewis's notorious exit from the stage in Hamlet, and what it means to be immersed in a part. Via Movie City News.
Because critical appreciation is as important a component of cinephilia as the movies themselves, Sight & Sound celebrates International Women's Day by gathering a host of writers to salute their favorite women critics. 25 well-rounded selections, from voices academic and mainstream; with some egregious omissions, to be sure.
Staying at the BFI, and on the theme, Brad Stevens runs down some of the misogynistic belittlements—and a few cases where the script gets flipped—postwar movies offered women who dared prefer trousers over skirts.
The MPAA's Statistical Summary of the 2014 box office is out, presenting news depressing (ticket sales down), old-hat (Asian markets continuing to grow) and lightly inspirational (frequent movie-goers, i.e., those who see one film a month, are just over 10% of the total audience, but buy just over half of all tickets) in a series of colorful charts and graphs. Via Caroline Siede. (.pdf warning.)
"[David] is a director who doesn't like to do illustrative shots at all. He goes straight to the content of the scene. So even if I see a beautiful shot, if it doesn't serve the purpose of the scene straightaway, he'll say, 'Well, maybe you can persuade me to shoot it, but I know I'll never use it.'" Peter Suschitzky describes how minimalist David Cronenberg's filming method has become, and, without getting incomprehensibly geeky, offers some interesting thoughts on digital vs. film (he prefers the former but peripheral technologies have yet to catch up) in conversation with Matt Mulcahey.
"Obviously, my job as a filmmaker is to make the characters slightly more annoying than they would be in real life! I try not to judge them, I'm just saying, it could be any act. It could be the most basic sexual act that one person finds distasteful or repellent. But once you sexually engage with someone, and there's one thing you really don't like doing, how do you… Who's compromising…?" Ray Pride has a brief but densely packed sitdown with Duke of Burgandy's Peter Strickland.
"I was a witness to that. It was so funny. Marty would say, "Why do I have to give up this print?" Because George wanted to see it again! And you know Marty would thread the print himself because there was no video available at that time. He'd thread up the print over and over and over again, and watch it obsessively, because it was teaching him so much about how to make the camera fluid, how to bring emotion out." Thelma Schoonmaker talks to Sheila O'Malley about the new restoration of her late husband's Tales of Hoffman, a film that so beguiled Scorsese and Romero they would trade off the print for years.
Obituary
Filmmaker Richard Glatzer co-wrote and co-directed Quinceanera (2006), The Last of Robin Hood (2013), and Still Alice (2014) with his longtime collaborator and partner Wash Westmoreland. He was diagnosed with A.L.S. (also known as Lou Gehrig's disease) while at work on Still Alice, which earned actress Julianne Moore her first Academy Award, and he continued to work through the illness even after he lost his ability to speak. Moore paid tribute to Glatzer, who was in the hospital on the night of the Oscar ceremony, in her acceptance speech: "When Richard was diagnosed with A.L.S., Wash asked him what he wanted to do. Did he want to travel? Did he want to see the world? And he said that he wanted to make movies, and that's what he did." More from Mike Barnes at The Hollywood Reporter.
Sir Terry Pratchett, author of over 70 novels, including 40 comic fantasies set in his Discworld universe, died this week at the age of 66. He was diagnosed with Alzheimer's disease in 2007, which did not stop him for continuing to write books; his last, "Raising Steam," was released in 2013. While none of his books have been adapted to the big screen to date, a number of them have been adapted for British television (Hogfather, 2006, The Color of Magic, 2008, Going Postal, 2010) and transformed into video games. More from The Guardian.
Seattle Screens
SIFF Cinema presents "Big Screen Hitchcock," six classics screened over three days on the big Uptown screen from new 4K restorations (with the 3D Dial M For Murder on screen 2). The series opens on Friday, March 13 (but of course) with screenings of Psycho (1960) and Vertigo (1958). Rear Window (1954), North by Northwest (1959), and The Birds (1963) complete the mini-festival. Schedule and details at SIFF website here.
SIFF's "Cinema Dissection" program returns with David Lynch's Eraserhead (1977) and writer/producer David Johnson leading the shot-by-shot discussion. The event begins at 11am at SIFF Film Center. Remember: You have to see the film before arriving for the dissection. Tickets and other information at SIFF.net.
This season's round of Silent Film Mondays concludes at The Paramount on Monday, March 16, with a screening of the late German silent film People on Sunday (1930), with live accompaniment by Tedde Gibson on the Mighty Wurlitzer.
"Blowing Up Cinema: The Art of Michelangelo Antonioni," a series presented by Seattle Art Museum in partnership with NWFF, continues with a screening of Red Desert (1964), Antonioni's color debut, on Tuesday, March 17. A post-screening discussion will be led by film professor James Tweedie.
"Growing Up Baumbach" continues at SIFF Film Center with Kicking and Screaming (1995) on Wednesday, March 18. Tickets are $5 for general public and free for members. Schedule and more details here.
"Cinema Italian Style" concludes at SAM with The Great Beauty, which won the Academy Award for Best Foreign Language Film in 2014. It's at the downtown location and gets underway at 7:30 pm. Some single tickets will be available at the door.
And remember, SAM travels from Italy to France for its next film series, "Noir de France: Classic Film Noir," which opens on Thursday, March 26 with Jacques Becker's Casque d'or (1954). Passes are still available. See the complete schedule here.
Visit the film review pages at The Seattle Times, Seattle Weekly, and The Stranger for more releases.
View complete screening schedules through IMDb, MSN, Yahoo, or Fandango, pick the interface of your choice.
The weekly links page is compiled and curated by Bruce Reid, with obituaries curated by Sean Axmaker, and other contributions from friends of Parallax View.