"But I like film. And I like visual storytelling. I'm sick of interviewing. I am really sick of it. I'm not gonna say I do it better than anybody else, but I do it differently than anybody else. I am good at it, for whatever reason. There are a lot of different reasons, but if that's all I'm going to do for the rest of my life is stick a camera in front of people and say to them, "I don't have a first question, what's your first answer?" I think I would be very sad." It's Errol Morris week at Grantland. (Why? Read on.) Alex Pappademas conducts one of the directors typically wide-ranging, philosophically tinged interviews, quoted above; Wesley Morris might be a little hard on the humorlessness of the director's recent efforts, but he provides a good overview and the best summation of the differences between Errol Morris and Werner Herzog you're likely ever to get. ("He believes in the movies' power to produce reversals of fortune, to showcase remorse, to embarrass and shame a corrupt power structure and actors within it."); while Mike Powell considers some highlights from the more that 1,000 ads Morris has directed. But the meat of the matter is what prompted the celebration in the first place: the debut of six shorts made for ESPN films. They're still rolling out, but up already are quintessentially Morrissian (Morrisesque? Morrissey?) takes on tabletop electric football; the swiping of a Jordan jersey from a stadium's rafters; a legendary streaker; and what a mascot's life looks like from the cavernous perspective of Mr. Met's head.
Grantland corrals three different writers to pull off their salute; David Cairns takes it upon himself to conduct his self-described René Clément week, but spreads it across three websites. At The Chiseler, a defense of Clément from the New Wavers and a brief overview. ("The subterfuge of the tales of wartime resistance (no fewer than six features, a third of Clément's output) spills into the thrillers, where Ripley/Delon is just one of a whole series of schemers weaving insanely complicated webs (like those spiders given Benzedrine).") At his own site, Shadowplay, a cheer for the girlfight in Gervaise and a consideration of Le Mura di Malapaga ("…a kind of compendium of Gabin's greatest hits: he's on the run for murdering his lover, making it play like either a sequel to GUEULE D'AMOUR or an alternative reality version of LA BANDERA"). Then at MUBI, an attentive write-up on The Glass Castle. ("The movie is superbly designed by the great Leon Barsacq—note how, as Morgan frets in her now-stifling marriage, every little item of design is curled, clenched and worried into knots around her.")
"Taken with cinema, but not taken in by it, the Godard who holds forth and fields questions in A True History is also the brother from another planet, at once straightforward and cryptic, an epistemologist of cinema, wondering why the film frame became a square and why lenses are round. 'There is no opposite of an idea,' he remarks…. 'So an idea goes everywhere.'" Ostensibly reviewing a pair of books—Michael Witt's on Godard and the publication of Godard's talks delivered in 1978 at Montreal's Concordia University—J. Hoberman offers one of the better appreciations of what the director's been up to in the decades since. Via Movie City News.
From transitional lectures to shrewd opening movies: with the vaguely repulsed tone that comes from loving art and loving the art of the deal in spite of yourself, literary agent Nancy Nigrosh recounts the ways Kathryn Bigelow and Eric Red tried to ensure their directing debuts from studios ready to say thanks for the scripts and kick the arty neophytes to the curb.
Running through a BAMcinématek retrospective of Black and White CinemaScope features, Nick Pinkerton considers the paradox of the format—its "particular ability to be simultaneously posh and déclassé"—and correctly hails Sirk's The Tarnished Angels as the grandest embrace of the contradictions.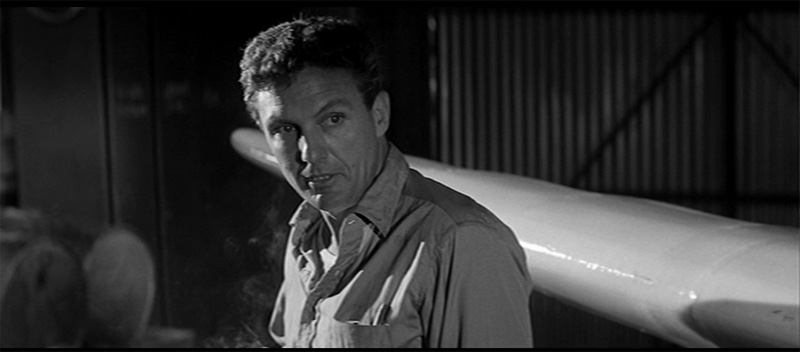 "It's a dynamic attached to any performer who lives both onscreen and in the public eye. The only other faces we see so up close in the dark are those of our lovers. So there must be truth in what they tell us." Adam W. Hofbauer is very good on the continuing stardom of Will Smith, and how deftly (regardless that he "[dances] like your dad at a wedding") Smith maneuvers the line between revealing and concealment that keeps an audience entranced. Via Matt Fagerholm.
"The movie tells you what it needs, and what it wants. It tells you, for example, that it needs to be very violent and explicit onscreen. Or it tells you that it needs to be very subtle, and very indirect, and very oblique. It's really its own tone, its own little universe. And you ignore that at your peril." David Cronenberg talks Hollywood—the nightmare scabrously dissected in Maps to the Stars and the place of "strange, wonderful things" like the release of Videodrome—with Simon Abrams.
"I just can't look at the old work. It makes me feel all kinds of things. It embarrasses me. It makes me anxious. It's not worth it at this age, physically or emotionally. That's why I don't really like doing interviews anymore. I'm always aware that there's so much on either side of the past, and I just want to stay in the present. Especially as I get older." Abrams removes his own questions from the talk with Cronenberg above, letting the subject speak for himself. Frankly, Jonathan Dixon's interview/profile of the great Rudy Wurlitzer could have benefited from such an approach; the novelist and screenwriter's thoughts are more compelling than Dixon's efforts to fit his career into their apocalyptic times. But they were remarkable times, which Wurlitzer made his own. Via Criterion.
"When I was making The Emerald Forest, I lived with a tribe in the Amazon forest, the Xingu for a bit. They were a kind of Stone Age tribe. They had no contact with the outside world, and when the shaman asked me what I did, I found it very difficult to explain what film was to someone who had never seen television or film. And I said, "You can see someone very close in their face, or you could be very far away. You could see a great landscape. You could travel forward in time, or you could travel back." And he said, "Oh, you do the same work as I do. That's what we do in trance." Maybe in kind of an atavistic way, film connects us to a past of trance." If John Boorman makes good on his threat to retire after Queen and Country, take a moment to remember we're not only losing his future films but—as his interview with Sam Adams reconfirms—one of the great talkers about movies, equally magical and pragmatic, and yes, so intuitive a storyteller that the anecdotes in common with last week's interview are retold practically verbatim.
The imgur photo collection "Abandoned Movie Sets" isn't that exactly—active tourist sites like Field of Dreams's cornfield and Malta's Sweethaven sit cheek-by-jowl with Star Wars sets abandoned to desert elements and the final image is a cute punchline—but it's still striking to see some iconic façades stripped of people. Via Art of the Title.
Adrian Curry gathers the six fine posters that Guy Peellaert painted for the French release of various Wenders movies, from an gaunt, towering Nick Ray to a pensive Bruno Ganz. Excellent character work, but Curry's right: that State of Things still life is a marvel.
Obituary
Albert Maysles was one of the most influential documentary filmmakers of his era. In collaboration with his brother David, who passed away in 1987, they transitioned from commercial projects like What's Happening! The Beatles in the U.S.A. (1964) to help define the cinema verité movement in the U.S. in films like Salesman (1968) and the infamous concert film Gimme Shelter (1970). They profiled epic art projects by Christo & Jeanne-Claude in Christo's Valley Curtain (1974), Running Fence (1977), Islands (1978), Christo in Paris (1990), Umbrellas (1994), and The Gates (2007) and Vladimir Horowitz in the Emmy-winning Vladimir Horowitz: The Last Romantic (1985) and Horowitz Plays Mozart (1987). His most controversial film, Grey Gardens (1975), profiled Edith Bouvier and her daughter, Edith Bouvier Beale, living in poverty in a decaying East Hamptons home. The documentary, which inspired a Broadway musical and an HBO feature, has fascinated audiences for decades and is currently undergoing a new restoration. Albert Maysles died this week at the age of 87. Anita Gates recalls his legacy for The New York Times.
The name Daniel von Bargen may not be instantly familiar but if you spent the nineties in movie theaters, his face will be. Obituaries are calling out recurring roles in the sitcoms Sienfeld and Malcolm in the Middle. I recall him as cops, military officers, and various authority figures (often arrogant or bullying) in Basic Instinct (1992), Rising Sun (1993), Six Degrees of Separation (1993), Broken Arrow (1996), Amistad (1997), The Faculty (1998), O Brother, Where Art Thou? (2000), and Shaft (2000) among many, many others. He was evil raised from the dead in Lords of Illusion (1995) and a sheriff trying to protect his community after the fall of civilization in The Postman (1997). Suffering from diabetes, he stopped performing in 2009 and struggled through depression when he lost a leg to complication. He passed this week at the age of 64. Daniel E. Slotnik at The New York Times.
Harve Bennett, the film and television producer who pumped fresh blood into the Star Trek revival when he took the reins of Star Trek II: The Wrath of Khan (1982) as co-writer and executive producer, died this week at the age 84. He came to Trek from a long TV career. He developed The Mod Squad and The Invisible Man and produced The Six Million Dollar Man and The Bionic Woman and a number of TV movies and mini-series, including Rich Man, Poor Man (1976) and A Woman Called Golda (1982). In the Trek world, he shepherded the next three sequels, writing Star Trek III: The Search for Spock (1984) and co-writing Star Trek IV: The Voyage Home (1986) and Star Trek V: The Final Frontier (1989). His death came less than a week after the passing of Leonard Nimoy, timing that has not been lost on the science fiction community. io9 pays tribute to the producer.
Seattle Screens
NWFF screens the documentary She's Beautiful When She's Angry, a portrait of the women's movement of the late 1960s, for International Women's Day on Sunday, March 8, accompanied by a rare screening of Seattle filmmaker Lynn Shelton's 2000 short The Clouds That Touch Us Out of Clear Skies.
Silent Film Mondays are back at The Paramount. This week it's F.W. Murnau's Faust (1926), screened on a restored 35mm print with live accompaniment by Christian Elliot on the Mighty Wurlitzer. Details on the Paramount website here, and Robert Horton wrote an introduction to the series here (.pdf alert).
The Seattle Art Museum continues its series "The Art of Film," featuring five films by Italian director Michelangelo Antonioni and presented in partnership with NWFF, with L'eclisse (1962) on Tuesday, March 10.
It makes a good sister program to the Thursday night series "Cinema, Italian Style," which this week features Fellini's Ginger and Fred (1986). Series information here.
SIFF Cinema presents "Growing Up Baumbach," four films on Wednesday nights at SIFF Film Center. It begins on Wednesday, March 11 with The Squid and the Whale (2005). Tickets are $5 for general public and free for members. Schedule and more details here.
And next week, SIFF Cinema presents "Big Screen Hitchcock," six classics screened on the big Uptown screen from new 4K restorations (with the 3D Dial M For Murder on screen 2). Schedule here.
Visit the film review pages at The Seattle Times, Seattle Weekly, and The Stranger for more releases.
View complete screening schedules through IMDb, MSN, Yahoo, or Fandango, pick the interface of your choice.
The weekly links page is compiled and curated by Bruce Reid, with obituaries curated by Sean Axmaker, and other contributions from friends of Parallax View.