"Yes, extras must meet a threshold level of professionalism; they must show up on time and do what they're told; they must own a variety of clothing items (most bring their own wardrobe). But there are thousands of them, capable of showing up on time and walking when they're supposed to walk. It's unskilled labor for skilled people." Hillel Aron reports on the life of Hollywood's background actors—extras, as they'll always be called no matter how much they prefer the former term—and how the many real gains made by unionizing and joining in with SAG have led to a two-tiered system: those who can make a serious living from essentially part-time work, and everybody else, hustling for the leftovers. Via Longform.
UCLA's Bunche Center for African American Studies has released their second Hollywood Diversity Report, with the far from startling conclusions that a gleamingly homogenous set of people behind the cameras (film studio units overseen by 96% white and 61% male heads; studios themselves headed by a clique 94% white and 100% male) hasn't led to much breakthrough in diversity filmed by them. Austin Siegemund-Broka offers a rundown; the report itself, by Drs. Darnell Hunt and Ana-Christina Ramón, is available as a .pdf.
"Welles wasn't moved. He told Selsman that '[saying the financiers will balk] is like saying the world is round. Of course, backers do not reduce the conditions under which they promise money. You certainly know as well as I do that in these cases—which occur all the time—it is the producer and the packager who must make the sacrifice.' He characterized Selsman's response as 'mistaken tactically and morally.' He also claimed Selsman was avoiding him. 'It seems very clear that Oja and I have continued to work hard entirely on a speculative basis… this cooperative spirit has not been met from your end.'" In a two-part article, Matthew Asprey Gear details the behind-the-scenes drama of Sirhan Sirhan, an Executive Action-style political thriller/exposé that was being rushed to production in 1975 when co-star Orson Welles took the reins and revised the script in his own image. Some of the players still insist on laying blame at Welles's feet, citing his undeserved reputation for scuttling his own projects; but despite the arrogance of some of Welles's demands, Gear's firm that responsibility lies with a series of half-honored promises and handshake deals that likely would have collapsed even without the Great Man's imperious presence. (Part II here.)
"If this is classicism, it is classicism at its highest point of subtlety and complexity. Inside the classical form of a Rohmer film, there's always a secretly baroque shape or substance. And also a modern or modernist kind of relativity, an amusing and urbane type of deconstruction: we come to doubt everyone and everything we see, hear, and read on screen; and, most of all we doubt our own assumptions and perceptions as viewers." Adrian Martin examines some of the mysterious doubts—and, in its lead character Gaspard, an unambiguous precision that hits close to home—at play in Rohmer's A Summer's Tale.
James Lattimer places words as among the most dangerous, disturbing objects in David Cronenberg's films, whether they're forever mutating into new, grotesque memes ("Long live the new flesh!"), locking into place a predetermined fate ("I guess it's about time for our William Tell routine"), or petering out into formless, meaningless terror.
"The movie never explicitly tells us why Donald isn't in the service, though there are two possibilities: he could have received a 2-B deferment from service as an employee of the war industry, or his designation could have been the dreaded 4-F: "registrant is not acceptable for military service." The casting of Jimmy Lydon, neither a tough guy nor a dreamboat, makes it clear exactly which weak-kneed designation the filmmakers wanted us to assume, and it shows us why the casting process is vital." Mark Fertig breaks down all the reasons Jimmy Lydon, a few years faded from adenoidal Henry Aldrich, was perfect casting for the conflicted protagonist slow to come to heroism in Out of the Storm.
"I think I made [Point Blank] in a state of grace, really. It was Lee who really inspired me. When I went out to make it, Lee called a meeting with the studio head, and the producers, and he pointed out to them in his contract he had script approval and cast approval. They agreed that he did have that. And he said, "I defer those to John." And he walked out." John Boorman talks beginnings and endings with Matthew Sorrento: arriving in Los Angeles, first meetings with Lee Marvin and Toshiro Mifune, and his latest film Queen and Country, which dramatizes his entry into filmmaking even as it's meant to signal his farewell. (Happily he's been having second thoughts.) Via Movie City News.
"Hey, frenemy! I'm calling from California, where it's 72 degrees, sunny, and maybe the most beautiful day of the year." "Well, I'm going to Hawaii on Wednesday." "Way to trump me again." Interview Magazine's shtick of getting celebrities to chat with other celebrities who are their friends pays off in two revealing, good-humored chats. Sigourney Weaver and Jamie Lee Curtis share stories of low-budget beginnings (theater for Weaver, horror flicks for Curtis), auditioning for Coppola's The Cotton Club, and James Cameron's worship of actors. ("Jim believes in marriage; he believes in family." "Only someone who believes in it would be married five times.") While Jane Campion's conversation with Sam Taylor-Johnson has the directors analyzing love and sexuality far beyond the level of what Campion refers to as "kind of an appalling book." ("I had just a few weeks to build an enormous security blanket around the three of us. Whatever we did was a discussion and a place of love and safety. Not too far from what we were talking about, really.")
"I must say it like this: the Americans stayed in Vietnam, the soldiers come back from Vietnam and you have a new cinema, yeah? Cimino, Night of the Living Dead, all the things like this. Coming home is the basis of storytelling, like the Odyssey. Neo-realism is also a cinema of coming home, not only coming home like a road movie but to say, "who are we, what is this country?" The Germans had to have this "coming home" story in 1945, but they didn't make them. They don't want to have a picture of themselves. Because they are guilty and because they don't want to stand in front of their guiltiness." Christian Petzold talks to Daniel Kasman about his new film Phoenix, which attempts in part to be that coming home story for his country; and about noir, Kim Novak, and his collaborations with the late Harun Farocki. Vague spoilers for Phoenix.
Black faces aren't just under-represented on film, they can be hard to spot in posters for movies they star in. John Kisch's Separate Cinema: The First 100 Years of Black Poster Art details the many ways race was obscured, marginalized, or blatantly lightened up in public marketing. Isabel Stevens offers some examples, as well as happy exceptions and a few where the decision may have come down to keeping race out of the ad but the solution was a marvelous, bold design in its own right.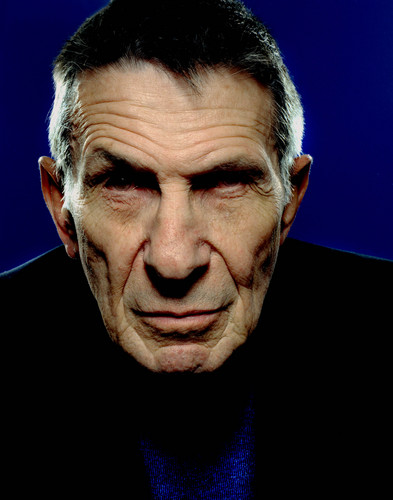 Obituary
Leonard Nimoy will forever be associated with his signature role, Mr. Spock in Star Trek, from the original sixties TV show to the movies, TV spin-offs, and even the prequel film by JJ Abrams, but he was so much more during his sixty-plus-year career. He was a journeyman actor taking small roles in movies (often uncredited) and on TV, including a number of westerns (and an episode of The Man From U.N.C.L.E. with special guest star William Shatner!), before Gene Roddenberry cast him in his "Wagon Train to the Stars" space drama. As the science officer and a member of the emotionally-restrained Vulcan race, he represented reason and logic in the Kirk-Spock-McCoy troika and he delivered what is surely the show's signature line: "Live long and prosper." He jumped into the final seasons of Mission: Impossible the year after Star Trek was cancelled, turned to stage, and wrote numerous volumes of poetry, before Spock and the crew of the Enterprise were revived in Star Trek: The Motion Picture (1979) and sequels. Nimoy directed the third films in the series and co-wrote and co-produced as well as directed the popular Star Trek IV: The Voyage Home (1986). He spent two years traveling in his one-man stage show Vincent, about Vincent Van Gogh, in the late 1970s, received an Emmy nomination for his performance opposite Ingrid Bergman in the mini-series A Woman Called Golda (1982), directed the hit comedy Three Men and a Baby (1987), narrated the nonfiction series Ancient Mysteries for the History Channel, and had a recurring role in the science-fiction series Fringe among his many projects. But his final screen role was, appropriately, as Spock (or rather, Spoke Prime) in the film Star Trek Into Darkness. More from Steve Chawkins at Los Angeles Times.
Documentary filmmaker Bruce Sinofsky, who partnered with Joe Berlinger on a number of acclaimed non-fiction films over the last two decades, passed away this week at the age of 58 following complications from diabetes. The filmmaking team began their partnership with Brother's Keeper (1992) and followed up with Paradise Lost and two sequels, which followed the notorious case of The West Memphis Three, the three teenagers convicted of murdering two little boys on dubious evidence. Paradise Lost earned them an Emmy Award and Paradise Lost 3: Purgatory earned them an Academy Award nomination for Best Documentary, and the films were instrumental in securing the eventual release of the no-longer young men. Brent Land at Variety.
Seattle Screens
Cinerama presents a week of iconic martial arts movies in "Fists and Fury," their first "Mixed Martial Arts Festival." The series opens with three landmarks featuring the two greatest big screen martial arts stars of all time: Snake in the Eagle's Shadow (1978), the film that launched Jackie Chan's distinctive brand of comic king-fu action; Enter the Dragon (1973), Bruce Lee's first starring role in an American film; and The Legend of the Drunken Master (1994), which features some of the greatest martial arts action Jackie Chan ever performed onscreen. The series continues through Thursday with films spanning more than 50 years, from Akira Kurosawa's Rashomon (1950) and The Seven Samurai (1954) (both screened from 35mm prints) to Kung Fu Hustle (2004) with Stephen Chao and Ip Man (2008) with Donnie Yen. See the Cinerama website for complete schedule and advance tickets. Remember, this is now a reserved seating theater.
A Fuller Life, Samantha Fuller's documentary on life of her father, filmmaker Samuel Fuller, plays for a week at Grand Illusion, which will also feature screenings of the maverick filmmaker's Shock Corridor (March 2 at 6:45pm) and The Naked Kiss (March 4 at 6:45pm) on 16mm prints. More details at the website.
On Friday, February 27, NWFF has a one-night-only 35mm-screening of the shot-in-Seattle feature Shredder Orpheus (1998) ("Seattle's first and only skate rock opera") and director Robert McGinley will be in attendance.
Visit the film review pages at The Seattle Times, Seattle Weekly, and The Stranger for more releases.
View complete screening schedules through IMDb, MSN, Yahoo, or Fandango, pick the interface of your choice.
The weekly links page is compiled and curated by Bruce Reid, with obituaries curated by Sean Axmaker, and other contributions from friends of Parallax View.