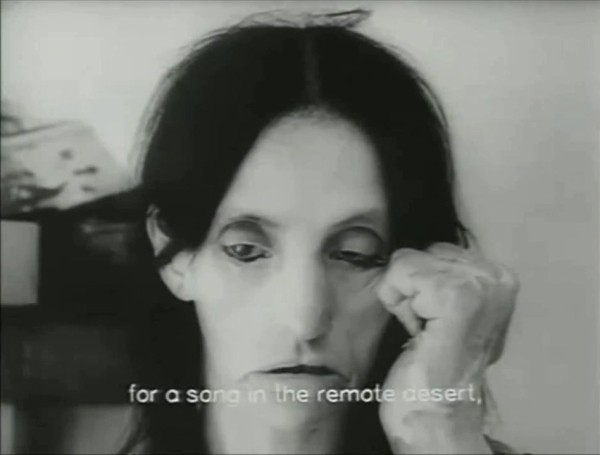 The new Offscreen focuses on Iranian film, from avant-garde beginnings to compromised present. Roxanne Varzi salutes the poetic ethnography of Forough Farrokhzad's 1962 documentary The House Is Black. ("[A]s we look at it years later it is no longer a documentary of the Leper colony but a poetic, interior, native documentary about a woman artist in Tehran grappling with issues of science, society and faith at a time when these issues were at stake politically and socially.") While Ramin S. Khanjani considers two recent films by '70s icon Masoud Kimiai that find the director employing old, once groundbreaking habits in ways tough to pin down as either worn-out or even more radical than before. ("For all the claims about the director's lack of touch with his own time, Trial on the Street effectively conveys the spirit of the city and of its era, one infested with lies and suspicions that beggars an easy judgment….") Elsewhere Najmeh Khalili Mahani offers an introduction and selective filmography for the great Dariush Mehrjui, and Donato Totaro suggests some of the influences behind Certified Copy's "huit clos of rhyming emotions which mirror each other into cinematic infinity."
"Having slowly journeyed upriver, the camera now, in three successive traveling shots that are the film's most emphatic visual maneuver, briskly backs away downriver as the rain falls and the Sunday outing comes to an abrupt end. Not just the pace and direction of movement but the very sense of time at one stroke shifts. Without hurry, savoring the immediate appearances of sunny nature, keeping to the time scale of the moment, the film wends its way toward the consummation on the river island; and then, suddenly, the swiftness of the camera's rainy retreat evokes the rush of years ceaselessly passing, the time scale of a lifetime." Critic and scholar Gilberto Perez died last month; the loss can be acutely felt by reading his paean to Renoir's A Day in the Country, which is marvelously, lovingly astute about the film's duels between nature and society; between varied scales of time; its multiple frames and false freedoms. A lot to pack into 2100 words, but Perez does so effortlessly.
Inspired by a BAM retrospective of John Carpenter John Lehtonen finds that once you look past the acknowledged masterpieces you find several worthy films that belie Carpenter's reputation for nihilism.
"An action comedy full of romance, music, local jokes, and special effects, [Aces Go Places] tells the story of two friends, a thief, and a cop, who alternately plan and foil jewel heists while dealing with their wives and girlfriends. […It] spawned five sequels with its formula featuring car chases, special effects, local comedy, Michael Hui whistling the theme song, robots, foreign locations (New Zealand!), and foreign guest stars (Peter Graves!)." Grady Hendrix runs down some notable examples of the Chinese New Year movie, a popular fixture so garish and low-brow that of course it was spawned by Raymond Wong and reached its apotheosis in the hands of Tsui Hark.
At The Dissolve, praise for a masterpiece that must be seen more than once, and a call for a type of film that isn't being made at all. David Bordwell and Kristin Thompson talk with Sam Fragoso about Tati's PlayTime, which those lucky enough to have caught a 70mm screening can attest is a startlingly different experience depending on your seat in the auditorium. ("Many people have noted that when one goes out of the theater after watching a Tati film, one tends to notice odd sounds and gestures and so on, and find them amusing. There are few filmmakers in the world who can have that effect.") And Matt Barone notes that many real-life nightmares crying out for metaphorical expression in horror films are overlooked due to the lack of black filmmakers working in the genre; with input from one of the rare exceptions, Ernest Dickerson.
Mitch Moxley (under false pretenses, as no journalists are allowed) attends the Pyongyang International Film Festival, and despite the lack of artistic ambition in the films, the micromanagement of every pubic event, and North Korean street scenes as sterile and cardboard-flimsy as a movie set, almost manages to convince himself that films cross all borders, and any exposure to the outside world and different voices is a good one. Till a conciliatory speech on precisely that theme gets swapped out for boilerplate hosannas to Kim Jong-un. Via Movie City News.
More movie tourism, as Daniel Witkin fills us in on the cinephile scene in Moscow, a once flourishing community whose core venue, the Cinema Museum—its Dolby Sound system donated by Jean-Luc Godard—faces increasing pressure to conform to the political and aesthetic conservatism on the rise under Putin. Via Criterion.
"It occurs to me on a regular basis that the cinema carries the potential to be perhaps the most humane of all gestures in art: the invitation to place ourselves, under the intimate cover of darkness, into another person's shoes, behind another set of eyes, into another's consciousness. The ultimate compassion machine, the empathy engine. Here is the darkness. Here comes the light." This past May Tilda Swinton received the Rothko Chapel Visionary Award; her stirring, humane acceptance speech, smartly attuned to the gradations of dark and light that are the hallmark of the venue, somehow received little notice till Conner Habib posted it to his blog.
"Sometimes, on the page, I'm describing something a particular way, but I know I'm not actually going to shoot it that way once I'm on the set. A lot of times, I write it another way in the script because describing it exactly the way I plan to shoot it would take up too much space or just be confusing, and I don't want to subject anybody to that. I want to give people something that's nice to read. I'm also careful with the punctuation, and that certainly doesn't show up in the movie." A pair of generous excerpts from Matt Zoller Seitz's new book on The Grand Budapest Hotel offer a look at Wes Anderson as less follower-of-his-own-twee-bliss than as a pragmatic filmmaker. At Grantland the pair discuss screenwriting and the use of voiceover narration; the selection at Vulture focuses on the film's actors, and how their unique energies each fed into the finished product. ("In our movie, Willem and Tilda are both playing characters and continuing their personal tradition of making things, outside of playing roles, if that makes any sense. Tilda, I think, would be interested in being aged, just as an experience. I feel like she'd be into doing that even it weren't for a movie.")
"Deep beneath the mountains of the Trentino range of Italy and Austria's Dolomites lies one of the most extraordinary exhibits, in one of the most extraordinary galleries, in the world." Neil Brand, who composed some music for the exhibit, alerts us to the Trento Tunnel, a singular display of WWI footage—actual and fictional, from J'Accuse to Paths of Glory and beyond—projected on screens past which the viewer walks, making for what appears a powerfully immersive experience.
Obituary
News of the passing of Lizabeth Scott came in a few hours after we published The View Beyond Parallax last week. The actress with the smoky voice was best known for her work in film noir and earned the nickname "The Threat" for her many roles as a femme fatale, though she was the good girl in her first noir, The Strange Love of Martha Ivers (1946). She went on to star opposite Humphrey Bogart in Dead Reckoning (1947), Burt Lancaster Desert Fury (1947), Dick Powell in Pitfall (1948), Dan Duryea in Too Late For Tears (1949), Charlton Heston in Dark City (1950), and Robert Mitchum in The Racket (1951). Outside of American crime stories, she co-starred with Martin and Lewis in Scared Stiff (1953) and Elvis in Loving You (1957). She retired from the screen in the mid-1960s, returning once to appear in the noir-ish Pulp (1972). She was 92. David Kolker at Los Angeles Times.
French actor Roger Hanin had a career that spanned more than 50 years. He co-starred in Jean-Luc Godard' Breathless (1959) and Luchino Visconti's Rocco and his Brothers (1960) and co-wrote two Claude Chabrol spy films that he also starred in as secret agent Louis Rapière aka "le Tigre": Le Tigre aime la chair fraiche (1964) and Le Tigre se Parfume a la dynamite (1965). To audiences in France he's best known for playing Commisaire Navarro on TV for 20 years. He passed away at the age of 89 gthis week. There's almost no coverage in the English language press so here is the remembrance in Le Monde (if you don't read French, a translation app should make this readable).
David Carr, the old-school media columnist for the New York Times and the creator of the Carpetbagger who took to the new social media took like a natural, died suddenly this week at the age of 58. His colleagues at the Times offer their obituary and James Poniewozik remembers his legacy for Time Magazine.
The weekly links page is compiled and curated by Bruce Reid, with obituaries curated by Sean Axmaker, and other contributions from friends of Parallax View.