Dictatorships have always understood the power of film, and made efforts to use it to their own ends. But even in the sordid history of such relationships, Kim Jong-Il's North Korea stands as an outlier. In an excerpt from his book on Kim's kidnapping and forced employment of South Korean actress Choi Eun-Hee and director Shin Sang-Ok, Paul Fischer recounts their surreal encounter with Kim as, surrounded by murals of his own film productions, the despot apologizes for their rough treatment ("there have been lots of misunderstandings") and lays out the propaganda role they will play. ("So I was thinking—yes, only in my head—my intention was, well, I hadn't talked to anyone about this… I thought, what people have mastered Western skills that we don't have here… who could come here to produce something with my support?") And while the Sony hacking drama—if indeed it can be placed at the feet of North Korea, as the US has claimed—suggests things haven't gotten any better since Kim's death, there is some cold comfort that his successors still seem to believe that films matter. Mark Seal has the fullest portrait yet of what was going on inside the studio from the first curious computer screens to the sick-making moment when the extent of the hack became clear. Via Longform.
Not that police states are the only place where you have to watch your back. The ending of Seal's piece, with executive Amy Pascal embattled but holding on, took all of two days to become out of date.
Spinning off a series at the Film Society at Lincoln Center, Violet Lucca surveys New York's independent (the point very much being that they had to be) black filmmakers of the late '60s-early '70s, including such innovative creators as Madeline Anderson, Bill Gunn, St. Clair Bourne, and the towering William Greaves, of whom Bourne claimed if the movement "were to be symbolized by a band… would be the bass."
"A self-confessed conjurer, Bergman's films are tricky in every sense. What makes these movies so difficult is what makes life itself difficult—the overwhelming desire to know the unknowable, and the opaque relationship between the mythic and the real." Alexandra Heller-Nicholas finds the difficulties that led some to reject Bergman right along the hard-earned rewards that make the attention worthwhile even in his early, "minor" work Dreams.
"Every Man for Himself opens with a fast-moving aerial shot of a blue sky streaked with white clouds, not a bit of land in sight. I remember seeing the film at the 1980 New York Film Festival and the exhilaration I felt at the sheer size and visual intensity of the image, pleasures that had been absent from Godard's work in the seventies." The first sign, for Amy Taubin, that Every Man for Himself would act, as the director himself claimed, as a "second first film." A unique genre that Taubin argues Godard has been exploring ever since.
Visiting Fairport, NY, a year after favorite son Philip Seymour Hoffman's death, Andy Martino finds warm memories of a star who (however shy around fans) always had time for fellow Fairport High students visiting the big city—yet one who also expressed in his will the hope his own son be raised "in or near the borough of Manhattan in the State of New York, or Chicago Illinois, or San Francisco, California"; anyplace, basically, that breathed more culture than the land he freed himself from.
"Here, I don't want to do a commentary on my intentions, and I don't think that you could get me to, unless by a trick, get me to do a commentary on my intentions. I don't like this. This doesn't interest me, and I don't think that would be even able to say anything interesting on the subject." On the other end of the New Wave's formalist and political poles, Éric Rohmer wound up in a somewhat confrontational relationship with his old stomping ground Cahiers du cinema as the sixties raged and wore on. David Davidson translates some of the highlights from interviews that proved atypically feisty for the director (I mean, in their still reticent, refined way).
The above via David Hudson, who also spotted an interesting discovery on Christoph Huber's blog: When a print of Dino Risi's The Sign of Venus was sent out to a retrospective he'd organized, it came with "a little extra reel," which turned out to contain an alternate ending to the film Huber hadn't come across in any research, one that both lightens the bittersweet finale known till now and signs off with a "pointed and amusing modern touch."
An excerpt from his new book on mise-en-scène has Adrian Martin employing a clip from Preminger and quotes from Bertolucci and Bellour to tackle the first problem of discussing the subject: defining it in the first place.
"Why anyone would want to ask for more people in their life is beyond my comprehension. I had my maid shred it so that it won't cause any more damage to the world." Greta Garbo offers her brief, mordant thoughts on numerous self-help classics, as imagined by Lauren Logiudice. One note, sure, but pithy, and certainly the only thing you'll read all year to drop a Gayelord Hauser reference.
"What I find really strange is when a movie doesn't have the courage to be melodramatic because it's considered to be a disgraced art form, so the plot will be melodramatic but the performances will be pitched to contemporary naturalism. It just seems ball-less—that's not right, that's gendered: it just seems chicken. You should have the courage to meet the preposterous, psychologically true premise with the performances and color scheme. So someone like Almodóvar, or John Waters, Kuchar, Lynch, Buñuel—they do it well." And so does Guy Maddin, here discussing his latest, The Forbidden Room, with Emma Myers.
"It's an example of something I talked about in Los Angeles Plays Itself in relation to L.A. Confidential (1997): "History is written by the victors, but it's written in crocodile tears." We have a Malcolm X stamp, a Paul Robeson stamp, a Martin Luther King Jr. holiday. We pay our respects to these people precisely so that we can continue policies which are completely antithetical to what they stood for." Thom Andersen—who as you'd expect holds a more radical take on the blacklist and "liberal" Hollywood's treatment of communists than you tend to hear—discusses the period with Colin Beckett. Via Max O'Connell.
"I was waiting to go on set [of Terminator 4], and they were doing playback and shit, and this girl turned to me and said, 'Mr. Ironside, I've been wanting to ask you about something for a couple of days.' I said, 'Yes?' She said, 'Are you any relation to the Ironside that was in Top Gun?' I said, 'Yes, I am.' And she was absolutely ecstatic. She said, 'I thought so! Talent must run in your family!' And she went walking off, very proud of herself. And I looked over at McG and all the producers, who were sitting there horrified, looking at me. [Laughs.] And I said, 'What the fuck are you guys so uptight about? I'm old enough to be that prick's father now! That was 25 years ago!'" Interviewed by Will Harris, Michael Ironside looks back over his career with a humor and general decency that suggests how good an actor he must be to rank as one of the screen's all-time great heavies. And his anecdote about pulling off a stunt on Highlander II almost makes even that film worthwhile.
To oversimplify quite a bit, kitchen sink meets expressionism and black-and-white meets vivid color as Nigel Arthur offers a selection from the current BFI exhibit of Polish film posters designed for British films.
Obituary
The news has yet to register among the papers and journals of record, but two-time Oscar-nominated screenwriter Stewart Stern passed away this week in his adopted home of Seattle, Washington. He's most famous for scripting Rebel Without a Cause (1955) for Nicholas Ray, a project he completely reworked from the source material with personal details from his life and research into the lives of modern teenagers, a culture that had never been accurately portrayed on the screen. His uncle was Adolph Zukor, head of Paramount Pictures, and after serving in World War II he went to Hollywood and learned the business as a dialogue director before he wrote his first screenplays for Fred Zinneman. He received an Oscar nomination for Teresa (1952) and again for Rachel, Rachel (1969), Paul Newman's directorial debut, and won the Emmy for writing the TV mini-series Sybil (1977). In the final decades of his life he taught screenwriting and creative writing at the University of Washington, mentored young filmmakers through the Sundance workshops, and was one of the founders of the Seattle-based The Film School. He passed away on Monday at the age of 92, from natural causes. Friends and fans are posting remembrances at a tribute page on Facebook.
Geraldine McEwan is best remembered for a role she took on late in her career: playing Agatha Christie's Miss Marple in a series of British TV mysteries from 2004 to 2007. She spent most of her career on the stage and the small screen but made memorable appearances in Kenneth Branagh's Henry V (1989), Robin Hood: Prince of Thieves (1991), and as a judgmental and brutal nun in The Magdalene Sisters (2002). She died at the age of 82. More from Lin Jenkins at The Guardian.
Screenwriter and producer Robert Blees wrote notable screenplays for Douglas Sirk (All I Desire, 1953, Magnificent Obsession, 1954) and Allan Dwan (The Cattle Queen of Montana, 1954, Slightly Scarlet, 1956) as well as the cult movies Screaming Mimi (1958) and Dr. Phibes Rises Again (1972) in his long career. In the sixties he turned to TV and was a producer on the acclaimed shows Bus Stop, Combat!, and Bonanza. He was 96 when he passed away this week. More from Variety.
Seattle Screens
"In Case of No Emergency: The Films of Ruben Östlund," the first U.S. retrospective of the films of Swedish filmmaker Ruben Östlund, continues through Sunday, February 8. Details at NWFF.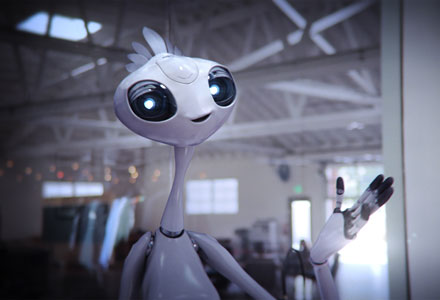 SIFF and the EMP Museum present the 10th Annual Science Fiction + Fantasy Short Film Festival, which screens through Sunday, February 8 at The Egyptian (Friday at midnight), Cinerama (Saturday), and Uptown (Sunday). There's also a special event at the Uptown on Friday: a screening of Escape from New York with live musical accompaniment by Roladex performing John Carpenter's score. Complete programs and ticket information at SIFF.net.
"From Script to Screen: Transforming Fiction into Film," a panel discussion focused on the creative process of adaptation and film production in Seattle, will take place at the Seattle Public Library, Central Auditorium at Thursday, February 12. The discussion gets underway at 7pm and the event is free. Details here.
Visit the film review pages at The Seattle Times, Seattle Weekly, and The Stranger for more releases.
View complete screening schedules through IMDb, MSN, Yahoo, or Fandango, pick the interface of your choice.
The weekly links page is compiled and curated by Bruce Reid, with obituaries curated by Sean Axmaker, and other contributions from friends of Parallax View.