"The problem is the six major studios that dominate the box office, the entertainment chatter and the popular imagination. Their refusal to hire more female directors is immoral, maybe illegal, and has helped create and sustain a representational ghetto for women." Manohla Dargis lays down her sharpest attack yet on what's become a preeminent concern, the grotesque lack of diversity on both sides of the camera. A supplement features relevant quotes from women filmmakers Dargis has talked with about the issue, from Tina Gordon Chism's world-weary defense of intersectionality ("I think the best primer for being a woman director is being a black woman, because it's the same feeling that you get when you go into a room that underestimates you.") to Barbra Streisand's matter-of-fact callout of double standards ("What's wrong with bossy? It's O.K. for a man.").
More evidence that old prejudices die hard, as Anne Helen Petersen samples the current resurgence (which she traces to a 1994 profile of Chloë Sevigny) of the It Girl, a "limited, limiting" moniker that's done no woman any favors since Clara Bow.
"The story of New York cinephilia is the story of Vogel's successes and failures, of his accurate and futuristic view of the cinema to come as well as of the doctrinal assumptions that got in the way—ideas that have, amazingly, been belatedly resurgent among today's critics and that, in their way, resist the very current of appreciation that he sought to inculcate." Spinning off from a read of Be Sand, Not Oil: The Life and Work of Amos Vogel (edited by Paul Cronin), Richard Brody identifies Vogel and his experimental-film oriented Cinema 16 as the source of one stream of midcentury cinephilia, the other being the Parisian New Wavers, and does a dazzling job contextualizing both, showing how their contradictory goals merged to make our current cinema—and its critics.
"These movies take place in a world designed by and for emotionally stunted straight men, but that's not to say Anderson views this world optimistically. I'd argue that he's yet to create a genuinely heroic male protagonist (Philip Baker Hall's rueful gambler in Hard Eight does good only after a lifetime of doing wrong), and that his protagonists' undoing is often tied to their adolescent notions of sex and power." Ben Sachs shows how the world of pornography has remained a strong influence on the work of Paul Thomas Anderson even beyond the found family of Boogie Nights. Via Movie City News.
"Sex always has something to do with it, dear." And so does money, of course; for Stephanie Zacharek the glory of The Palm Beach Story is how much fun Sturges has revealing both these unromantic truths. Though not without priorities: "Still, let's not forget that, in Sturges's world, money takes a backseat to joy—always."
Sabina Stent reminds you that the madcap only works when slammed up against the starched shirt, saluting six of the straight men regularly hired to bear the Marx Brothers in full onslaught mode (including, yes, still undervalued Zeppo).
"it is clear to me he hates chickens, and this is one of the reasons why he has always been my favorite film director. i [sic] too hate chickens." Harmony Korine's forward to Werner Herzog: A Guide for the Perplexed is certainly brief and to the point, if strangely obsessed with fowl.
Clickhole provides the great service of weeding through the thicket and selecting the only 20 thinkpieces on American Sniper you need read, including "American Sniper Is Good, American Sniper is Very Bad," and "Chris Kyle Was a Flawed Man, But Not When It Came To Shooting Good." ("Finally, some common ground everyone can agree on.")
"When technology, i.e., steel, entered the picture and people were able to build tall buildings, they didn't know what a tall building looked like. So, primarily in New York, they took the classical maison—ground floor, first floor, and the intervening three floors, with a pediment roof. And instead of the intervening three floors, they made them the intervening 23 floors…. But in Chicago, you have the Monadnock Building, which is the first tall building that has a form derived from its function and technology. That analogy holds true for me and film: If I'm going to use video, I want to find an aesthetic that derives from that technology. I'm not interested in making it look like film." Michael Mann offers as perceptive and intellectually coherent a justification for shooting in video that any filmmaker could muster, talking his career with Bilge Ebiri. And sitting down with Steve Weintraub, Mann explains some of the decisions that go into his editing process, in some cases, notoriously, years after the films' release. ("There's a re-authoring, for me in editing. Editing is like writing. It's like a re-authoring of the picture. You have to imagine you're rewriting it again. And you're determining the storytelling, what stories you're going to tell and the rhythms of it, to a certain pace and a build. That's, personally, the way I see it. There's no such thing as mechanically trimming things down to see how the movie is. I have to be imagining the movie from the end to the front and how all the parts are working together, and understand how each component is affecting the other components.")
"He would sit in an office with a secretary and just, like, talk out the script to himself. He'd just dictate the whole screenplay…. This whole body of this amazing work was all basically for this one dude, and to impress this one guy. It would be funny if the male secretary was really hard to please, doesn't have a good sense of humor. Or maybe he didn't want to lose his job, so it was this weird miscommunication." More Palm Beach Story, as Ebiri also talks with Bill Hader (who filmed an extra for the Criterion release) about Preston Sturges and perhaps the most out of the blue ending in movie history.
"You see her miss her cues and you see her out of character. It's something you would never see in the average sexploitation film. [Jess] Franco was inventive, but some of the more traditional sexploitation directors would have to obey the producer's commands to get the audience off. I'm hoping this film does the opposite. I'm not saying it's anti-erotic and I don't want to say "How dare you get off on this film!" but I'm trying to unpeel different layers, hopefully without passing any kind of judgment." Interviewed by Graham Fuller, Peter Strickland discusses The Duke of Burgundy and the sexploitation flicks and erotic transgressions that undergird it like giallo did Berberian Sound Studio. Spoilers for the film.
Kim Morgan presents a gallery of set photos she took on the set of The Forbidden Room, offering the first look (as surreal and perversely nostalgic as you'd expect) at Guy Maddin's latest.
Obituary
Film editor and actor Frank Mazzola had been an itinerate extra in Hollywood when he leveraged his street smart upbringing into becoming an advisor to Nicholas Ray, Stewart Stern and James Dean on Rebel Without a Cause (1955), taking a small role as gang member Crunch. His future in Hollywood was to be behind the camera, however, and after an apprenticeship as an editor, he helped Donald Cammell completely re-edit Performance (1970) after Warner Bros. rejected the first cut as unreleasable. He helped shape the flashback and flashforward structure and fragment the narrative in a way unique to American cinema. He went on to edit Peter Fonda's The Hired Hand (1971) and Donald Cammell's subsequent films, and after Cammell's death he reconstructed his final film Wild Side, which had been drastically reworked by the studio. He passed away this week at the age 79. Steven Chawkins at LA Times.
Screenwriter, playwright, and professor of screenwriting Guy Gallo scripted John Huston's adaptation of Under the Volcano (1984) and wrote the book Screenwriter's Compass: Character as True North, which was published in 2012. As a professor at Columbia University's School of the Arts, Barnard College, and NYU's Tisch School of the Arts, his students included filmmakers James Mangold and Greg Mottola. He died at the age of 59 from complications from cancer. More from Annette Insdorf at Indiewire.
Faten Hamama, one of the great actresses of Egyptian cinema, passed away this week at the age of 84. She made her film debut in 1940 at the age of 9 and went on to appear in nearly 100 films, earning the title "The Lady of the Arabic Cinema." More from Sam Roberts at The New York Times.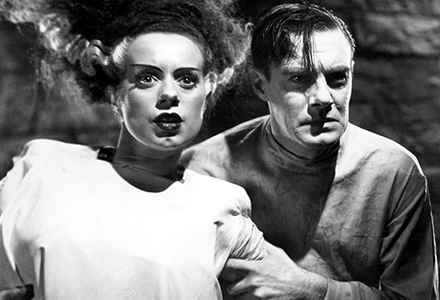 Seattle Screens
SIFF Cinema presents "It's Alive!: Frankenstein on Film," a three-day celebration of the reanimated grandfather of all movie monsters. Along with a double feature screening of the original Frankenstein and Bride of Frankenstein (as well as Flesh for Frankenstein, Frankenweenie, Abbott and Costello Meet Frankenstein, and Young Frankenstein) is a return engagement of the National Theatre's Frankenstein with Benedict Cumberbatch and Jonny Lee Miller, a panel discussion of Frankenstein on Film, and a Cinema Dissection event hosted by Robert Horton, who will lead the all-day dissection of Bride of Frankenstein on Saturday, January 24. It all takes place as SIFF Film Center. Full schedule and ticket information at SIFF Cinema website.
Seattle U presents a screening of Alfred Hitchcock's Psycho followed by discussion with film critics (and Parallax View contributors) Robert C. Cumbow and Robert Horton, moderated by instructor Georg Koszulinski. The film screens at Wyckoff Auditorium, Wednesday Jan. 28 at 7pm.
Visit the film review pages at The Seattle Times, Seattle Weekly, and The Stranger for more releases.
View complete screening schedules through IMDb, MSN, Yahoo, or Fandango, pick the interface of your choice.
The weekly links page is compiled and curated by Bruce Reid, with obituaries curated by Sean Axmaker, and other contributions from friends of Parallax View.