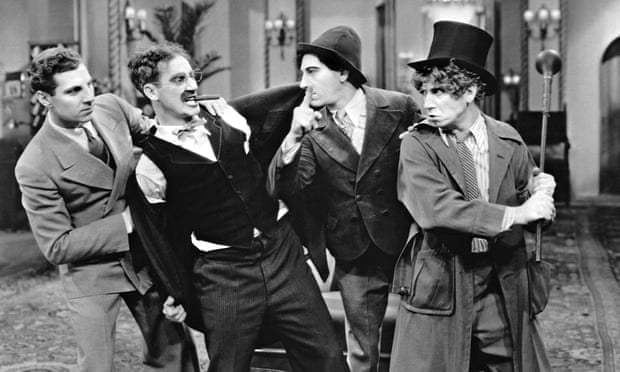 At The Guardian, two stories of comedians confronting a world that lives down to their expectations. Craig Brown's article is primarily a tribute to Duck Soup, and its profound use of nonsense to attack and destroy the straight-laced and proper. ("After their arrival, nothing is allowed to remain in its rightful place, or to be what it is meant to be. Everything is transformed into something else. The world has become a pun.") But Brown ends with an account of Harpo's visit to the USSR three days before the film's release, and a border stop that reminds you how terrifying and humorless the real Freedonias are. While in an excerpt from his book on Richard Pryor, Scott Saul looks back to the night in 1977 that the comic, headlining a benefit concert to promote equal rights for the gay community, fumed backstage over performances he found tepidly conformist and behavior from the organizers he considered flat-out racist. So Pryor took the stage and delivered what's still the most unapologetic, confessional embrace of gay sexuality any straight comedian has made ("You don't want the police to kick your ass if you're sucking the dick, and that's fair. You've got the right to suck anything you want!"); and then, the audience in the palm of his hand, squeezed till they booed him off the stage.
Cinematographer Robert Yeoman talks to Kyle Buchanan about working with Wes Anderson and the stories behind nine iconic shots from their collaboration. Which as you may expect have less to do with technical matters (though there's an amusing reveal about the submarine set from Life Aquatic) than waiting for Anderson to arrange things so that every hair—literally, in the case of Royal Tenenbaum's suicide scene—is in place.
"I'm so happy for you today, I could not help calling you and congratulate you. Wonderful, Flo! Never better in my whole life!" Christopher Grobe remembers the great legacy—one so definitive it effectively ended her career—of Louise Rainer: the tearful, one-sided telephone conversation. A model that continues its influence to the current day, as Grobe, in an article published Wednesday, looks at two homages that were Oscar hopefuls, and winds up 50/50 in his predictions.
"There was a little tiny imperfection in the van that wasn't even in the shot, you'd never have seen this in a million years. He complained to the producers. He was really upset, and the guy disagreed with him a little, and said 'Michael, just calm down, they're gonna fix it.' He said, 'No, I'm telling you what's going to happen. When I turn around, they are not gonna be there. I'm never going to see anyone again in the art department.' And the guy said, 'OK, Michael,' and all these people just left." Vadim Rizov offers some highlights of a recent Q&A with Tom Noonan following a screening of Manhunter. A wealth of anecdotes that confirms Michael Mann's a general, not a team player, who will indulge your every whim if it's helping his vision, but run you right down—or over—when it's not.
To wit, the minor storm brewing over Harry Gregson-Williams's Facebook post (since deleted once cooler heads or possibly the remembrance of contractual obligations prevailed) after attending the premiere of Blackhat and hearing plenty of music that had nothing to do with his score. "I can say nothing for certain except that I was not the author of most of what is now in the movie." Kevin Jagernauth has a screenshot; Charlie Brigden admits this was bad form on Mann's part, but far from an unprecedented move from the director. Via Matt Fagerholm.
But when the results are so tasty, does anyone really care how the sausage gets made? Even the off-flavor samples have their partisans, as Scout Tafoya's video in praise of Public Enemies shows; Matt Zoller Seitz's introduction is an even better defense.
Another fine video essay, as Cristina Álvarez López and Adrian Martin's latest teases out the slow-cinema antecedent to Béla Tarr contained within Polanski's Repulsion, stripping away the narrative to reveal a "disquieting, Tarr-like apocalypse of the everyday."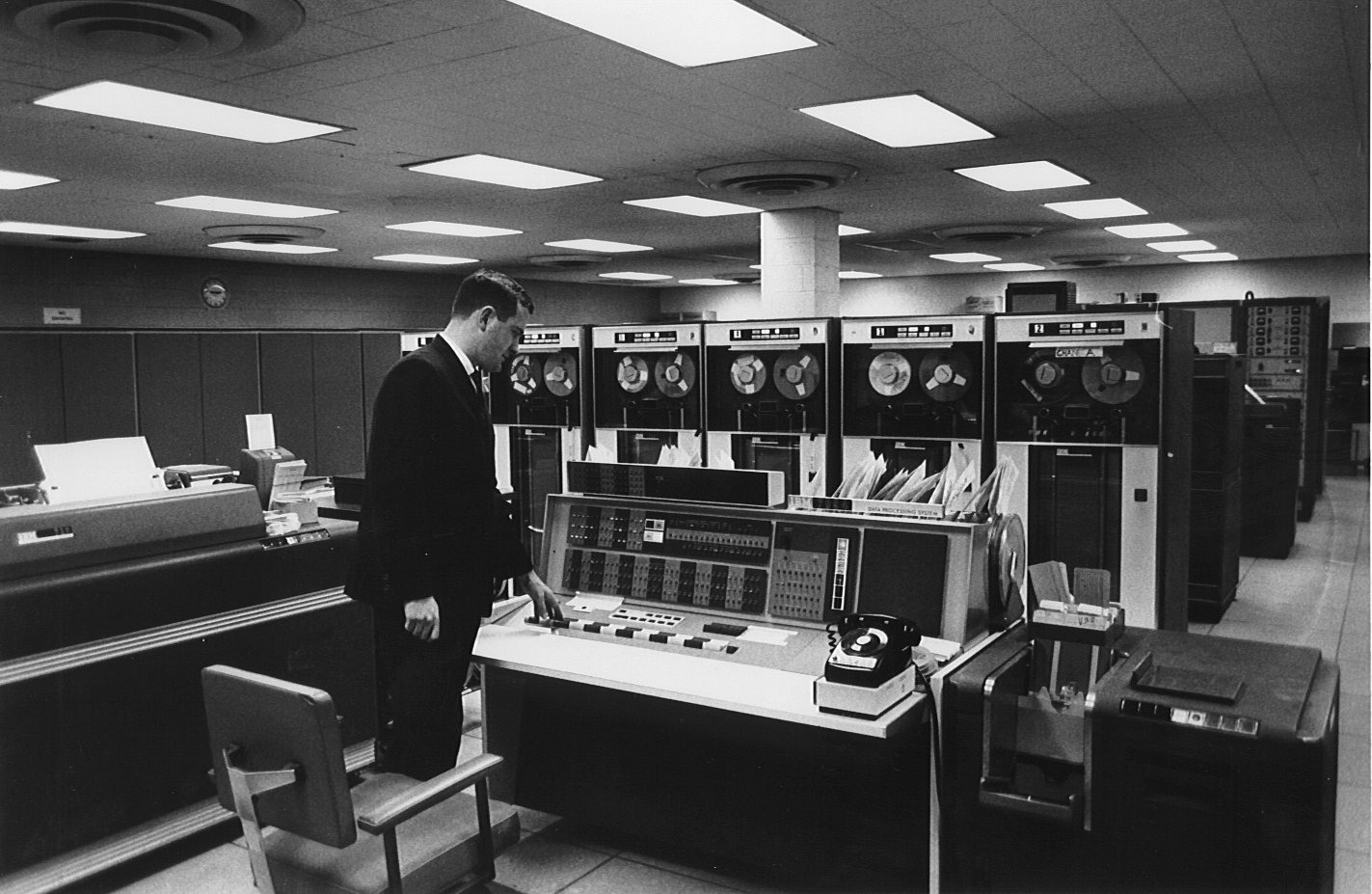 "If the alien were set loose on HAL's watch, he would probably neutralize it all on his own, automatically, as it were. Mother, on the other hand, spends the whole movie like a fated southern belle hooked on laudanum, locked in her room. She can't even advise on how to defeat the monster. The computer cannot help. No costly investment in heavy capital will keep nature at bay. This was a lesson people were learning in 1979…." Perhaps a bit too neatly, but with style and empathy, Jason Z. Resnikoff bookends the changing fortunes and outlook of his computer-programmer father during the '70s by contrasting the worldviews of 2001 and Alien. Via Movie City News.
"He's like a dog that will fetch the ball over and over and over again. You can throw it down the cliff, you can throw it into the snow, you can throw it in the ocean, and he will go get the ball and bring it back. And he will curl up in your lap and keep you warm by the fire. He's the best dog I've ever had. [Pauses] That's going to be your pull quote, isn't it? 'Joaquin Phoenix is the best dog I've ever had.'" Paul Thomas Anderson's constant insistence, here in an interview with David Fear, that his filmmaking is all about the actors seems truer with each of his successive films. And he's still the guy who can attribute his coming late to Pynchon because he's a "slow learner" so nonchalantly you're unsure if it's a joke or not.
"Sometimes I wonder if we really decide much of anything. Up to this point, at least, we've never sat there and said to ourselves: 'Hmm, are we going to shoot Two Days, One Night, or are we going to shoot a science-fiction film?' The only thing we know how to do is Two Days, One Night. Some filmmakers with a lot of intelligence and a lot of talent jump from one genre to another, and we're stuck on the border of tragedy. [Laughs.]" David Ehrlich interviews the Dardenne brothers about politics, long takes, and their new habit of working with established actors.
"During the process, J.C. related this story about how art impacted life right after The Godfather came out. What does every gangster start doing after they've seen it? They start acting like they're in The Godfather! They all started having dinner at these little Italian restaurants. So when Abel meets all of the other oil kingpins, in J.C.'s mind it's them imitating The Godfather, which is what he saw happening with the parents of the people he grew up around. So in that sense, The Godfather's DNA is entwined with A Most Violent Year. It's an interesting, odd and cool layer to the film." Composer Alex Ebert talks with Daniel Schweiger about the sonic palette he created for J. C. Chandor's A Most Violent Year. Slight spoilers for the film.
In an advertising career that stretched to over 50 years and 600 posters, Raymond Savignac only designed ten movie posters, but they're nearly all masterpieces, including his three with brutishly cartoonish imagery for Bresson. Adrian Curry collects them all.
Douglas Kirkland's celebrity photographs, as shown in a gallery at everyday_i_show, possess an intimacy that can be dramatic, humorous, or erotic, but never less than striking. Via Mubi.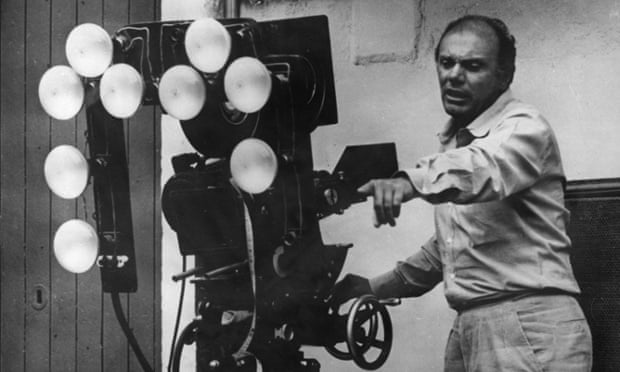 Obituary
Italian filmmaker Francesco Rosi won six David di Donatello Awards for Best Director over a career spanning 50 years. He began as an assistant to Luchino Visconti on La Terra Trema (1948) and made his directing debut with Anita Garibaldi (1952), starring Anna Magnani and Raf Vallone. He made his reputation with the politically-charged dramas Salvatore Giuliano (1962) and Hands over the City (1963), won the first of six David di Donatello Awards for Best Director for the bullfighting drama The Moment of Truth (1965), and won the Palm D'Or at Cannes for The Mattei Affair (1972). He also won awards for, among other films, Christ Stopped at Eboli (1979), Three Brothers (1981), and Carmen (1984). His final film The Truce (1997) starred John Turturro as Primo Levi. He passed away at the age of 92. Peter Bradshaw explores Rosi's exploration of Italian gangster culture at The Guardian and Peter Cowie reminisces at Criterion Current.
Anita Ekberg was immortalized by Federico Fellini in La Dolce Vita (1960), kicking off her shoes and wading into the Trevi Fountain, but she had been a star for years before that. The Swedish-born actress was Miss Sweden 1950 and signed to a Hollywood contract, working her way up from bit parts in films like Abbott and Costello Go to Mars (1953) through significant supporting roles in Blood Alley (1955), War and Peace (1956), and playing a parody of herself in Hollywood or Bust (1956) to the lead in the low-budget cult film Screaming Mimi (1958) before Fellini put the spotlight on her. She continued making films in both Italy (where she made her home) and the U.S. for the next forty years though rarely as a leading woman. She died at the age of 83. Ronald Bergan at The Guardian.
Brian Clemens is celebrated among Hammer buffs for his sole directorial effort Captain Kronos, Vampire Hunter, the first and surely still the only vampire swashbuckler. He was much busier as a screenwriter, scripting (among his dozens of big screen credits) Station Six-Sahara (1963), Dr. Jekyll and Sister Hyde (1971), The Golden Voyage of Sinbad (1973), and The Watcher in the Woods (1980), and was remarkably prolific as a writer and producer for British television, where he scripted scores of episodes of numerous shows, including Danger Man and The Protectors, and TV movies. But is enduring legacy is The Avengers, which he helped create in 1961 and then redefined when he cast Diana Rigg and developed her lively relationship with co-star Patrick Macnee, creating a cult show filled with playful banter and imaginative situations. He went on to revive the show as The New Avengers and then create The Professionals, his biggest hit for British TV. More from The Daily Mail.
Comedian and actor Taylor Negron made memorable appearances as a pizza delivery man in Fast Times at Ridgemont High (1982) and a criminal thug in The Last Boy Scout (1991), just a couple of the more than 100 roles he played on TV and in the movies in his 35 year career. He was 57 when he died this week. More from The New York Times.
Seattle Screens
Framing Pictures is taking up residence in a new space for the Friday, January 16 event. It's taking place in the informal screening room of Scarecrow Video, Seattle's legendary video store, which is actually a cozy little space that lends itself to this kind of conversation. The usual suspects are back: film critics and Parallax View comrades Robert Horton, Richard T. Jameson, and Kathleen Murphy will talk films old and new, including the disc release of Fassbinder's The Bitter Tears of Petra Von Kant, and maybe even discuss the 3D Godard film that just played at Cinerama. The conversation begins at 5pm.
The Sixth Nordic Lights Film Festival moves to SIFF Film Center at Seattle Center this year. Opening night was Thursday and it continues with screenings through Sunday, January 18. Schedule at Nordic Museum website and at SIFF, where you can also purchase tickets.
Northwest Film Forum hosts a public discussion on the recent closings of small cinemas and arthouse screens, the arthouse release of The Interview, and the current state and future of theatrical exhibition with a panel of theater operators, programmers and filmmakers from across town. "The Harvard Exits" is a free event with a screening of The Juche Idea (Jim Finn, 2010) at 4:45pm followed by the panel discussion at 7pm. Details here.
Also at NWFF, on Thursday, January 22, Buster Keaton's Steamboat Bill Jr. screens as part of the Children's Film Festival with a new live score composed and performed Miles & Karina (Dave Keenan and Nova Devonie). Screening begins at 7pm. The NWFF says to expect guitar, violin, accordion, banjo, and other instruments. Details and tickets here.
Mike Ward, who runs the website Should I See It, has undertaken a poll of Seattle film critics to bestow the Seattle Film Awards (because why should Seattle be left out of the fun?). A little over a dozen critics (mostly web-based writers) participated in the Second Annual Film Awards, which Mike announced on his website this week, with awards spread out over a dozen films. Birdman took Best Picture and Best Ensemble Cast, Richard Linklater was voted Best Director for Boyhood, and action awards went to Jake Gyllenhaal (Nightcrawler), Rosamund Pike (Gone Girl), J.K. Simmons (Whiplash), and Jessica Chastain (A Most Violent Year). Complete list of winners is here.
Visit the film review pages at The Seattle Times, Seattle Weekly, and The Stranger for more releases.
View complete screening schedules through IMDb, MSN, Yahoo, or Fandango, pick the interface of your choice.
The weekly links page is compiled and curated by Bruce Reid, with obituaries curated by Sean Axmaker, and other contributions from friends of Parallax View.