Grantland's series of articles on Paul Thomas Anderson are timed to the release of Inherent Vice, but most are good enough to prompt the question: Why can't every week be Paul Thomas Anderson week? In fact that's already so; most of the articles getting attention (like Alex French and Howie Kahn's oral history of Boogie Nights, a marvelous read crimped by some major holdouts starting with Anderson himself) first went up a year or more ago. But who cares when reading such good stuff as Molly Lambert's fine ode to the San Fernando Valley, a location that Anderson has made as distinctly his own as any filmmaker has ("simultaneously urban, suburban, and industrial; at once run-down and brand gleaming new") or John Lopez's take on the director's indebtedness to and divergence from Robert Altman ("for all the ways in which Anderson's early films beg, borrow, and steal from Altman, their tributes to his ethos felt tightly controlled, like an audacious apprentice trying to do the master one better") that the former dates itself with a Mad Man reference?
Mubi spots the new issue of cléo, dedicated to the premise that feminists are perfectly capable of partying down. Kathleen Kampeas-Rittenhouse salutes the surprisingly progressive portrayals Clue's three leading ladies manage to sneak into the picture ("[A]lthough the film never explicitly addresses the claustrophobic sexism of 1950s America, each female guest's secret identity reveals a struggle to wrest power from a male-dominated society."). Eleni Deacon shows how many stereotypes Election's Tracy Flick flips in the course of her lonely campaign ("Being a nerd may exacerbate Tracy's day-to-day exclusion at Carver—but being a nerd-in-command also excludes her from prescriptive classifications as the victimized, undesirable dork."). And a roundtable considers the complicated pleasures of makeovers and free-for-all parties in '90s teen comedies. Also some good interviews: Julie Taymor discusses adapting Shakespeare ("I do a lot of adaptations of myths or folk tales or early stories, and I think that's because there are a limited number of great stories in the world. When they're truly great, then they can be done many ways over and over again."), and Sally Potter talks about collaborating and what she learned from the cold reception to her debut feature ("I hold no bitterness about the failure of The Gold Diggers, because in the end it became the sweetest triumph.").
At Film Comment, a nice pair of articles on a sure genre craftsman whose cult is overdue and a collaboration between geniuses that should have turned out better than it did. Nick Pinkerton goes to bat for George Armitage's "ability to elevate cliché to archetype," and his sardonic sensibility that found its truest realization paired with Charles Willeford. While Daniel Eagan looks back at the sweltering New York summer that had Buster Keaton hiding from the camera's gaze in Beckett and Schneider's Film.
"Krieger, from this point on, absolute silence." David Bordwell shows up the inaccuracy of the formulation "show don't tell" by laying out how even De Palma, poster boy for the phrase, depends on the audience to follow a sophisticated interplay between images and words during some key scenes in Mission: Impossible.
"The American independent film scene of the nineties, fueled by the Sundance boom, was a hotbed of crossover ambition. Unlike most of his peers, though, Haynes sought not to be assimilated into the mainstream but to infiltrate it." Haynes's first infiltration, Safe, remains possibly his best, for reasons Dennis Lim outlines.
"The series is fixated on mazes, models, two-way mirrors, maps, simulated environments, memory wipes, clones, and all kinds of other things that don't have a whole lot to do with its ostensible subject—i.e., Jovovich mowing down mutated zombies—but do fit neatly within a larger design based around space and repetition. It might not be a vision, but it's certainly consistent, personal, and fully formed." A week after his marvelous article on Godard's most obscure film, Ignatiy Vishnevetsky follows up with an appreciative survey of the Resident Evil movies. Which of course makes me like him all the more.
"Her contract had four years to run, but the studio had already given up. They tossed her into three brain-dead musical comedies with chinless, sexless comic Eddie Bracken, who remembered "they called her 'the bitch' and she deserved the title." But then, who wouldn't be a bitch if they had to make three movies in a row with Eddie Bracken?" Eddie Selover strikes exactly the tone you need to when discussing Veronica Lake: sympathetic to how her dazzling promise was scuttled, but not blind to her own contribution to the freefall.
Two facts of interest in these times of ever-bigger, ever-more-enervating blockbuster and tentpole features: in 2014 Universal didn't release a single one of those bloated bores, and, as Scott Mendelson reports, managed to score their most profitable year ever. Via Kate Erbland.
It's not like Grantland's the only website talking P. T. Anderson this week. Cameron Bird talks to production designer David Crank and art director Ruth De Jong about bringing some of Thomas Pynchon's descriptions to life. ("We actually shot the scene first at an older, half-demolished shopping center near Baldwin Hills. But when looking at dailies, we agreed it just didn't look exactly right. So we went re-scouting and…found a neighborhood there that had been started but never finished. The streets had been paved, and the streetlights and sidewalks were there. But nothing else.") Anderson himself's been making the rounds of course; his talk with Ned Ehrbar isn't the longest or most in-depth, but it is the only one illustrated by Anderson's napkin sketch of Pynchon. ("Republicans in power, land grabs, abuses of power. You know, all this kind of stuff that I love. That stuff gets me going. It brings out a fight in me that makes me feel good, that makes me feel righteous, I think, in a good way. And I get it from his work, from his writing. He sees the absurdity in it all, but it's not just absurd. He's pretty pissed off about it, too.") Both via Bryan Tap.
"They didn't get the performances out of me. I gave the performances to them." Olivia de Havilland's thoughts on Gone with the Wind—given in an interview with John Meroney—aren't the most incisive. But who cares, when they're so imperiously hers? Via Movie City News.
"The Irish see a penis where there isn't supposed to be one, and they go and vomit. If it were De Niro, he would've smashed her across the face and said, "What the fuck do you think you're doing?!" It would have been completely different had it been an American. The Irish are so oversensitive about these things." Stephen Rea describes filming The Crying Game's big reveal with Jennifer Vineyard.
Obituary
Swiss actress Annemarie Düringer enjoyed a career that spanned more than 60 years on stage and screen, largely in Germany and Austria. She won the German Film Award for Best Supporting Actress for The Devil Strikes at Night (1957), which was directed by Robert Siodmak, and appeared in Claude Goretta's The Lacemaker (1977), Rainer Werner Fassbinder's Berlin Alexanderplatz (1980) and Veronika Voss (1982), Raul Ruiz's Klimt (2006), and Margarethe von Trotta's Vision (2009). She passed away on November 26, on the occasion of her 89th birthday. Via David Hudson (our man in Germany) at Keyframe Daily.
Mary Ann Mobley, who was crowned Miss America in 1958, performed on Broadway and television and starred opposite Elvis Presley in the 1965 movies Girl Happy and Harum Scarum. She died on Tuesday at the age of 75. More from the New York Times.
American actor Eddie Rouse made his feature debut in David Gordon Green's feature debut George Washington (2000) and starred in four more films for the director. Along with appearances in such films as The Number 23 (2007), American Gangster (2007), Observe and Report (2009), and Low Down (2014), he starred as a Sammy David Jr. impersonator in Todd Rohal's Sundance award-winning short Rat Pack Rat (2014). He passed away at the age of 60. Mike Barnes at The Hollywood Reporter.
Seattle Screens
The annual Critics Wrap, hosted by Robert Horton at The Frye Art Museum, convenes on Thursday, December 18, with Jim Emerson, Kathleen Murphy, and Andrew Wright forming his panel of cinexperts. Tickets are free but invariably sell out every year, so arrive early to secure your entry. The event begins at 7pm and tickets will start being dispersed at 6pm. Details here.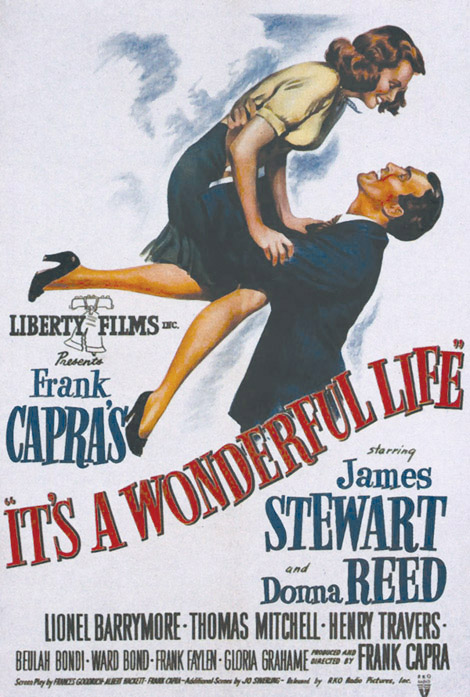 The annual theatrical run of It's a Wonderful Life begins today at Grand Illusion and runs for three weeks. It's on 35mm, of course.
Also, sneaking into town for only a couple of screenings is Sion Sono's notorious Why Don't You Play in Hell, also at the GI. It played two shows last week and two more this weekend, Friday and Saturday night only.
Comin' at Ya!, an eighties tribute to spaghetti westerns that kicked off the brief 3D revival of the early eighties (when polarized lenses replaced the old red and blue tinted glasses), comes back for a late-night engagement at SIFF Cinema Uptown from December 12 through 14.
SIFF Cinema also begins special screenings of The Princess Bride Quote-along (details here) and Willy Wonka and the Chocolate Factory in Smell-O-Vision (details here), both showing four times at the SIFF Film Center.
Landmark Theaters Annual Poster Sale takes place at the Seven Gables Theater on Sunday, December 14, from 10:00 AM to 2:00 PM. More details here.
Scarecrow hosts a DVD pre-release party with the cast and crew of the locally-made feature The Device, which won the Audience Award at the 2014 Local Sightings Film Festival. It begins at 6pm on Monday, December 15. Details at the event's Facebook page.
Visit the film review pages at The Seattle Times, Seattle Weekly, and The Stranger for more releases.
View complete screening schedules through IMDb, MSN, Yahoo, or Fandango, pick the interface of your choice.
The weekly links page is compiled and curated by Bruce Reid, with obituaries curated by Sean Axmaker, and other contributions from friends of Parallax View.