"But look, most movies suck. Absolutely suck. They just do. Most TV shows suck. Most books suck. If most things were good, I'd make $15 an hour. I don't live the way I live because most things are even remotely good. But when you have a system where you probably only see three movies with African-American leads in them a year, they're going to be judged more harshly, and you're really rooting for them to be good a little more so than the 140 movies starring white people every year." A not insignificant portion of genius is having the voice that's needed when the times demand. So consider Chris Rock the man of the moment, whether penning an article for The Hollywood Reporter on breaking through Hollywood's color barrier or bringing clarity and humor to just about every subject discussed in an interview with Frank Rich. ("The advantage that my children have is that my children are encountering the nicest white people that America has ever produced. Let's hope America keeps producing nicer white people.")
"Nearby in the compact Theatre District, movies and stage plays of all kinds were playing at the four other cinemas and the fifteen-odd theaters. Tillie's Punctured Romance, for example, a comedy featuring Charlie Chaplin, had audiences in stitches at the Bowdoin Square Theatre, while Paramount Picture's The Eternal City, a melodrama set in Rome, was being shown at the Boston Theatre. But nothing in town compared to the spectacle at the Tremont where, with that night's performance set to start at 8:10 p.m., the marquee lights in front were ablaze." At the Tremont that night: the Boston premiere of Birth of a Nation. As Dick Lehr reports in an excerpt from his book on the film and its controversies, the racist violence on the screen would be matched outside the theater by counter-protesters and angry cops.
Salon's book section also features excerpts from recent celebrity biographies. So here's Marc Eliot on John Wayne's final months as public figure, with conciliatory gestures to President-Elect Carter from the "loyal opposition" and a triumphant appearance at the Oscars; David Henry and Joe Henry on Richard Pryor's dealings with NBC (compromised but well-rewarded) and Chevy Chase (seething animosity); and Richard Zoglin on how Bob Hope in his later years thought everything from The Tonight Show to the Reagan White House should be at his beck and call.
"I wondered, was theirs a cultural dispute, or just two lovers arguing? But now I think it is pure poetry, the rhythmic balancing of two voices, with Resnais and screenwriter Marguerite Duras addressing the possibility that none of us is blessed to see the real thing all the time. In the dark, the lovers speak but hardly understand each other. What's so unusual in that?" Enough time has passed now for one of David Thomson's favorite films, Hiroshima Mon Amour, to embody one of its own great themes, to be "an unforgettable film and a momentous event, but soon enough… unremembered."
Violet Lucca revisits In a Year of 13 Moons and finds Fassbinder spinning a dazzling web of references—from Mahler to Martin and Lewis, with "Frankie Teardrop" in there as well—unified by his pained, romantic pessimism.
"It has occurred to me that I am the only person who sees Une Femme Coquette as a tantalizing mystery, and the secret of its location existed for me to discover and keep, like a private letter. It has also occurred to me that this notion is solipsistic." Ignatiy Vishnevetsky is spot-on about the way movie lovers latch onto such follies as list-making and holy grail films with an obsession more rapturous and personal than coolly academic as he recounts his decades-long search for a Godard short that's worse than lost—it's out there, but impossible to see.
"I quickly figured out that in a cinephile's house, some of the easiest sources of sexy images were film magazines. Curious and dressed in my school uniform, knee socks, and saddle shoes, I would sneak down to the basement and flick through my father's stashes of magazines. Alongside the mildewed copies of Oui, Hustler and Playboy, were stacks of Film Quarterly whose pages were charged with erotica, drama, and—best of all—a lot of European men." Men, Women & Children screenwriter Erin Cressida Wilson recounts a sexuality developed in arthouse cinemas where her mother had her look at the floor during naughty bits, and finally, happily embraced when Sundance audiences prudishly fretted over the masochist eroticism of Secretary.
Stephen Winer salutes the unpredictability and chance encounters—with fleeing heiresses, would-be orange farmers, and hopeful standup bears—of the comic road movie.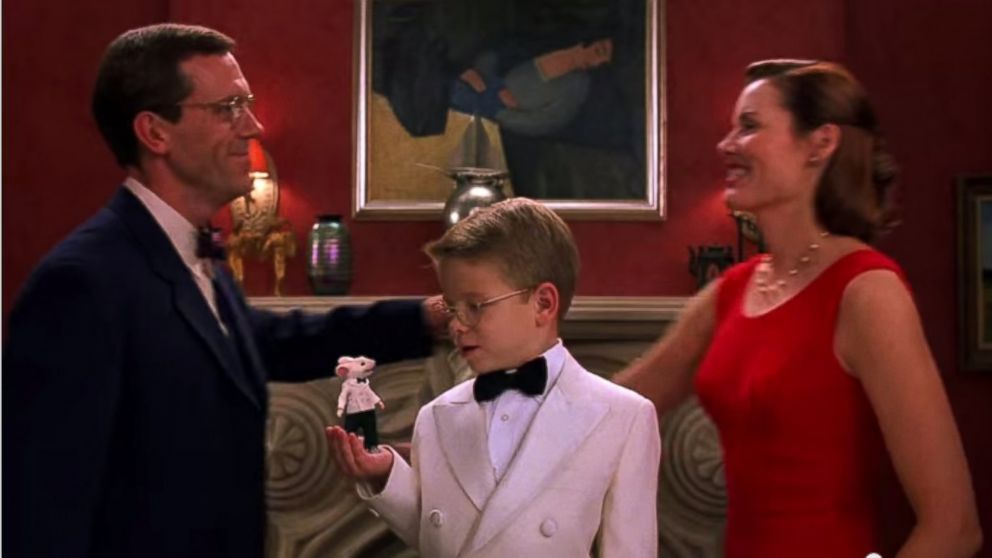 Every parent's been bored enough by the contents of their child's favorite movie to detach from the plot and start poring over the background details. Only one, so far as we know, noticed a lost Hungarian masterpiece painted by Róbert Berény (by the bye, one of Dietrich's lovers) hanging on the wall in Stuart Little.
"I don't really look like people in films; I look like people in paintings." Zach Baron's interview/profile of Tilda Swinton offers a fine portrait of a woman following her own bliss, professionally, personally, even geographically (away from cities to the comforting chill of northern Scotland). But it's true the writer intrudes a bit much into the story. So Cara Buckley's six quick q & a's with Swinton make a lively, undiluted chaser. Plus, while Baron praises Swinton for three movies this year, Buckley correctly points out she's the best thing in four. ("I'm always fascinated by the way in which society encourages us to decide on an identity, like nail it into place and stick to it and don't veer off the track.") In the spirit of that quote, enough of the movie actress; Sarah Moroz fills you in on the latest work by Tilda Swinton, performance artist.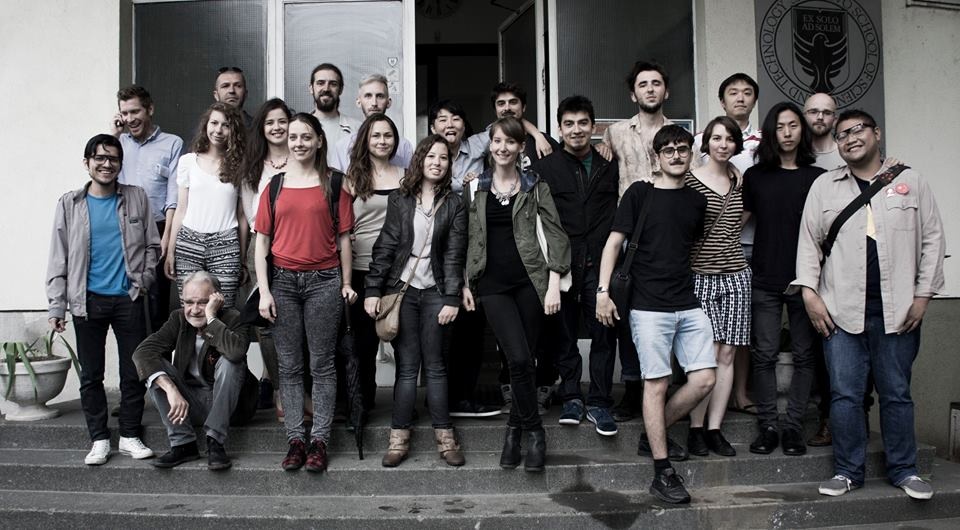 "I do not want to influence anybody, you know? I do not want young people to make films like I did. I do not even want that their films look like mine. They must not make films like Béla Tarr, like Fred Kelemen, like Carlos Reygadas, like Jim Jarmusch, like Gus Van Sant … At Film Factory, we do not make clones." Michael Guarneri interviews Béla Tarr about his new role as founder and chief instructor of the Sarajevo Film Academy's Film Factory; and cinematographer Fred Kelemen and composer/actor Mihály Víg about what it was like to make those movies that now seem permanently part of Tarr's past. Via David Hudson.
"She's had these terrible things happen and people are trying to help her out, but she's like, "I'm fine, I'm fine. I'll do something for you." And that's a typically altruistic feminine trait, and I think it has massive negative repercussions. You get the suppression, and then underneath the nice girl is this monster that's waiting to explode. [Laughs.] Beware of the woman who's too nice!" Jennifer Kent, who seems just nice enough, discusses making The Babadook with David Ehrlich.
In what's promised as the first in a series celebrating his favorite cinematic animal, Christoph Huber provides a delightful gallery of screengrabs of donkeys from John Ford films: mystical in 3 Godfathers, magisterially obstinate trudging through a crowd and grabbing a bite to eat in The Rising of the Moon, and comically bearing the oversized burden of the director himself in one of his WWII documentaries. Via Mubi.
Obituary
Screenwriter Ernest Kinoy had a fifty-year career writing for TV, movies, and the stage. He earned two Emmy awards, for a 1961 episode of the Defenders and for co-writing the mini-series Roots, and two awards from Writer's Guild of America. He wrote screenplays for the film Buck and the Preacher (1972), Come Back, Charleston Blue (1972), and Leadbelly (1976) and the TV movies Victory at Entebbe (1976), Skokie (1981), and the mini-series Lincoln (1988), as well as scores of episodes for numerous TV shows. He passed away earlier in November at the age of 89. Daniel Slotnick at New York Times.
Seattle Screens
On Sunday, December 7, Northwest Film Forum presents a special 100th anniversary screening (to the day!) of the silent documentary In the Land of the Headhunters, which was filmed by Edwin S. Curtis on Vancouver Island. The new restoration screens at 7pm and is followed by a discussion with Charlotte Coté (UW Associate Professor, Department of American Indian Studies) and Katie Bunn-Marcuse (Assistant Director, Bill Holm Center at the Burke Museum). Details here.
Couch Fest, the film festival that plays out in living rooms, is back for the 2014 edition in Seattle on Saturday, December 6. You need a ticket and a map to attend and you can get both at the Couch Fest website here.
Visit the film review pages at The Seattle Times, Seattle Weekly, and The Stranger for more releases.
View complete screening schedules through IMDb, MSN, Yahoo, or Fandango, pick the interface of your choice.
The weekly links page is compiled and curated by Bruce Reid, with obituaries curated by Sean Axmaker, and other contributions from friends of Parallax View.